Visitors on a Gatlinburg vacation will find a variety of trails to hike, all of which explore a different region of the National Park.  Some of the most-traveled Gatlinburg hikes are also fairly long, which might not be ideal.  Therefore, we've compiled a list of the best easy hikes in the Great Smoky Mountains National Park.  Lace-up your hiking boots and discover these trails.
1) Laurel Falls
This hike is a popular one as the trail is paved is only 2.3 miles roundtrip. Even though you must hike uphill to reach the falls, the elevation gain is gradual and there are several places to stop if needed.  You're rewarded with a gorgeous 80-foot waterfall.  Snap some keepsake photos and stop to soak up the scenery.  Then, the hike back is a breeze as it's all downhill.
2) Andrews Bald
Another of our favorite easy hikes in the Great Smoky Mountains is Andrews Bald. At only 1.7 miles in length (one-way), this hike is one of the shortest in the National Park that also features fantastic views of the Southern Smoky Mountains.  Due to improvements to the trail, it is far less rugged than it used to be meaning families with kids can enjoy the hike too.  Once you reach the top, there are several acres of open, grassy meadow – also known as balds in Appalachia country.  Sit down, relax, and take in the panoramic vistas surrounding you.
3) Grotto Falls
Grotto Falls is a choice Gatlinburg hike as it is home to the only waterfall in the Great Smoky Mountains National Park that a person can actually walk behind.  The 2.6-mile roundtrip trail is a wide, gentle path easy for all ranges of hikers.  Plus, once you reach the falls you can cool off in the mist of the Grotto!
4) Indian Creek Falls
Hikers are in for a real treat as not only do they get to see the 45-foot waterfall Indian Creek Falls on this hike, but they'll also pass by the 80-foot Toms Branch Falls along the way.  This trail is also historic, as it is one of the first constructed in the early 1930s.  At only 1.9 miles roundtrip and a very minimal elevation gain, this is one of the easiest hikes in the Smokies.
5) Little River Trail
The length of this 4.9-mile roundtrip hike is a gentle climb along an old gravel road paralleling the Little River.  This makes for beautiful sights, like cascading streams and several waterfalls.  It is also an excellent hike for wildflower viewing in the spring.  Add sights like historic cabins to the scenery and it's easy to see why this hike is popular.
6) Little Brier Gap Trail (Walkers Sisters Place)
Hiking and history combine on this pick for one of the top easy hikes in The Great Smoky Mountains National Park. The Walker Sisters were some of the last holdouts of the Great Smoky Mountains National Park takeover.  They refused to sell their 123-acre farm to the national park and were able to maintain their traditional mountain life into the 1960s.  This trail, which is relatively short at 2.6 miles, follows the Little Brier Branch stream and is a wide, mostly flat hike.  Plus, you'll see a historic schoolhouse and old homestead.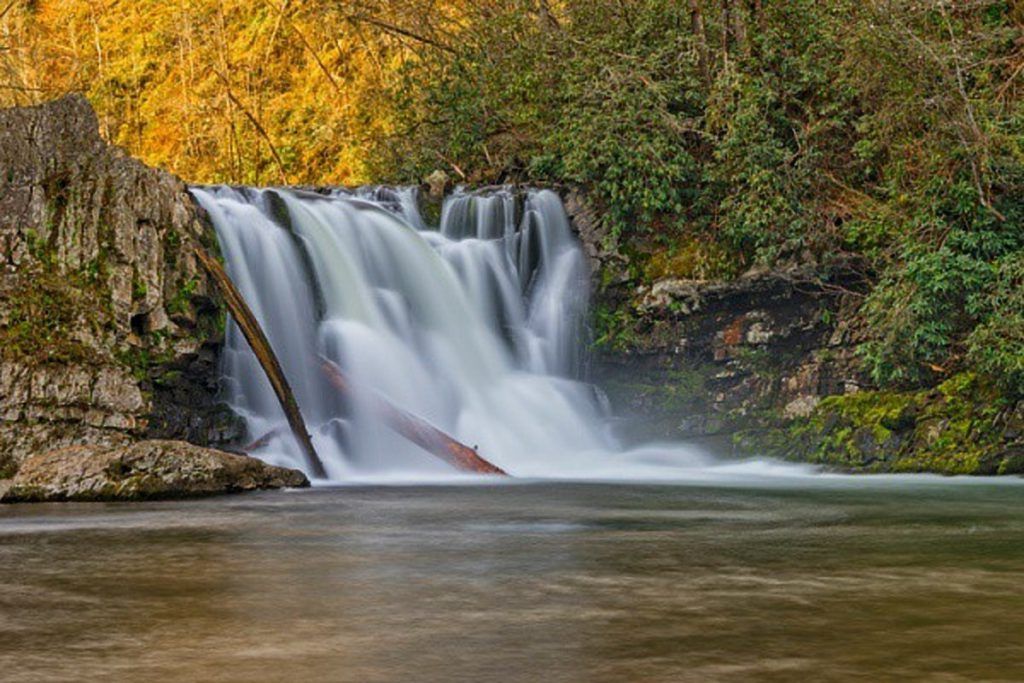 7) Abrams Falls
Even though this hike is 5 miles roundtrip, it is also one of the most popular as its elevations gains are gradual and the end sight – Abrams Falls – is a sweet reward.  The trail to the falls traverses pine-oak forest on the ridges and hemlock and rhododendron forest along the creek.  The actual falls are famous for its large volume of water, which more than makes up for its lack of height (20 feet).
Easy Hikes with a Big Reward
These easy hikes in the Great Smoky Mountains will give you great access to scenic sights, from waterfalls to vistas to historic cabins. When you're ready to hit the trails, now you know where to go!