One of the top things to do in Hawaii is drive the Road to Hana Maui.
The centuries-old path is dotted with spectacular scenery, rustic towns, and plenty of Hawaiian culture.  Fill the car up with gas, pack a picnic lunch, and hit the road to discover the Road to Hana stops on "Highway to Heaven." 
Twin Falls
Location: Mile Marker #2
Park at the Wailele Farms, which is open to the public for free, to access the cascading waterfalls of Twin Falls. Photos under these waterfalls are some of our favorite romantic things to do in Hawaii for those love birds on Instagram!
They are easily accessible, but the path can be somewhat slippery. However, the falls are a picture-perfect place to snap photos.
Plus, you can swim underneath the waterfall and even jump into the falls' deep pools. Be sure to stop by the snack stands at the farm entrance for some tasty treats.
Pro Tip: Along the Road to Hana, HI, there aren't very many food opportunities. Take advantage while you can!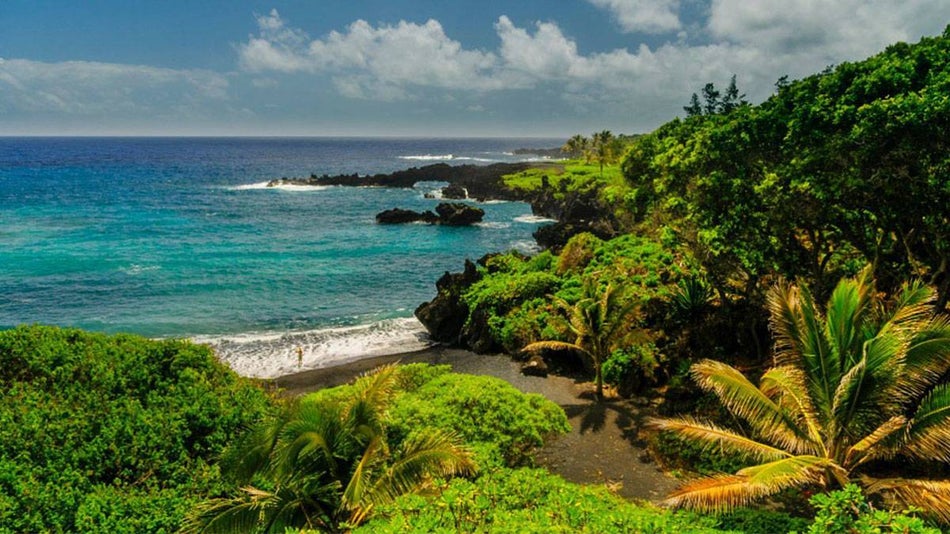 Waikamoi Nature Trail
Location: Mile Marker #9.5
A short but sometimes muddy trail leads you to coastal views and plenty of floral and fauna.  Great for non-hikers who just want to stretch their legs, the trail is lined with tall eucalyptus trees and fragrant ginger. 
Puohokamoa Falls
Location: Mile Marker #11
Make sure you see both the upper and lower sections of Puohokamoa Falls. Many people visit only the upper section and miss the gorgeous 200-foot cascading waterfall on the lower section.

A short walk along an easily accessible path takes you to the spectacular waterfall tumbling over a tall green cliff. The falls are best seen from the Puohokamoa Lookout Point. 
Keanae Arboretum
Location: Mile Marker #17
This Road to Hana Maui stop offers a bit more challenging hike, plenty of plant life and is a great spot for photos. 
About 150 tropical plants can be found here and the Piinaau Stream meanders around the arboretum creating a swimming pond. 
Two short walking trails lead guests to a beautiful forest and if you're up for even more scenic views head a ½ mile down the highway to Keanae Lookout. The Keanae Overlook has some fantastic views of Haleakala.  
Wailua Overlook
Location: Mile Marker #21
You can see Wailua Canyon from the parking lot, and after you walk up a set of steps, you have a view of Wailua Village and the signature sight in Hawaii – water-logged taro patches.
Make time to see the church made of coral – once known as St. Gabriel's – as it is steeped in legend.  When locals decided to build a church, a storm washed up just enough coral to build the church and then took any excess coral back to sea.  
Waikani Falls
Location: Mile Marker #21
Also known as "Three Bears Falls," this stop is an absolute must for any Road to Hana adventurist.  The nickname is derived from the fact each Road to Hana waterfall is taller than the next like a family of bears. 
The Waikani Falls are some of the most dramatic falls in East Maui.  
Pro Tip:
Flash flooding can occur, even on sunny days, on the Road to Hana. This is due to rain clouds higher up in the mountains that you might not be able to see.
Maka'ala – Maui County Emergency Alert System
allows you to sign up to receive alerts if there is any flash flooding in the area.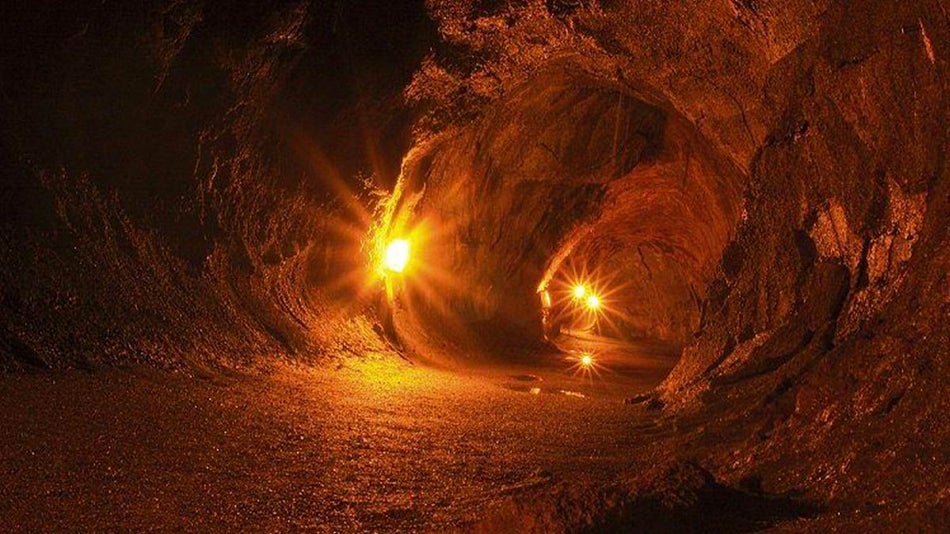 Hana Lava Tubes Maui
Location: One mile off Ulaino Rd. Hana Lava Tube Mile Marker #31
Also known as "Kaeleku Caverns," the Hana Lava Tube is Maui's largest lava tube. 
During a visit here, you can take a self-guided 30-40 minute tour accentuated by colorful underworld formations.  The Hana Lava Tube Maui tour is offered daily from 10:30 am to 4 pm.  The cost is $11.95.  
Wai Anapanapa State Park Maui
Location: Mile Marker #32
This 122-acre state park is home to a black sand beach, dramatic sea caves, natural stone arch hiking trails, and has remnants of Old King's Highway.  It's one of our favorite state parks in Hawaii.
Photo Alert: Hike to the lighthouse for the most gorgeous views of the bay.  
Wailua Falls
Location: Mile Marker #45
Wailua Falls is the easiest waterfall to access on the Road to Hana Maui. With a cascade of 80-feet, it's also one of the most beautiful.
This is the most photographed waterfall along this route, so there's generally a crowd of people here. Luckily, there's a decent amount of parking compared to other Road to Hana sights You can snap a few Road to Hana pictures from the bridge, but I recommend taking a quick (and somewhat slippery) hike to the plunge pool for up close views and even a refreshing swim.
Hamoa Beach
Location: Mile Marker #50
The 100-foot-wide beach is about 900 feet long and sits below 30-foot, black lava sea cliffs. The crescent moon bay is surrounded by lush vegetation, making it one of Hawaii's favorite beaches.
In addition, it's rarely crowded so you can kick back, relax and enjoy the serene paradise of Hamoa Beach without distraction. 
Oheo Gulch (Seven Sacred Pools)
Location: Mile Marker #42 (Note: After Hamoa Beach, the mile markers start descending)
Oheo Gulch is simply stunning. Many people don't make the time for visiting this expansive section of the Haleakala National Park on their Road to Hana Maui tour. Big mistake! Huge.
Paradise on earth is embodied at this preserve, which features multiple waterfalls on Road to Hana, epic (and endless) coastline views, hiking opportunities, bridge at seven pools Kipahulu, and so much more.
Bamboo Forrest
Location: Hwy 330 Mile Marker 7
In order to see this bamboo forest in Hawaii, it requires hiking the Pipiwai Trail.
The trail's entrance is through one of the two holes in the fence (the third hole goes to another destination) and is located above the Oheo Gulch (Seven Sacred Pools). Pipiwai Trail is 4 miles roundtrip and gains 650 ft. elevation. In addition to the bamboo forrest you will also be able to see the stunning Waimoku Falls along this trail.
If you want to enter the forest through the Haleakala National Park, you'll find the entrance towards the end of the Road to Hana at Hwy 31 mile marker 42.
Banana Bread Stops
On Maui, banana bread is serious business, and there's no better place to find the best banana bread than at the fruit stands on the Road to Hana. A few of our favorite stops are:
Twin Falls stand - Mile Marker 2
Unnamed fruit stand - Mile Marker 8
Aunty Sandy's - Mile Marker 17, turn off to Keanae Landing
Halfway to Hana stand - Mile Marker 17
Uncle Harry's - Between Mile Markers 17 and 18
Kaki's Kafe - Between Mile Markers 28 and 29
Hana Farms - Mile Marker 34
Wailua Falls - Mile Marker 45
Kahanu Garden & Pi'ilanihale Heiau
Kahanu Garden is part of the National Tropical Botanical Garden. The garden is named after Chief Kahanu who owned the land in the 1800's. The gardens now extend to an impressive 484 acres of Hawaiian beauty, history and culture.
Pi'ilanihale Heiau, or "House of Pi'ilani" is an ancient temple. Construction of the temple started at the end of the 13th century and took over 300 years to build! It's one of the Polynesian peoples largest ancient temples.
The Garden of Eden Arboretum & Botanical Garden
The Garden of Eden Arboretum & Botanical Garden is immaculately maintained with great ocean views, stunning photo opportunities, an art gallery, visitor center, and views of inaccessible waterfalls.
Entrance to The Garden of Eden also includes seeing:
100 Year Old Mango Tree
Local Art Gallery
Duck Pond and Bird Feeding area
Keopuka Rock Overlook (as seen in Jurassic Park opening)
Enchanted Forest
Banana Patch
Anthorium Garden
Upper Puohokamoa Waterfalls (restricted access, so your only way of viewing the falls legally is from here)
Road to Hana Tours
Looking to have a professional tour guide lead you through the most stunning photo spots for your family memories and social media feed? Enjoy a one of a kind experience (and massive discounts) when you choose one of these Road to Hana Tours:
Maui Hana Sky-Trek Half-Day Tour
View the world's largest dormant volcano (Haleakala Crater), hidden waterfalls, and lush rainforests all from the sky!
This one of the best Hawaii bucket list items you don't want to miss!
Maui Hana Picnic Day Tour
How about some Grilled Herb Marinated Chicken and lightly Blackened 7 Spice Seared Ono while sitting next to a stunning Maui waterfall? Yes, please!
This tour includes splendid views of rugged lava sea cliffs, Ke'anae, a quaint Hawaiian village with peaceful taro fields and Waikani Falls all at a discounted price with Tripster!
Maui Hana Cave-Quest Full Day Tour
Experience the lava tubes like no one else with the Maui Hana Cave-Quest Full Day tour. Each tour features a visit to Ka'eleku Cavern (a giant subterranean lava tube) a one-hour scenic tour of ancient volcano formations, photo opportunities, a light morning snack, and a picnic lunch!
Oh and did we mention you'll be riding in style in a Luxury Limo-Van? Check out the discount tickets with Tripster today!
Road to Hana Adventure
All of the best stops with one low price. The Road to Hana Adventure offers a visit to Kaumahina State Park, Keanae Valley Lookout, Pua'a Ka'a, Waianapanapa State Parks, Wailua Falls and more!
Weather and time permitting you'll be able to take a refreshing swim break at Pua`a Ka`a State Wayside Park! Breakfast is included as well! Save your gas money for something else and book with your discounted ticket price with Tripster!
Hana Ultimate Tour
The Hana Ultimate Tour is a full-day adventure of all of the stunning Road to Hana stops. A luxury experience at a leisurely, relaxed pace you'll have plenty of opportunities to capture photos of the beautiful scenery on this seacoast tour.
This tour is for those who want to full experience of everything that the Road to Hana has to offer, without the luxury price tag. Get your Hana Ultimate Tour discount tickets today with Tripster.
Which Road to Hana Must Do Stops Will You Visit?
Traveling the Road to Hana Maui provides an up-close look at the true, natural beauty of the island.
The road, which has 600 curves and 59 bridges, winds through lush tropical forests, scenic ravines and cascading Hana highway waterfalls. It follows and ancient Hawaiian foot trail, is listed on the National Register of Historic Places.
Ocean cliffs, lava coastlines, and incredible black and white sand beaches line the stops along Road to Hana. Which is your favorite place to visit on the Road to Hana?