Follow our guide to spending one week in Maui. With this Maui 5 day itinerary, you'll be able to make the most of your island getaway.
Swaying palm trees, golden beaches, shimmering ocean waters: this is the island paradise of Maui. Its charms attract vacationers the world over. The natural playground is a veritable oasis of activity. Get your island vibe on. It's time to plan your dream destination trip to Maui, Hawaii, the Valley Isle.
Whether whale watching, snorkeling with sea turtles, hiking through a rainforest, or taking in the fantastic weather on a surreal white sandy beach, the possibilities are endless. But it can be overwhelming, and with the pressure to please everyone and just a few days to do it all, it's best not to play it by ear. That is where we come in!
If you need a little guidance for your Aloha state holiday and some insider tips to help you do more and spend less—you're in the right place. First, of course, you want to spend your hard-earned vacation savings wisely. We have the ultimate five-day Maui itinerary, so you don't miss a single Maui thing.
Check out some tour suggestions, take a day trip through the mountains, or lounge on one of the exquisite ivory beaches for some much-needed R&R. 5 days in Maui should give you enough time to visit all of the legendary isle landmarks like the Haleakala National Park and Road to Hana.
About Maui
If you haven't been to this fabled island, it's high time to visit Maui! Maui brings the heat with dramatic landscapes of verdant valleys, stark emerald pools, and edgy volcanos. Where else can you swim near stunning waterfalls, dine on pineapples and Mai tais, and snorkel at one of the top spots in the world? If Maui sounds like your kind of nirvana, read on!
Over two million people visit Maui annually, making it one of the most sought-after places in the world. It's the second largest of all the Hawaiian Islands, next to the Big Island.
The celebrated peninsula has over 30 miles of pristine beaches, the winding coastal Hana Highway, and a sprawling national park with the world-famous volcano Haleakala. The humpback whale sightings are acclaimed, as well as the snorkel coves, majestic sunsets, and farm-to-table cuisine.
Now, how to tackle this beautiful beast of an island!
Day 1: Beach Day & Night Luau
You'll probably be itching to see some glorious sights on your first day in Maui heaven. Though chances are you could be recovering from jet lag, which is why after checking in, you should change into swimwear and hit a black sand beach to recharge.
The quaint historic village of Lahaina is lined with shops, art galleries, and restaurants like the Lahaina Pizza Company. It's the perfect spot for deep-dish pizza and Kona Brew Co. beers to wash it all down. For dessert, try a true Hawaiian shaved ice treat. You could also check out Makena Beach, a splendid locale for swimming, surfing, and snorkeling. The Makena Beach Park consists of two more stunning beaches, Big Beach and Little Beach, each loaded with activities like bodyboarding and windsurfing.
For more sunbathing options, head north to Kapalua Beach and DT Fleming Beach Park, both of which have been recognized as America's best beaches. Southward you'll find the dreamy Maalaea Beach. Each stretch of sand has its own appeal. See as many Maui beaches as you want, or simply soak up some rays and surf at Kaanapali Beach, a prime bodysurf destination.
Then how about a magical evening luau to cap off your first day? The fabulously luxurious Wailea Resort has two luau events to consider. First, the Feast at Mokapu Luau is a cultural and culinary delight! On the shore of Mokapu Beach, the Feast at Mokapu Luau features interactive storytelling, a traditional Hawaiian meal, and handcrafted cocktails.
The resort also showcases the Grand Wailea Luau. Another family-style Hawaiian cuisine with pre-show activities that include lei greetings, hula dance lessons, Hawaiian lawn games, and a grand finale of fire dancing!
Day 2: Take a Maui Snorkel Cruise
Under the sea, visit another earthly paradise rich with dynamic aquatic animals. It's a relaxing form of exercise that is good for the soul! And you can't find a better setting for a snorkel excursion than Maui. With so many to choose from, the options can be staggering. Another big dilemma for visitors is Lanai vs. Molokini. We'll cover them both, but you have to choose!
The sensational Lanai Coast Snorkel Tour transports snorkelers along the incredible coast of Lanai, exploring the stunning reefs and coral caves. Visitors enjoy a continental breakfast of tropical fruit and a delicious deli lunch. The crew selects the best snorkel sites based on weather conditions. Along the way, watch for Lanai's famous spinner dolphins that claim the region as their home.
You can't spend a week in Maui without visiting Molokini, a small underwater volcano and haven for marine life. Unfortunately, since there is no way to swim to the tiny island, you must take one of the scenic boat tours. The Molokini Snorkel & Performance Sail departs from Maalaea Harbor.
You'll need to wake up early, as the cruise departs at 7 AM, but it's worth it! Considered Maui's most incredible snorkeling experience, the crescent-shaped crater includes over 250 varieties of tropical fish. You'll sail to Molokini while enjoying a complimentary breakfast, all the while taking in tropical vistas and snapping plenty of pictures. You'll snorkel at Molokini Marine Preserve first, with its stunning coral formations and bright tropical fish. Bring an underwater camera to capture it all!
If you've seen the movie "Finding Nemo," you'll no doubt be calling everyone you see 'Crush.' A light lunch is served on the cruise to rev your energy back up. The aptly named Turtle Arches has beautiful underwater lava arches and a large population of green sea turtles.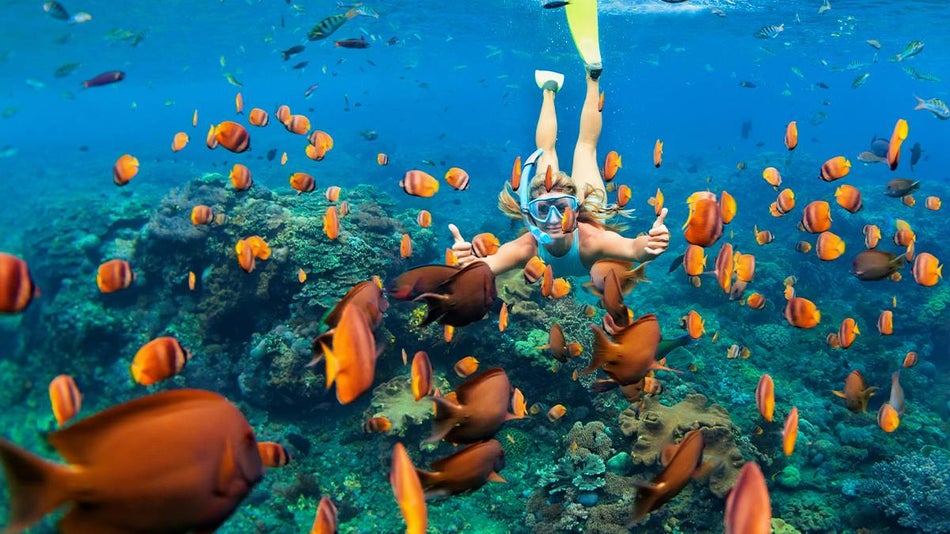 Pro Tip: To avoid higher rates and heavy crowds, the best times to visit Maui are April through May and September through November.
Whether to rent a car or not is always the vacation question. You can travel around Maui by shuttle, tour bus, taxi, or public transportation. Uber and Lyft are also available in Maui. However, it would help if you considered renting a car, especially if you want to drive the scenic Road to Hana or cruise down the vibrant west coast. If you're staying for a week in Maui, rental cars might be a good idea for half your stay.
Day 3: The Road to Hana
You must drive the Road to Hana to truly see some of Maui's most vibrant searing views. Officially, the road is named the Hana Highway, but on maps, it lists Highway 36. In fact, any Maui 5-day itinerary that doesn't include the highly recommended Road to Hana isn't one you should follow! Start out early in the morning, and be sure to pack a picnic lunch. As you drive through Paia, you can stop by Charley's for a hearty start to your day. It will keep you fueled as you drive the 60+ miles to Hana.
Along the way, there are too many sights for you to see them all. Plan ahead and pick out some must-sees and must-do's, or you're sure to run out of time. We recommend Twin Falls, Painted Trees, Wailua Falls and Overlook, Wakani Falls, Waianapanapa State Park, and Hamoa Beach.
Oheo Gulch Falls, at Haleakala National Park, is one of the most stunning sights on the Road to Hana. There are also sea cliffs and waterfall hikes at this park, like the Waimoku Falls. Remember, driving the Hana Road at night makes for a slow go, so try to head back before dark.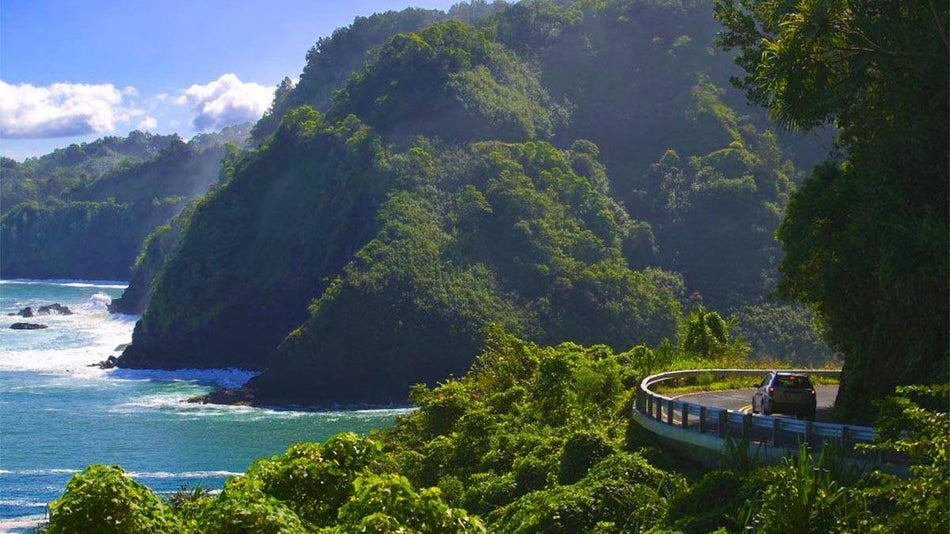 Maui also features full-day Road to Hana Adventure Gold Tours, where the Polynesian Adventurers tour company picks you up from your hotel. (No rental car needed here!) This one-of-a-kind experience explores Maui's marvelous Hana coastline. A light breakfast is included with your journey.
There's also the Hana Ultimate Tour. This full-day adventure starts with a limo-van pick-up and includes a state-certified tour guide highlighting the coastal hot spots. The trip includes breakfast and a three-course luncheon in the charming town of Hana.
However, the Road to Hana Tour & Picnic full-day tour offers views of lava sea cliffs, majestic waterfalls, and rainforests in the Kaumahina State Park. Plus, a hearty picnic lunch!
Day 4: Visit the Haleakala Volcano
Another site that should be included on any Maui 5-day itinerary is Haleakala. Luckily, there are several ways to see Haleakala. This dormant shield crater is one of the world's largest volcanoes. Meaning "House of the Sun," in Hawaii, this exotic locale shimmers with ancient local culture and protects endangered species.
Plan to hike within the national park, bike down the mountain, or ride horseback through the terrain. The most popular activity is a sunrise bike tour, which features dawn views from the summit, then a 23-mile downhill bike tour from the base of the Haleakala National Park.
Of course, Haleakala is worth seeing, no matter which way you do it. Zig-zagging down the mountain at any time of day provides an ever-changing landscape. The sky and the earth meet in a wash of colors and clouds.
If exploring natural outdoor wonders is high on your priority list, you can always take a South Maui day trip to uncover some of the state's best hiking trails. The Pipiwai Trail is a jungle paradise through a lush tropical forest. The 3.4-mile-long trek offers verdant pastures, flowing rivers, and spectacular waterfall views.
Pro Tip: Pack sturdy hiking boots for this one, as some waterfall routes might be slippery. Swimming at the falls is not recommended.
For a family fun vibration like no other, try a Jungle Treasure Hunt. This nature lovers' venue hosts multiple activities, from hiking through uncharted forests, swimming in a lagoon, and searching for a jungle treasure. It's a one-of-a-kind Maui venture!
Day 5: Whale Watching Catamaran Cruise or Sunset Sail
On the last day of our Maui 5-day itinerary, you could always lay poolside for some true island rest and relaxation. Or you could go out with a bang on a Sail Maui Catamaran Tour. Did you know Maui was the best place in the world to see extraordinary humpback whales? These magnificent creatures travel from Alaska to mate and give birth to their calves.
Their acrobatics and breaching are legendary. The captain and crew try to get as close to the humpbacks as possible, making for a remarkable voyage! Also, there's no better way to end your Maui vacation than with a sunset sail through the enigmatic Pacific waves. This relaxing sail includes a refreshing array of beverages, including wine and local beer.
Maui Itinerary Hotels & Resorts
First things first. If you haven't booked your hotel or condo, let's consider some options. There are four main places to stay in Maui: Kaanapali, Kapalua, Lahaina, and Wailea. Each has its own lures, but for endless beaches on a budget, you can't beat Kaanapali. Choose a hotel in that area, and you can easily access the other island hotspots and attractions.
With Tripster, you'll find a great selection of Maui lodgings, many with beachfront locations and convenient access to the best shopping, restaurants, and Maui activities. Royal Lahaina Resort and The Westin Maui are excellent options, as are these others:
Days Inn by Wyndham Maui Oceanfront
The Days Inn Maui Oceanfront offers magical views of the Haleakala Volcano and breathtaking Pacific Ocean landscapes and surrounding islands. Days Inn is ideal for vacationers on a budget, with hotel amenities that include barbecue grills, refrigerators, and picnic areas.
Marriott's Maui Ocean Club - Lahaina and Napili Towers
If you're looking for swanky villas with oceanfront views, the Marriott's Maui Ocean Club is for you.
The rooms offer spacious balconies, beach access, hotel amenities like oceanside spas, cabanas, and a steam room. It's also perfect for families with three pools, waterfalls, and grottos.
Sheraton Maui Resort & Spa
For a romantic getaway, the Sheraton Maui Resort & Spa features 23 posh oceanfront acres on Kaanapali Beach, built on the celebrated Black Rock cliffs.
The resort includes a lagoon-style pool, fresh island cuisine, and countless cultural activities like snorkeling, parasailing, scuba diving, and a cliff diving ceremony at sunset.
The resort provides a complimentary shuttle to the historic Lahaina town and additional shopping within walking distance to Whalers Village.
Ka'anapali Beach Club
Book your stay at the Ka'anapali Beach Club to make your Maui dreams come true. The Beach Club is located near the area's top attractions. This resort's luxurious amenities include an on-site spa, multiple heated pools, sumptuous meals, and otherworldly views!
Pro Tip: It's always best to swim at a lifeguard-enforced beach. Moreover, keep an eye peeled for stingrays in the water and blue jellyfish. These Portuguese man-of-war has tentacles up to 165 feet and packs a painful sting.
Other Noteworthy Maui Itinerary Items
If flying is more your style than hiking, you can always soar high above the Haleakala Volcano in one of the many thrilling helicopter rides. The Complete Island Maui Helicopter Tour offers an award-winning voyage over the luxuriant vales of the west mountain range to the jagged sea cliff shoreline of Northeast Maui.
If you have the time, here are more dynamite crowd-pleasing activities that should not go unmentioned. Touring a pineapple farm, coffee plant, or rainforest is always fun. There are also some of the world's premier golf courses waiting for you to take a swing.
And if you like adventure, you can fly by the seat of your pants on a zipline. Northshore Zipline Canopy Tour promises to delight adults and kids with seven different ziplines and multiple tree-to-tree suspension bridges. The tour takes you through giant eucalyptus trees with speeds up to 40 mph.
Your Perfect Maui Itinerary!
So, here's your Maui itinerary five days of beach bliss. With only a week in Maui, you must make every moment count, which is why crafting your perfect schedule is so important. With this Maui 5-day itinerary, you can experience all of the Maui highlights while still squeezing in some chill time. And that's just how a vacation should be.
Five days of fun await you when you book now. Remember, Tripster offers affiliate links to save you significant savings. From hotels to shows and signature attractions, we have your best online rate with instant confirmation and no hidden fees. You can also bundle products for the best discount. We have vacation packages to help you plan, or you can also build your own!
Tell Us About Your Trip to Maui!
We'd love to hear other Maui itineraries and attraction reviews.