Unwind and experience the only dedicated snorkeling beach in Oahu! Crystal-clear tropical water teeming with abundant sea life and a pristine reef ecosystem awaits at Oahu's Hanauma Bay Nature Preserve.
Follow along to discover how to have the snorkel sojourn of a lifetime at this nature preserve. Once upon a time, Hanauma Bay Nature Preserve was reserved for the enjoyment of Hawaiian royalty. Thankfully, these days, it is an underwater oasis and a marine life conservation area where ocean lovers from all walks of life can snorkel to their hearts' content.
As one of the most beautiful beaches in the United States, it's not surprising visitors flock to Hanauma Bay, Hawaii, to experience the ultimate beach day. Thankfully, both the Department of Parks and Recreation as well as the City and Council of Honolulu work together to protect the marine sanctuary's ecosystem and maintain its pristine state.
Keep reading as we take a deep dive into what you need to know about snorkeling at Hanauma Bay!
Snorkeling at Hanauma Bay Hawaii
What to Expect
Hanauma Bay Preserve is one of the most beautiful places you can visit in Oahu, and it's especially amazing if you love snorkeling. Aside from a gorgeous white sugar sand beach and incredibly blue waters that will take your breath away, it's what's under the surface that keeps visitors coming back to the beach year after year. 
Hanauma Bay Nature Preserve Oahu is home to abundant sea life and a pristine reef ecosystem. The Hanauma Bay turtles, or green sea turtles, are arguably the most popular marine creatures to catch sight of. Many seek the opportunity to swim with these gentle giants or take an awesome selfie for the 'Gram. However, there are many more sea creatures to swim with beneath the waters of Hanauma Bay, Hawaii.
In fact, you don't have to be a good swimmer to enjoy snorkeling at Hanauma Bay's cool blue waters. Families with small kids can enjoy snorkeling in a safe, beautiful environment where quite a few fish can already be seen just by wading in.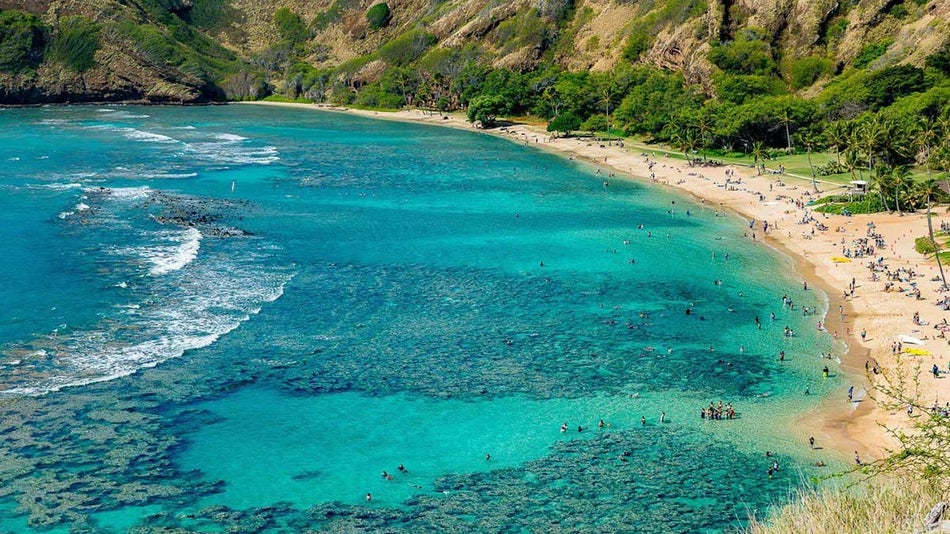 Over 450 species of fish inhabit Hanauma Bay, such as the butterfly fish, squirrel fish, and the Humuhumunukuapua'a, the national fish of Hawaii. Hanauma Bay has an inner and outer reef. Advanced swimmers often explore the outer reef, where bigger fish can be seen.
Speaking of reefs, the Hanauma Bay Nature Preserve is home to a stunning coral reef ecosystem. Coral comes in two different varieties: the Hermatype, which you'll find in Hanauma Bay. Hermatypes are colorful hard corals that look like rocks and stones on the coral floor. In addition, you'll find lobe, blue rice, and cauliflower coral in the Bay.
As for the facilities that make snorkeling and lounging in Hanauma Bay a breeze, enjoy fully-equipped restrooms and beach showers, food concession stands, picnic tables, a gift shop, and handicap facilities.
Snorkeling Do's and Don'ts at Oahu Hawaii Snorkeling Hanauma Bay
Before entering the park, visitors are required to watch an educational video by the Marine Education Center. The video reminds visitors of the Dos and Don'ts in Hanauma Beach Nature Reserve, including the following:
Fishing is not allowed in Hanauma Bay. Marine life is protected in the Reserve, so take only pictures with you!

Don't feed the fish. Doing so will have an overall negative impact on the ecosystem. In addition, anyone caught feeding the fish will be asked to leave or pay a fine.

Use safe-reef sunscreen. Many sunscreens contain chemicals that are harmful to the reef and ecosystem. 

Don't step on coral. We want to maintain the lively coral reef ecosystem at Hanauma Bay Nature Reserve, so please avoid stepping on the coral reef, as this can harm or even kill them.

Clean up after you eat. There are strategically placed trash bins located throughout the park.
Know Before You Go
Hanauma Bay Snorkeling Fee and Rental Fees
Snorkeling Oahu Hanauma Bay is totally doable, even if you don't own snorkeling gear. Hanauma Bay snorkeling rental gears are available at small shacks near the restrooms.
If you already have snorkel gear with you, please note that visitors still need to pay a park entrance fee. This fee is used to pay dedicated lifeguards, maintain clean bathroom facilities, implement environmental reef-safety programming, and ensure that the Bay is safe for everyone.
In addition, you can enjoy Hanauma Bay snorkeling all day without worrying about your belongings. There are locker rentals to store your valuables.
Getting to Hanauma Bay Nature Reserve
There are many ways to reach Hanauma Bay Nature Reserve! Lace-up your walking shoes, or hop on a bike to get your sweat on before diving into the refreshing waves. 
If you have a car, you can drive yourself and park at the beach parking area. However, please note that there are only around 300 parking spaces, while the beach can get up to 1,000 visitors daily. You will find the park at 7455 Kalanianaole Highway, Honolulu, Hawaii.
No car? No problem! Catch a local bus where you are and ask to be dropped off at the Koko Marina shopping center, about 1 mile from the Hanauma Bay park entrance.
Parking and Reservation
There are limited parking slots at the Hanauma Bay Nature Reserve, all of which are located on a ridge above the Bay. The parking fee is $1 for local residents and $3 for non-residents.
Expect a short but steep 10-minute walk to the beach from the parking lot. There is a tram that offers rides to visitors who don't want to walk for a minimal fee. This is especially helpful after a tiring day spent snorkeling.
Heads up! Hanauma Bay, Hawaii, has a reservation system. Walk-ins are not allowed for non-residents, especially because only 1,000 reservations can be made on any given day. This ensures that the visitors can enjoy a beach that is not so crowded while also minimizing damage to the reef and marine ecosystem. Reservations can be made through the Department of Parks and Recreation's official website.
Hanauma Bay Nature Preserve Hours of Operation
Hanauma Bay Nature Preserve is open to visitors from 6:45 AM until 3:30 PM. However, the last entry to the park entrance is only until 1:30 PM. 
Please note that the underwater park is closed on Mondays and Tuesdays to allow the reef and ecosystem to rest. If you are planning to visit on a holiday, be sure to check the website first, as the beach is often closed during festivals and state holidays.
Hotels Near Hanauma Bay Nature Reserve
There are no Hanauma Bay Nature Preserve hotels or hotels inside the park. Fortunately, Hanauma Bay Hawaii is near some of the best hotels in Oahu, such as:
Hilton Garden Inn Waikiki Beach
Hilton Hawaiian Village Waikiki Beach Resort
Waikiki Beach Marriott Resort & Spa
At the end of the day, you will be happy that you visited Hanauma Bay and got to experience snorkeling in one of the most pristine coral reef ecosystems in Hawaii.
When you're recharged and are ready for more adventure, consider visiting more top attractions like the Honolulu Nature Center and Polynesian Cultural Center.
For more marine adventure ideas, take inspiration from Oahu Attractions and Things to Do.
Have You Snorkeled at Hanauma Bay?
Do you have any tips to add to our guide? Leave us a comment below!