Lights, Camera, Action! If you've been dying to visit the land of movie magic, now is the time to plan the ultimate Universal Studios Hollywood™ trip. There is fun for everyone at this quintessential California theme park, from movie buffs to grown-ups, from teens and anyone in between.
Whether you are testing out wands at the wonderful Wizarding World of Harry Potter™ or touring an actual working movie set, there is so much action-packed adventure and entertainment to experience. 
Eager to achieve the perfect day at Universal Studios Hollywood™? You will need to come prepared, prepped, and ready to go! 
Follow along to discover the most exclusive tips, tricks, and recommendations in our Insider's Guide to Universal Studios Hollywood™.
About the Park
Universal Studios Hollywood is so much more than a theme park. A day or two spent here not only means tons of heart-pumping fun on rides based on your favorite films but also includes access to some of Los Angeles' best shops, dining, and cinemas at CityWalk™.
Related Post: Ultimate Guide to Universal Studios Hollywood™: Coupons, Discounts, and Deals
It's easy to get overwhelmed by the sheer size (415 acres) and volume of things to do in Universal Studios Hollywood. While we always recommend taking your time and spreading any theme park visit over a few days, it is possible to cover the best Universal Studios Hollywood has to offer in one day. 
Fun fact: Unlike most theme parks, Universal Studios Hollywood is considered a 'hybrid' park as it is both a theme park and a working film studio!
When to Go
The perfect time to visit Universal Studios Hollywood is whenever you can! However, if you have some flexibility with your vacation dates, wait times are usually lowest in the fall, winter, and spring.
Related Post: A Parent's Guide on Things to Do in Los Angeles with Kids
Additionally, it's always good to try to avoid holidays, days around the holidays, and times when children are off from school. 
As for the weather, sunny California is pretty idyllic year-round, but you can't beat the comfortable, cool temperatures of Fall and Winter.
Tickets
Once you've committed to your own Universal Studios Hollywood adventure, save yourself the stress of ticket lines and wait times by pre-purchasing your Universal Studios Hollywood tickets. We offer a variety of ticket options depending on when you plan to visit.
Is your Universal Studios Hollywood™ trip part of a more extended Southern California getaway? Why not bundle your tickets with a Universal Studios Hollywood ticket package and experience double the fun? Kids and cinema junkies will flip over nearby attractions like Disneyland®, Knotts Berry Farm, and the Warner Bros. Studio Tour. 
Hotel
Looking for reliable hotels by Universal Studios Hollywood? In the case of Universal Studios Hollywood™, it pays to stay close to the action. Save on money and precious time stuck in traffic by booking your Universal Studios Hollywood™ Hotel Package. 
Pro tip: An added perk of staying in nearby Hollywood is the option to return to your cozy room for a midday siesta. 
Additionally, after your day of theme park fun take advantage of your convenient locale by hitting up iconic Los Angeles sights such as:
The Hollywood Sign

Los Angeles Zoo
Los Angeles
A world-class city and tourist destination in its own right, Los Angeles is a melting pot of culture, art, history, and Hollywood charm. If you don't mind a bit of driving, hotels in Los Angeles allow you to explore unique LA locales like the Venice Beach Boardwalk and Beverly Hills.
Learn More About: Los Angeles
Park Strategy
Although Universal Studios Hollywood™ may not be as massive as its sister park in Florida, it still pays to have a park strategy in place before your visit.
Arrive Early
Apologies to our night owls, but to beat the lines and get a head start on your day, we strongly suggest arriving at Universal Studios Hollywood™ at least 30 minutes before the park opens. 
Furthermore, when budgeting for time, always allow at least 30 minutes to get through parking and security. 
Pro tip: Always check the official Universal Studios Hollywood™ Calendar before your trip, as opening hours vary from day to day!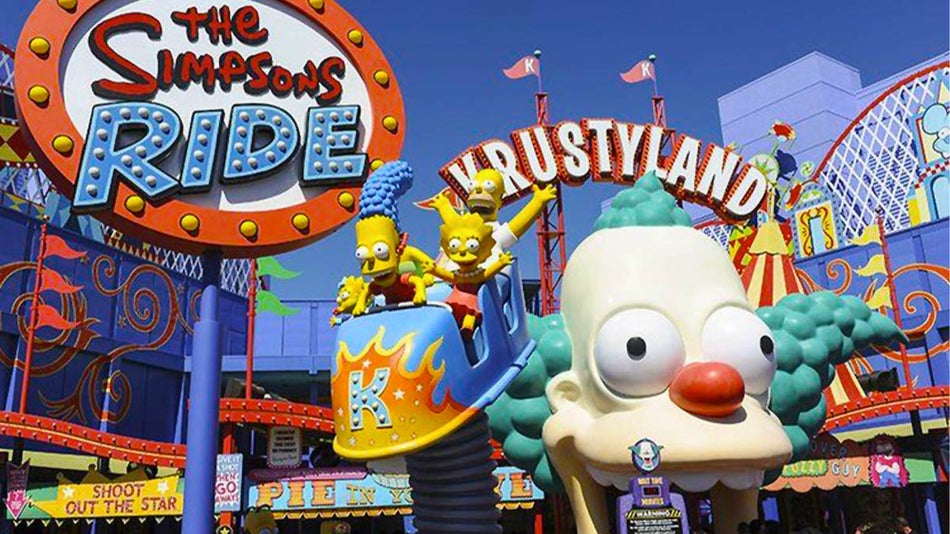 Strategize for Success
To truly appreciate Universal Studios Hollywood's wealth of rides, attractions, and entertainment, it helps to have an 'Order of Operations.' 
Related Post: Curent Events and Festivals in Los Angeles
Universal Studios Hollywood™ consists of two main sections, referred to as the Upper and Lower lots. Our simple strategy is to begin with the Lower Lot (before it gets too busy) and then hit the Upper Lot later in the day. We advise completing each section individually, as the escalator ride between lots is lengthy (7-10 minutes).
Apps & Passes
Thank heavens for technology! Say goodbye to fumbling around with paper maps, and put the power of the park in the palm of your hand with the Universal Studios Hollywood™ App. This clever app allows you to:
Navigate the park with an interactive map

See wait times in real-time

Get Virtual Line Return Times

Stay in the know on all events, promotions, and schedule changes
If your visit coincides with a holiday or a busy time at the park, consider utilizing the Universal Express pass. 
Learn More About: Top Attractions in Los Angeles
This nifty pass will allow you one-time priority access to participating rides, shows, and attractions. You can also purchase a Universal Express Unlimited Pass that will let you bypass the lines for the attractions as many times as you desire. 
What's New
Universal Studios Hollywood™ is constantly updating, expanding, and improving its theme park experience. Lucky for visitors, this translates into an abundance of new rides, thrills, and attractions. Their latest additions include:
The Secret Life of Pets: Off the Leash™

New magic wand experiences at Hogsmeade™

Updated Jurassic World Ride™
Can't Miss Attractions
Although you can easily spend days seeking out character autographs and covering every inch of Universal Studios Hollywood™, sometimes time just isn't on your side. So when you are wondering what to see and what to skip, refer to our favorite 'can't miss attractions' below:
The World Famous Studio Tour™

Harry Potter and the Forbidden Journey™

Revenge of the Mummy - The Ride™

The Secret Life of Pets: Off the Leash™

The Simpsons Ride™

Transformer - The Ride 3D™

WaterWorld™
Pro Tip: Did you know that popular TV shows 'The Voice' and Access Hollywood are still filming at Universal Studios Hollywood™? Check out the official Universal Studios Hollywood™ calendar before your visit to see if your favorite celeb will be on sight.
Food/Beverages
A day of wizarding magic and screaming on roller coasters will summon up your appetite faster than you can say 'Accio wand.' 
Related Post: The Ultimate Guide to LA Theme Parks
Fortunately, Universal Studios Hollywood™ has a multitude of mouthwatering food options. For some truly epic eats we can never pass up:
Ice cold Butterbeer at the Three Broomsticks in Hogsmeade

Giant doughnut at Lard Lad Doughnuts

Costa Rican inspired eats at the Jurassic Cafe

Tasty tacos at Bumblebee Man's Taco Truck

Tropical Pina Colada or Painkiller at Isla Nu-Bar
Additionally, all Universal Studio Hollywood™ guests are allowed to enter the park with:
Up to two liters of water

Small snacks

Baby food/formula

What to Bring
Nothing can bring a day of theme park fun to a halt quicker than an uncomfortable blister or a smarting sunburn. So make the most out of your Universal Studios Hollywood™ experience by coming prepared. 
Our must-have theme park items include:
Portable phone charger

Water bottle & snacks

Hand sanitizer

Hat

Sunglasses

Sunscreen

Comfortable shoes

Poncho or raincoat (weather dependent)

Bandaids

Stroller (if required)
Ready to immerse yourself in a world of cinematic adventure, heart-racing rides, and jaw-dropping entertainment? 
Whether you are being terrorized by Indominus Rex in Jurassic World™ or marveling at the explosive WaterWorld™ stunt show, Universal Studios Hollywood is guaranteed to deliver a blockbuster worthy day. 
Now that you're a Universal Studios expert gather your family, friends, and fellow cinephiles and book your own Universal Studios Hollywood Vacation.