So, you're headed to the fantastical Universal Studios Florida™ with an itinerary in hand. But, be warned, this marvelous theme park, packed full of unique attractions like The Wizarding World of Harry Potter™, Revenge of the Mummy™, and Harry Potter and the Escape from Gringotts™, can drum up an appetite!
Therefore, we've devised the best quick-service restaurants and fast-food dining halls for your perusing pleasure. So sit back and take note as we dive into Universal Orlando Resort's acclaimed cafes, top-notch chains, and celebrated cuisine.
These are not your typical backstreet dives but highly accredited eateries with delectable dishes that make you question – was that really fast food?
There's no doubt as you hop from ride to ride at Universal Orlando Resort, your growling stomach will not be ignored. Follow along as we explore the best and fastest Universal Orlando restaurants. We'll cover three distinct dining places — CityWalk, Universal Studios, and Islands of Adventure.
Universal CityWalk™
Universal's CityWalk is the mecca of star-rated dining, shopping, and entertainment. Named the 'epicenter of awesome,' this vibrant heartbeat of Universal Orlando Resort resides between Universal's Island of Adventure and Universal Studios Florida.
The locale is jam-packed with full-service posh restaurants, like BigFire and Vivo Italian Kitchen, and popular chains: Bubba Gump Shrimp Co., Margaritaville, and Hard Rock Café.
Firstly, here are a few quick service options for your consideration.
Hot Dog Hall of Fame
This baseball-themed hot spot serves a bevy of hot dogs, beer brats, and fabulous franks from iconic stadiums around the U.S. You can dine in or takeout here. If you're not a dog fan, the menu has other ballpark hits, like Italian Sausage, chili cheese fries, and the Vegan Field Dog.
Then chill off with a triple chocolate drumstick, Toll House Chocolate Chip Cookie Sandwich, or an ice-cold Samuel Adams!
Burger King® Whopper Bar
Who doesn't love a great fire-roasted burger, fries, and shake from this long-standing well-known chain? However, this is not your typical BK. With over 20 toppings to choose from, like fresh guacamole and crispy onions, each new creation is better than its predecessor. In other words, there are more than a million ways to "have it your way®."
Pro Tip: Order BK online for fast mobile pick-up orders on the go.
Bread Box Handcrafted Sandwiches™
Quick and delicious go hand in hand at this gourmet sandwich shop that features counter seating, quaint lunch pails, and a retro ambiance. Guests can choose from classics like roast beef, chicken salad, pastrami, patty melts, and soups and salads. Dine-in and takeout options are available.
For a deeper look at CityWalk, check out our In-Depth Guide to CityWalk at Universal Studios Florida.
Cowfish Sushi Burger Bar
Don't let the name stop you. This delightful Asian American eatery offers amazing food with a twist. Try a sushi burger combo comprised of a decadent burger of all-natural beef and your favorite fresh sushi. We slipped this one in, even though it's a full-service restaurant, thinking you might want to carve out some extra time for this special place.
Red Oven Pizza Bakery
Getting everyone on board for sushi is tough, but most families can always agree on pizza. Cheese, carbs, and saucy goodness are rolled into one tasty pie at Red Oven.
A large selection of pizza types, divided into red and white, thick and thin crusts, and toppings ranging from prosciutto to arugula and regular old pepperoni, makes this a step above. Affordable price points and an excellent view of CityWalk are why this is a top pick.
Pro Tip: For dessert, don't miss out on Voodoo Doughnuts. This is the place for contemporary, melt-in-your-mouth varieties of Bavarian cream, citrus frosting, and dollops of chocolate pearls.
Universal Studios Florida
Next, we'll capture the outstanding restaurants at Universal Studios. Visiting Universal Orlando can be daunting with long lines, Florida heat, and so much ground to cover. The geniuses at Universal Studios knew this and created Fast Food Boulevard.
This immersive food court recreated fan favorites such as Krusty Burger, Luigi's Pizza, Cleatus' Chicken Shack, Frying Dutchman, and Lisa's Tea Shop of Horrors. No reservations are needed at this no-hassle crowd-pleasing venue.
Krusty Burger
You can't go wrong with the legendary Clogger Burger. Experience the same old stale jokes from Homer, but with delicious milkshakes plus hot, fresh food. It's quick service, and alcoholic beverages are available for guests over 21. Krusty's also has a Ribwich, Beyond Burger, and Heat Lamp Dog.
Photo Alert: Take a selfie alongside the bar's resident customer, Barney Gumble, then enjoy a real Duff Beer, locally brewed exclusively for Universal Orlando Resort.
Blondie's
On a hot Orlando day, something simple and fresh is the ticket. This Toon Lagoon Café, home to the famous Dagwood sandwich, serves made-to-order deli sandwiches stacked high with fresh meats, savory cheeses, and your choice of veggies and dressings.
Pro Tip: Get the Coca-Cola Freestyle® Souvenir Cup and enjoy over 100 drink choices and refills throughout the day. You can get three to six souvenir cups for $13.99 each, two for $15.99, or one for $17.00 at participating Coca-Cola Freestyle locations.
Also, guests can dine on beef, chicken, vegetarian kebabs, and Greek salads at Blondie's. In addition, there's hummus, Greek yogurt, fruit cups, pretzels, and churros.
Fresh-baked onion and poppy seed bread with baked ham, turkey, roast beef, American and Swiss cheese for less than $7 is the best buy at Islands of Adventure. And quench that adventurer's thirst at this Coke® Freestyle station.
Fire Eater's Grill and Doc Sugrue's Desert Kebab House
If you're in the mood for some Greek flavor, you've come to the right place. Fire Eaters has hands down the best combination lamb gyro sandwich. At the Kebab House, the must-order is…you guessed it – the kebabs! Dine on beef, chicken, or vegetarian Kebabs—Greek salads and hummus. If the kiddos are feeling picky, don't worry. Chicken tenders and hot dogs are on the menu.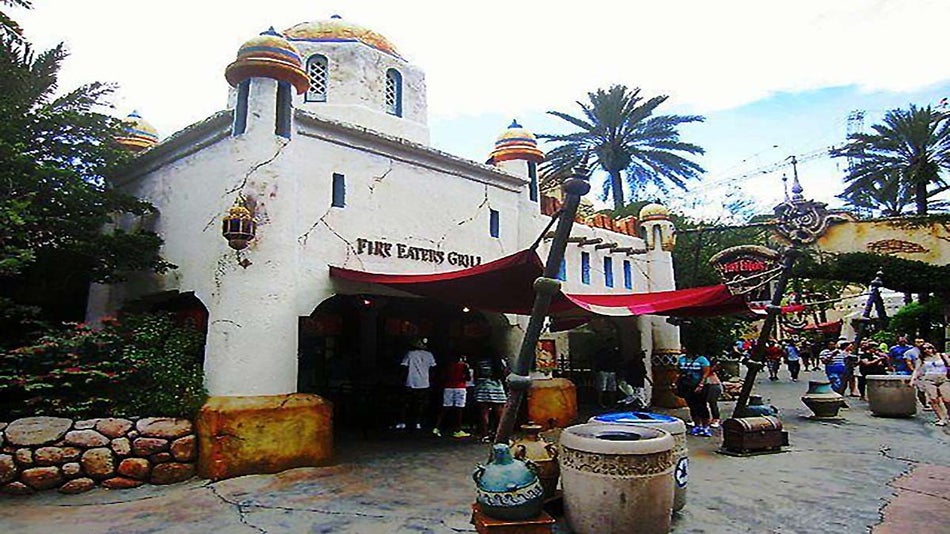 Pro Tip: Toon Lagoon is usually less busy than other park sections, so you can beat the crowds here and relax before heading to Diagon Alley™.
If you're curious about the two mega parks on opposite ends of CityWalk, we've broken down the inside scoop on these two entertainment complexes: Universal Studios vs. Islands of Adventure.
Universal Orlando Resort On-Site Diners
Even if you're not staying at the resort, these two best quick service places are easily accessible by walking or boat rides. For even more food options, check out another side of the Universal Resorts – for your next stay, perhaps?
Bayliner Diner
Hopscotch back in time to the 60s at this retro-themed diner. Take a boat ride (or a 5–10-minute walk) to this hip hangout, located at the new Cabana Bay Beach Resort. The large food court area has six stations, each offering different selections such as grilled foods, pizza, pasta, salads, stir-fry, and Panini.
Order from the eclectic menu, then get comfortable in one of the cozy booths. Get nostalgic watching two large-screen televisions playing 1960s commercials and clips. Although the luncheonette is dated, modern conveniences like multiple charging ports let you relax and recharge. Both fast food and table service are available here.
Sal's Market Deli
For another quick, on-site dining option, try Sal's. You can walk it in 20 minutes from Universal Orlando or take a scenic harbor boat ride to Portofino Bay Hotel. Once you arrive, you'll find Sal's just off the dock. Then, follow your appetite to the Italian deli for Salvatore pizza, classic Italian sandwiches, antipasto salad, and meatball parmigiana.
The European charm of the market is accentuated by harborside seating. Beautiful views, a menu with Italian flair, and low-price points make Sal's an excellent choice.
Universal's Islands of Adventure
Wimpy's
This quick-service burger joint channels the old-school delight of Popeye's old pal Wimpy, who'll gladly pay you Tuesday for a hamburger today. These mouth-watering masterpieces (cheeseburgers, chicken fingers, and curly fries) are perfect on-the-go options and fast food delicious.
The Three Broomsticks ™
Lastly, Harry Potter fans, listen up! This is the place to eat at Islands of Adventure. Located in the Hogsmeade™ portion of The Wizarding World of Harry Potter, The Three Broomsticks is a highly imaginative, extremely detailed recreation from the hit movies and books.
Order the fish and chips from the British-themed menu, side with a Butterbeer™, and you'll be dining like Harry and the muggles.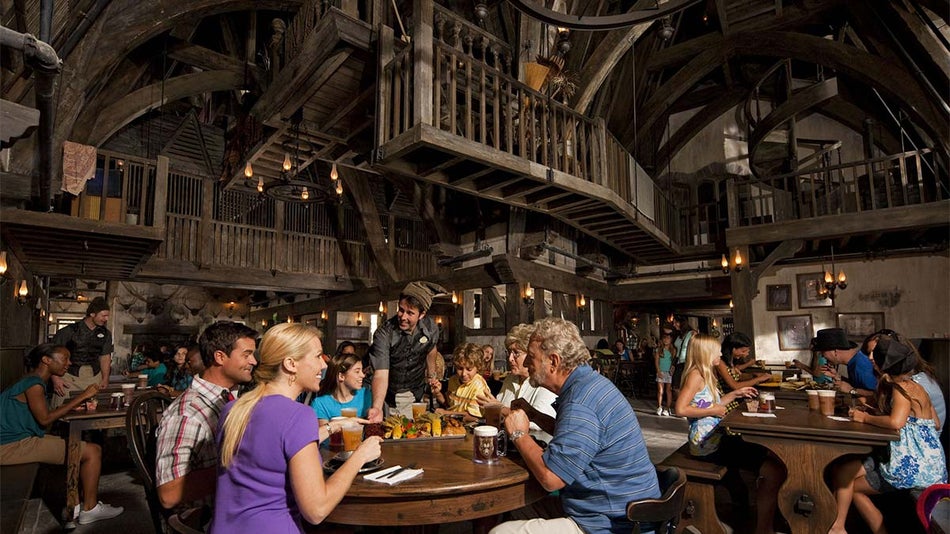 Book Your Trip Now and Dine in Style at Universal Orlando
Most importantly, your time is limited. Even though Universal has the crème de la crème of bistros, grills, and steakhouses, let's be honest, you came for the thrilling rides, mega dose entertainment, and all-around incredible theme park experience.
We know with so many options, it can be hard to uncover which places have quality food and atmosphere at reasonable prices. We hope you like our Universal Orlando dining suggestions.
Here are a few more for you. Why settle for just one day at this omnipresent fun park when you can ramp up the thrills and the savings by combining your Universal Orlando tickets with other trips and combo packaging?
We have great deals on Walt Disney World® tickets, LEGOLAND® Florida Resort, and Orlando SeaWorld® tickets.
What Was Your Favorite Restaurant or Watering Hole at Universal?
We'd love to hear about your experience.