Visiting a cozy ski town surrounded by natural splendor doesn't have to break the bank! Save some dough on your trip to Gatlinburg when you take advantage of all the free things to do.
Known as the Gateway to the Great Smoky Mountains, Gatlinburg, Tennessee, is a picturesque mountain town. It's a gem of a vacation destination, offering visitors the best in outdoor activities and fun family attractions. In addition, there are a plethora of free things to do in Gatlinburg TN!
If you're looking to travel on a tight budget, a place packed with scenic nature views at every turn is a great choice. Gatlinburg fits the bill with its gorgeous overlooks and hiking trails. In addition, the great outdoors offers free scenery that beats man-made attractions any day! 
Clingman's Dome
One of the best views around has to be Clingman's Dome. It allows visitors to take in the Smoky Mountains from 6,643 feet in the air! This is the highest point in the Great Smoky Mountains National Park and the state of Tennessee.  
The dome allows you to see over 100 miles on a clear day, but air pollution frequently limits viewing distance to 20 miles. So expect a 10 to 20-degree temperature drop at the top, and dress accordingly! The chilly weather and steep, half-mile hike to the observation tower results in a big payoff with a breathtaking view of the Smokies.
Pro Tip: Pets, bicycles, and wheelchairs are not permitted on the trail to the observation tower since it is so steep. 

Gatlinburg Festivals
Wandering through the hustle and bustle of a festival is a classic activity everyone loves. The exchange of greetings and goods, wrapped in an atmosphere of excited people about something (and often, the sweet smells of nearby food), creates an irreplicable feeling. 
Related Post: Current Festivals and Events in Gatlinburg
Catch the Smoky Mountain Tunes and Tales, a summer-long street performance festival featuring costumed musical performers, dancers, and storytellers portraying characters from time periods as far back as the 1800s.
The Great Smoky Arts & Crafts Community
The Great Smoky Art & Crafts Community is a dream for art lovers, small businesses, handmade products, or all three. It's a school of arts crafts made up of a group of independent artists -- the largest in the United States -- all stationed around an eight-mile loop steeped in history that goes back to 1937.
Maneuver between shops, studios, and galleries by way of the trolley. The pottery, paintings, candles, and countless other crafts are sure to leave you feeling inspired. The best part is that it's all free unless you decide to take something home!
Window Shopping in the Smokies
Wondering if there are free things to do in Gatlinburg for adults? If you love exploring different shops and what each offer, you're in for a treat!
Gatlinburg is home to nine malls and hundreds of shops. Many shopping areas are reminiscent of old-style villages, and the shops are stocked with unique treasures you can only find in the Smoky Mountains.
While window shopping is free, it's not always easy when there are so many great finds in Gatlinburg. So participate in this activity at your own risk. To help keep those dollars in your pocket, make it a game to see who can find the most unusual item!
Cades Cove
With hundreds of Gatlinburg outdoor activities, you're not going to want to miss what's offered at Cades Cove. A visit to this popular attraction is one of the best free things to do in Gatlinburg 2023.
Cades Cove is an 11-mile, one-way loop around a lush valley surrounded by mountains. It features abundant wildlife and historic buildings from the 18th and 19th centuries, prepare for lots of scenic views.
Depending on traffic, it is recommended that visitors set aside two to four hours to make the loop. To take your sightseeing to the next level, get out and walk some of the trails! Don't forget to add a couple of hours when making your schedule if you decide to do this. 
Photo Alert: You'll likely catch sight of some spectacular wildlife here. Keep your distance to snap some photos and add some nature photography to the 'gram! Definitely one of the best Gatlinburg free things to do for wildlife photographers!

Newfound Gap Road
If you prefer to enjoy the great outdoors sans dirt, leaves, and other outdoor messes, the Newfound Gap Road is the best way for you to experience the magic of the Great Smoky Mountains National Park. This mountain route will take you through the entire national park from the comfort of your car -- and it's the only road that allows you to do so.
After beginning in Gatlinburg, this 33-mile drive ends in Cherokee, North Carolina, after about an hour of driving.
Pro Tip: The length of this drive depends on traffic. If you're making the trek in June, July, August, or October, prepare to take your time and get stuck in traffic on occasion. This may slow you down a little, but leisurely sightseeing is the best kind!
Roaring Fork Motor Trail
Don't go chasing waterfalls; just take a drive to Roaring Fork Motor Nature Trail. Named after a mountain stream, this area boasts gorgeous waterfalls and enchanting forest scenery. So get out of the car and stretch your legs in the misty, goosebump-raising beauty of Rainbow Falls or Grotto Falls. 
Before you enter the trail, don't miss out on stopping at the Noah "Bud" Ogle cabin. This mountain farmstead is a history buff's delight.
Hiking
Hiking is one of the best free things to do in Gatlinburg Tennessee. A true paradise with over 800 miles of trails through the Great Smoky Mountains means the only problem will be choosing which one to take.
Lace-up those hiking boots! There are also tons of hiking trails in Pigeon Forge, which you should add to your list of free things to do near Gatlinburg TN.
Here are a few Gatlinburg trails to choose from based on level of difficulty:
Mountain Farm Museum and Mingus Mill
Looking for free or cheap things to do in Gatlinburg? How about a visit to a museum surrounded by the great outdoors? Free things in Gatlinburg can be fun and educational!
This historic area is located about 30 miles outside of Gatlinburg and features a collection of farm buildings from all over the Great Smoky Mountains that were moved to this one spot. The collection includes a chestnut log farmhouse, apple house, and working blacksmith shop. Take this opportunity to time travel to the late 19th century!
Pro Tip: After you get your fill of history, explore the nearby Oconaluftee River Trail or Mingus Creek Trail, another attraction on our things to do in Gatlinburg for free.
Little Pigeon River
Gatlinburg's riverwalk along the Little Pigeon River is a peaceful respite in the middle of a tourist-laden city, thus being one of the best things to do in Gatlinburg free from the crowd.

Use this area dotted with benches and gazebos to rest your mind and body while taking in the lull of the current and the aura of the cool river mist, free of charge.
Wildlife Watching
Grab your binoculars! Scouting out wildlife in the Smokies is an exciting and cashless pastime. Keep your eyes peeled for some of our favorite Smoky Mountain inhabitants, such as:
Deer

Turkeys

Black bears

Bobcats

Elk
Free things to do in the Smoky Mountains will have you appreciate all that mother nature offers. Wildlife watching in the Great Smokies is also one of the best cheap family things to do in Gatlinburg, TN. Share some fun facts about the animals with the kids while you watch them in person.
If you're in town in the fall, you have an opportunity to do one of the best things to do in Gatlinburg in October. Experience the Smoky Mountains fall foliage and take tons of pictures for the 'gram.
Gatlinburg Scenic Overlook
A list of "free things to do Gatlinburg TN" is not complete without the Gatlinburg Scenic Overlook.
Choose between four parking areas on the Gatlinburg Bypass and get ready to witness one of the most stunning scenes you've ever laid eyes on at the Gatlinburg Scenic Overlook. Take in a breathtaking view of downtown Gatlinburg surrounded by a mountainscape that will make you wish you could fly above the trees.
Photo Alert: Don't leave one of the most photo-worthy spots in Gatlinburg without striking a pose! Bonus points if you catch it in all its autumn glory. A swirl of gold, maroon, and orange will add a colorful punch to your social media feed.
Arrowmont School of Arts & Crafts
Art lovers, we're circling back to you. The Arrowmont School of Arts & Crafts was originally founded under the name Pi Beta Phi Settlement School and was Gatlinburg's first opportunity for formal education. However, the popularity of craft workshops hosted at the school eventually led to a name change, and it became the school it is today.
A total of four art galleries at the school are open to the public Monday through Friday. Browse the exhibits and soak in the free inspiration! This is one of the best free activities in Gatlinburg for those looking for artistic inspiration.

You might also get free stuff in Gatlinburg if local artists are giving away freebies and souvenirs!
Sugarland Visitor Center
The Sugarlands Visitor Center is a great place to get oriented at the beginning of your Gatlinburg vacation. Watch a free 20-minute movie about the national park and its wildlife, wander through history exhibits, and listen to ranger talks presented at select times of the year. 
Afterward, there are three easy hiking trails to stroll:
Cataract Falls

Fighting Creek Nature Trail

Gatlinburg Trail
The Gatlinburg Trolley
It wouldn't be a trip to Gatlinburg without a ride on the Gatlinburg Trolley! The trolley system features over 20 trolleys and runs 365 days a year. Not only is it a free way to tour the city, but it's also a great way to beat the infamous Gatlinburg traffic.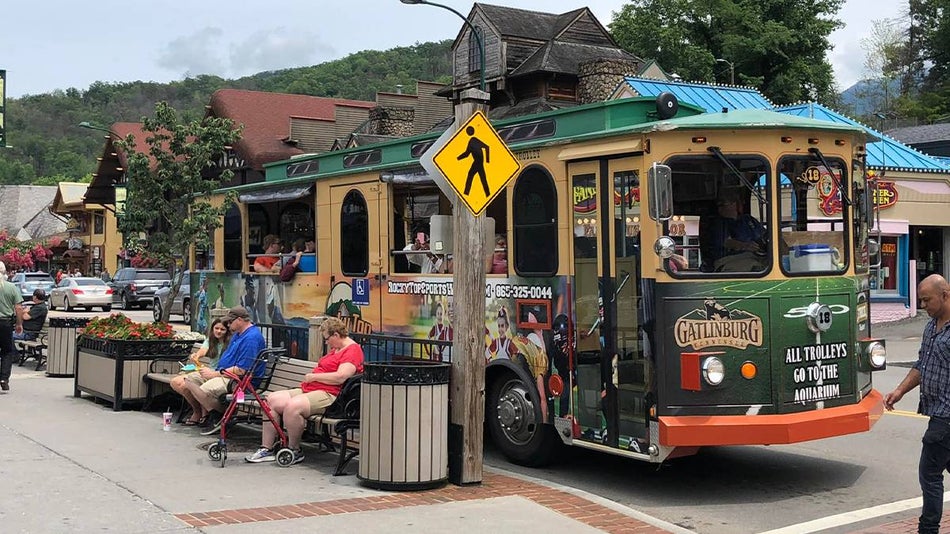 With this list of free things to do shared by Tripster Gatlinburg travel guide, even the most budget-conscious among us can have an exciting trip to Gatlinburg! So fill your itinerary with these activities and get ready to make Smoky Mountain memories that money can't buy.
What Free Things to Do in Gatlinburg will you Add to Your Itinerary? 
Let us know in the comments below!