Read on to learn more about engaging volcano tours in Hawaii available during your Hawaii vacation.
See Hawaii's famous volcanoes as you've never seen them before with Hawaii volcano tours. Choose from Big Island volcano tours or tours of Maui or Oahu. See lava flows and enormous craters as you walk around these marvels of nature. Tripster Hawaii offers visitors several popular Hawaii volcano tours to choose from. 
Big Island Full Day Volcano Eco-Tour:  Visit Rainbow Falls, a Richardson's black sand beach, Queen Liliuokalani Gardens, historic Hilo town and the Hawaii Volcanoes National Park, among other stops, on this engaging eco-tour.  Walk beside the gaping Halemaumau Crater, visit the fascinating Jagger Museum, learn the geology of the volcano, walk inside the Thurston Lava Tube and see the Kilauea Iki Steam Vents.  When the sun goes down, watch as the molten lava from Kilauea glows burnt orange and red in the darkness of the night. 
Evening Volcano Special Tour:  Although 'evening' is included in this tour name, there's actually a full day of exploration ahead of you.  A visit to Rainbow Falls, Richardson's Black Sand Beach, the Mauna Loa Macadamia Nut Factory, Akatsua Orchid Nurseries and Hawaii Volcanoes National Park is included on the tour.  Visit the park's Jaggar Museum and Kilauea Visitors Center, and then explore the Steam Vents and Kilauea Iki Overlook before walking inside the Thurston Lava tube.  As night falls you'll be able to see active lava flowing from the Kilauea Volcano – a special sight indeed!  

Grand Circle Island Tour:  Numerous Big Island spots are included in this island tour.  This daylong adventure is the perfect showcase for the Big Island's most unique sights and locations.  Visit Royal Kona Coffee, Kealakekua Bay, Punaluu Black Sand Beach, Rainbow Falls, Hamakua Coast, and Fern Tree Jungle, among other sites.  Then, tour Hawaii Volcanoes National Park where you'll see lava fields, lava tubes such as the Thurston Lava Tube, steam vents and even view molten lava when conditions are right. 
Deluxe Volcano Adventure: Looking for a full day tour spent exclusively at Hawaii Volcanoes National Park? Then this adventure tour is perfect for you. Through detailed geologic and natural history interpretation, short walks and auto-tours, you'll explore and learn about the world's most active volcano. See a splendid rainforest, walk through the Thurston Lava Tube, and explore volcanic formations and the diverse geography and climates of the park.  Other points of interest include Rainbow Falls, Hilo's King Kamehameha Statue, Big Island Candies, Jaggar Museum, Kilauea Caldera, Steam Vents, Halemaumau Crater, Thurston Lava Tube, Mauna Kea State Park,and more. A lunch and dinner is included in this tour, making it a great value for visitors. 
Kona Coffee and Craters: Don't have time to tour the Hawaii Volcanoes National Park but still want to see volcanic landscapes? Then this is the tour for you.  You'll journey through a dense rainforest to a world of volcanic activity in Kaupulehu and explore native dryland forest, lava flows, a lava tube and three distinct craters. Afterwards, tour a Kona coffee estate where you can see all aspects up the coffee process and try some of the home-brewed blends.  
Twilight Volcano Adventure:  Despite the name, this adventure is actually a full day tour – which includes viewing Kilauea at twilight. The tour starts with viewings of Mauna Kea and Mauna Loa before stopping at Mauna Kea State Park. Enjoy a deli-style lunch before visiting the Kaumana Cave.  Then, you'll head to the summit of Kilauea inside Hawaii Volcanoes National Park. The summit caldera, steam vents, cinder fields, and native rainforests are all on our "must see" list. Dine on a picnic dinner before witnessing the awesome power of active lava. Viewing options include Kalapana, where lava flows into the sea, and the Halemaumau Crater.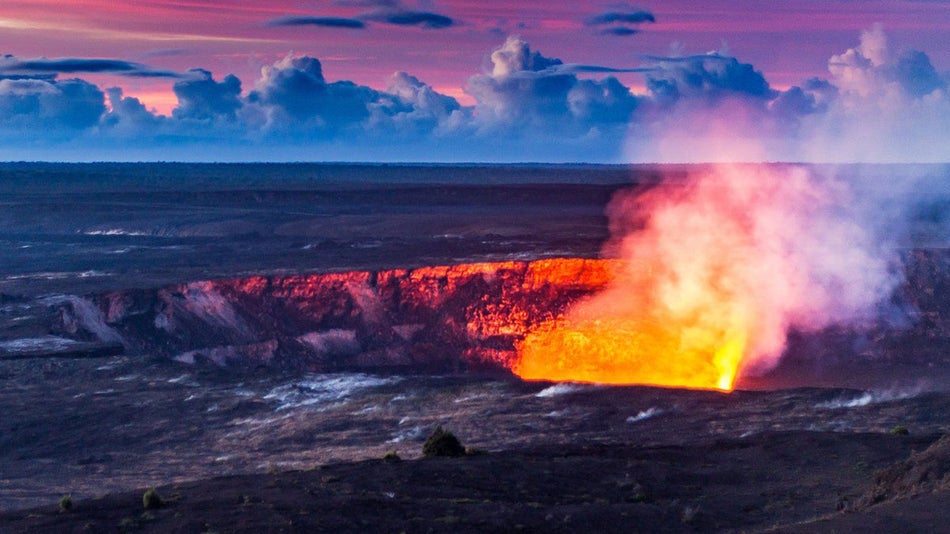 Volcanoes National Park & Waterfalls Explorer: Want to see two of the Big Island's iconic attractions in one day? If so, this is one of the Hawaii Volcano Tours ideal for you! It covers everything that makes Hawai`i Island unique. See Mauna Loa and Mauna Kea, the two largest volcanoes of Hawai`i Island, on the way to famous Rainbow Falls and quaint Hilo-town, the site of two devastating tsunamis. Includes a brief stop at the KapohoKine Adventures store to top off on provisions before heading to Hawaii Volcanoes National Park where your Park Ranger-trained guide will walk you through Thurston Lava Tube, past active steam vents, and into the Jaggar Museum. The return to Kona includes a stop at the beautiful Punalu`u black sand beach where endangered sea turtles feed and rest. A picnic-style lunch is included. This is an all-day excursion lasting 10 hours.