This ultimate Big Island 5 Day Itinerary will have you planning a trip to Big Island in no time!
Wondering what to do on Big Island for 5 days? We got you covered! Follow along as we detail a day-by-day Big Island itinerary!
Make the most of your 5 days in paradise, visiting only the best places to see, doing all the activities you need to try, and exploring the hidden gems you absolutely need to discover!
This 5 day Big Island Itinerary is ideal for people who want to see a little bit of everything but don't want a hectic schedule. You're in Hawaii, after all, and your purpose is to relax! 
What is Big Island Hawaii Known For?
Big Island, as the name suggests, has the largest landmass in the Hawaiian island chain. Naturally, there are more things to do and more places to explore, which is why visitors may sometimes find it challenging to decide how to spend their days on the island.
Big Island is most famous for its incredible natural attractions that aren't seen anywhere else on the planet, including its extremely active volcano–Kilauea. If it is your first time on the Big Island, a typical Big Island itinerary includes visiting the Hawaii Volcanoes National Park.
Other must-not-miss attractions when on the Big Island are the green and black sand beaches, the coffee plantation in Kona, and the most amazing waterfalls and rainforests. 
If you wish to visit as many of the Big Island's top attractions within 5 days, we recommend renting a car or getting a Big Island vacation package. Otherwise, get ready to plan a DIY Big Island vacation using this ultimate 5-Day itinerary for inspiration!
Big Island in 5 Days
Day 1
When in Maui, locals often advise visitors to take the Road to Hana tour on their first day. Doing so allows you to see the big picture of the island and take note of the places you want to visit again or things you want to do during your stay.
Similarly, we recommend that your five days on the Big Island start with a Big Island Circle Tour. The Big Island Circle Tour allows you to see the natural wonders side of the island in one day. If you're looking to take a look at the top attractions through a Big Island in a Day Tour before you start the rest of your vacation, then this is a must-do for you.
Doing a Big Island one-day tour with Big Island Circle Tour will take you to the island's best views, like the Kona coast, Ka'u coffee farm, and Hamakua coastlines, Rainbow Falls, and the Hawaii Volcanoes National Park, complete with stops at hidden gem experiences.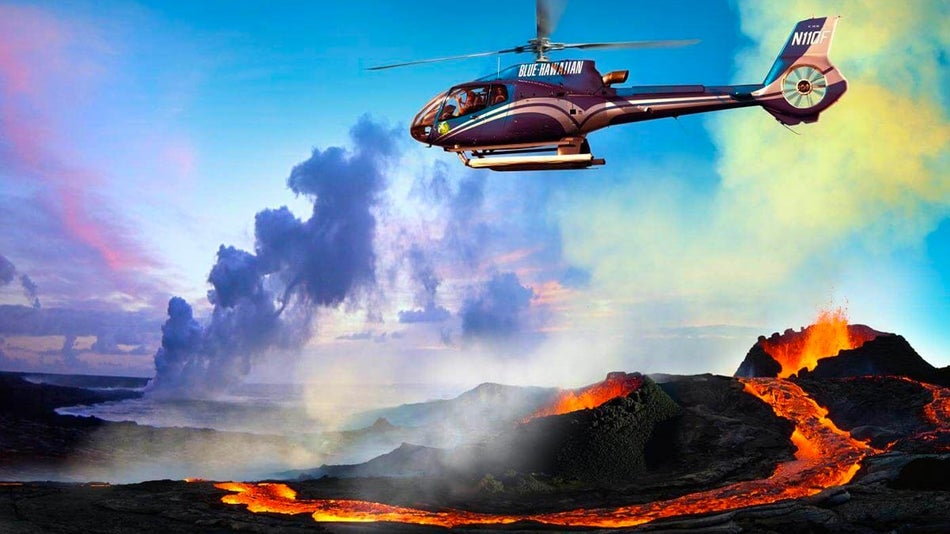 On this trip, you will be treated to a sneak peek of all the things you can do around Big Island and all the places you need to see during your vacation. You will spend a day exploring waterfalls, beaches, tropical valleys, stunning viewpoints, and much more. Look forward to famous stops that will make you wish you can stay longer, including the Punalu'u Black Sand Beach.
The Big Island Circle Tour duration is approximately 11 hours. The tours typically start from 7 AM until sunset and pick up guests at all major West Hawaii hotels and resorts. But don't worry! This full-day Big Island tour is not as tiring as it seems.
There are opportunities for a few short walks, but none of them include any walking longer than 20 minutes, with the exemption of the Kona Coffee, Cloud Forest, and Brewery Experience.
Dreaming of seeing Big Island from the skies? Get a helicopter tour instead on your first day. There are multiple top-rated Big Island helicopter tours to choose from, including the following by Blue Hawaiian Helicopters:
Beginning a 5 Day trip to Big Island with a grand helicopter tour is arguably the best way to appreciate breathtaking views of the Big Island's towering sea cliffs and meandering valleys.
Depending on the area you choose to fly over, you'll also be able to see views of the still-active Kilauea volcano, black sand beaches, volcanic badlands, the Kohala Mountains, cascading waterfalls, ancient Hawaiian settlements, and much more. The idea is to get a bird's eye view of the Big Island and the places you'd want to explore longer during your stay. 
Day 2
An itinerary Big Island Hawaii is not complete without a visit to Hawaii Volcanoes National Park. Millions of people travel to Big Island each year just to get close enough to breathtaking views of active volcanoes–to witness lava flows and go on excursions inside hidden craters.
If you have 5 days in Hawaii, we recommend reserving a full day for a 12-hour Deluxe Volcano Experience tour. This tour shows off several wonders of the island, including Hawaii Volcanoes National Park, the Kilauea Volcano summit eruption area, and the best points of interest in Kailua Kona. 
Alternatively, you can enrich a Hawaii 5 day itinerary with a one-day Hilo itinerary through the Evening Volcano Explorer tour. Your day will start with a drive through quaint Hilo town, where you'll drive along the historic waterfront before heading out to the old fishing village of Kalapana. And then, just before sunset, you will reach Hawaii Volcanoes National Park and be able to explore parts of the area with a National Park Service-certified guide.
If you are wondering whether you should spend an entire day exploring Hawaii Volcanoes National Park, that's an ideal way to spend a day on Big Island too! There are so many unique hiking trails and attractions to see inside the park that some visitors even choose to stay for the night.
For a full day in Hawaii Volcanoes National Park, we recommend booking the Volcano Unveiled Tour by Hawaii Forest and Trail. A certified guide will take you hiking in Volcanoes National Park, and along the way, you will see a private lava tube, enjoy appetizers on a farm, and see parts of the park others may not get the chance to.
If you have your own vehicle, you can also explore Hawaii Volcanoes National Park and the neighboring Volcano Village on your own. However, please note that you need to secure a Hawaii Volcanoes National Park ticket.
Day 3
What good are five days on the Big Island if you aren't going to take a dip in its deep blue waters? A 5 day itinerary Hawaii typically includes either a Whale Watch Cruise or a Deluxe Snorkel and Dolphin Watch cruise–or maybe both if the season is right!
Whales start migrating to Hawaii around the fall months, and sightings can begin as early as October. Each year, more than 8,000 Humpback whales journey over 3,500 miles to Hawaii, where they congregate to breed, calf, and nurse their young.
The seasonal Whale Watch Cruise by Body Glove Cruises is a 2.5-hour whale-watching adventure that offers you the best opportunity to view and experience this phenomenon. On the ship, enjoy plenty of shade, comfortable seating, light snacks, and refreshing drinks.
If it's not yet the season to see the majestic humpback whales, Big Island is still the place to be for dolphin-watching and snorkeling! You can do both with the Deluxe Snorkel and Dolphin Watch Cruise by Body Glove Cruises. This is a 4.5-hour snorkeling adventure at some of the best snorkeling spots on the Big Island, but with a twist! Instead of snorkeling in shallow pools, you'll have the opportunity to spot spinner dolphins and swim with them!
For a luxurious evening cruise, we recommend Captain Cook Dinner Cruise to Kealakekua Bay, a sunset dinner cruise that you are unlikely to forget. After an afternoon snorkeling with the spinner dolphins and discovering more of the Big Island's exotic marine creatures, take a 3-hour guided Hawaiian-style dinner cruise while the ship journeys 12 miles down the Kona Coast to Captain Cook's monument. You will learn more about Hawaii's rich history while drinking cocktails and watching live entertainment over a gorgeous tropical sunset.
Not into cruises? Why not seize the day by scuba diving or engaging in exciting water sports instead? Green Sand Beach is one of only four green sand beaches available in the world, so while it's nice to take Instagrammable photos, it's also the perfect place to bodysurf, sunbathe, and swim.
For scuba divers, there is so much to explore in the underwater world of the Big Island that it's impossible to see it all in a day. However, if you must start somewhere, we recommend starting at Crescent beach, where you can see megafauna that includes the iconic tiger sharks, manta rays, eagle rays, sea turtles, and dolphins.`
Day 4
When on Big Island, we can't get enough of all the majestic waterfalls and lush tropical rainforests. This is why it's common for visitors to take the entire day delving into the deeper parts of the forest for a chance to see more of the most beautiful waterfalls on the Big Island.
The Rainforest and Waterfalls Adventure is an 8-hour tour that attracts guests of all ages who wish to see more of the island's surrounding nature. Take a trip up the North Kona and Kohala coastlines near the lava flows (caves) from Mauna Loa, Mount Kea and the Kohala Mountains, and more places. Along the way, you'll see not just the most spectacular waterfalls but also stunning mountain panoramas, green valleys, and pasturelands. 
History buffs will also enjoy the Rainforest and Waterfalls Adventure tour! The adventure includes a 1.5-mile loop trail where you'll see tunnels blasted and carved from solid rock, walk over an aqueduct on two bridges, and learn the story of the tremendous effort it took to build an irrigation system stretching over 22 miles.
If you start the tour early, you'll still have time to take a night swim with manta rays in the evening! A Hawaii Big Island 5 day itinerary often includes more days exploring the underwater treasures, so even if you've already spent most of Day 3 doing so, you can still extend on the evening of day 4.
Swimming with manta rays is often part of night snorkeling activities on the Big Island. Some hotels and resorts offer this to guests, although you can look for similar tours elsewhere. If you go on a snorkeling tour in the evening, you will stay near the water surface while holding on to a flotation device with lights attached to it. This attracts plankton and, thus, the manta rays. However, you can also scuba dive at night, so you can sit on the ocean floor and see the manta rays from below.
If you wish to spend your fourth night in Hawaii above water, you can always journey to Waipio Valley. Aside from being a picture-perfect backdrop for a postcard, the sacred Waipio Valley is also an important center for political and religious life. This breathtaking place is also called The Valley of the Kings because King Kamehameha I, the first ruler of the Kingdom of Hawaii, lived here during his childhood. 
There is not much to do in Waipio Valley other than admiring the stunning views of the valley and the high seas, but even that already makes for an unforgettable nightcap for your 4th day on the Big Island.
Day 5
It's your last day on the Big Island! It's your last chance (at least for this trip) to see all the places left on your list!
Since this marks the end of your 5 day trip to Hawaii, the day is yours to do as you wish. The past four days have been full of activities and sightseeing, so today, you may prefer to just wind down and enjoy the amenities and facilities in your resort or beach-front hotel. Resorts like the Hilton Waikoloa Village have so many amenities that you will barely think of venturing into the unknown. There are pools, a lagoon, and in-room extras for a comfortable vacation.
Big Island in 5 days, however, might not be fully complete if you never get to explore the Kona side of the Big Island. We recommend this for visitors who have an extra day to see more of the Island and learn more about the Hawaiian culture.
Coffee, Cloud Forest, and Brewery Experience is a 6.5-hour casual-paced tour that takes you to the Kaloko-Honokohau National Park, Kona Cloud Forest Walk, Mountain Thunder Coffee Plantation, and Ola Brew Co. So yes, this tour is definitely for coffee lovers!
The Kona coffee, which you will get a chance to taste during the tour, is one of the most special coffees you will ever sip. This is because of the extra care taken by generation after generation of coffee farmers. And even better is that while enjoying a cup of coffee, you will also love views of ever-green mountains and clear blue skies.
You can also end your blissful days on the Big Island with Voyagers of the Pacific. Presented at Coconut Grove at Royal Kona Resort, visitors are treated like royals. Enjoying an unforgettable experience of the hospitality of Hawaiians, their delectable authentic cuisines, and a dynamic Polynesian revue with fire artists, dancers, and musicians. If you have a final night on the Big Island, end it with the best Hawaiian food and the best Hawaiian entertainment.
Where to Stay on Big Island
A 5-day itinerary Big Island is not complete without deciding where to stay on the Big Island of Hawaii! There are so many beautiful hotels and resorts on the island, from budget to luxury.
Hilton Waikoloa Village is one of the best Big Island hotels if you want to splurge on a family-friendly ocean-front resort. The hotel also has a manmade beach and lagoon. This adds to the fun of your Big Island vacation on days when you don't feel like going anywhere else.
For a more budget-friendly alternative, check out the Volcano Forest Inn. Staying here is ideal, especially if you are planning to spend a day or more exploring Hawaii Volcanoes National Park. The Inn is near the Park and offers guests unbelievable views of the surrounding nature.
Big Island Vacation Package
Want to spice up your Big Island itinerary 5 days? Check out some of the best Big Island Vacation Packages and Big Island Special Deals on Tripster! You never know what deals you'll find, from Big Island top attraction discounts to hotel and attraction money-saving bundles.
The Big Island special deals are also ideal if you're only planning a Big Island 1 day itinerary. Explore Big Island in a day using discount tickets and combo packages that are only offered on Tripster. Have the happiest time of your life experiencing the beauty of Big Island!
Explore the Rest of Hawaii
In Hawaii for a week or more? Take your Hawaiian vacation to the next level by exploring the rest of the islands! Jump from Big Island to Kauai, Maui, and Oahu while saving big with discount tickets to top attractions.
The latest promotions for Hawaiian Islands' top attractions are all available on Tripster. Go on the most unforgettable Road to Hana adventure or ride a helicopter over tall cliffside mountains. Then take in one of the best Hawaiian luaus around. The possibilities for the best Hawaiian vacation ever are endless! 
And if you need even more ideas, consult Tripster's Big Island Travel Guide.
Have You Been to Hawaii's Big Island? 
Did we miss anything from our Big Island itinerary? Share with us below!