Whether you choose to get away to the Happiest or most Magical Place on Earth, you are in for quite a treat.
Follow along as we take you through every last Disneyland vs. Walt Disney World difference.
Whether you have your sights set on sunny Anaheim, California, or you're dying to cool off in any of Walt Disney World Resort's refreshing water parks, Disney is never a bad idea.
Both parks offer plenty of attractions, rides, and unique experiences for the Disneyphile in your life. 
Read on to discover the surprising differences and similarities between Disneyland vs. Disney World…
About the Parks: Walt Disney World and Disneyland
Before we dive into the juicy details like which park makes the best churros and has the most scream-inducing rides, let's break down the basics:
Disneyland Los Angeles vs Orlando: Location
A huge factor in planning any Disney vacation is the location! Disneyland sits pretty in Southern California, just 30 miles from Los Angeles in the city of Anaheim.
This makes Disneyland a picture-perfect destination for many west coast families and visitors. Alternatively, Walt Disney World is located just outside Orlando, Florida, which makes it a desirable locale for visitors to not just the Sunshine State but the entire East Coast.
Disneyland Better than Disney World: History
Are you a fan of the classics? Those seeking a more nostalgic park experience may prefer Disneyland, which was the first Disney theme park to open on July 17th,1955.
Although Walt Disney was heavily involved in the planning of Walt Disney World, he did not live to see his Florida Project come to fruition. After many years of planning, scheming, and dreaming, Disney World opened in 1971, just five years after Walt's passing. 
Disneyland or Disney World: Size
Is Disneyland or Disney World bigger? There's no doubt that Walt Disney World earns the prize for the biggest Disney park.
Clocking in at a sprawling 43 square miles of Disney World, this behemoth of a park is roughly the size of San Francisco! With so much Disney territory to explore in Orlando, we highly suggest budgeting at least a week for Disney World. In contrast, Disneyland's 500 acres could easily fit inside Disney World.
With a lot less ground to cover, it is more than feasible to conquer the best of the West Coast in a day or two.
Park Breakdown
While both parks are bursting with Disney enchantment, colorful characters, and delectable dining, they are organized quite differently. 
Disneyland is home to just two special parks and the Downtown Disney district:
Disneyland Park

Disney California Adventure Park
Disney World, on the other hand, is home to four parks:
Magic Kingdom

Epcot

Disney Hollywood Studios

Disney's Animal Kingdoms
Two water parks:
Typhoon Lagoon

Blizzard Beach
and the entertainment district known as Disney Springs! 
If your vacation plans include lots of splish-splashing fun and high-speed H20 based adventures, you might want to book that ticket for Walt Disney World.
Disneyland vs. Disney World Hotels
From quirky seaside-themed accommodations to luxurious Polynesian Villas, half the fun of a Disney trip is choosing which heavenly hotel to stay at. While both Disneyland and Disneyworld offer dynamite lodgings, more variety can be discovered at the latter.
Disneyland hotels include:
The Disneyland Hotel

Disney's Grand Californian Hotel and Spa

And the Disney's Paradise Pier Hotel
Of course, if you are seeking more budget-friendly accommodations, there are many options when it comes to hotels near Disneyland. 
Walt Disney World boasts over 25 on-property hotels and several golf courses. Notable standout lodgings include the sumptuous Disney's Grand Floridian Resort and Spa, Disney's Contemporary Resort, and their world-class Polynesian Villas and Bungalows. 
Before you pull the trigger on your five-star Disney lodgings, you might want to consider park transportation.
Given that Disney World is so much larger, it does require more planning to get from point A to B. Thankfully, all of the on-site hotels provide complimentary shuttles and/or resort buses.
In addition, guests can also utilize the monorail, Disney Skyliner, boats, or ferries to get to the parks depending on their hotel. 
Since Disneyland is so small in size, if you are staying on-site, you can easily walk right up to the park's entrance and the Downtown Disney District. Another added perk of being a Disney Grand Californian guest is access to an exclusive Disney California Adventure park entrance, located right inside the hotel.
Bopping from Disneyland Park vs Disney Adventure Park is also super simple since the park entrances are right across from each other.
Disneyland vs. Disney World Park Attractions
Got your heart set on a selfie in front of Cinderella's Castle? Or have you been looking forward to soaking in the enchantment of the World of Color all year?
Depending on where your Disney park attractions interest lies, you may favor one park over the other. Of course, Disneyland and Disney World have their fair share of overlapping attractions, but they also contain unique spectaculars, parades, and live shows.
While both parks contain fantastic fairytale castles, they are distinctly different. For example, Disneyland is home to the serene Sleeping Beauty Castle, which measures 77 ft tall. In contrast, Walt Disney World contains the iconic Cinderella's Castle, which towers above at 189 ft.
Other unique Disneyland offerings include the Magic Happens Parade and the World of Color nighttime show.
Sensational Walt Disney World featured attractions and events include:
Mickey's PhilharMagic

Monsters Inc Laugh Floor

Beauty and the Beast – Live on Stage

Finding Nemo: The Big Blue… and Beyond! - NEW opening in 2022
Additionally, Walt Disney World is currently celebrating its 50th Anniversary celebration now through March 2023. As a result, the park is chock full of commemorative Disney character statues, EARidescent decorations, delicious treats, and more.
Disneyland vs. Disney World Rides
Raring to tackle the dark depths of Space Mountain or sign up for a 'pirate's life?' The good news for Disney purists is that both theme parks share about 20 of the same beloved classic rides, including:
Pirates of the Caribbean

It's a Small World

Haunted Mansion

Splash Mountain

Dumbo
and more.
However, it's important to note that the East Coast version may sometimes contain a slightly altered queue, different views, or theme. For example, Big Thunder Mountain Railroad at Walt Disney World features the same ride vehicle but on an altered track.
If you equate a Disney vacation with as many heart-pounding rides as you can handle, you may want to opt for Walt Disney World. This is because the crown jewel of Orlando parks contains a little over 50 rides, while Disneyland is home to half that. 
Wondering what one-of-a-kind experiences lie ahead for you at each park? Here is the breakdown of the distinguished rides at Disneyland and Walt Disney World:
Walt Disney World
Spaceship Earth

Mission: SPACE

Test Track

Kilimanjaro Safaris

The Seven Dwarfs Mine Train

Avatar Flight of Passage

Country Bear Jamboree

And more!
Disneyland
The Finding Nemo Submarine Voyage

Pixar Pal-A-Round

Radiator Springs Racers

Guardians of the Galaxy – Mission: Breakout

Mr. Toad's Wild Ride

Matterhorn Bobsleds

Pinocchio's Daring Journey

And more!
Disneyland vs. Disney World Dining
Ready to feast on Disney delights such as Dole Whip, Mickey bars, and more? Although the culinary offerings may slightly differ at each park, Disneyland and Disney World provide plenty of mouth-watering treats and tastes.
Those craving a bite of the 'grey stuff' can rest easy as this sublime sugary dessert can be found at the Be Our Guest restaurant in Disney World and the Red Rose Tavern in Disneyland.
Although both parks share many of the same crave-worthy 'fast food' type items, Disney World does come out ahead in volume. Walt Disney World is home to around 400 restaurants, while Disneyland has a little over 120.
Foodies in training will be pleased to learn that both parks house several fine dining options, including such standout eateries as the Blue Bayou Restaurant, Royal, Victoria and Alberts, and Cinderella's Royal Table.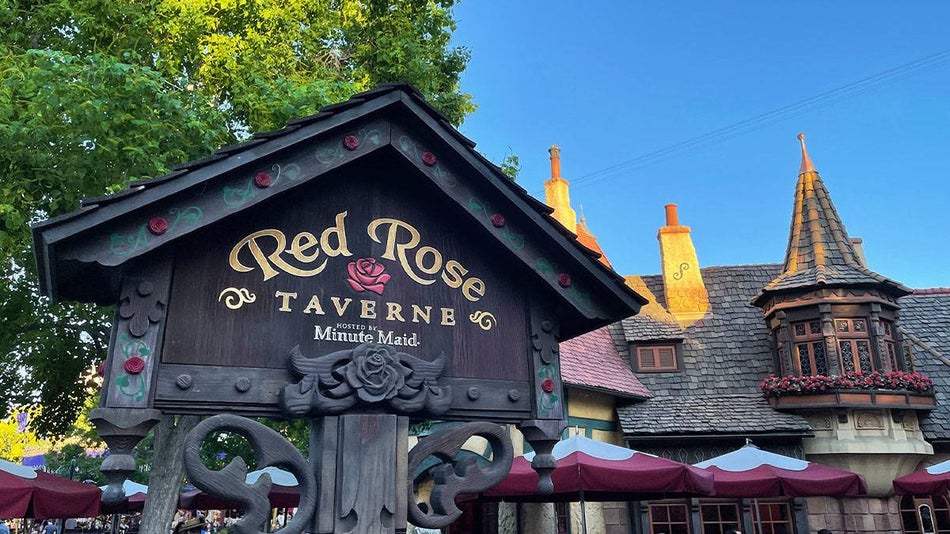 Character dining is available on both the West and East Coasts. However, if you want to break bread with Mickey in Orlando, you should attempt to snag reservations up to 60-180 days in advance, as these slots fill up fast. 
Mickey vs. Minnie, Chocolate vs. Vanilla, Disneyland vs. Disney World. Some comparisons have no bad choices! Whether you choose to hightail it to the Most Magical Place on Earth or the Happiest, you are in for one heavenly Disney holiday.
While Disneyland may have charm, history, and nostalgia, Disney World brings the power of roaring roller coasters and deep space missions to life. There are amazing Disney adventures to uncover at each park, from thrilling aerial Avatar Flights of Passage to zooming around with Lightning McQueen and the cast of Cars at Radiator Springs Racers.
Tell Us, Where will you Disney next?
Leave us a comment below!