As temperatures plunge and we move into the chillier winter months, it can be tempting to hole up inside and hit 'pause' on all types of outdoor activity.
However, something incredible is brewing in the deep ocean waters of Hawaii, San Diego, Seattle, Boston, Los Angeles, Maine, Alaska, and Florida. Unbeknownst to many Americans, the United States is home to plenty of amazing whale-watching locations. Follow along to learn everything you need to know about the best places for whale watching in the U.S.
All across the United States, many species of whales begin their majestic migrations South in search of warmer waters to breed and even birth their young. Some of the best places for whale watching might even be in your very own backyard.
From spotting barking sea lions on the Pacific Coast to majestic Minke Whales in Cape Cod, there is an untold wonder to witness in our oceans. Whether you are curious about how to spot a pod of grey whales, where to see killer whales in the USA, or the path of whale migration in Hawaii, our guide is here to help.
To get going on your real-life aquatic animal encounter, read on to discover the best places to spot these gentle giants this winter.
Whale Watching Locations in the U.S.
For centuries, these Cetaceans have intrigued us with their beauty, grace, and athleticism. There is truly nothing more awe-inspiring than seeing a humpback whale breach or an orca flap its fluke in its natural habitat. Fortunately, the waters of the U.S. provide ample resources and sustenance for everything from bottlenose dolphins to southern right whales.
Whether you are holidaying in Alaska, California, or Maine, you'll find ample opportunities to witness whale migration.
P.S. Planning a trip outside our fair borders? For residents of the Southern Hemisphere, head to Hervey Bay in Australia for outstanding sightings of humpback whales, dingoes, and other wildlife.
Hawaii Whale Watching Season
When: December through April 
Pondering which Hawaiian island is the best for whale watching or when to catch whale season in Honolulu? Let us break it down for you. Like so many tourists, humpback whales flock to Hawaii to breed and birth their young in the wintertime.
December is usually considered the best month for whale watching in Hawaii. In fact, the waters of Maui and Oahu are so full of whales during this time it is possible to spot them from the shoreline! So keep your eyes peeled, and you might catch an incredible aerial flip or a mammal whale frolicking with her calf.
Our Top Shoreline Spots Include:
Makapuu, Oahu - for the best views, hike up Makapuu Point Trail to Makapuu Head
Kihei, Maui - be sure to check out the nearby visitor center, the

Hawaiian Islands Humpback Whale National Marine Sanctuary

.

Islands Humpback Whale National Marine Sanctuary.
Makaha, Oahu - well known for both exemplary surfing and spotting of humpbacks during whale watching season in Oahu.
Kilauea Point, Kauai - with a unique vantage point 200 ft above sea level, this is a favorite scenic lookout for locals.
Kaanapali, Maui - your odds of spotting humpbacks at this mile-long stretch of beach are high!
Whale Watching in Hawaii
Whether you find yourself indulging in poke and snorkeling on Maui or hanging ten on Oahu, there are multiple opportunities to whale watch in the Aloha State.
Whale watching in Hawaii is best done from December through April, when over 8,000 humpback whales migrate almost 4,000 miles to the islands. Here in the tranquil aquamarine waters of paradise, they congregate to breed, calf, and nurse their young.
Our whale-watching cruises and tours provide a unique opportunity to get up close and personal with these creatures who have eternally captured our imagination.
Listen with hydrophones* to the otherworldly dulcet tones of a male humpback 'singing,' soak up whale facts and trivia from your expert naturalist guide, and keep your camera ready to capture a fin slap. Choose from a variety of whale-watching boat tours. Specifically, got your eye on a Gathering Place getaway? Discover the best whale-watching tours in Oahu!
Fun Fact: Did you know that humpback calves measure between 13 and 16 feet long when they're born and double their length after just one year?
Hawaii Hotels
Postcard-perfect white sand beaches, favorable weather, and of course, tons of maritime fun make Hawaii a desirable destination all winter long. Make the most out of your tropical whale-watching tour trip by reserving any number of our Hawaii Hotels & Resorts.
From sleek and sophisticated lodgings on the Big Island to more boho-chic accommodations on Kauai, we have options for every type of traveler. 
Book your Hawaii adventure without reservations, knowing you are guaranteed our lowest rates.
Whale Watching in San Diego
When: Mid-December - Mid March
Surfers aren't the only ones crowding the cooler waters of the Pacific come winter in San Diego! Every December, over 20,000 grey whales make the longest migration of any mammal on the planet (from Alaska to Baja California). 
Fortunately, San Diego happens to be one of their pit stops. The peak season to catch these massive 33-ton creatures is mid-January, but you can also see them (as well as Blue and Fin whales) at other points of the year.
In addition to the many whale-watching tours that populate this southern California city, there are  many advantageous shoreline vantage points to witness their mighty migration: 
The Birch Aquarium at Scripps - after spotting your fill of grey whales, check out their over 60+ aquarium habitats 

Torrey Pines State Park - a ruggedly wild stretch of land that offers a variety of vantage points from which to witness the grey whale's migration, as well as the year-round pods of dolphins and, in rare instances, leopard sharks!

Cabrillo National Monument

- an impressive viewing area for whale enthusiasts; also be sure to explore their tide pools and restored lighthouse built in 1855
Whale Watching in San Diego in October
Stopping by SoCal in the summer or fall? From mid-June through September, you can observe the migration of the largest creatures on Earth, the Blue Whales. Clocking in at 100 feet, these endangered whales can spout water up to 30 feet in the air. By late Fall, you may even be lucky enough to catch the beginnings of the humpback whale migration and large pods of dolphins.
San Diego Whale Watching Tours
Want to get even closer to our ocean's largest residents? San Diego Whale Watching Tours puts you right in the middle of the action. 
The wind and weather might be unpredictable in San Diego this time of year, but the cooler temperatures guarantee grey whales and possibly even dolphin sightings.
Embark on a 3.5-hour boat cruise narrated by a professional naturalist with Flagship Cruises and Events. 
Observe the grey whales in their natural habitats as they continue on their centuries-old migration pattern. Inquisitive minds will relish the chance to pick the brain of the knowledgeable 'whale expert' guides and learn everything about these members of the baleen family.
Fun Fact: Grey whales once earned the nickname 'devil fish' due to their aggressive reactions when harpooned.
Not visiting 'America's Finest City' during the winter months? From mid-June through September, you can view Earth's largest mammal, the Blue Whale, off the southern coast.
San Diego Hotels
Loads of beach fun, LEGOLAND, and of course, whale watching make San Diego an appealing winter getaway. 
Spend more time in this Southern Californian oasis when you reserve any of our premier San Diego Hotels & Resorts. From stunning seaside getaways in La Jolla to trendy lodgings in the Gaslamp District, we have a plethora of accommodation options.
Whale Watching in Seattle 
Mid-April - Early October
Orcas, aka killer whales, are so synonymous with Washington State that they even named an Island after them! So it should come as no surprise then the best place for Orca whale watching is Seattle! Prime yourself to see Free Willy and all his friends when you schedule a trip during Seattle whale watching season.
Speculating on when to see orcas in Seattle? These large pods or groups of killer whales are affectionately referred to as 'Southern Residents' and appear each year around mid-April and last through early October.
Whales like Willy are drawn to the San Juan Islands, off Washington State, due to its high concentration of salmon. Since salmon accounts for 95% of an orca's diet, these highly skilled predators spend about six months out of the year as residents of San Juan.
These fertile waters teeming with fish also draw in gray, minke, and humpback whales, as well as seals, porpoises, and otters.
Looking for a landbound spot from which to witness the orca's aquatic acrobatics? Head on over to:
Lime Kiln Point State Park:  located on a rocky bluff to the west of San Juan Island, this state park is considered one of the best whale-watching spots in the world. Witness the 'whale passing party' from an over 100-year-old lighthouse or a nearby cliff.
Psst..is that passport in working order? Cross the border into Canada for an international whale-watching experience on Vancouver Island. The waters of British Columbia are overflowing with hundreds of species of fish, marine mammals, birds, and more. Book a Vancouver Island whale-watching excursion and set your peepers on the arresting antics of orcas, humpbacks, minkes, and grey whales.
Seattle Whale Watching Tours
Classic Whale Watch & Wildlife Tour
Get ready for an eye-catching, Epic three to four-hour sea excursion aboard the M/V Sea Lion Vessel. As industry leaders and members of the Pacific Whale Watch Association, San Juan Safaris Classic Whale Watch & Wildlife Tour relies on an intricate communication network to allow for the highest likelihood of whale sightings.
Future marine biologists will be just bursting with anticipation as they scour the seas for sights of orcas, humpback whales, seals, eagles, sea lions, porpoise, and more. Traverse the wrap-around viewing decks or head inside the cabin to relax in the galley and peruse the field guide library.
Every tour guarantees at least one Marine Naturalist on board who will be thrilled to answer questions and queries like 'What do Orcas eat?' and 'Where do they sleep?'
Fun fact: Orcas are technically not even whales! Killer whales are, in fact, the largest species of dolphin.
Orcas Island Whale Watching Cruise
The stunning scenery and wildlife of the San Juan Islands are not to be missed! Find yourself just feet from Orcas, porpoises, otters, and more on the Orcas Island Whale Watching Cruise. Then, as you sail swiftly through the waters of the Pacific on your Blackfish fleet vessel, revel in the dramatic scenery of the San Juans and the Canadian Gulf Islands. 
Seattle Hotels
With Snoqualmie Falls, Mt. Rainier, Puget Sound, and Olympic National Park right in their backyard, Seattle is just overflowing with robust natural beauty and outdoor attractions. 
Embrace your time in the Pacific Northwest by extending your stay in the Emerald City.
Craving a serene waterfront view, or would you prefer a more lively downtown scene? No matter your lodging preferences, you can choose from a wide variety of Seattle Hotels. 
Whale Watching in Boston
When: April - October
Minke whales, fin whales, sei whales, humpback whales, oh my! The chilly New England waters of Boston may not be prime territory for a summer swim, but they provide an ideal gathering place for over four species of whales, including the critically endangered Northern Atlantic right whale.
Every summer, whales migrate to enjoy the warmer waters of Provincetown and the Cape before departing each winter. In fact, many individual humpback whales have been doing this so long they have been personally named by the whale watching Captains.
Not mastered your sea legs just yet? For an ideal landlocked vantage point of the breaches, fluking, and pec-slapping, make a beeline for:
Stellwagen Bank National Marine Sanctuary - Just five miles north of Provincetown, sightings of finbacks, humpbacks, and right whales are practically guaranteed here.
Fun Fact: The Northern Atlantic Right Whale is the only whale with callosities (raised white patch of roughened skin) on its head. Scientists use these unique markings to help identify individual whales.
Boston Whale Watching
See the Stellwagen Bank National Marine Sanctuary from a whole new angle when you board your high-speed catamaran for a thrilling Boston Whale Watching Cruise.
Your sea-worthy sojourn will commence at the world-famous sanctuary, which serves as a diverse feeding ground for dolphins, whales, seabirds, and more. 
Enjoy the ship's three outdoor decks as you listen to your expert guide narrate whale sightings and explain their curious antics, behavior, and conservation status.
Take a break from the whale madness by refueling with a snack or cold beverage in the climate-controlled galley and interior cabin.
Whale Watching Tour in Gloucester 
Gorgeous whale sightings and a gaggle of other marine life make for a truly glorious day in Gloucester! 
For over 40 years, the Cape Ann Whale Watch in Gloucester has provided the most legendary Whale Watching Tours. 
See native marine life in their natural environment when you embark on your four-hour Whale Watching Tour in Gloucester. From humpback and fin whales to Atlantic white-sided dolphins and harbor porpoises, you will set eyes on some of the most majestic creatures that grace these chilly New England Waters.
Embrace the rush of your high-speed catamaran as you cruise fearlessly ahead to Stellwagen Bank National Marine Sanctuary, aka one of the Top five whale-sighting destinations in the world.
Boston Hotels
Historic Beantown is just brimming with Revolutionary War History, charming neighborhoods, and of course, diverse marine life! 
Take advantage of the world-class attractions, museums, and tours available in the Cradle of Liberty when you select any of our exclusive deals for Boston Hotels.
Pro Tip: Is Boston part of a grander New England journey? Enhance your epic Northeastern excursion with a stop by scenic Maine. From charming lighthouses to lobster rolls and whales, the Pine Tree State is full of dazzling diversions. Seeking out the best place in Maine for whale watching? We suggest visiting in mid to late May and swinging by Portland, Millbridge, Lubec, or Boothbay Harbor.
Whale Watching in Los Angeles 
When: December - April (Grey Whales) & May - November (Blue Whales)
Schedule a break from the flashy glamour and glitz of Hollywood when you head to the affluent beach community of Newport for a day of whale watching.
Southern California is blessed to have exemplary whale watching year-round, and some of the best whale watching can be experienced at Newport Beach.
There are consistent grey whale sightings from December through April as they migrate south towards Baja for breeding. Blue whale sightings come in Spring through Fall as these lurking mammals engage in lunge feeding and eventually migrate South. Depending on the time of year you visit, you might even luck out in catching pods of Risso or Bottlenose dolphins.
Seeking a serene spot to watch these extraordinary aquatic creatures from land? Pack some binoculars and head to:
Dana Point Headlands Whale Watching - an undeveloped public trail that serves up five overlooks with comfortable seating

Birch Aquarium La Jolla - have a whale of a good time at this renowned aquarium which also contains an outdoor tide-pool plaza outfitted with telescopes.
Fun Fact: Grey whales are believed to be able to dive up to almost 400 ft deep!
Los Angeles Whale Watching Tours
Blowholes, bowriders, and baleen might sound Greek to you, but these are all common whale-watching terms. 
Learn all about the wild world of whale watching and its language when you set forth on your Whale Watching Cruise from Newport. 
This two to three-hour picturesque Orange County ocean cruise will highlight the stunning scenery of the Pacific Coast as you keep your peepers set on the sealine to catch any last breach or tail slap.
Contingent on the time of year you are visiting, you might glimpse minke, humpback, grey, finback, or even Blue Whales.
Pro Tip: Ideal for kiddies, this tour also features stops at the Balboa Pier and the Balboa Fun Zone.
Newport Beach Whale and Dolphin Watching Cruise
Is there anything more awe-inspiring than seeing a grey whale 'wave' or witnessing a pod of dolphins bow-riding?
Get closer than ever to the marine action when you set forth on your Newport Beach Whale and Dolphin Watching Cruise.
Sit back and whale watch in style. The spacious luxury of your double-decker catamaran with bow seating and 360-degree views is an experience of a lifetime. 
Thanks to the rich diversity of marine life that calls Newport Beach home, you have a 96% success rate when it comes to spotting humpbacks, gray, finback, and blue whales, as well as seals, sea lions, and several species of dolphins.
Care to commemorate this momentous occasion? Your tour also offers souvenir photos which are available for purchase.
Los Angeles Hotels
From diving headfirst into movie magic at Universal Studios Hollywood to scouting downtown for the best taco trucks, there are mountains (and beaches) full of Southern California fun to be had in Los Angeles. 
Take advantage of the enviable weather and variety of amusements and attractions when you extend your City of Angels stay. Reserve any number of our first-rate Los Angeles Hotels and be guaranteed our lowest online rates.
Whale Watching in Alaska
When: April - November
The 'Last Frontier' truly lives up to its nickname with unparalleled natural beauty and a staggering array of wildlife.
Unbound wilderness is synonymous with Alaska. But, besides black bears, eagles, and salmon, Juneau's delicate ecosystem provides habitat to an astounding number of whales. This land of Midnight Sun is widely considered the best place in Alaska for whale watching. In general, whale watching season in Alaska runs from April through November.
By early spring, most whales are making their way from the warmer southern waters of the Pacific up the coastline of North America and on to Alaska.
Humpback whales are most easily seen in June and July. Whereas orcas can be spotted in May and June. Grey whales are most prevalent at the beginning of the season. 
Fun Fact: Calling AARP for these creatures of the deep! Did you know Humpback whales can live to be 80-90 years old?
Alaska Whale Watching Tours
Marvel at the Mendenhall Glacier while absorbing the sweet, sorrowful songs of the humpback whale on your Juneau Wildlife Whale Watching & Mendenhall Glacier Tour. Conquer the seas of Juneau on your 24-passenger jet boat. Or hop aboard a 49-passenger catamaran. Both are complete with heated cabins, wide viewing windows, and spacious decks.
During the tour, your skilled and seasoned captain will be calling out whale sightings. In addition, the on-site naturalist will be on standby to answer any pertinent biological questions. 
After you get your fill of natural geographic-worthy snaps and enjoy a light snack on board, you will arrive at the Mendenhall Glacier Visitor Center. Revel in the icy wonder that is this iceberg-filled lake and try hiking the nature trails there.
Premier Juneau Whale Watching Expedition 
Ready to get wild? With more than just marine mammals on the menu, the Premier Juneau Whale Watching Expedition promises sightings of bald eagles, seals, sea lions, black bears, and more.
Budding naturalists should keep their cameras primed. This two-hour tour will sojourn deep into the Auke Bay Harbor's waters, searching for humpback whales, orcas, and sea lions. 
A complete package tour of snacks, binoculars and even round-trip transportation from the Mt. Roberts Tramway are all included.
Premier Whale Watch and Mendenhall Glacier 
Mother nature is unpredictable, but therein lies her beauty. No two tours are the same on the Premier Whale Watch and Mendenhall Glacier excursion. Your 4.5-hour tour is a magnificent mashup of scenic Glacier views and incredible whale watching.
First, pull on your hiking boots and traverse one of Juneau's most incredible natural wonders, the Mendenhall Glacier. Climb, hike and social media document the snowy beauty of this Glacier. Also, be sure to check out the bear viewing platforms situated above the salmon spawning streams. 
Following your landbound jaunt, take to the seas to commence your search for Humpbacks, seals, and more. Depending on your luck, you might even be able to spot a Humpback mamma with her baby calf!
Whale Watching in Florida
Feeling nostalgic over Flipper? Couple your whale watching with plenty of sunbathing and golf when you hightail it to the sunshine state. Whale watching in Fort Myers beach may consist more of dolphins, sea turtles, and manatees, but that doesn't make it any less exciting.
Reserve your spot on a Fort Myers Dolphin Cruise and prepare yourself for balmy weather, playful marine mammals, pelicans, and perhaps even an eagle ray.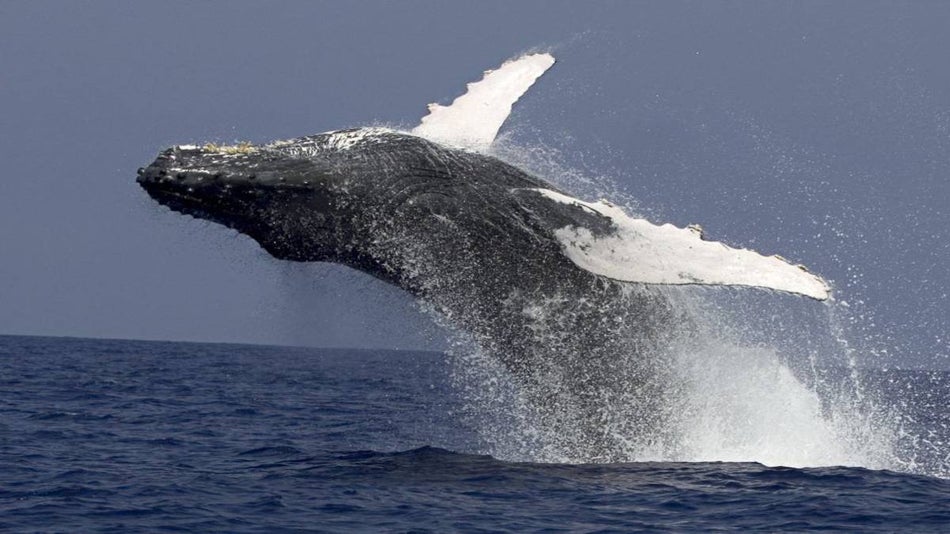 Few things in life put the raw majesty and power of Mother Earth on better display than whale sightings.
These dignified and distinguished creatures have inspired centuries of fascination, lore, and more, with their mysterious behaviors and massive size.
Planning on heading north to the unbridled wilderness of Alaska? Seeking warmer, wetter pastures in Newport or San Diego? Regardless of your climate preferences, there are plenty of whale-watching destinations to choose from.
From spotting baby humpbacks in Hawaii to glimpsing the rare Northern Atlantic Right Whale in Boston, there's never been a better time to experience whale watching in the USA!
Tell us, What's The Best Place For Whale Watching in The U.S.?
Where is your favorite place to spot these majestic mammals?
Leave us a comment below!