Visit Hawaii after dark to see this tropical paradise in a whole new light! Get as close to the stars as possible atop a towering Hawaiian mountain.
The typical magic of Hawaii looks like palm trees, ocean waves, and sun rays. Journey to the mountains of Hawaii on a crisp night, however, and you'll see the magic of this wonderland like you never have before! If you're planning on stargazing, Big Island, Hawaii, boasts night sky views that do not disappoint.
Whether you're afraid of the dark or not, you shouldn't go it alone. Thankfully, there are tour companies that offer guided stargazing experiences. Island tours led by experienced guides can take you to the best place to stargaze on the Big Island, so you won't have to worry about finding a stargazing spot!  
Stars speckled across the dark sky like glitter over the Hawaiian Islands sounds like a scene from another world. If you're ready to go stargazing, Big Island stargazing tours are the ultimate way to bask in the wonder of the night sky! Keep reading to learn everything you need to know before your tour.
About Big Island Stargazing
When booking your Big Island stargazing tour, keep in mind that two different options determine the location you will set off from:
The main difference is in how they start. If you opt for the tour that begins in Hilo, you'll take a drive to the famous Rainbow Falls and get to see the Boiling Pots. Then, on top of the Kaumana Caves, you'll enjoy a picnic-style lunch before embarking on Saddle Road between two giant volcanoes: Mauna Kea and Mauna Loa.
The tour from Kona starts on Saddle Road and bypasses the sights you see beforehand on the Hilo tour. However, it also includes a picnic dinner. Additionally, both tours lead you to the slopes of Mauna Kea. You'll drive up the mountain to a prime stargazing spot!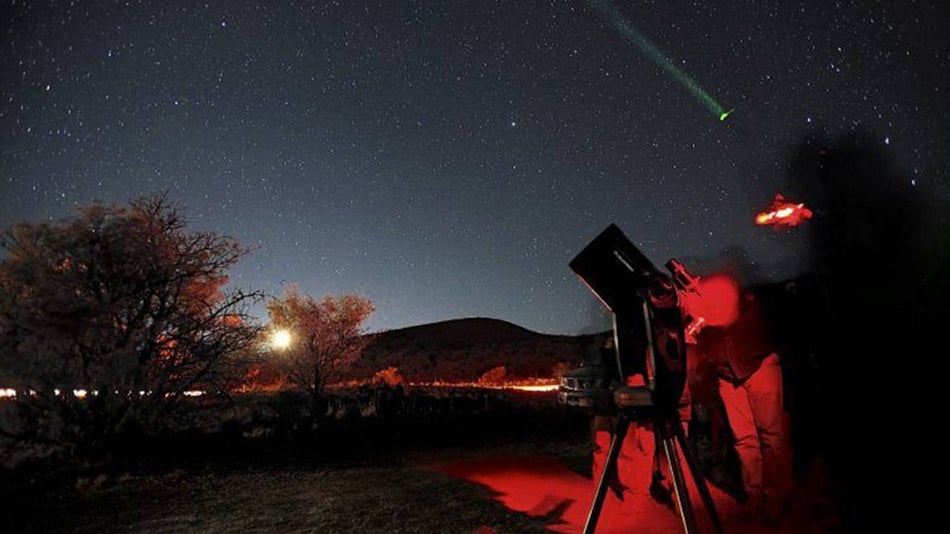 Thanks to Mauna Kea's little light pollution and high altitude, it's an ideal spot to set up a telescope. You'll be awestruck by galaxies, nebulas, star clusters, planets, and more. Both tour options are led by knowledgeable guides who know the best stargazing locations around!
Pro Tip: Keep in mind that you won't be able to visit the summit while on Mauna Kea. The tour avoids this area out of reverence for Native Hawaiian concerns.
Most Hawaiian tourists don't expect to encounter any chilly weather. However, it can get cold high in the mountains at night! So, warm jackets will be provided on tour. End the night with hot chocolate, coffee, and a delicious dessert. For the best stargazing, Big Island stargazing tours are nothing short of awe-inspiring!
Pro Tip: Don't forget about solar viewing! In addition to fantastic nighttime stargazing, you'll get the chance to use a solar telescope. This will allow you to look at the sun safely! 
Big Island Stargazing Discount Tickets
To ensure snafu-free stargazing, book your tickets for the tour ahead of time! The process is easy with Tripster. Not to mention, doing so means you'll get a great deal!
Pro Tip: These Big Island stargazing tours are good alternatives to the more expensive Small Group Big Island Twilight Volcano and Stargazing Tour. 
Make sure you select the tour option that takes off from your location of choice:
Fun Fact: Sponsored by the University of Hawaii, the Mauna Kea stargazing program at the Visitor Information Station is typically open to the public several nights a week. However, the latest update is that it is unavailable at this time due to covid-19.
Big Island Stargazing Coupons and Discounts
If you're looking for even more deals, look no further! We've searched the internet for you so you can find out about additional discounts without sacrificing precious time. Finding stargazing Hawaii Big Island coupons and discounts has never been easier!
Big Island Stargazing Military Discount
Unfortunately, there is no military discount for Big Island stargazing tours at this time.
Big Island Stargazing AAA Discount 
No AAA discount is currently available for Big Island stargazing tours. 
Big Island Stargazing Senior Discount 
Currently, there is no senior discount for Big Island stargazing tours.
Big Island Stargazing Group Travel Deals
Make it a party! Groups of eight or more people are eligible for a stargazing tour discount.
Hotels Near Big Island Stargazing
After a night of Hawaii Big Island stargazing, a cozy place to crash is a must. Drift off with spectacular visions of the night sky dancing through your mind! 
Book a stay at one of these Big Island hotels or resorts to rest in luxury while still going easy on the budget:
Big Island Hawaii Attractions 
After you check stargazing in Big Island, HI, off your list, there is much more to see and do! Make the most of your hard-earned money while taking advantage of as many attractions as possible during your Hawaii vacation.
For even more adventure on a budget, check out our guide to fun and free things you can do on The Big Island.
Wild and Scenic Volcano Experience
This ultimate volcano tour covers so much more than volcanoes! Swing by Hawaii Volcanoes National Park to take in the sizzling sights.
Additionally, ooh and ah at tantalizing waterfalls, sweeping coasts, and other breathtaking Hawaiian landscapes. 
Historic Hilo Bay Waterfalls by Kayak
Get out on the sparkling teal waters of Hawaii via kayak! An experienced guide will lead you to explore waterfalls, rivers, and beaches. This kayak tour is one of the best ways to see the Big Island!
Spirit of Aloha Catamaran Snorkel Sail
Can't get enough of the ocean? Take a snorkel sail! Dive in to encounter exotic fish, sea turtles, and dolphins if you're lucky.
Insider Big Island Stargazing Tips
When stargazing on Big Island for the first time, there are a few things you'll need to know. Stargaze worry-free! With our tips, you'll be a celestial pro in no time. 
What to Bring
You won't need to pack much for the tour! Since the mountains of Hawaii can get chilly at night, the Big Island Stargazing Tour provides warm jackets for guests. If you prefer to use your own jacket, don't forget to bring it.
Walking is limited on the tour, but we recommend comfortable shoes for exploring!
Photo Alert: Make sure you have a camera (or at least your smartphone camera) on you for the tour! If you're hoping to catch the spectacular night sky on camera, research long-exposure photography before you set off. 
Can I Bring Food on the Big Island Stargazing Tour?
You won't need to pack any food for the tour! A meal is included with the Kona tour option and the Hilo tour option. They are deli-style picnic meals.
Moreover, the perfect end to the evening is a warm drink and dessert from a local artisan baker! Sip a hot cup of coffee or hot chocolate before returning to your resort or hotel for the night.
Big Island Stargazing Parking
To find out about parking before the tour takes off, contact KapohoKine Adventures. Make sure you know whether you are going on the tour that departs from Hilo or the tour that departs from Kona before you call!
Big Island Stargazing Reviews
Want to find out what those who have already gone on the stargazing tour Big Island thought about it? Check out the most recent Big Island stargazing tour reviews! 
When You're Looking for Hawaii Stargazing, Big Island Stargazing Tours Serve up Plenty of Starry-Eyed Wonders!
A visit to Hawaii isn't complete without embarking on one of the Big Island stargazing tours. An evening of traversing mountains and gazing at gems of the night sky is made complete with tasty noms. The feeling that all of your problems aren't so big after all, sparked by standing beneath a vast expanse of stars, is just within reach!
If your trip to Hawaii is written in the stars, start planning today! Tripster offers attraction and hotel discounts so you can see it all without breaking the bank. Paradise? Found!
Have You Stargazed While on The Big Island?
Which tour did you take? Leave us a comment below!