There has never been a better reason to celebrate after a year of much change, trial, and tribulation. So, this October 1st, 2021, Walt Disney World® cordially invites you to join them as they set forth to commemorate their 50th Anniversary Celebration.
This enchanting, 18 months long event will be filled with magic moments, both big and small, that will encapsulate the joy and spirit of Disney 50 Years of Magic. 
For the 50 years of Walt Disney World it has served as a beacon of inspiration while encouraging young and old visitors never to let go of their dreams and childlike sense of wonder.
Disney Guide to the Magic
The enchanting festivities will officially kick off on October 1st with a world showcase of dizzying arrays of new shows, nighttime spectaculars, character collections, and more. 
Of course, it wouldn't be a true Disney celebration without a few surprises, but Disenyphiles can expect to be impressed by:
Disney Enchantment - Nighttime Spectacular Show at Magic Kingdom

Harmonious - Firework and light show at EPCOT

New "Guardians of the Galaxy Cosmic Rewind" ride at EPCOT
Opening of Star Wars Galactic Starcruiser
New Disney KiteTails performances at Animal Kingdom

Disney Fab 50 Character Collection - keep your eyes peeled for 50 Disney characters cast in gold

Beacons of Magic - theme park icons will transform into glowing beacons of light

The opening of Remy's Ratatouille Adventure - 4-D adventure ride

And so much more!
50 Years of Disney - Disney World Theme Parks
In honor of this historic milestone, and the happiness this park has brought to so many millions of visitors, let's take a look back in time and reflect on the rich and storied history of Walt Disney World...
Magic of Disney
Walt Disney may have come from humble beginnings, as one of five children growing up in rural Missouri. But this legendary animator and innovator would achieve worldwide acclaim as a television producer, showman, and pioneer of cartoon films. 
A winner of over 20 Oscars and producer of more than 100 feature films, Disney had experienced overwhelming success both cinematically and with his first theme park, Disneyland, in Anaheim, CA, when he set his sights on Florida.
Disney 50 Years: History of Walt Disney World
After the incredibly overwhelming positive public response to opening Disneyland in 1955, Walt sought to replicate this experience for East coast guests. 
By the early 1960s, he was scouting the country, looking for possible theme park locations. 
Eventually, Disney and his planning team of "Imagineers" settled on Florida due to its favorable weather and its pre-established flair for tourism. The focus was soon narrowed to Orlando specifically, thanks to the large land available for purchase and its central location.
Walt Disney World - Orlando, Florida
Walt had high hopes for this new and improved park. He wanted to expand on what he had created at Disneyland. So, in addition to creating further opportunities for growth and lodging, he sought to invent an entirely new type of resort vacation destination. In fact, Epcot, or Experimental Prototype Community of Tomorrow, was Disney's initial concept for a unique spin on the destination vacation resort.
On November 16th, 1965, Walt and his brother Roy officially made public their plans for Disney World, and construction began on the massive 450-acre project.
Passing of Walt Disney
Sadly, Walt Disney passed away by the time the park was ready for its grand debut on October 1st, 1971. In a touching tribute, his brother Roy dedicated the park to Walt, a lasting monument to his dream of creating "the world's most magical place on Earth."
The grand opening of Walt Disney World was a joyous affair and culminated with an extravagant televised gala concert attended by the most prominent celebrities of the time, including Julie Andrews, Glen Campbell, and Buddy Hackett.
At the time of opening, Walt Disney World consisted of just one park (Magic Kingdom), and a single ticket cost a mere $3.50!
Walt Disney World 1980s
By the 1980s, Disney fever had hit the nation, and the park had already undergone massive expansions, including:
The addition of EPCOT

The addition of Walt Disney World Village and six resorts

The opening of Disney's MGM Studios

The opening of Disney's Grand Floridian Beach Resort & Disney's Caribbean Beach Resort Hotel

The opening of Pleasure Island Typhoon Lagoon water park 

The addition of more than 30 major Disney park attractions and rides
Walt Disney World 1990s
Nicknamed the "Disney decade," the 1990s ushered in incredible growth and an ambitious ten-year building plan. By 1995, Walt Disney World attendance had already surpassed 500 million guests. Other highlights of this decade were:
The opening of Animal Kingdom and the Tree of Life in 1998

The introduction of crowd favorite attractions like "Splash Mountain" and "Honey, I Shrunk the Audience."

The addition of a water adventure park, Blizzard Beach

The addition of ten Disney resorts & 2 new golf courses

The creation of the Disney Cruise line
Walt Disney World 2000s
Amongst the Y2K panic, the dawn of the new millennium brought incredible festivities to Walt Disney World, including the "100 Years of Magic" celebration in 2001. This epic event marked the 100th anniversary of Walt Disney's birth and brought with it joyous parties, parades, and special entertainment.
Disney guests during this period had the pleasure of witnessing:
The opening of the Tapestry of Nations street festival 

The addition of Millennium Village to Epcot

The creation of the Villas at Wilderness Lodge

The changing of Disney's MGM Studios to Disney's Hollywood Studios

The creation of the original FastPass

The addition of new rides like Mission: Space to Epcot
Walt Disney World 2010s
As Walt Disney World resort transitioned seamlessly into the modern age, lovers of Mickey, Minnie, and all things Disney only had more to enjoy at this behemoth park. 
This past decade saw many exciting developments and new milestones, including:
Magic Kingdom's Fantasyland Phase 1 and 2 expansion opening

Downtown Disney expansion

The opening of Disney's Art of Animation Resort

Pandora - the World of Avatar opening at Animal Kingdom

Toy Story Land at Disney's Hollywood Studios opening

The opening of the long-awaited Star Wars: Galaxy's Edge Land 

Walt Disney World closed for only the 8th time in its history for COVID-19 in 2020
Walt Disney World Fun Facts
Any true Disney fan knows that Walt Disney World park has a reputation for fascinating, unusual, and downright weird trivia. 
In order to celebrate this iconic moment in time, we are bringing you a comprehensive roundup of our favorite Disney facts:
Walt Disney World employs more people than any other Disney park combined. Disney employees are called "cast members."

Walt Disney World is the largest single-site employer in the U.S.

Walt Disney World has a secret hidden underground tunnel system

The American flags at Walt Disney World are all purposely 'fake' (missing a star or stripe), so they do not have to follow flag etiquette

Cinderella's Castle in Magic Kingdom was designed to withstand hurricanes.

Gum stuck to your shoe, not at Walt Disney World - no gum is sold within the park!

There are no bathrooms located in the Magic Kingdom's Liberty Square, keeping with the historical accuracy of the time period.

Spooky! It is rumored that an engineer named George was killed during the building of the Pirates of the Caribbean ride and his ghost still haunts the premise.

Disney's Hollywood Studios was originally built as a working film studio and was the site of the popular show "The Mickey Mouse Club."

Marceline, Missouri (where Walt Disney briefly lived) was the inspiration for Main St. USA.

Walt Disney World broke up the Beatles! Not really, but it is was at this location where John Lennon officially signed the paperwork breaking up rock n roll's most famous group.

Real astronauts attended the opening of Space Mountain

Walt Disney World is one of the most well-visited vacation spots of all time, with approximately 150 million visitors a year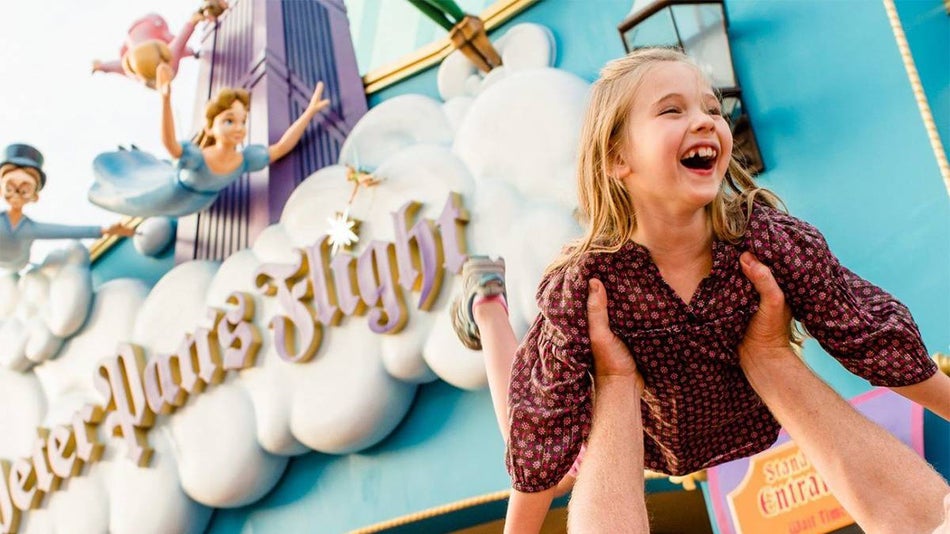 The legacy of Walt Disney World and its place in American culture can simply not be overlooked. For half a century, Disney World has dominated the resort vacation landscape by emphasizing their guests and their experience.
The magic of Walt Disney World might be unseen, but that doesn't mean it's not there. Disney has continued to shine as a beacon of hope, joy, and laughter through wars, hurricanes, and the global pandemic.
With dazzling fireworks, incredible adventures, and new looks for your beloved Disney characters, there is no better way to celebrate the love and life of Disney than with the 50 year anniversary Disney World
Headed to 50 Years Disney World Anniversary?
If you are ready to begin planning your return to the most magical place on earth for the 50 year anniversary Disney, don't forget to read our Insider's Guide to Walt Disney World to make the most of your Disney vacation. We also have the Ultimate Guide to Walt Disney World: Coupons, Discounts, and Deals to make sure you know all the tricks to saving your hard-earned money.