Disney World Orlando may be known as the happiest place on Earth, but it's also home to some top-notch Disney World thrill rides. From the Magic Kingdom to Disney's Hollywood Studios, the attractions at theme park pack an adrenaline punch.  If you're the type, like me, who wants to mix the wonder of Disney characters and whimsy with exciting, heart-pumping rides this list is for you.
Top 5 Disney World Thrill Rides
1) Twilight Zone Tower of Terror
There is simply no better thrill within Disney World than the epic drop ride that is Twilight Zone Tower of Terror. Disney has created a magnificently themed attraction, based on legend of The Hollywood Tower Hotel. Your elevator has been struck by lightning, sending passengers into the Twilight Zone. Is the elevator possessed or simply malfunctioning? Either way, you're sure to walk away with a rush at this Disney Hollywood Studios pick.
2) Aerosmith Rock 'n Roller Coaster
Climb aboard for a fast-paced, indoor coaster experience starring Aerosmith. This coaster is located right next door to Tower of Terror at Hollywood Studios, making it easy to ride both without traversing the park. This is a top thrill ride for me because of its dark aspect, making each twist and turn a total surprise. The fun factor is also amped as you're hanging out with Aerosmith. I mean, those guys are legends!
3) Test Track
This revamped Epcot attraction packs a punch with its high speeds. Part coaster, part interactive experience, Test Track allows guests to create their own car then test its performance. Once designed, you climb into an actual car on a track then zoom forward to see how your car measures up. The visual stylings definitely standout, and have science-fiction, far-out quality. Excitement really builds as you hit the open track, hitting speeds and up to 65mph.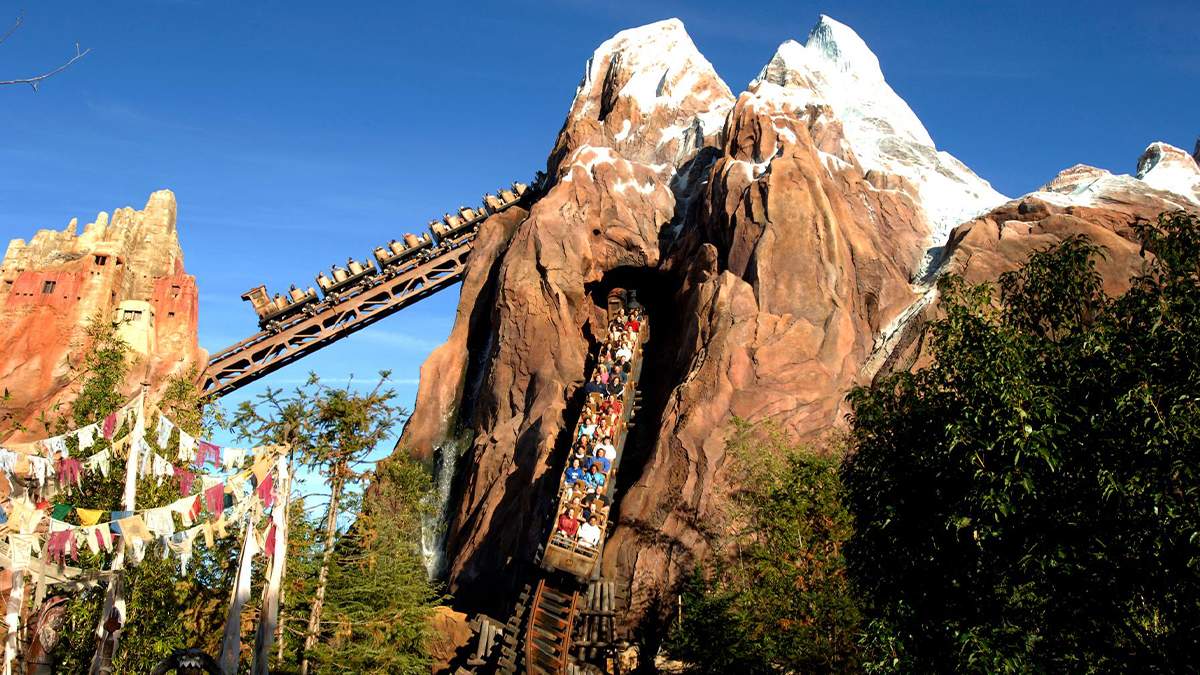 4) Expedition: Everest
You can't miss Expedition: Everest while visiting Animal Kingdom. The gargantuan mountain housing the ride is 200 feet tall after all. It ranks as one of the best thrill rides for its intense theming and unique elements like riding backwards. The theming of the ride is a true highlight; every element from the queue to the inside of the mountain and Yeti you race against are elaborately done.
5) Big Thunder Mountain Railroad
This might be a surprise pick, but it's a favorite thrill ride families can enjoy together. Some of the others might be too much for younger visitors. Big Thunder Mountain Railroad, while not a kiddie ride by any stretch, is tame enough at speeds of only 28mph. That said, the quick pace kept while traveling through the caves of the railroad, and up and down rocky cliffs, it can seem much faster. This is a great option for an appealing family thrill inside the Magic Kingdom at Disney World.
Are You Ready to Ride?
Purchase discount Disney tickets to tackle all of these adrenaline-inducing thrill rides!