Orlando may be the theme park capital of the world, but the City Beautiful provides way more than adrenaline-pumping thrills and Mickey Mouse meet and greets.
Besides housing all of the entertainment, excitement, and attractions of Walt Disney World Resort and Universal Studios. Central Florida is home to a thriving mecca of some of the most romantic restaurants in Orlando. Follow along to uncover the 15 best romantic restaurants in Orlando.
From floral-covered garden patios to fine dining with views of sparkling Lake Eola, to soaking in the magic of Disney's fireworks. There are so many ways to experience a romantic dinner in Orlando.
Discover everything from fancy anniversary restaurants serving up foie gras to swoon-worthy romantic rooftop restaurants in Orlando. Romantic Orlando restaurants deliver equal parts atmosphere and awe-inspiring flavor.
Whether you are celebrating cupid's favorite holiday with a curated wine list or dying to dive into mountains of small plate tapas and live music, romantic Orlando restaurants will never disappoint.

Romantic Orlando Hotels
What's even more romantic than an intimate table and a chilled bottle of champagne at the most romantic restaurant for your special anniversary? How about a private hotel suite? Level up the luxury and pampering on your romantic Orlando getaway when you book a room at any of our premier Orlando Hotels & Resorts.
From European-inspired timeshares to five-star resorts just minutes away from Disney, we have options to satisfy any discerning couple seeking to stay in the Orlando area.
Make your reservations worry-free, knowing you are always guaranteed our lowest rates.
Romantic Restaurants in Orlando Florida
Revved and ready to conquer the most romantic dinner places in Orlando with your boo? From life-changing special occasions such as proposals and engagements to feisty fun date nights, our spread of the most romantic Orlando restaurants caters to any amorous event.
Chef's Table at the Edgewater Hotel
Tucked away in a quiet corner of Winter Garden lies heavyweight culinary champion, Chef's Table. Boasting many prestigious awards, including being named one of Open Table's 'Top 100 Restaurants in America. The Chef's Table at the Edgewater Hotel is our go-to for an intimate gourmet dining experience.
For a full-on foodie frenzy, you must reserve a spot in the 'Chef's Table' dining room. You and your love can enjoy a sumptuous three-course, prix fixe dinner with optional wine pairings.
Settle into the dimly lit and ambient dining room as you sip your Pinot Noir and trade bites of ethereal mushroom and chive crepe torte and charred Sofrito octopus with smoked cinnamon, coconut curry, and lemongrass oil.
Moan over mouthfuls of the Southern-inspired main. The house rubbed Pork Ribeye with candied collards and black eyed peas salad. Then move on to one of their genuinely sinful desserts like the Nutella creme brulee.
Enzo's on the Lake
Mama mia! Is anything more romantic than an Italian Orlando restaurant? With picture-perfect waterfront views of Lake Fairy and a warm, inviting atmosphere, it is no wonder Enzo's has been delighting couples for over 40 years.
Lauded as Orlando's top restaurant, dishes here are made with pride and tradition. Every plate here is pure carb perfection, utilizing a careful blend of Roman and Neapolitan techniques and recipes (and even a pasta maker imported from Italy)!
First, savor a lakefront sunset, or stroll through their lush gardens dripping in Spanish Moss. Then take a peek at their extensive international wine list. Finally, opt for a lovely Tuscan Chianti before digging into some creamy Buratta served with fresh ciabatta.
Homemade pasta highlights include the sublime Ravioli della Casa stuffed with ricotta, spinach, and chicken. Or try the Fettuccine with lobster and shrimp in a light saffron and green onion sauce. 
For a more protein-focused entree, you must try the Beef Short Ribs Toscana, slow-braised until tender in chianti ragu.  
Victoria and Alberts
Looking to really impress your lovely lord or lady? Indulge in fine dining of the highest pedigree, when you supper at Victoria and Alberts. Unsurpassed in terms of awards, quality, and ambiance, this shining jewel of the Grand Floridian Resort is a must-visit for any epic occasion.
Food lovers of all ilks will be feasting like royalty as they put their dinner in the skillful hands of this AAA Five Diamond Award and Forbes Travel Guide Five-Star Award-winning restaurant.
Named as one of the best fine dining establishments in the United States, hungry patrons will be all aflutter at the restaurant's Victorian-themed murals and butterfly and floral-adorned wallcoverings.
Choose from two tasting menus, that explore the infinite variety and creativity of artful American cuisine using only the freshest seasonal ingredients.
From your Amuse Bouche to your cheese course, your palate will be transported to the Pearly Gates, as you savor forkful after forkful of pure decadence. From cauliflower puree garnished with Belgian Caviar to Honey Elderflower ice cream, every course will continue to astonish you.
Please note that as an exquisite and irreplaceable dining experience Victoria & Albert's requires all guests to wear semi-formal/formal attire. Advanced reservations are required, and the prix-fixe menu begins at $295.00* per guest.
Bull and Bear
Craving a slice of city-slicker life? Modeled after the trendy and forward-thinking original NYC location, Bull and Bear is a testament to incredible service, style, and sublime steak.
Swing by the glamorous Waldorf Astoria Orlando for hearty portions of Ribeye, seafood, and more all served in a modern club-like setting. Soak in the intricate chandeliers and beveled glass windows, as you peruse their award-winning wine list or contemplate a hand-crafted cocktail.
Sip your velvety smooth Hundred Acres Cabernet before deciding to experience the drama and flair of a classic Cesar salad prepared tableside. For an even more luxurious treat, split the pan-seared foie gras topped with wild berries and bourbon caramel.
It would be criminal to not sample some of Bull's mouth-watering red meat. Iconic restaurant favorites include their 36-ounce 28-day Dry-Aged Tomahawk Ribeye or their featured Wagyu. For our white meat fiends, B&B's fried chicken served with Yukon Gold Potato mash and gravy is a plate of pure southern goodness.
Conclude your meal with a mouthwatering pucker, when you order the famous 'Lemon.' This dessert is known as a B&B staple and features a whole lemon cooked in simple syrup, stuffed with lemon sorbet, and curd all enclosed in a candied peel.
Topolino's Terrace
It turns out Mickey might know a thing or two about romance. So sweep your sugar off their feet with a taste of pure European passion and stunning rooftop views at Topolino's Terrace.
Part of the Walt Disney World Family and located right in the heart of Disney's Riviera Resort, Topolino takes its design cues from the rich color palette and intricate details of the Mediterranean. The Italian word for 'Mickey Mouse', Topolino, serves up first-class French and Italian delights. 
Watch in awe as the talented culinary team fires up the wood-burning grill. Or bring your attention outside where you can witness the sweeping views and nighttime firework spectacular from Epcot and Hollywood Studios.
Split a plate of fritto misto or duck confit gnocchi to begin. Then, devour a Classic Sole Meunière, or Filet Mignon served with potato purée, soubise, pickled scallions, onion jus, and guanciale shallot jam.
Maxine's on Shine
Want a surefire recipe for romance? Add one part cozy neighborhood eatery, one part live music, and a splash of sexiness for good measure, and you'll have Maxine's on Shine.
Nestled into the quaint community neighborhood of Thornton Park, Maxine's is the ideal place to relax and let loose with your love. Sidle up to the bar, or snag a table outside in the garden. Then cheers with a glass, pint, or quart of their refreshing Floridian style Sangria. 
Be sure to check their entertainment schedule as you'll want to revel in the live music of their regular 'Parlour Nights.' Featuring everything from classical jazz to Latin Rock and piano.
Start by indulging in sunshine state specialties like Key West Style Crab Cakes and coconut shrimp. Next, go halfsies on their incredible Lobster stuffed with sautéed scallops, shrimp, mushrooms, and sundried tomatoes in a sherry cream sauce. Or try the roasted duck served with cherry sauce. 
Kres Chophouse
Swanky and sophisticated Kres Chophouse is an Orlando restaurant that screams romance.
Located in a buzzing corner of Downtown and just a stone's throw away from the tranquil Lake Eola waterfront. Kres delivers impeccable service, style, and traditional steakhouse cuisine. Built in 1930, Kres's rouge-colored historic facade, original artwork, and moody modern interior make for an ideal romantic rendezvous.
Enjoy some Copps Island Oysters Rockefeller to set the mood as you imbibe one of their creative cocktails. Next, try the enthralling Dark Witch, featuring tequila, blackberries, jalapenos, agave, and lime. 
Can't decide between the land and sea? Go for both with an order of house aged and house cut Filet Mignon and the Seafood Misto. Containing a cornucopia of shrimp, mussels, salmon, clams, linguine, and fume. Non-meat eaters take note, Kres also offers a special Vegan prix fixe menu on Saturdays.
Cress
Believe the hype and spoil your boo with a special occasion reservation at Chef Hari's Cress. 
For over 13 years, this Deland eatery has been boasting James Beard nominations and inventive globally-inspired cuisine. With a focus on local and seasonal ingredients, every dish here explores flavor, spice, and sophistication.
Soak in the charming fairy lights and exposed brick patio before consulting their comprehensive wine list. 
Select a bottle of their finest Cabernet Sauvignon to go with the house charcuterie board. Laden high with artisanal cheese, beef, lamb, wild boar terrain, seafood sausage, beluga lentil hummus, and more.
Sustainable seafood is a point of pride here. Their herb-crusted smart catch of the day is a hearty entree of fish served atop grits, roasted vegetables, salsa verde, and roasted corn pico de gallo.
Don't skip out before you make it to dessert! You'll need at least one nibble of their citrus and almond cake or chocolate bouchon.
Romantic Restaurants in Orlando with a View
California Grill
Keep the enchantment of a day of Disney magic flowing when you make an extra special reservation at Walt Disney World's California Grill. Accessible only by private elevator, the California Grill sits on the 15th floor of the Disney Contemporary Resort.
Floor-to-ceiling windows, modern light fixtures, and a golden hue color palette only highlight the majesty of the panoramic views below.
Revel in the exquisite visual display of the Magic Kingdom FIreworks, the shimmering lagoon, and Cinderella's Castle as you chow down on Pacific influenced cuisine.
Right now, for a limited time, you and your sweetheart can return to the magic and celebrate the 50th Anniversary of Walt Disney World Resort with a special pre-fix menu. Delight in Californian-inspired favorites like a classic sushi trio, or house-made artisanal-style Duck À L'Orange Pizza, as well as Florida Coast Black Grouper or a filling 35 oz Beef Rib-Eye Tomahawk Steak for Two.
Capa at Four Seasons
Elevate your romantic evening with a table high in the sky at Capa. Your significant other will be left spellbound by the panoramic views offered by the Four Seasons 17th floor rooftop steakhouse and bar.
Meander onto one of their two outdoor terraces and catch the nightly Walt Disney World fireworks, or snuggle inside and soak in the culinary action of their open kitchen.
Furnished in a distinguished and dashing color scheme of black and red, Capa offers up chic ambiance and nationally awarded Spanish Basque-inspired cuisine.
Their cocktail program is above approach and produces libations so beautiful they could be confused with art. For a surprise, order their illustrious Capa Gin and Tonic to accompany your sublime fresh red snapper crudo.
Tapas style is the way to go here, and we love the beer-brined pork belly served with apple butter and pistachio as well as the sweet and salty Medjool Dates stuffed with almond, bacon, and tamarind. 
Morimoto Asia
Alluring rooftop views, awe-inspiring lighting, and mouth-watering pan Asian delicacies make a date night at Morimoto Asia an affair to remember.
Endear yourself to your significant other with a special booking at Iron Chef Masaharu Morimoto's acclaimed eatery.
Gaze out onto a searing sunset of orange, purple, and red painting the Orlando sky, or soak in the mysterious ambiance complete with curvaceous tables, jellyfish-like lights, and Japanese-inspired art.
Whet your appetite for your Asian feast with a smattering of dim sum, like their spicy berkshire pork lettuce wraps or tartar as you sample a sweet Lychee martini or a carafe of signature sake.
There is nothing more festive or delicious for the main event than their carved house-roasted whole duck for two served with steamed flour tortillas, apricot sweet chili, and hoisin miso.
Otherwise, sushi lovers should inquire about their luxurious omakase experience, available by special reservation only. 
Date Night Spots
Better Than Sex
Decadent desserts, a flirtatious speakeasy vibe, and chocolate-dipped glasses of wine make for a magical night of Valentine's Day amor at Better Than Sex.
Chocoholics will be in cocoa-scented heaven as they toast to their love at one of Orlando's most romantic restaurants. A dungeon-like oasis of black, red, and candlelight with views of Lake Ivanhoe and the downtown skyline, Better Than Sex is the perfect place to put your love on full boil.
Let the lust flow forth when you order one of their cheeky signature cocktails, such as the Lickin' Love, a fruity glass of Pinot Noir covered in Belgian dark and white chocolate.
Satisfy your craving for sweets with playful orders of desserts like the Cookie Nookie Pie, Missionary Crisp, and Peanut Butter Perversion, featuring a whipped silk and nutty filling floating on top of a chocolate chip cookie dough crust.
Santiago's Bodega
Venture to Santiago's Bodega for a Spanish-style escape when you and your paramour secure a table at this hip tapas-style eatery.
A charming brick patio allows for alluring al fresco dining. Yet, at the same time, their cozy wooden interior instantly teleports you to the Old World with its mosaic tile, Dali-esque art, and vintage candelabra.
Snuggle up in a spacious red velvet banquet. Then, select a bold glass of Rioja to pair with your many small plates.
First, refresh your palate with a serving of Andalusian-style gazpacho. Next, nibble on flavorful morsels of yellowfin tuna ceviche, patatas bravas. Or try their lamb patties filled with fresh thyme, sherry, and lemon zest garnished with cucumber feta salad. 
The Old Jailhouse
Cue up the handcuffs and head to the clinker with your cutie pie when you dine at the Old Jailhouse. While handcuffs may not be on the menu, you can't beat the history and ambiance at the former Sanford Jailhouse.
This brick edifice dates back to 1840 and specializes in haute American cuisine in a casually upscale ambiance. Dine on their intimate patio, adorned by string lights for an even more magical setting.
Custom-created cocktails are the specialty here. So take a walk on the wild side and sample one of the bartender's unique concoctions. We recommend the 'Brake Fluid,' made with an intoxicating mix of gin, saffron, and peach liquor.
Munch away on succulent starters such as braised Pork Belly with apple and parsnip puree. Or try their heavenly smoked fish dip served with house pickles and pita bread.
Next, linger over luscious mouthfuls of carbonara pasta and NY Strip steak in a bacon bearnaise sauce. But don't get too full as you must sample their olive oil cake served with mascarpone whip and vanilla sauce. 
Soco Thornton Park
Feel the worries of your day melt away when you spoil your sweetheart at Soco Thornton Park.
Bask in the warmth of Mason Dixon hospitality when you grab a table at one of the best outdoor dining spaces in Orlando. Meanwhile, be enchanted by the natural beauty of nearby Lake Eola.
Bring your appetite as you'll want to sample everything on Chef Greg Richie's contemporary Southern menu.
Their addicting slow-roasted barbecue glazed pork belly biscuits are a can't miss. Or try their 'chicken and dumplings made with chicken, lobster, local mushrooms, edamame, and soy butter.
Mouth-watering mains include the pecan crust catch of the day. Served with jupiter rice, shrimp hushpuppies, and grilled okra. Or try the creamy creole spiced shrimp and grits.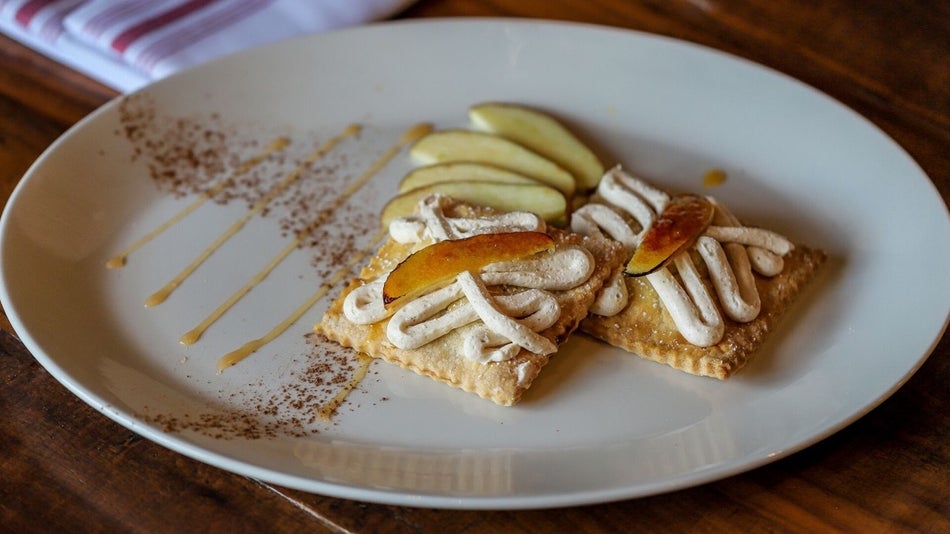 There's something about the warm weather, swaying palm trees, and friendly demeanor that puts couples in the mood for love.
After a day of roller coaster fun or sunbathing at Cocoa Beach, it's time to switch out that swimsuit for a shirt and enjoy a romantic dinner in Orlando. Enjoy wooing your love with a supper of seduction, ambiance, and transformative eats.
Whether you are catching the Magic Kingdom's nightly firework show or relishing bites of Filet Mignon at the finest steakhouses. Orlando's best restaurants and rooftops pave the way for romance!
Tell us, What's Your Favorite Romantic Restaurant in Orlando?
What Orlando romantic restaurants have you eaten at?
Leave us a comment below!