The movie capital of the world's romance and history weaves a tapestry of magic that goes beyond the silver screen. Los Angeles is the idyllic home to the world's most iconic film actors, directors, and sports superstars, and it's easy to spot celebrities in LA if you know where to look!
Follow along to discover where to see celebrities in LA!
The City of Angels hosts a myriad of attractions and activities, whether it be the beach, landmark museums, or world-famous theme parks. And as the radiance of Tinseltown bedazzles far and wide, the highlight of any Los Angeles trip is a celebrity sighting.
From local farmers' markets to red carpets - stars really are just like us. They drive, hike, grocery shop, and dine at fancy restaurants.
Is it common to see celebrities in LA? Not if you don't know where to look. It may not be the central aim of your LA trip, but celebrity spotting in Lalaland is a tourist pastime. Catching a glimpse of your favorite superstar is at least worthy of a story back home.
So, if you're dying to snap a pic or gaze from afar, here are some top celebrity hangouts in Los Angeles.
Where to See Celebrities in LA: The 6 Best Places 
Other than the obvious settings, such as studio lots, award ceremonies, or celebrity talk shows – we have a few clandestine destinations crammed with notable luminaries that may accelerate your heartbeat a tad.
Read on to uncover the best place to see stars in LA.
Go to a Chic LA Restaurant
Unless there is a movie premiere, you probably won't catch a star walking down Hollywood Boulevard, with the exception of the TCL Chinese Theatres or a Hollywood Stars Tour. Celebrities in California tend to frequent the same restaurants, and some hope to make headlines in the tabloids (Bennifer spottings at the Ivy, anyone?).
Still, some go because the SoCal fare is so sublime. So, if you're wondering where celebrities hang out in LA…try killing one bird with two stones. Catch a great meal, plus a glimpse of your favorite star across the dining room.
Here are some low and high-profile eateries that almost guarantee celebrity sightings. Besides, these haute cuisine eateries are the very best in local gastronomy.
Craig's - 8826 Melrose Avenue
Wolfgang Puck at Hotel Bel-Air - 701 Stone Canyon Road
Nobu Malibu - 22706 E Pacific Coast Highway
The Ivy - 113 N Robertson Blvd., Beverly Hills
Fig & Olive - 8490 Melrose Pl., West Hollywood
Polo Lounge at the Beverly Hills Hotel - 9641 Sunset Blvd
Ivy at the Shore - 1535 Ocean Avenue
No matter if it's a new trendy spot like Mr. Chow and Matsuhisa or an older, more established restaurant like Dan Tana's on Santa Monica Boulevard, you may spot anyone from Kim Kardashian to Justin Bieber sipping their Iced Almond Milk Latte—keep your eyes peeled at these A-list originals!
In addition to eating out, true epicurists might like to try a Private Foodie Tour of Downtown LA. Guests of this tour experience learning about LA's diverse heritage and tasting true culinary delights from some of the top chefs in Los Angeles.
Go on an LA Shopping Spree
So, we've determined stars like to eat, and no one likes to dine out all the time, which means they probably hit grocery stores once or twice. However, these boho-chic markets are wildly popular and have stalls loaded with flowers, crafts, jewelry, and tasty treats.
Malibu Country Mart - 3835 Cross Creek Rd, Malibu
Brentwood Country Mart - 225 26th Street
Bristol Farms - 9039 Beverly Blvd
The Grove - 189 The Grove Drive
Studio City Farmers Market - 2052 Ventura Place, Studio City
If you're wondering where to see celebrities in LA, shop for non-essentials, take it from the paparazzi who like to stake out in West Hollywood's Robertson Boulevard shopping district. Stores like All Saints, Chanel, Vince, and Alicia + Olivia are all ones to watch.
Of course, West Third Street and Beverly is a popular spot with the high-profile crowd, as is the Golden Triangle of Beverly Hills. You can also take a Private Walking Tour of Beverly Hills 90210 to get the true low down on where stars go from plus hotels to Rodeo Drive, baby!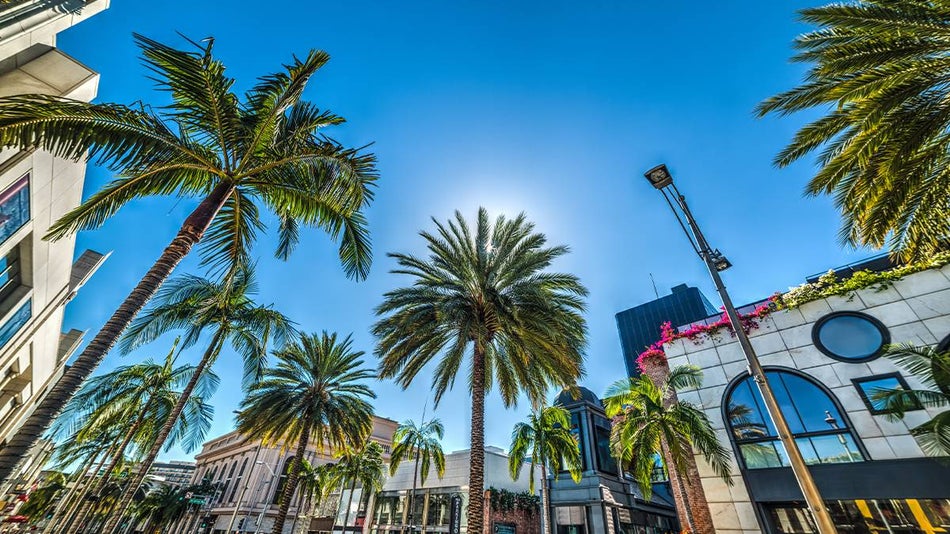 Fun Fact: Celebs in LA typically dress in black with baseball hats and giant black sunglasses. However, the Canadian rapper Drake once hit the Los Angeles streets disguised with a pair of nerd glasses, a wig, and a beard.
Famous people—actors, athletes, singers, and media personalities are drawn to the spotlight, which means they seek out the most avant-garde hot spots. Keep reading as we reveal some mod places to par-tay and how to spot celebrities in LA.
LA Nightclubs & Bars
The choices can be overwhelming if you plan to club-hop in LA. From legendary historic landmarks like The Viper Room and Avalon Hollywood to the more nouveau nightspots like Hyde Sunset in West Hollywood…we have the top nightclubs to mingle with celebs.
Either way, you can enjoy a curated cocktail in a posh venue in one of these chic bar-tiques.
Tower Bar - 8358 Sunset Blvd
MainRÓ - 6350 Hollywood Blvd
Bar Marmont (Chateau Marmont) 8171 Sunset Blvd
Warwick in Hollywood - 6507 Sunset Blvd
The Broken Shaker rooftop bar at the Freehand Hotel offers handcrafted cocktails poolside. Don't blink-you might see a celeb or two admiring the view. Plus, you won't find this oasis ambiance in Kansas!
LA Neighborhoods
Hidden Hills
We are not advocating stalking by any means, but if you want to do a drive-by and see how the other half live, we have the intel on some hi-brow addresses. Hidden Highlands Los Angeles, or Hidden Hills, is a gated community in the Santa Monica Mountains near Calabasas.
These famous knolls are noteworthy for being home to many entertainers like Miley Cyrus, The Weeknd, and a few Kardashians.
Hancock Park
Another prime region for celeb sightings is Hancock Park. Before the epicenter of Hollywood homes shifted to Malibu and other beaches in Los Angeles, all the leading men and women lived in the Hancock Park neighborhood, west of downtown LA. Hancock Park celebrities of the past include Howard Hughes, Mae West, Clark Gable, and Meghan Markle.
Bird Streets
Another fabled community for starlets and influencers is Bird Streets, Los Angeles. This highly secluded area, high in the hills above Sunset Strip, provides jaw-dropping views. Through the years, celebrities such as Leonardo DiCaprio and Christina Aquilera have called this area their home.
Other celebrities that live in Hollywood and the surrounding Hills include T-Swift, Eminem, J-Lo, Justin Bieber, and Adele.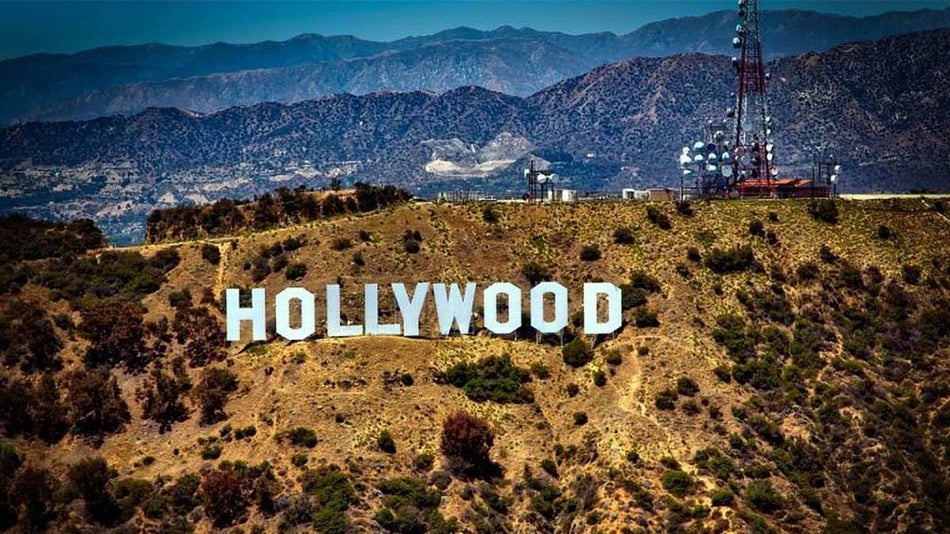 Beverly Hills
Of course, the most famous zip code in LA hosts a plethora of Tinseltown VIPs. You'll find some of the most beautiful Hollywood homes on Mulholland Drive, Alpine Drive, Bedford Drive, and Benedict Canyon. Some celebs who take up real estate in Beverly Hills include Channing Tatum, Beyonce, Jay Z, and Jack Nicholson.
You might find a tour or two alongside the muckraking photographers vying for photos. Some of the best Los Angeles tours include the Private Half Day Driving Tour of LA, the Private Driving Tour of LA's Iconic Movie Moments, and the Hollywood Celebrity Home Tour. For a budget-friendly way to traverse the city while hitting all the hotspots, grab discount tickets for a Hop on Hop Off Los Angeles bus tour!
Pro Tip: Since it's no longer the status quo to traipse off in your private jet, more celebs, from Prince Harry to Blake Lively and Angelina Jolie, are becoming conscious about their carbon footprint and flying commercial. If you're still wondering how to see celebrities in LA on your way out of town, keep alert at LAX!
Take an LA Hike
Runyon Canyon
Even though it's probably the worst-kept secret in town, some celebrities still hike Runyon Canyon. The three-mile loop trail has an off-leash dog-friendly policy which is a big draw for local celebutantes.
Only two blocks from the bustling Hollywood Boulevard, Runyon Canyon Park offers 130 acres of trails to explore, so get your steps in alongside Chris Pine or Natalie Portman.
Bronson Cave Trail
Get out in nature at the Bronson Cave Trail, located in the southwest section of Griffith Park. The man-made tunnel is the famous entrance of the Batcave in the Batman television series and is still used for shoots today. Also, Franklin Canyon Park, between Beverly Hills and the San Fernando Valley, offers picnic grounds, hiking trails, and a three-acre lake.
The park was the background for the opening credits of The Andy Griffith Show. What's more, lovebird star sightings include Ashton Kutcher and Mila Kunis.
Encino Parks
Other popular hiking destinations include the Will Rogers State Historic Park and the Topanga State Park near Encino. Both have dozens of hiking trails and stunning scenery. Encino residents of the past include Selena Gomez, Joe Jonas, and Sophie Turner. How far is Encino from Los Angeles, you may be asking? It's just a 30-minute drive northwest of the city.
Theme Parks
Celebs have to vacation too! And who can resist the enchantment of Disneyland? Whether you're in line for Space Mountain or the Matterhorn Bobsleds, be on the lookout for your favorite TV personalities. After all, who doesn't love spending a day at the most magical place on Earth?
Universal Studios Hollywood and Warner Bros. Studio Tour Hollywood also attract A-list crowds for their family-friendly activities. The restaurants, rides, and movie magic are pure LA-tainment.
Plan Your Los Angeles Trip Today!
Lastly, if you're still hoping to rub elbows with some mega-watt stars, you could always attend a television show taping, see a concert at the Hollywood Bowl, or watch the Lakers play at the Staples Center. However, to uncover all the celebrities, you're dying to see up close—Madame Tussauds has all the superstars without the 'tude!
Now you know where to spot celebrities in LA, you can plan your days around some of these fabulous places. And remember, Tripster has you covered for all your attraction tickets, hotels, and vacation packages. So design your ideal Los Angeles vacation with easy planning and instant confirmation.
Do You Know Where to see Celebrities in LA?
If you have the inside scoop on where celebrities hang out in LA, spill the beans here!