Situated in the scenic Ozarks, Branson is surrounded by beautiful Table Rock Lake and Lake Taneycomo that provide endless outdoor entertainment. Also, with Silver Dollar City, multiple theme park attractions around the city, and downtown shopping, there is something for everyone. Read below to see the best things to do in Branson.
Spend a Day at Silver Dollar City
Grab Silver Dollar City tickets and step back in time. This 19th-century themed attraction park showcases more than 40 rides and attractions, 60 shops, and eighteen restaurants. Experience thrills on rides such as Time Traveler, the world's fastest, steepest, and tallest spinning coaster, or Outlaw Run, the world's only looping wooden roller coaster. Moreover, the park features 40 live shows each day and presents ten acclaimed festivals and special events throughout the year. Even better, more than 100 resident craftsmen and artisans exhibit their unique artistry in the park to deliver prime entertainment. Fun for the entire family, you definitely need to check out Silver Dollar City during your stay.

See an Acclaimed Show
Each year, Branson sees millions of people flock to its hills to see the city's caliber of live shows. Country music performances, tribute shows, theatrical performances, and dinner shows line the city and entertain guests of all ages. A few notable acts include:
Grand Jubilee
This dynamic live show presents an award-winning ensemble of talents such as the New South Quartet, vocalist Jackie Brown, and comedians Jamie Haage and Mike Patrick. Further, guests can relish in classics such as songs from the Oak Ridge Boys and the Eagles as well as traditional gospel pieces. Winner of numerous awards, including but not limited to "Show of the Year" and "Entertainers of the Year", this two-hour production is one of the best things to do in Branson. In addition, guests can enjoy a meet and greet after the show as well as a southern-style buffet, inn, and waterpark on-site.
Dolly Parton's Stampede Dinner
Dolly Parton's Stampede guarantees a top-rated dinner show as the world's most visited dinner attraction. With 32 gorgeous, trained horses on display, friendly competition, riotous pig and chicken racing, and a four-course feast, you don't want to miss out on one of the best things to do in Branson. Also, the Grand Patriotic Finale of red, white, and blue concludes the show set to Dolly Parton's "Color Me America". Make sure to arrive 50 minutes prior to the show to gain the best seats and note that dinner is meant to be eaten with your hands! Further, guests can meet and greet the horse talent after the show in the equestrian stables.
Showtimes premiere at 5:30 and 8 pm, with 12:30 pm and 3 pm matinee times available on select dates.
Shepherd of the Hills Outdoor Drama
Running since 1959, The Shepherd of the Hills Outdoor Drama has entertained families with its incredible live-action feats and significant themes. Written by Harold Bell Wright, this live-action outdoor program touches on themes of love, friendship, power, and the meaning of life. Featuring more than 80 actors, 40 horses, sheep, a burning log cabin, a 1908 DeWitt automobile, and more, you don't want to miss this adaptation of Wright's epic novel. Further, some of the cast members have been in the drama since the original show! An embodiment of the Ozarks, this live show is one of the best things to do in Branson.
Visit the Branson Landing
Located conveniently on Lake Taneycomo adjacent to Historic Downtown Branson, Branson Landing welcomes families to shop, dine, indulge in farmer's markets, and experience live performances and concerts. The Landing features a picturesque boardwalk stretching along the 1.5 mile Taneycomo Lakefront with dazzling daily fountain displays. Feel amazed by the merging of light, water, fire, and music as the fountains shoot 120-foot geysers. Guests can enjoy fountain performances at noon daily. In addition, the Landing hosts a Summer Concert Series and special events throughout the year. Shop, dine and then relax with a free spectacular show.
Make a Splash at Table Rock Lake
Bring the family out to the beautiful, clear waters of Table Rock Lake! With around 800 miles of shoreline along the lake and 43,000 acres of surface area, visitors can participate in an abundance of water sports, fishing, or relaxing. Extending 79 miles upstream down the White River, the lake was created by the damming of the river over 50 years ago. Families can rent boats, paddleboard, water ski, fish, and more! We recommend picking up your own copy of the Table Rock Lake Map to navigate the area at the Chamber's Welcome Center or at local marinas.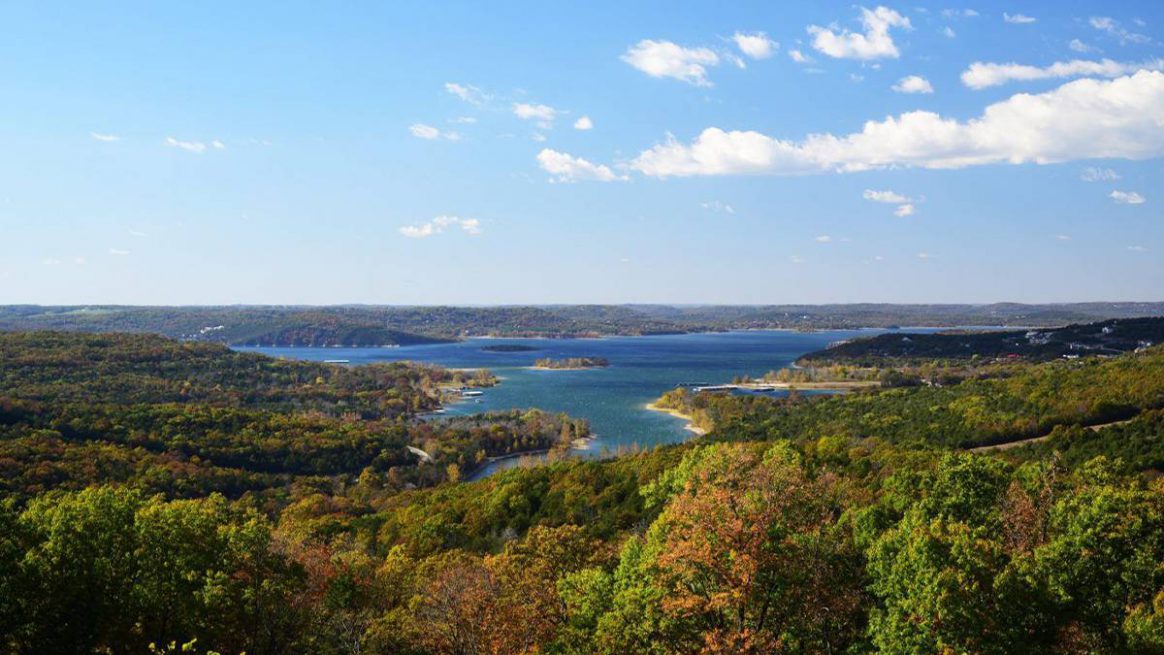 Explore the Outdoors
An outdoor lover's paradise, Branson delivers thrills and adventure, or relaxing times, depending on what you're after. Take advantage of the ample lakes, parks, and attractions the city has to offer. The neighboring area includes quality hiking areas such as Top of the Rock Ozarks Heritage Preserve, Dogwood Canyon, and the Busiek State Forest and Wildlife Area. Guests can partake in a range of activities such as hiking, biking, camping, rock climbing, canoeing, horseback riding, fishing, and much more. The Ozarks provide a playground for visitors of any age, and it won't cost you much to enjoy nature's bounty. Additionally, guests can participate in water sports at Table Rock Lake, Lake Taneycomo, and Bull Shoals Lake. More ideas include:
Zipline through the Trees
Multiple companies offer the chance to fly through the stunning treetops with views of the Ozark Mountains. You can choose various adventures such as fast-paced rides, a half-day expedition through the forest, or an easygoing joyride. We recommend zipline tours like Zipline Canopy Tour at The Shepherd of the Hills, Adventure Ziplines of Branson, and Shepherd of the Hills Vigilante ZipRider.
Because of its rolling, lush hills, beautiful views, and well-kept grounds, Branson boasts a big golf community. Just ask my grandfather and his friends who play every week. With nine courses to compete against your buddies, you're bound to have a good time. If you're up for a friendly game of putt putt, Branson also hosts a variety of mini-golf courses such as Shoot for the Stars and Pirate's Cove.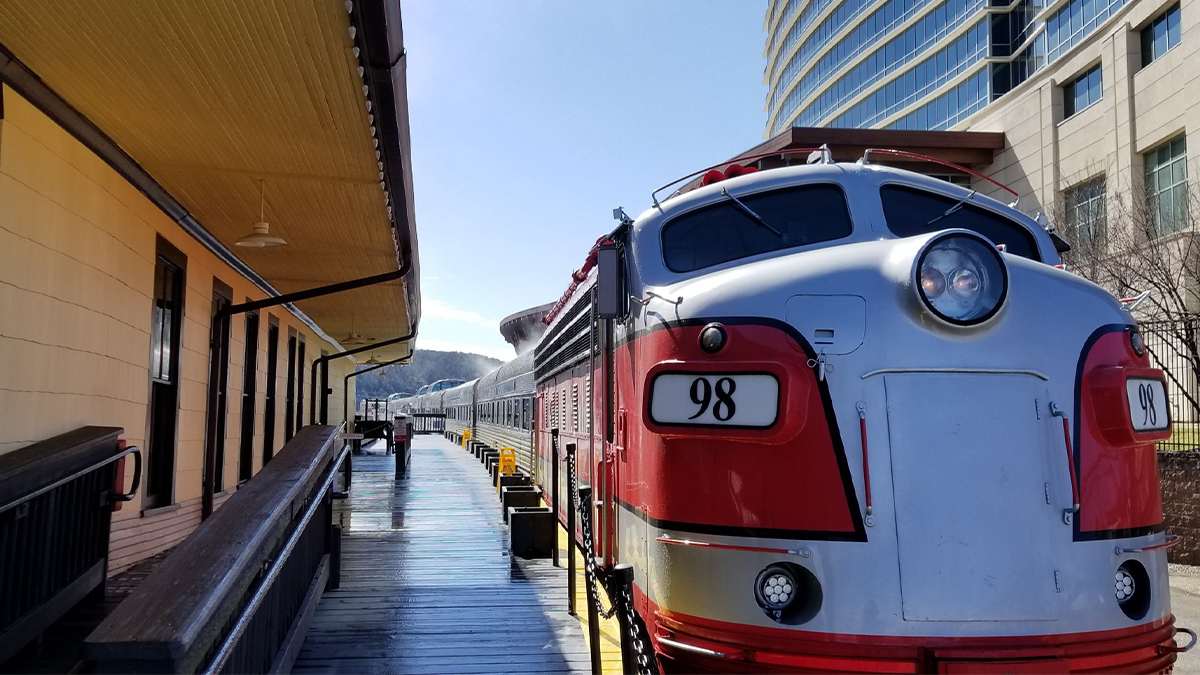 Ride the Rails
Branson pays homage to the history of the Ozarks in a myriad of ways, including enabling visitors to ride the Branson Scenic Railway, a vintage passenger train. Departing from the historic 1905 depot in downtown Branson, visitors can explore downtown and then hop aboard for a 40-mile roundtrip journey. This collection of passenger cars meanders through the foothills of the Ozark Mountains during a one hour 45-minute trip. Travel through tunnels, over trestles, and throughout southwest Missouri or northwest Arkansas.
Passengers can capture stunning views, along with sights of wildlife and ghost towns. Prior to departure, the Missouri and Northern Arkansas Railroad determines if the train will take the northern route to Galena, MO or the southern route to the Barren Fork Trestle in AR. Throughout your journey, you can learn about the history of the Ozarks and how the railroad shaped local areas. Additionally, seats are unassigned, so passengers can tour the entire train and gain the best views. If you want a beverage, take a stroll to the concessions stand in the Silver Lake car. Please note that reservations should be made as early as possible to guarantee a spot. Also, the Railway offers a dinner train April through October on Saturdays at 5 pm, which requires reservations.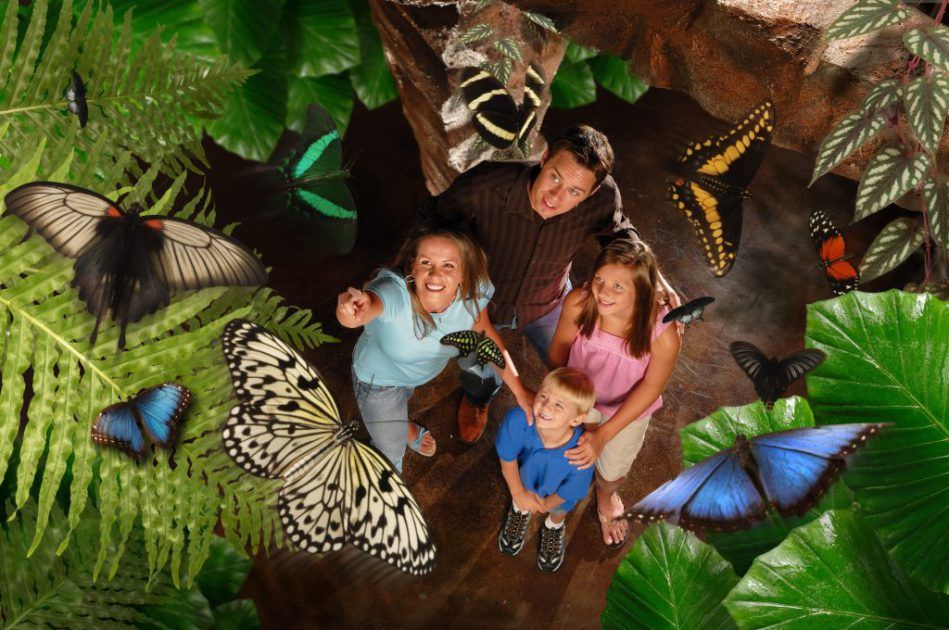 Butterfly Palace & Rainforest Adventure
Fun for guests of all ages, the Butterfly Palace & Rainforest Adventure offers tropical-themed entertainment. Visitors can walk through a rainforest discovery center, butterfly aviary, and mirror maze, which are especially great for kids. With more than 1,000 colorful butterflies to feed and admire as well as exotic live reptiles and amphibians, this attraction is one of the best things to do in Branson. For the best views of butterflies, go early and wear brighter colors to attract them to you. Staff will provide nectar so you can feed them. Also, note that butterflies are released daily at 10:30 am and 1:30 pm.
For more fun, families can view tropical amphibians reptiles from rainforests around the world and journey through the Emerald Forest Mirror Maze. Get lost in the maze and see surprising sights, or learn about monarch migration during the center's 45-minute documentary. The center also features the Banyan Bungee Adventure Maze, perfect for little ones to explore.
The Runaway Mountain Coaster
The only alpine mountain coaster in Branson and the Ozarks, the Runaway Branson Mountain Coaster brings thrills to kids and adults alike. Race through the Ozark hills and trees and soar high over creek beds as you control the speed. You can have a relaxing experience or thrill ride depending on your preference. Regardless of the speed, you'll experience the best ups, downs, turns, and dips that will keep you coming back for more. Create life-long memories with your family as you take advantage of one of the best things to do in Branson.

Fritz's Adventure
When the weather feels extreme, head to Fritz's Adventure to blow off some steam. This multi-dimensional indoor space offers 80,000 square feet of thrills. Zip-line through the facility, rock climb, tunnel, slide, walk across burgess and ropes, and much more! Plan to spend at least a few hours with family and friends to experience all of the facility's elements. There's even an airplane to explore. No matter the age, you're bound to have plenty of good times and get in a good workout while testing your agility. In addition, the facility features a restaurant with healthy menu choices so you can sit and relax after a day of adventure.

Promised Land Zoo
This top-rated wildlife park and animal attraction provides a personalized experience for guests of all ages. Family-owned Promised Land Zoo features live shows, a foot safari, numerous exhibits of rare and endangered animals from all over the world, and bottle-feeding experiences. At this outdoor zoo, guests can see animals such as kangaroos, zebras, big cars, lemurs, and antelopes. Note that animal encounters rewire an additional fee. Additionally, if you prefer the VIP experience, you can also encounter more animals to hold and take pictures with as well as ride the interactive tram tour through animal habitats.

National Tiger Sanctuary
The National Tiger Sanctuary rescues big cats such as tigers, panthers, and lions from abusive theatrical acts and other problematic situations. Bringing awareness to endangered species, this non-profit educational campus enables guests to learn about and enjoy the majesty of several big cats as well as other exotic animals. Located 20 miles north of Branson in Chestnutridge, Missouri, the sanctuary offers several types of tours: Awareness Tour, the Feeding Tour, the Behind-the-Scenes Tour, and the You Feed Tour. You can view cats from three feet away, although there is always a barrier between staff and visitors and the big cats for everyone's safety.
Guided tours (only) are offered at 10 am, 12 pm, or 2 pm Wednesday through Sunday. Feel free to take pictures and ask the staff questions.
How will You Spend Your Vacation in Branson?
With so many fun and varied activities, what's at the top of the list of your itinerary? For the best deals on attractions, hotels, and shows, head to Tripster Branson.