Want to stay in the heart of the action in Branson? Book a hotel room on the Strip, aka Highway 76!
If you want to be within walking distance of as many of the top Branson attractions as possible, book a room in one of the best Branson, MO, hotels on the Strip! Get easy access to restaurants, theatres, and attractions that are situated on the Strip. The convenience will leave you more time to enjoy your vacation!
A trip to Branson is always a welcome idea for friends, families, and even solo travelers. Branson offers tons of things to do no matter the time of the year, from visiting top attractions like Silver Dollar City and the Titanic Museum to seeing one of the most iconic Branson shows.
Now, if you're wondering, "Where should I stay on the Strip in Branson, MO?" Follow along as we recommend the best Branson, MO, hotels on the Strip!
1. Grand Country Inn/ Indoor & Outdoor Water Park
The Grand Country Inn in Branson isn't your typical accommodation. This exciting hotel is a destination in and of itself.
Featuring spacious lodging and entertainment for all travelers, the Grand Country Resort promises its guests a unique vacation experience in the heart of Branson, complete with a large indoor and outdoor water park (there are even multiple swimming pools to choose from), restaurants, go-karts, mini-golf, an arcade, shows, and shopping all in one place.
When out exploring the adventures found on the Strip, families will enjoy Grand Country Inn's three-story indoor treehouse, featuring water slides, hot tubs, a 1,000-gallon tipping bucket, a toddler pool, a lazy river, and much more.
In your rooms, expect free WiFi, full-size baths, refrigerators, microwaves, and coffee makers. Other in-room conveniences are offered as well to make your vacation a completely relaxing experience.
2. Radisson Hotel Branson
Are you in town mostly for the shows and theatrical performances? The Radisson Hotel Branson, less than 10 minutes away from the equally beautiful Hotel Grand Victorian, might just be the perfect home away from home for you!
Located at 120 South Wildwood Drive, you can easily walk to Andy Williams' Moon River Theater and Kings Castle Theater. This means easy access to some of the best Branson shows such as The Andy Williams Christmas Show and New Jersey Nights.
Aside from first-class accommodations, guests can also expect high-speed Internet, an indoor and outdoor pool with a sauna and whirlpool spa, and a sports lounge. If you get hungry, grab a bite at the on-site bistro. Plus, with over 15,000 square feet of event space, the Radisson Hotel Branson is a popular place for events and truly one of the best hotels on the Strip in Branson, MO!
3. Best Western Center Pointe Inn
A list of Branson's best hotels on the Strip isn't complete without the Best Western Center Pointe Inn. Best Western hotels across the country have always been champions of providing great value to guests looking for family-friendly hotels set in ideal locations.
With a stay at Best Western Center Pointe Inn in the Branson Theater District, you'll have easy access to the Titanic Museum and be near the Hollywood Wax Museum and Ripley's Believe It or Not. In addition, the Clay Cooper Theater and the Hughes Brothers Theater are just within walking distance.
In your room, make yourself at home with your very own 32-inch flat-screen television, refrigerator, microwave, coffee/tea maker, and iron/ironing board. Housekeeping is provided daily, so you can rest assured that you will always come home to a room that is freshly cleaned and sanitized.
4. Dutton Inn
Dutton Inn's suites are simple yet comfortable, ideal accommodations for guests looking for great value at a hotel located on Highway 76 (the Strip). You have your choice of firm or pillow-top mattresses, as well as a mini fridge, microwave, and flat-screen TV so you can watch your favorite shows.
The top attractions near Dutton Inn include White Water Park, The Track Family Fun Park, and Xtreme Racing Center of Branson, among others. The best family-friendly restaurants are likewise easily accessible, including Cicis Pizza and Ruby Tuesday.
In addition, there is a gift shop at the Inn where you can buy great finds such as Branson souvenirs and jewelry. Outside, just less than a mile away, Walgreens is available to cater to your health and wellness needs.
5. Gazebo Inn
The homey architectural design of Gazebo Inn is particularly inviting to guests looking for a refreshing, longer stay in Branson. This quaint hotel, moreover, is made even more appealing with a vast outdoor pool and modern amenities.
As one of the best Branson, Missouri, hotels on the Strip, Gazebo Inn is located on the historic 76 Strip and within walking distance of many great shows, attractions, restaurants, and shops.
In addition to boasting reasonable pricing, Gazebo Inn gives guests the option to book a pet-friendly room or a standard queen or king room with ample space for families. All of the rooms at Gazebo Inn are non-smoking and come with free wireless high-speed Internet.
6. Barrington Hotel & Suites
A quick look at the Branson, MO, Strip map will let you know that the Barrington Hotel & Suites offers guests easy access to the Branson Landing and 76 Country Music Boulevard. This means also being near top Branson theatres such as The Mansion Theatre and the Sight and Sound Theatre.
Since the Barrington Hotel is a tribute to style and beauty, guests are treated to an interior design that features a stone fireplace and hardwood floors, 145 luxury rooms (some with an in-room marble Jacuzzi!) which are all non-smoking. Other amenities that guests enjoy include a complimentary hot breakfast, wireless Internet, an indoor pool, and a hot tub.
7. Ozark Valley Inn
The Ozark Valley Inn is one of the Branson hotels on 76 Strip that aims to offer it all for a comfortable and convenient stay. The hotel features simple accommodations with free WiFi, cable television, mini refrigerators, coffee makers, and much more.
In addition, guests can look forward to amenities like complimentary daily breakfast, an outdoor pool and whirlpool spa, a game room, an on-site laundry facility, and a business center.
For top attractions nearby, the Shoji Tabuchi and Pierce Arrow Theatres are both just an eight-minute walk from the Inn. The IMAX Complex, meanwhile, is an easy 15-minute walk. Before you explore, don't forget to enjoy a deluxe continental breakfast with biscuits and gravy at the inn!
8. Baymont by Wyndham Branson - Theater District
Situated just off Highway 76 near the Grand Village, Baymont by Wyndham Branson boasts comfortable accommodations with complimentary WiFi, flat-screen TVs, and coffee makers.
In addition, rooms include mini-fridges and microwaves. Guests also take advantage of free daily hot breakfast, in-lobby snacks, an outdoor pool, and a fitness center. With such conveniences, it's no wonder Baymont by Wyndham Branson is one of the best Branson hotels on the Strip.
9. Grand Plaza Hotel
The Grand Plaza Hotel could be appropriately called the "Branson Best Hotel" near Branson Landing, primarily because of its convenient location and beautiful, spacious rooms. As one of Branson's only high-rise properties, this hotel is just 0.4 miles from shopping at Tanger Outlets and is just across the street from King's Castle Theatre.
There are various family-friendly restaurants near Grand Plaza Hotel, but you shouldn't have to go too far to get a decent meal. Why? There's a restaurant and pub on the property with panoramic views of Branson.
For your accommodation, choose from over 200 rooms -- some of them with jacuzzis for a relaxing and invigorating soak. All guest rooms and suites are furnished with 32-inch flatscreen TVs, coffee makers, hairdryers, full-size ironing boards, and irons.
In the morning, enjoy a complimentary hot, buffet-style breakfast on the 9th floor with amazing views of Branson. You might also want to take advantage of the guest laundry service, indoor pools, and fitness center during your stay.
10. Southern Oaks Inn Branson
Staying at a hotel in Branson on the Strip doesn't mean you have to break the bank. For instance, you can stay at the Southern Oaks Inn Branson for a great price and still feel that you're getting the best with premium amenities and satisfactory comfort.
The recent reviews of the Southern Oaks Inn Branson report that the room was clean and that the hotel has amazing rooms and suites, considering the significantly lower rates than neighboring hotels. Simply put, staying at Southern Oaks will make your dollar go further.
11. Angel Inn near IMAX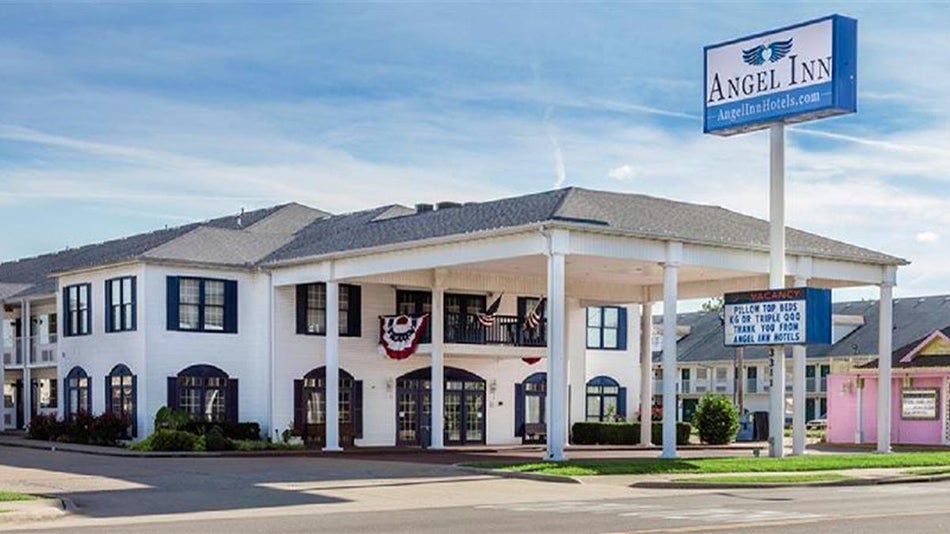 Looking for cheap motels in Branson, MO, on the Strip? Use your budget for the family-friendly Angel Inn near IMAX instead! This homey hotel offers clean and comfortable accommodations, free on-site parking, and a complimentary breakfast served daily.
In your room, enjoy free WiFi, a 42-inch flat-screen TV, luxury pillow-top beds, a fridge, and a microwave, among other amenities. All rooms are also furnished with an activity table and chairs, hairdryers, electronic door locks, and hidden sound-dampening masonry walls.
Reserve a Room at the Best Hotels on the Branson Strip!
Stay at any of these best hotels in Branson, MO, on the Strip for convenient access to top attractions, restaurants, and theatres. In addition, these hotels offer comfortable rooms with a multitude of amenities and perks for guests. You won't find hotels with better value than those in Branson USA! These stays ensure your Branson vacation will be both fun and restful.
Need a Branson vacation package that contains tickets to top Branson attractions plus hotels? They're all here on Tripster!
Where Will You Stay During Your Branson Vacation?
Let us know in the comments below!