SeaWorld San Diego is a paradise for ocean lovers. Let us show you how to experience paradise without paying a hefty price!
Thrilling rides combine with wildlife exhibits to create a dreamy underwater-inspired experience at SeaWorld. The aquatic fun doesn't have to cost you a fortune, either! There are so many ways to score SeaWorld discount San Diego tickets.
Situated in sunny southern California, this theme park deluxe is home to thousands of your favorite animals, like dolphins, orcas, and sea lions.
Moreover, animal rescue is a priority for SeaWorld, and it shows in the company's track record. SeaWorld's zoological team has rescued over 39,000 orphaned, injured, and ill animals. They aren't stopping anytime soon, either.
Admission to SeaWorld San Diego doesn't have to break the bank. But, if you're looking to visit and stick to a budget at the same time, read our list of tips to get SeaWorld San Diego discount tickets so you can get in on the marine mania at a discount!
Discount SeaWorld San Diego Tickets
First things first: You will need to get your hands on discount SeaWorld tickets San Diego. That's where Tripster comes in! 
If you're planning on hitting the park for two consecutive days or more (or returning later in the year!), fun cards may be for you. Upgrade to this option to get unlimited admission for the rest of the year!
Pro Tip: Bringing children ages three or younger? Don't worry about grabbing them a ticket! They'll get a free SeaWorld San Diego ticket.
Lastly, looking for another way to get the most bang for your buck? Bundle! Combine your SeaWorld tickets with some of the other great surrounding attractions to get the most fun for your money. 
Here are some of the fantastic SeaWorld ticket packages:
SeaWorld San Diego Coupons and Discounts
Moreover, we've rounded up some additional deals from across the internet. Find the results of our search below! You won't even need a promo code.
SeaWorld San Diego Military Discount
Currently, free admission is offered to active duty members of the military. Additionally, this discount is offered for veterans depending on the time of the year. So, be sure to check back regularly.
You'll need to purchase your tickets directly from SeaWorld to take advantage of this exclusive SeaWorld San Diego tickets discount.
SeaWorld San Diego AAA Discount
AAA members, you're in luck! Receive a special discount when you purchase your discount SeaWorld San Diego tickets directly from AAA.
SeaWorld San Diego Senior Discount
Aging has its perks! Seniors are eligible for an exclusive discount. Get your SeaWorld discount tickets San Diego straight from SeaWorld to get in on this deal.
SeaWorld San Diego Group Travel Deals
Groups of 15 or more can get a special SeaWorld tickets San Diego discount! The more, the merrier. Be sure to buy your SeaWorld tickets directly from SeaWorld.
Included With Your Sea World San Diego Discount Tickets
Single day tickets packs in plenty of wet 'n wild fun to fill a whole day! From rides to shows to aquarium exhibits, so many experiences are included with your ticket. 
Rides
Picture this. After a long wait in line under the hot California sun, it's finally your turn. You slip into your seat and secure the seat belt. Your pulse quickens in anticipation. 3… 2… 1! The roller coaster shoots off at the speed of light. Well, maybe not quite that fast… but you get the picture.
If you happen to be on a water ride, the splashes throughout the ride make you feel as though you're standing next to the ocean itself, basking in the seaspray. Once the ride reaches a halt, your heart rate slows to normal. You run to get in line and do it all over again.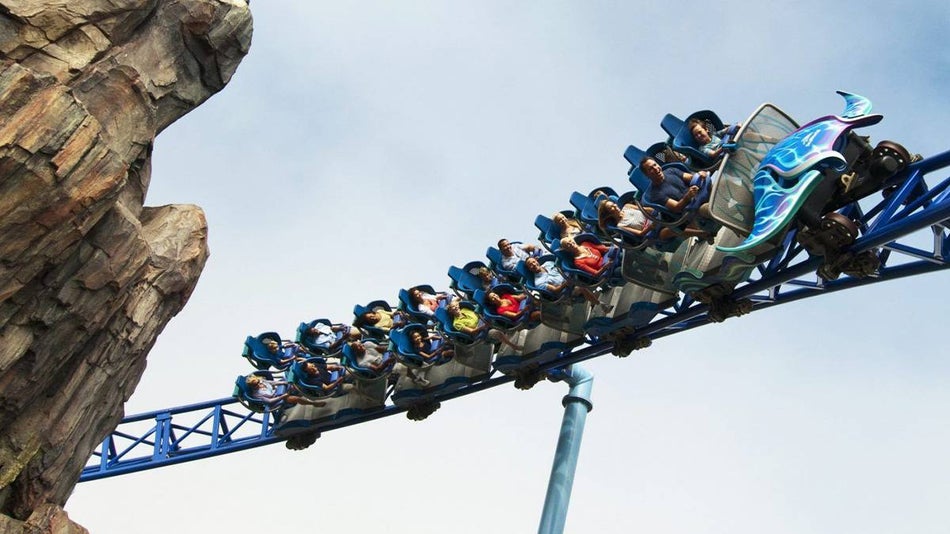 SeaWorld's ride selection allows you to do just that. Take advantage of unlimited rides on any of them with your ticket:
Electric Eel

Manta

Tidal Twister

Journey to Atlantis

Shipwreck Rapids

Tentacle Twirl

Riptide Rescue
Pro Tip: You'll have to drop some extra cash, but we recommend renting the lockers placed throughout the park to store your stuff. It could potentially save you money as you won't have to worry about replacing lost or stolen belongings!
Sesame Street Bay of Play
If you're bringing the littles, a trip to this classic street is a must (and if you're leaving them at home, we don't blame you if you want to stop by anyway!). A nostalgic experience awaits when you take a stroll down Sesame Street.
Catch a kid-friendly adrenaline rush on one of these rides:
Elmo's Flying Fish

Abby's Sea Star Spin

Oscar's Rockin' Eel
Shows
Chances to mix and mingle with your favorite sea creatures set SeaWorld apart from run-of-the-mill theme parks. There are exclusive animal encounters for an extra fee, but several presentations and shows are included with your ticket!
Some free, fan-favorite shows are:
Orca Encounter

Dolphin Days

Sea Lions Live
Keep an eye on the schedule, as shows are subject to change or cancellation. 
Pro Tip: For an additional fee, the Reserved Seating ticket add-on will guarantee seats to every show for the entire day. This option is a good idea during peak days at the park, such as holidays and the summer months.
SeaWorld San Diego Vacation Packages
Why stop the fun at SeaWorld? Get the biggest bang for your buck when you bundle your SeaWorld tickets with other nearby attractions!
There are so many options to choose from. Pick your favorite, or add them all to your itinerary! 
San Diego Zoo
While marine animals are SeaWorld's specialty, the San Diego Zoo is a wonderland of every type of animal! In addition, over 4,000 endangered animals call the zoo home.
Pro Tip: If you can't get enough of the animals, San Diego Zoo Safari Park is located 45 minutes away and offers a whole slew of different exhibits.
LEGOLAND California to SeaWorld San Diego
Kid-friendly thrills are around every corner of LEGOLAND California. This attraction is themed after the beloved building blocks of our childhoods.
Going from LEGOLAND to SeaWorld San Diego is a great way to spend your San Diego vacation! Bundle and save with Tripster's San Diego LEOGLAND and SeaWorld Packages.
Take your LEGOLAND and SeaWorld San Diego vacation to the next level by bundling and saving with a hotel near LEGOLAND and SeaWorld San Diego vacation package.
USS Midway Museum
History buffs won't want to miss a chance to visit the USS Midway Museum! The longest-serving U.S. Navy aircraft of the 20th century is a main feature.

Old Town Trolley Hop-On Hop-Off Sightseeing Tour
The Old Town Trolley Hop-On Hop-Off Sightseeing Tour is a flexible way to take in the famous sights of San Diego with a knowledgeable guide. Stay aboard the trolley for a narrated tour, or hop off if you're enticed by wanderlust. Of course, you can always get back on and continue the tour later!
Photo Alert: See a great photo op that would be just perfect for the 'gram? Go ahead and hop off the trolley to snap it! This tour allows you to take your time touring the city, so you'll be able to get the pose and lighting just right.
Hotels Near SeaWorld San Diego
After a day of watching dolphins and orcas dive into the deep blue sea, you'll be ready to dive under the covers and take a break from the hot California sun. We can almost feel the cool, fluffy pillows now!
Choose one of these delightful temporary abodes to sleep on the cheap:
SeaWorld San Diego Hotel Packages
Luxurious amenities don't have to cost you an arm and a leg! Book your hotel through Tripster for the best deal. You can even combine your attraction tickets with your hotel room for serious savings.
San Diego Attractions
Don't just stop at SeaWorld when visiting America's Finest City! There's a whole world of exploring to do just outside the park gates. Find some of our favorite attractions below.
Disneyland Resort Theme Parks
After you've entered a world of sealife wonder, experience the magic of Disneyland next! Timeless thrills, such as exciting themed rides, exist alongside heartwarming character meet-and-greets.
Needless to say, the food is its own draw at Disneyland. You'll find themed delicacies around every corner, from full-service to quick-service options. Chow down on enchanting eats before taking a stroll down Main Street U.S.A.
Sesame Place San Diego
A visit to Sesame Place San Diego is every kid's dream. Traditional rides, water rides, and shows pull all the stops to keep the littles entertained for hours.
Additionally, the Sunny Day Cafe is a character dining experience you can't miss! Munch on your favorite noms alongside beloved characters, such as Elmo, Big Bird, and the Cookie Monster.
SeaWorld San Diego Reviews
Still unsure about diving into a SeaWorld San Diego trip? Don't just take it from us! Read the raving reviews from those who have gone before you.
More SeaWorld San Diego Deals
If you're a SeaWorld superfan and plan to return again and again, an annual pass will save you the most! Receive unlimited admission all year long, with additional perks that will leave you feeling like a VIP every time.
Annual passes take visits to SeaWorld San Diego to a whole new level. Depending on the package you select, benefits include free parking, free guest passes, and discounts on food and merchandise. Keep in mind that blackout dates may apply. 
Ready to Save with Sea World San Diego Discount Tickets?
For those who are both budget-conscious and looking for a good time, you can get discount SeaWorld San Diego tickets on the cheap to get the best of both worlds!
Take a front-row seat to the wonder of the ocean with rides, shows, and wildlife with San Diego SeaWorld discount tickets. Admission to SeaWorld San Diego doesn't have to break the bank!
Have Any SeaWorld Parks Tips to Add?
Tell us in the comments below!