Guests can enjoy exciting tours, interactive play areas, upbeat live performances, 4-D theater shows, and up-close views of exotic animals. With so much to see and do, we've created an Insider's Guide featuring the best San Diego Zoo tips. Dig in to discover the best way to spend your day!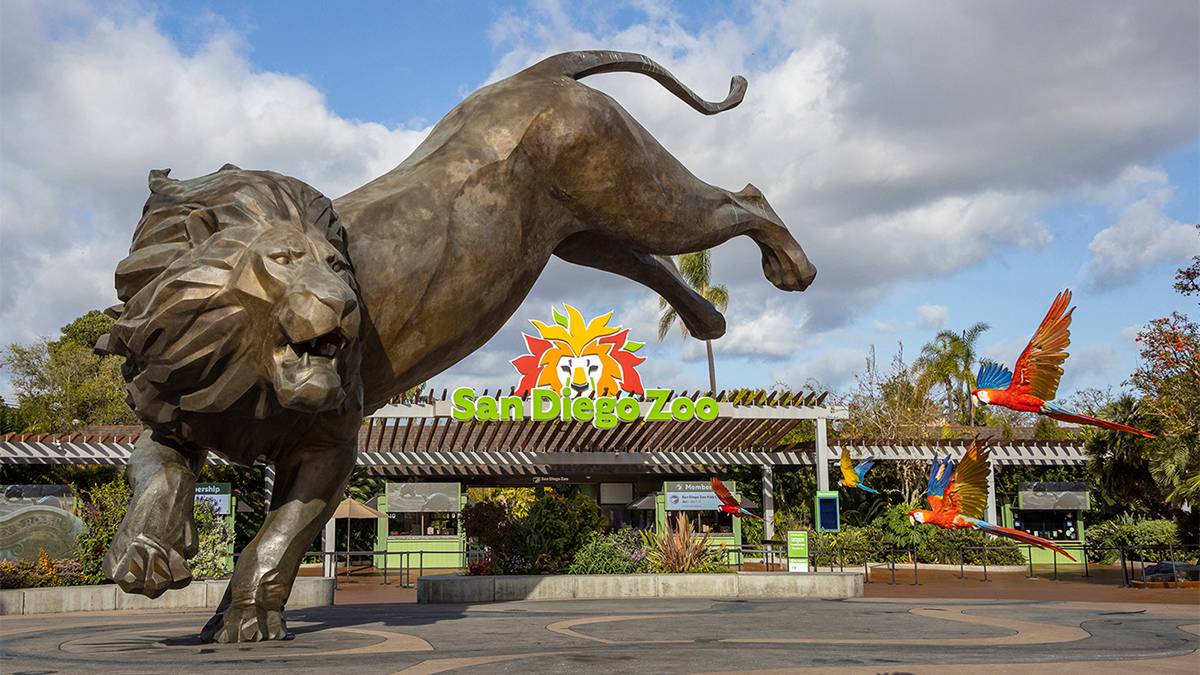 Good to Know
The zoo offers free parking.
Strollers and wheelchairs are available for your convenience.
Same day re-entry permitted. Come and go as you please!
Plan on spending at least 3-4 hours at the zoo.
When to Arrive at the San Diego Zoo
Typically, the Zoo opens at 9:00 AM, which is a great time to arrive. In fact, the earlier in the day you visit the better your experience will be. The sun isn't as warm in the mornings, so the animals are livelier. Plus, the lines and crowds aren't as bad early in the day so you can get even better views of the animals at the Zoo.
What to Expect at the San Diego Zoo
From lions to crocodiles, there's something wild to see around every corner.
Some of the animals you'll encounter along the way include:
Giraffes
Elephants
Flamingos
Gorillas
Hippos
Polar Bears
Koalas
Of course, that's only a handful of the rare and endangered animals at the San Diego Zoo! In addition to animal exhibits, the Zoo boasts a myriad of special experiences you don't want to pass up.
San Diego Zoo Tips
Grab a Map Upon Arrival
With so much to see and do at the Zoo, a map is key to your experience. It'll help you navigate the park as well as provide helpful information regarding showtimes, exclusive experiences, and much more. This is an essential San Diego Zoo tip every first-time visitor should follow!
Take the Guided Bus Tour
The Guided Bus Tour is one of the best ways to maximize your experience at the Zoo. This narrated, 35-minute bus ride is completely free! Be sure to keep an eye out for your favorite animals.
Utilize Zoo Transportation Options
At the San Diego Zoo, you're going to walk. A lot. As such, it's vital to utilize the zoo's transportation options.
If you'd rather see the zoo from up above, head over to the Skyfari® Aerial Tram for a sky-high experience. The SkyFari® is also an excellent way to travel from one side of the Zoo to the other. Another great transportation resource is the Kangaroo Express Bus. You can hop on and off at five different stops throughout the Zoo. Just wait at one of the stops for a bus with a green Express banner to arrive, about every 15 minutes. Use the bus to see lions, elephants, giraffes, and more. Don't forget about the koala bears either!
Wear Comfortable Shoes
Remember all that walking we mentioned? Well, make sure to wear good walking shoes. A blister is a quick way to ruin an otherwise awesome day.
Bring These Essential Items
Along with wearing comfortable shoes, your day will be made better if you bring these essential items with you:
Water/Refillable Water Bottle
Sunscreen
Antibacterial Gel
Snacks
Light jacket
Which San Diego Zoo Exhibits are Must-See's
Spoiler alert: They're all must-sees! However, with over 4,000 animals calling the San Diego Zoo home, it's nearly impossible to see them all during one visit. As a result, we've picked a few exhibits that are can't miss! 
Panda Canyon
Please note: The panda exhibit has closed as of April 27, 2019. The Zoo is one of only four zoos in the United States where you can see Giant Pandas up close. Panda Trek is home to two Giant Pandas, Xiao Liwu, born at the Zoo in 2012; and his mother, Bai Yun. As such, this is a definite "do" at the Zoo!
Elephant Odyssey
Is it really a trip to the zoo if you don't see elephants? We don't think so! At Elephant Odyssey, view these majestic creatures up-close. In addition, get a glimpse of lions and jaguars too!
Lost Forest
At the Lost Forest section of the Zoo, you'll feel transported to another continent thanks to the 1,000s of plants lining the pathways. Here, you can look forward to seeing tigers, gorillas, bonobos, hippos, and more.
How to Save at the San Diego Zoo
Having San Diego Zoo tickets is only the start of your savings. Save even more money with these tips:
Free Parking
The Zoo offers free guest parking, so there's no need to worry about paying an extra fee once you arrive.
Bring Your Own Stroller
If possible, we recommend saving money and bringing your own stroller. However, if needed, stroller and wheelchair rentals are available from the Zoo on a first-come, first-served basis.
Pack a Lunch
To save money, pack a lunch for your family. You are allowed to leave the Zoo and return, so long as you get your hand stamped on the way out. Pack a lunch and have a picnic at the designated areas around the park. Remember, while you can bring food into the park, coolers and large containers are not permitted.
Same Day Re-Entry
With same-day re-entry, you can come and go from the Zoo as you please. This allows for time to explore surrounding Balboa Park or take a break for lunch at a nearby restaurant.
Even More San Diego Zoo Tips
Avoid Visiting on a Hot Day
When it's hot, the animals tend to be more lethargic. And, let's face it, you are too! Try to visit when temps are in the 60s or 70s. 
Reserve Special Experiences
A visit to the San Diego Zoo is made even better when you reserve one of their special experiences. Recommendations include "Crazy About Cats," a morning behind the scenes tour featuring lions and jaguars as well as "Animals in Action," during which expert trainers take you behind the scenes to feed, touch, or help train some of the animal ambassadors. Another great option is "Early Morning with Pandas" where you can view pandas up-close before the Zoo opens.
Interact with the Animals
Thanks to Keeper Talks and Animal Encounters, you can meet animals throughout the Zoo. Be sure to check your map and guide for a daily schedule upon arrival. Visiting on a Saturday or Sunday? If so, you can feed the giraffes for only $10. Tickets for noon feedings go on sale at 11:00 am each day.
Visit During the Week
If you can, visit during the week to avoid the weekend rush. It's also better to visit on a cloudy day because fewer locals visit when it's not sunny.
Don't Arrive Late in the Day
Take note, the Zoo closes the entrance gate two hours before the Zoo's stated closing time. As such, don't make the mistake of arriving late hoping to get in.
Are you Ready to Go Wild at the San Diego Zoo?
Get ready to experience one of the best zoos—anywhere! With this guide featuring our best San Diego Zoo tips, you're prepared to maximize your fun while you "monkey around" with your family.