This Fisherman's Wharf gem, Pier 39, situated between Beach Street and the Embarcadero, is one of the most visited landmarks in the country. The variety of things to eat and explore is endless. Grab your sunglasses and best walking shoes and make a day of this incredible destination.
Check out these exciting activities that should provide hours of entertainment for the entire family. Here's a list of some of the can't miss stops along your Pier 39 journey. These highlights and tips provide an insider's guide for an all-inclusive day of waterfront fun.
Pro Tip: Grad a sourdough fish sandwich for an authentic taste of the city with fresh crispy flakes and malt vinegar, this light lunch packs a punch.
11 Main Attractions at Pier 39
Shopping: With over 60 souvenir shops, unique boutiques, and specialty stores, Pier visitors could spend the entire day in a shopping frenzy. If you're searching for that perfect gift for co-workers, family, or friends, this is your destination. The California Welcome Center offers shipping options.
Restaurants: No trip to the bay is complete without a fresh chowder bowl or fish sandwich from any of the many seafood restaurants along the Pier. There's Bubba Gump Shrimp Co., Wipeout Bar & Grill, and the local's favorite, The Dog House. Searching for a more upscale dining experience? Then try the Fog Harbor Fish House or the Crab House at Pier 39. To appease your sweet tooth-the Fudge House, Crab Cakes and Sweets, or the Biscoff Coffee Corner should oblige.
Sea Lions: 1n 1990, the West Marina's sea lions made their home at the beloved Pier 39, after the 1989 Loman Prieta earthquake. The first count of these frisky mammals was around 50, but due to the area's herring supply, adequate dock space, and protected environment, the population has grown to over 900 each winter. Check their migrating schedules for the best times to visit. If you come at the right time, these animals can get lively!
Photo Alert: Bring your camera for these delightful pups and seize some snaps of the Golden Gate and Bay Bridges, Alcatraz, and Angel Island across the bay.
Biking/Segway: Rest your weary feet and head to one of the numerous bike rental companies located up and down Pier 39. In addition to the bikes, these rental shops provide helmets, maps, and route guidance.
For an even more unique experience, take a San Francisco Segway tour along the waterfront to see the city's most exciting attractions. Visitors can take a class to learn how to operate the Segway and then go on a guided cruise along the bay. Choose from several tour times during the day.
Embarcadero is one of Pier 39's best strolls. The eastern waterfront and roadway of the Port of San Francisco were constructed on reclaimed land along a three-mile engineered seawall. With beautiful bay views over its miles of sidewalks, this walking tour offers several restaurants and eclectic shops along the way.
7D Experience: This digital theater with surround sound is sure to delight children and adults. Visitors can take a thrilling coaster ride or experience a shooting gallery. Meanwhile, you are staying firmly planted in the 7D theater seat. This state-of-the-art theater offers 3D effects and new laser technology. The Flyer is also a flying theater for adventurers seeking the epic sensation of riding through San Francisco's streets and the Redwood National Forest.
Pro Tip: Parking can be pricey, so make sure you check for free parking areas in the local neighborhoods, the houses are gorgeous, so there is much to see.
Musical Stairs: Beyond the plethora of art galleries, Pier 39 features its own interactive art with a set of harmonious stairs. This fantastic staircase, made famous in Tom Hank's film, Big, keeps kiddos entertained for hours.
Photo Alert: The Pier is the best spot for iconic shots of the Golden Gate Bridge, Alcatraz, Angel Island, and the San Francisco skyline.
Bay Cruises: Pier 39's Blue & Gold Fleet's Bay Cruise takes guests on a one-hour trip underneath the Golden Gate Bridge. The cruise offers snacks and cocktails onboard. Therefore, sightseers can sit back, relax and take in the stunning Golden City views.
Aquarium by the Bay: Home to more than 20,000 marine animals, including sharks, stingrays, jellyfish, river otters, and octopuses, this sea museum captivates and delights aquatic life lovers. With interactive displays, touch pools, and walkthrough tunnel exhibits, visitors can learn about the ocean's diverse habitats and the dangers they face.
Fun Fact: In 1970, tourists would dive into a 10-foot pool filled with Jell-O to retrieve personal items dropped at the bottom. This act was replaced by the Carousel.
Whale Watching Tours: From Pier 39, treat yourself to the magic and mystic of our planet's most amazing creatures. View the incredible humpback, blue and gray whales on an unforgettable boat tour. Whale watching tours run throughout the year. So check the website for the best time to catch the whale of your choice.
Photo Alert: In addition to the numerous classic San Fran skyline photos to take, the Pier 39 sunset snaps with the beautiful ocean backdrop setting will surely stand out.
The Carousel: Handcrafted in Italy, the San Francisco Carousel is hand-painted with famous San Francisco landmarks. The carousel features 1,800 twinkling lights with views of Pier 30's celebrated promenade. Carousel Hours are from Monday to Sunday, 11:00 a.m. – 8:00 p.m.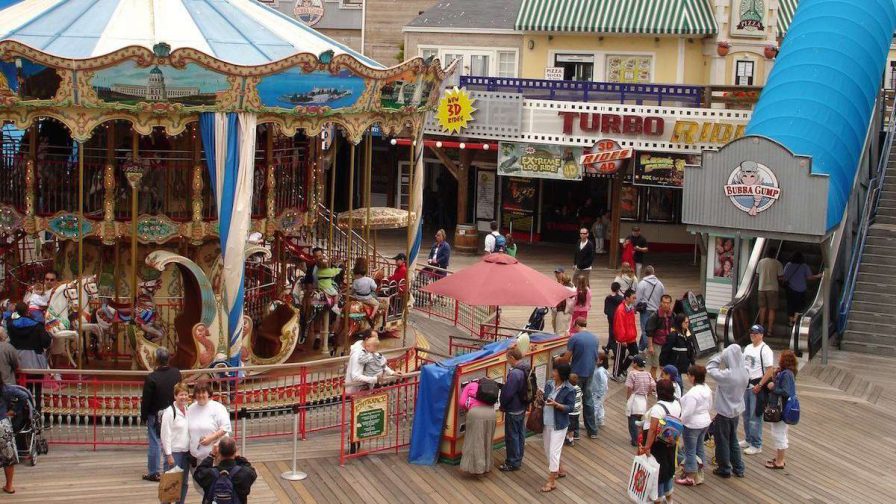 The Pier 39 Parking Garage is located directly across the street from the Entrance Plaza. Also, it is open 24-hours a day, seven days a week. Weekday pricing is $10/hour or $50/day. You can also get one hour of free validated parking. Just park at the Pier 39 Garage at 2 Beach Street and dine at one of the many restaurants.
Pier 39 is a dog-friendly destination.