Built in 1895, the popular tourist attraction is a chocolate lovers' paradise, featuring some of the world's richest, most delicious milk chocolate. Located at 900 North Point Street at the corner of Beach and Larkin Streets, the grand three-level Ghirardelli Square is a premier San Fransicso destination with landscaped gardens, four ice cream parlors, and the luxurious Fairmont Heritage Place Hotel.
There's something for everyone at this waterfront hot spot with confectionaries, fab restaurants, quaint gift stores, and wineries. The upper-level restaurants have incredible views of Alcatraz, Angel Island, Fisherman's Wharf, as well as breathtaking ocean vistas of the San Francisco Bay.
Visiting the famed Square is not the time nor the place to count calories! On the lower level, follow the sweet heavenly aroma to the back vats of liquid chocolate. The ice cream parlors feature hand-made Ghirardelli chocolate too. Take a tour through the winding passageways, as the Square highlights a collection of unique boutiques to delight the senses, alongside picturesque seascapes.
Photo Alert: Snap a shot under the glittery Ghirardelli Square arch or the famous Ghiradelli sign, a popular San Francisco landmark.
Here are a few Ghirardelli Square Can't-Miss Highlights
Cheese School of San Francisco: The café, cheese shop, and school offer great sandwiches and soups with an emphasis on cheese!
Try Pub BBQ for the best southern BBQ on the west coast.
McCormick & Kuleto's Seafood & Steaks is an upscale steak and seafood restaurant with a great bay view.
Pico Latin Street Food: Try Pico for the best Latin street food in town.
Wattle Creek Winery hosts some of the finest Alexander Valley (Sonoma) wines.
Vom Fass: This shop carries gourmet candies and chocolate and also offers olive oils and fine wines for tasting.
San Francisco Brewing Company: This brewpub serves handcrafted beers and delicious pub fare.
Palette Tea House: If you're craving Chinese, this dim sum restaurant is not to be missed!
Ghirardelli Ice Cream and Chocolate Shop: Home to the original Ghirardelli Chocolate manufacturing plant, stop by for a delicious assortment of ice cream sundaes topped with handmade hot fudge made and premier chocolate gifts.
Pro Tip: Before you go, check the menu ahead of time. The lines can be as long as the menu choices! If you don't mind sharing, the family size "Earthquake" is eight scoops of delicious ice cream, with eight toppings, whipped cream, chocolate chips and cherries.
Subpar Miniature Golf: This quaint family venue features miniature San Francisco landmarks at every hole.
Little Artistas: This store includes art, crafts, language classes, and other community events.
Other shops include elizabethW, Gigi + Rose, Helpers Bazaar, Jackson & Polk, Lola of North Beach, Mashka Jewelry, and Yap.
Ghirardelli Square Hours of Operation & Parking
The celebrated Square is open from 11:00 a.m. to 9:00 p.m. every day. (Note: The hours for certain stores and restaurants may vary.)
The nearest parking garage is on Larkin Street between North Point and Beach Street. Parking is available from 6:00 a.m. to midnight.
 Parking Garage Rates:
First hour: $8.00.
Second hour: $4.00. (automatically discounted)
Each additional hour: $8.00
Maximum up to 12 hours: $35.00
Maximum per 24 hours: $40.00
Ghiradelli Square History
Considered the first successful reuse project in the country, Ghirardelli Square's history started with the famed chocolate factory established by Domenico "Domingo" Ghirardelli. Born in 1817 in Rapallo, Italy, Ghirardelli worked as a confectioner's apprentice as a young boy. At age 20, he moved to Peru and became a coffee and chocolate merchant. Drawn by California's Gold Rush conquests, Ghirardelli moved to San Francisco and opened a general store that later became the chocolate factory.
Fun Fact: The big Ghirardelli sign used to be seen on both sides until neighbors complained about the brightness. As a result, the owners removed the residential side.
In the late 1800s, Ghirardelli's Chocolate Factory moved four times before finally taking over the Pioneer Woolen Mills at the North Point location. Next, in 1960 San Leandro purchased the Ghirardelli operation, and as other shops and restaurants were added, the Square was reborn as a mixed-use retail area. What's more, in 1982, owners obtained National Historic Register status.
Ghirardelli Square Tours
Most San Francisco Tours include Ghirardelli Square in the package.
San Francisco City Guides is a non-profit that provides free walking tours in the bay area. The Fisherman Wharf Tour starts at the Square.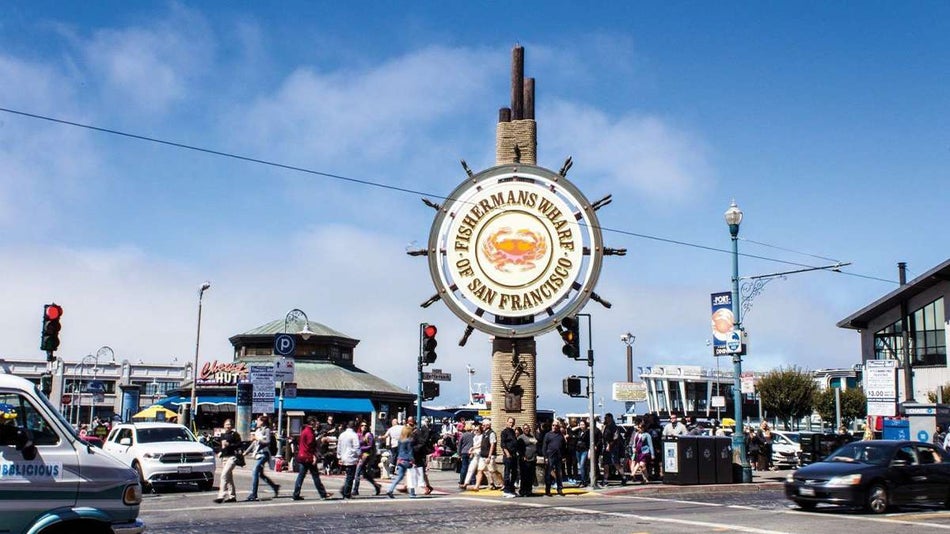 Segway Tour of Ghirardelli & North Beach: This exciting tour plus Segway rental ride takes you to Ghirardelli Square and the amazing North Beach neighborhood. It lasts two hours and costs $60.
Hop On Hop Off Bus Tours: Take a ride on the double-decker and explore the city from the heights!
The SF Trolley City Tour: This popular three-hour tour is also a ride on one of the original motorized cable cars. It costs $64.
Popular events include the Ghirardelli Christmas Tree Lighting Festival in November and the Chocolate Festival in September, which showcases live demonstrations from famous area chefs and wine and dessert tasting. Check the website for details.