With so much to do, see, and experience, trying to fit everything into one San Francisco vacation may become overwhelming. The best way to alleviate this stress is to book a seat on one of the many tours in San Francisco.
There is a tour for every type of San Francisco vacationer. Does Mom want to venture out into wine country? No problem. You've been dying to see the Golden Gate Bridge? Check. The kids want to see the towering Redwoods? You got it.
With so many tours in San Francisco to choose from, your family won't have a problem seeing and experiencing everything in one trip.
Wine Tours
You can't visit San Francisco without touring the wine country. It's just not right! From the lush landscapes to the delectable selection of locally made wines, you can't beat a San Francisco wine tour. Many of the wine tours in San Francisco also include opportunities for gazing at the gigantic Redwoods or sightseeing on your way to the vineyards.
If a wine tour sounds like an excellent way to spend your time in San Francisco, get your tickets for one of these tours:
Be sure to have your government-issued ID handy for your wine tour. Guests under the age of 21 may be permitted to come along for the tour, but are not allowed to consume alcohol. Bring cash for snacks and meals as well, as certain tours do not provide additional food or beverages.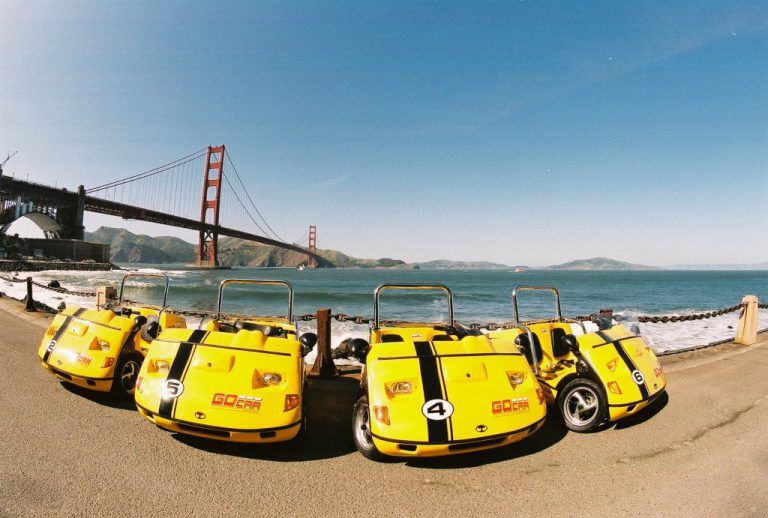 Sightseeing Tours
If your time in San Francisco is brief, I suggest going on one of the several sightseeing tours. These tours allow you to visit the iconic San Francisco landmarks all in one day. Whether you're excited to see the Golden Gate Bridge or you want to check out Fisherman's Wharf, you'll see it all on one of the sightseeing tours in San Francisco.
Book your spot for any of these popular sightseeing tours across San Francisco:
Plus, many of the sightseeing tours in San Francisco offer complimentary and convenient hotel transportation. Remember to follow all instructions from your tour guide for a memorable experience.
Segway Tours
Who hasn't wanted to ride on a Segway? Why not cross that off your bucket list while seeing the sights in San Francisco? Segway tours allow you to soar by landmarks, notable places, and neighborhoods with an expert tour guide by your side. Each tour also includes a training session to help visitors become comfortable with the Segway prior to departure. Visitors will learn how to navigate a Segway, break, follow road signs, and coast along San Francisco's sidewalks and roads.
See San Francisco's sights on a Segway on one of these interesting tours:
Muir Woods Tours
Perhaps you want to discover the great outdoors during your San Francisco vacation. After all, who wouldn't want to explore Muir Woods and stare up at the magnificent Redwood trees? These Muir Woods tours in San Francisco will allow you to do exactly that:
Some of these tours also offer time spent sightseeing in the city. These specific tours are ideal for families who want to see the Redwoods and the iconic landmarks all in one day.
Find the Best Tours in San Francisco
No matter if you want to explore San Francisco's coast or stroll through Fisherman's wharf, there's a tour for you. Book your seat on one of the many tours in San Francisco through Tripster. You can't beat discounted tickets and an easy booking process!