The following San Francisco itinerary showcases the best of the city as well as some touristy, but oh-so-worth it, attractions.
If you're traveling to San Francisco for the first time, you want to do everything. The idea of narrowing down your list of things to do can be daunting, especially when you only have a limited amount of time to spend in this city by the bay. However, as someone who has been there, done that (loved it!), I can help guide you through 3 days in San Francisco.
Ready? Let's go!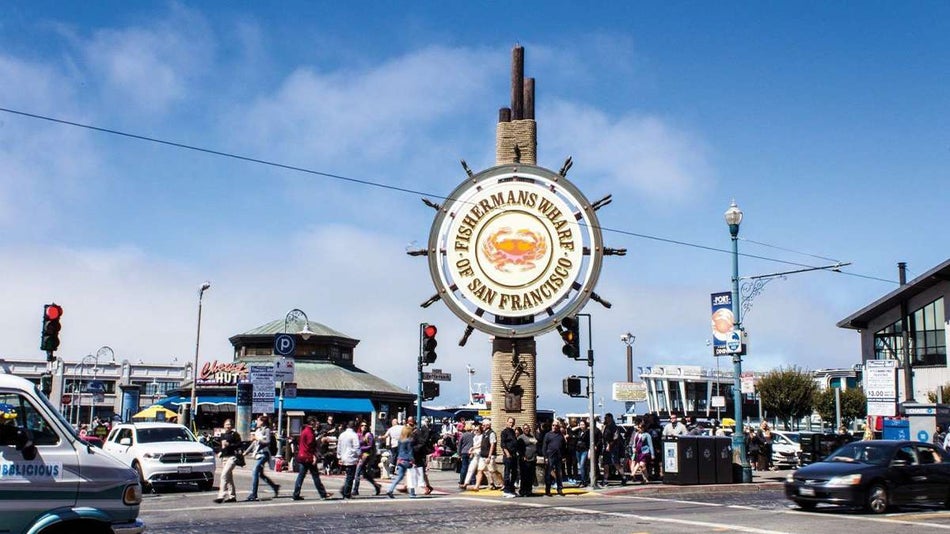 Day 1
Fisherman's Wharf
On Day 1, head straight the heart of the city's tourist district—Fisherman's Wharf. (You're on vacation--embrace being a tourist!) This area sprawls for blocks, each section just as kitschy as the next. Along this waterfront area, you'll find street performers, numerous souvenir shops, pricey restaurants and plenty of family-friendly amusements. Likewise, this neighborhood has charming views of the Golden Gate Bridge.
Highlights include:
Ghirardelli Square
National Liberty Ship Memorial
Ripley's Believe It or Not!
San Francisco Maritime National Historical Park
Of course, you can't visit Fisherman's Wharf and not stop by Pier 39. Famous for its sea lion population, which mysteriously made their home here in January 1990, Pier 39's K-DOCK is the place to go to view sea lions basking in the sun, frolicking with friends, and barking at the locals. In addition, spend some time at the Sea Lion Center. Operated by Aquarium of the Bay, its location overlooks K-DOCK. Moreover, it offers daily presentations, fun artifacts and one-on-one interactions with naturalists. If you're sea lion lover (like me!) it's a bonus activity worth your time.
Alcatraz Island
During your 3 days in San Francisco, you've got to visit America's most infamous prison—Alcatraz Island. Luckily, it's easy to hop on a cruise to the island from Fisherman's Wharf. Alcatraz Cruises is the only operator to stop at the island, but other companies do provide an Alcatraz Island-centric tour. Blue & Gold Fleet operates a 90-minute Escape from the Rock Cruise that not only takes you around Alcatraz Island but under the Golden Gate Bridge too.
Alcatraz is legendary for many reasons, the first of which are the notorious criminals who called it home, among which were Al Capone. Secondly, it's famous for escape attempts as every member of this maximum-security prison wanted out. The boat captains will regale you with stories along the way. Then, once you arrive at Alcatraz, you can go on a guided tour or listen to an informative narrated tour.
Crissy Field
For even more gorgeous views of the Golden Gate Bridge, go to Crissy Field. There is a beautiful beach, restaurants, and plenty of space to breathe in the fresh, natural allure of San Francisco. Go for a hike around the park, or simply sit in awe of its panoramic views of the bay. Both activities are rather rewarding!
The Painted Ladies
One of the symbols of the city you must see during your 3 days in San Francisco are The Painted Ladies. This historical row of Victorian houses is well-known for appearances on TV shows (hello Full House!), movies and postcards (as it's also aptly known as Postcard Row). The architecture of the homes juxtaposed against the skyscrapers of the city creates quite the image, which can be perfectly captured from Alamo Park.
The Mission
No doubt all of this sightseeing has worked up an appetite. If that's true, take your hungry belly to The Mission, which has a thriving food scene. This area has been long known for its Mexican restaurant. Recently, though, The Mission has expanded to include everything from Mediterranean to Italian, Asian Fusion and more. Good bets for dinner include:
The Mission also boasts an eclectic nightlife atmosphere, as well as fantastic views of the city from Dolores Park.
Day 2
Golden Gate Bridge
Yesterday, you were able to view the Golden Gate Bridge several times. On day 2 of your 3 days in San Francisco, you're going to actually experience it.  I recommend walking the bridge to get the full scope of this architectural masterpiece, but you can also bike it. (Driving across it isn't enough—trust me!) You're going to take a ridiculous amount of photos. However, be sure to put the camera (or iPhone) down once in a while to simply be in the moment.
The nearby Golden Gate National Recreation Area is also worth a stop. There are a number of hiking trails here, striking views of the bridge, and a waterfront promenade.
Sausalito
Make a quick detour to Sausalito before your adventure to Muir Woods. This quaint little seaside town is ideal for a lunch break. Dotted with boats in the harbor, there is a distinctly Mediterranean feel to Sausalito.
Muir Woods
After you've checked out the city's best manmade structure, take to the outdoors for the best natural ones. Muir Woods is a wonderland of outdoor beauty, with towering redwoods enveloping the seemingly never-ending landscape. The park's namesake, John Muir, an avid outdoorsman, called this area "……the best tree-lovers monument that could possibly be found in all the forests of the world." All things considered, you only have to spend a couple of hours here to quickly see why. The 1,000- year old giant trees, towering upward of 250-feet high, are truly magical and even more breathtaking.
Cable Cars
Let's face it: no first-time visit to San Francisco is complete without a ride on a cable car. Not only are they emblematic of this bay city, but they're also a superb way to get around town. Catch a cable car from Market Street when you need to save your feet from the hills of San Francisco.
Lombard Street
Hop off your cable car excursion on Lombard Street. Famous for being one of the world's windiest streets, this is one attraction where it's okay to stare (maybe even gawk) as you watch bicyclists and motorists make their way through the twists and turns of this zig-zagging street.
Chinatown
I've been to Chinatown's across the United States, and San Francisco's the best (and my favorite). The cultural atmosphere here is undeniable. From paper lanterns strewn across streets to art laced across buildings, it's easy to get lost in the scene. All in all, it really is a country within a city. It's also a hotspot for anyone that loves Chinese food (raises hand), so at least one of your meals during your 3 days in San Francisco needs to happen here. Recommendations include:
Of course, there are also excellent tea houses and bakeries in Chinatown. Favorites include Golden Gate Bakery, Good Mong Kok Bakery, and Red Blossom Tea Company.
Day 3
When you've only got 3 days in San Francisco, time goes by fast. On your last day of sightseeing, we're going to try to slow it down a bit as this itinerary has already been action packed!
Coit Tower
Start your day at Coit Tower, located at the top of Telegraph Hill, it takes some perseverance to reach the top of this city landmark, but it's worth the effort. Once there, purchase a $7 ticket to the top floor for panoramic views of the city.
Union Square
Union Square is the main shopping hub for San Franciscans. Stop here to do shop till you drop, or to simply gawk at the almost 3-acre center. With so many stores to choose from, though, you'll most likely walk away with something.
Ferry Building Marketplace
Foodies, rejoice! This marketplace has about every food item under the sun, which means come hungry! Outside the marketplace, there are food stands and even a farmer's market on the weekend. Inside, there is a large main hall with even more food vendors, as well as restaurants. Sample from several shops, or have a sit-down meal. Afterward, head out the back of the building for fantastic views of the bay.
Haight-Ashbury
If you want the see where "The Summer of Love" started, visit Haight-Ashbury. This area became famous in the summer of '67, as it was the epicenter of hippie culture. Accordingly, young people from all over came here to spread the message of peace and love. (You better bet they wore flowers in their hair.) Today, the hippie culture has been replaced by more of a yuppie vibe. However, you can still get your fill of the old days through a Flower Power Walking Tour. Signature sights include:
Corner of Haight-Ashbury
The Grateful Dead House
Buena Vista Park
Museums
There are many museums in the city, but when you only have 3 days in San Francisco you won't be able to visit them all. With this in mind, here are some of the best. Take a look, and see which one suits your interests.
De Young Art Museum: A collection covering everything from ancient African art to contemporary paintings.
Cable Car Museum: A museum dedicated to the history, technology, and significance of San Francisco's cable cars.
Exploratorium: A hands-on museum with exhibits on science, art, and human perception.
The Beat Museum: Memorabilia and pop culture artifacts from The Beat Generation (think Jack Kerouac) are on display.
San Francisco Museum of Modern Art: One of the best museums on the West Coasts dedicated to modern art.

3 Days in San Francisco: Recap
With 3 days in San Francisco, you might not be able to see it all. That said, you'll be able to fully experience what makes this city so special—and why so many people find the City by the Bay so enchanting. While vacationing in San Francisco, be sure to make all your attraction, show, and hotel reservations through Reserve San Francisco. It's your one-stop-shop for expert insight, top-rated travel deals and much, much more.