No matter if you're visiting Walt Disney World® with your kids or you are a kid at heart, meeting your favorite characters at Walt Disney World® is a magical experience. After all, who can resist a hug or a high five from the most famous mouse around?
However, if it's your first Walt Disney World® vacation, you're likely trying to figure out how to "character meet and greet Disney world 2022". While the characters once roamed the park, today's crowd sizes make this nearly impossible.
Instead, Disney pictures characters are available for Disney meet and greet at specific times and places throughout the resort making for memorable guest experiences.
To ensure you meet your favorite Disney characters at Disney World, follow this guide.
What is a Character Meet and Greet: Disney world?
Since Magic Kingdom's opening in October 1971, guests have been able to interact with iconic Disney film characters such as Mickey and Minnie Mouse, Donald Duck, Goofy, Pluto, and more.
Royal princesses and princes such as Cinderella, Ariel, Prince Eric, and others are also available to meet at the theme parks.
In Walt Disney World®, Disney characters individual meet-and-greet experiences are found at specific destinations throughout each park and a few select resorts. At a typical meet and greet, guests wait in line for a chance to speak and take pictures with the character.
These magical opportunities are often the highlight of a Walt Disney World® vacation for younger guests and lifelong fans of Disney movies.
There are two main types of characters: "face" characters and costumed characters.
"Face" characters are those whose likeness resembles a classic Disney character. Think characters such as Sleeping Beauty, Gaston, Belle, and Princess Tiana, where you can see the face of the individual portraying that character.
Costumed characters such as Mickey Mouse, Buzz Lightyear, and the White Rabbit, wear full-body costumes with intricate features.
Searching for answers to, "character meet and greet Disney World covid?" Thankfully there are no longer any Covid restrictions. Feel free to hug Mickey and ask for Ariel's autograph!
Where Can I Find My Favorite Characters?
As you're discovering how to meet Disney World characters, you'll learn certain characters are only available for meet and greets in specific parks. You don't want to go to Disney's Animal Kingdom® Theme Park thinking you'll have a chance to meet Elsa from Disney's Frozen!
Fortunately, there are a number of ways to find out where and when characters will be available for meet and greets.
First, make sure you download the My Disney Experience app before your vacation. You can check the app for meet and greets throughout the day at your theme park of choice. Second, ask a concierge at your Walt Disney World® hotel to call the Character Hotline.
They'll be able to tell you where a particular character will be that day!
Generally, you'll be able to find characters at these spots throughout Disney World theme parks:
Magic Kingdom®
At Magic Kingdom®, you'll be able to find and meet classic Disney characters from Peter Pan to Belle! Princess Fairytale Hall is situated in Fantasyland. Kids can have a chance to meet and speak with princesses such as Rapunzel and Tiana.
Next, head to Enchanted Tales with Belle. This meet-and-greet experience is an attraction in itself! This interactive adventure places visitors right into the story of Beauty & the Beast before meeting Belle, herself.
Ariel's Grotto provides a chance to dive under the sea with Ariel and friends at this themed meet and greet spot. Meanwhile, the Mad Tea Party hosts characters such as Alice in Wonderland, the Mad Hatter, and the White Rabbi.
Then you'll find your favorite futuristic characters like Buzz Lightyear over in Tomorrowland®. Hint: look towards the exit of Buzz Lightyear's ride!
Adventureland® is full of some of our favorite characters. Aladdin and Jasmine are often available for meet and greets in this land.
Rumor has it Jack Sparrow appears now and then, too! Then there is Pete's Silly Side Show. Located at the back of the park, you'll find Minnie Mouse, Donald Duck, Daisy Duck, and Goofy in their best circus attire and ready to meet you.
Meanwhile, keep an eye out for Merida and take an archery lesson in the Fairytale Garden. Next, meet Mickey Mouse and meet Tinkerbell Disney World at Town Square Theater toward the entrance of Magic Kingdom®.
Pluto is also ready to meet and greet guests right in Town Square.
Finally, In Fantasyland®, you'll find Peter Pan and Wendy ready for a day of fun. Gaston is also often found outside his tavern, too. Plus, maybe you'll run into Winnie the Pooh and friends!
Epcot®
Travel around the world and into the future with your favorite Disney characters. Over in the Norway Pavilion, you'll have the honor of meeting Elsa and Anna in their Royal Sommerhus. This is the only place to meet these characters in Disney World!
Next, find Alice and her Wonderland friends along with Mary Poppins can be found in the United Kingdom Pavilion. Meanwhile, take the opportunity to hear a story from Belle in France.
There are almost always characters at the designated Epcot Character Spot! Cross your fingers Mickey and his friends are waiting for you there! Next, wander over to the Mexico Pavilion. Donald Duck is dressed in traditional Mexican attire and ready for his close-up.
Then take a picture with Mulan in China. Now that you've made it over to the Morocco Pavilion, meet with Princess Jasmine and Aladdin in Morocco. Next, sing a song with Snow White at the Wishing Well in Germany.
Finally, multiple characters are available for meet and greet in Future World! Baymax, Joy, Sadness, Ralph, Vanellope, and more are waiting for you in various spots throughout this area of Epcot.
Disney's Hollywood Studios®
Blast off to a galaxy far away or jump into your favorite movie with the characters at Disney's Hollywood Studios®.
Star Wars Characters
If your family is obsessed with Star Wars, Disney's Hollywood Studios® is filled with character meet and greets. Find BB-8, Kylo Ren, and Chewbacca at Animation Courtyard and Storm Troopers on Hollywood Boulevard.
Then head over to Echo Lake and get a warm hug from Olaf!
Meanwhile, Animation Courtyard is Ideal for younger children. They'll be able to meet Disney Junior characters such as Doc McStuffins and Vampirina. In addition. all of your favorite Pixar characters from Woody to Mr. Incredible and Sulley are available at Pixar Place.
To finish your Hollywood Studios Character photo hunt, head to the Red Carpet Dreams on Commissary Lane. You'll find Sorcerer Mickey and Minnie Mouse are available for meet and greets
Disney's Animal Kingdom® Theme Park
Go wild with Disney characters at Disney's Animal Kingdom! Start at Adventurers Outpost. You'll find Mickey and Minnie all geared up for their adventure. Won't you join them?
Next, go find Pocahontas. You're also likely to run into Russell and Dug while exploring the wilderness out on Discovery Island®.
Finally, head to Donald's Dino-Bash. You'll get to meet Donald, Goofy, Daisy, Chip n Dale, Scrooge McDuck, Pluto, and even Launchpad McQuack over in DinoLand USA for a party!
Other characters such as Rafiki, Tarzan, and Flik are scheduled intermittently throughout the year at Disney's Animal Kingdom® Theme Park.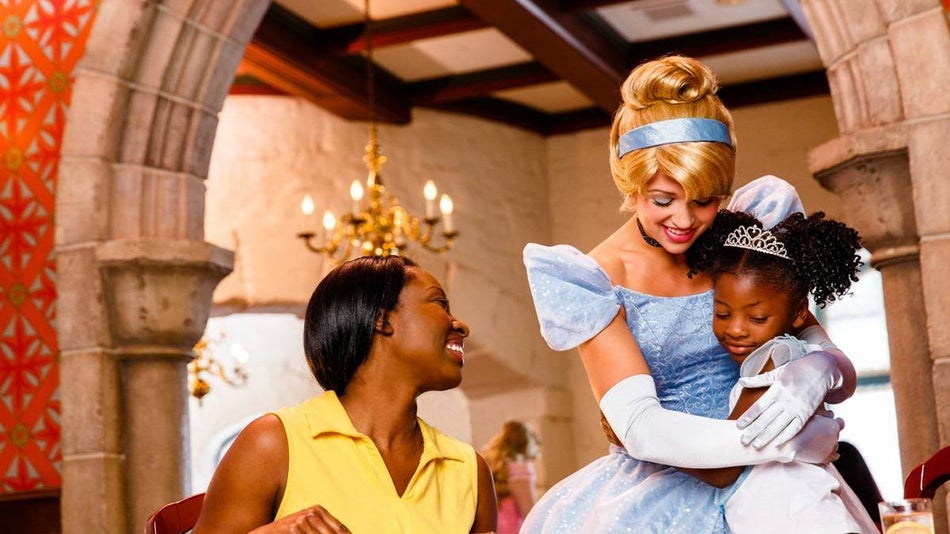 What is Character Dining?
When asked how to meet Disney World characters, many fans and cast members will recommend a character meal. Character meals are a dining experience at one of Disney World's many restaurants in which the characters come to visit.
As you enjoy your meal, you'll be visited by princesses, classic Disney characters, and some new faces.
Many families enjoy character meals as they maximize your time at the resort. Rather than waiting in line for a single character multiple times throughout your day at the theme park, you can meet and take pictures with several characters over the span of breakfast, lunch, or dinner.
However, character meals are not available at quick-service restaurants. Instead, they require advance reservations.
Character dining restaurants within the Walt Disney World® theme parks include:
Cinderella's Royal Table
Garden Grill
The Crystal Palace
Hollywood & Vine
Akershus Royal Banquet Hall
Tusker House Restaurant
Several Walt Disney World® resort hotels also offer character dining meals at on-site restaurants such as:
1900 Park Fare at Disney's Grand Floridian Resort & Spa
Chef Mickey's at Disney's Contemporary Resort
'Ohana at Disney's Polynesian Resort
Disney's Perfectly Princess Tea at Disney's Grand Floridian Resort & Spa
Cape May Cafe at Disney's Beach Club
Garden Grove at the Walt Disney World Swan Hotel
Trattoria Al Forno at Disney's Boardwalk
It is recommended that guests interested in how to meet Disney World characters make their character dining reservations as far in advance as possible. Guests staying at a Walt Disney World® resort can make reservations up to 120 days in advance.
Also, some Walt Disney Company dining plans are accepted for character meals. If you'd like to use a dining plan for your character meal, double-check it is accepted prior to making a reservation.
While character meet and greets are a wonderful way to fit multiple characters into a single visit, do know the reservations are not cheap. Certain character meal experiences can be a bit pricey.
Before you place your reservation, double-check that your restaurant of choice fits your Walt Disney World® vacation budget.
Quick Tips for Maximizing Your Character Meet & Greet Experience
As with most aspects of a Walt Disney World® vacation, having a bit of extra knowledge in mind can transform your experience from good to absolutely magical. Character meet and greets are no exception. A few tips can make the difference between a mediocre and spectacular encounter.
Genie+ is Your Friend
Those traveling with younger kids won't be able to ride the big thrill rides such as Space Mountain or Expedition Everest. Instead, fill their Disney parks vacation with magical character interactions.
Although, waiting in line forever isn't too magical, now is it? Instead, take advantage of Disney World's Genie+ system.
Rather than using your Genie+ reservations for rides, skip the lines for popular meet and greet experiences with characters such as Mickey Mouse, Belle, and Peter Pan!
If you're staying on Disney property, you are able to make Genie+ reservations up to 60 days in advance of your trip. For families staying off-site, you are able to make reservations up to 30 days before your visit.
Make no mistake, lines for characters can be just as long as some of the most popular rides. Line times for Elsa and Anna in Epcot can be well above an hour or more on an average day!
Try Going Later in the Day
If you'd rather use your Genie+ reservations for rides but still want to get a hug from Mickey Mouse, try getting in line later in the day.
Families with young children or those without a defined schedule will casually walk by a character line and hop in it first thing in the morning. Naturally, this creates long lines earlier in the day.
As the day goes on, more families are leaving the park, getting a bite to eat, or more focused on rides. Take advantage of this downtime and find character meet and greet experiences with short wait times.
Interact with the Characters
While a picture will capture your experience forever, there's nothing quite like having a magical memory and encounter with Disney characters. Visitors are encouraged to interact with characters by striking up a conversation or getting creative with poses!
Pro Tip: Get your character experiences while in the parks. You won't typically find Disney character meet and greets while at Disney Springs.
For instance, ask Ariel if she has a favorite dinglehopper or ask Mickey Mouse where Pluto is. This is also a great way for kids to break the ice with characters if they're a bit nervous.
Parents, feel free to help steer the conversation, too. But, if you see magic happening, get out of the way and let the character do their thing!
Characters May Be Scary to Little Kids
To some kids, seeing characters walk around may be a bit intimidating. If you believe your child may have a fear of characters, speak with them before your visit and explain what and who they are.
If you visit and find your child wants nothing to do with characters, don't force it. Instead, move on to other rides, shows, and experiences throughout the park.
Another way to ease into the character experience is to visit those who are not wearing a mask such as Peter Pan and the princesses. These characters can show emotion visually and have a conversation with your child in an attempt to dissuade their fears or concerns. They're great "shy Disney characters" to meet with nervous little ones.
To Autograph or Not to Autograph?
Many Walt Disney World® fans advise against purchasing an autograph book for characters to sign. For younger or shy children, however, the autograph book can be a great way to ease into the character experience and break the ice. For others, it creates lifelong memories.
On the other hand, be careful of turning it into a fast-paced treasure hunt of sorts. You want your character meetings to be memorable visits, not a transaction.
If it's your family's first Walt Disney World® vacation, go ahead and get those autographs! But, on your next vacation, be sure to focus on interacting with the characters instead.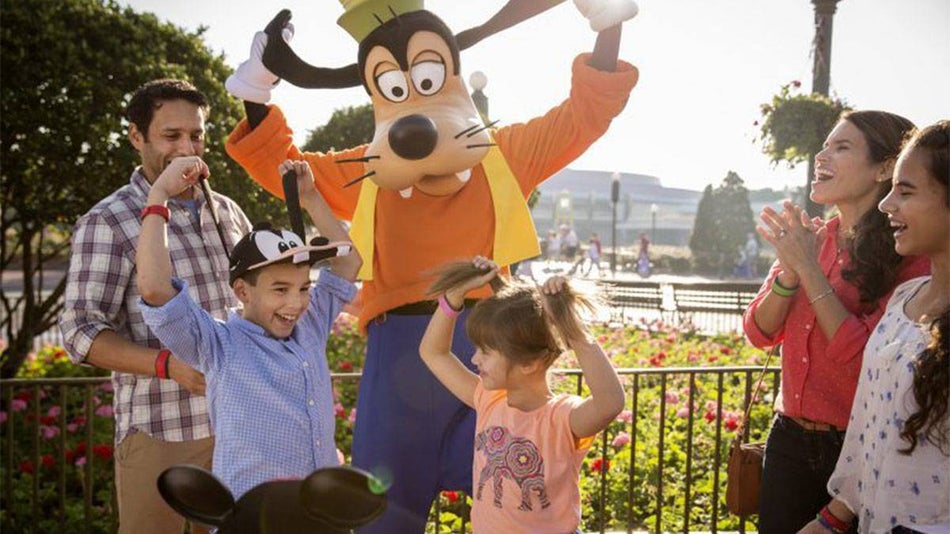 Arrive Early
As you become familiar with the My Disney Experience app and how to meet Disney World characters, you'll also discover ways to guarantee a visit from a character. One such way is to arrive early to a scheduled meet and greet.
Even though the character isn't in their designated spot yet, you can still arrive early and wait. This will grant you access to the character earlier than waiting in an entire line without using a FastPass+ reservation.
Call Disney Characters Hotline
If you or your child have a character you must meet on your trip, calling the Character Hotline is key. Once you arrive at your Disney World hotel, politely ask the concierge to call the Character Hotline and determine where and when (the Disney World character schedule and times guide is a life saver) your favorite character is available for meet and greets.
Speak to Your Kids Prior to Meeting a Character
Younger children might not understand why they didn't get to meet their favorite character while at the most magical place on Earth.
However, several situations can arise that result in certain characters not appearing for a meet and greet or your family being unable to attend a specific character experience.
For instance, you may find that the wait time for a specific character such as Anna from Frozen is an astronomical amount of time and won't fit into your schedule. The last thing you want is a disappointed child and a potential meltdown.
With this in mind, never guarantee a character visit with your child. Instead, use phrases such as "I hope we get the chance to see Mickey!" or "I wonder if Pluto is in Magic Kingdom today?" That way, if the encounter does happen, everyone is happy!
Plus, your child may be infatuated with an older movie character such as Iago from Aladdin or Timon and Pumbaa from the Lion King.
These characters are rarely on the meet and greet schedule. In fact, some characters only appear in the theme parks for seasonal events such as Mickey's Not-So-Scary Halloween Party.
Characters Need Breaks, Too!
You may notice a character take a break in the middle of their scheduled appearance time. Often this is just a quick break to grab some water, a snack, and get out of the sun (if applicable) for a bit. Other times, they're scheduled to be in a parade, too.
If a character takes a break during your visit, don't fret! Ask the character handler or available cast member how long the break will be. Chances are, they'll be right back.
How to Meet Disney Characters at Disney World

: Put Our Tips to the Test
Ready to meet your favorite Walt Disney World® characters? The first step is to book your vacation!
Why not stay at a Disney World hotel or resort with character dining experiences on-site? Plan your vacation and get your theme park tickets today. If you're going to Disneyland resort instead, you'll be able to meet a slew of characters there too!
Which Disney Character Would You Like to Meet?
Leave us a comment below!