Adrenaline junkies from across the globe flock to Florida for their chance to experience the biggest and baddest Orlando thrill rides.
From plummeting to your doom on a haunted elevator ride to coming face-to-face with a mummy, the rush of adrenaline never stops in the theme park capital of the world.
If you're a thrill seeker, you need to secure a seat on these 14 Orlando thrill rides.
1. Kraken — SeaWorld Orlando
As one of Orlando's floorless roller coasters — yes, I said floorless — passengers soar 150-feet high at a whopping 65mph. The Kraken coaster was modeled after a mythological underwater beast freed from the deepest troves of the sea, which is evident by the massive climbs and drops of the track. Did I mention that guests sit in open-sided seats? You'll feel like you're diving in and out of the water at astronomical speeds when you ride the Kraken.
2. Mako — SeaWorld Orlando
Ready to ride Orlando's tallest roller coaster? This thrill ride sends passengers 200 feet high for a stunning view of the Orlando skyline, right before hurdling them 73 mph on a hypercoaster track. You'll feel weightless as you glide along the mile-long track at incredible speeds. Mako has shattered records including tallest, longest, and fastest coaster in Orlando!
3. Tower of Terror — Disney's Hollywood Studios
Fans of "The Twilight Zone" know just how frightening the television show can be. Disney Imagineers took that fright, bottled it up, and made a popular Orlando thrill ride out of it. Guests enter the Twilight Zone and face their fears as they plummet down 13 stories in a haunted elevator. The best part about the Tower of Terror? You never know what's coming next thanks to a completely randomized dropping sequence.
4. Harry Potter and the Escape from Gringotts — Universal Studios Florida
This mind-blowing, 3D steel roller coaster ride at Islands of Adventure takes you deep into the heart of Gringotts Bank where an adventure awaits you. Be careful — Voldemort and Bellatrix are lurking below the bank too. The combination of special effects, 3D animation, and a pure adrenaline rush has secured Harry Potter and the Escape from Gringotts' position as a top Orlando thrill ride for years to come.
5. Harry Potter and the Forbidden Journey — Universal's Island of Adventure
Sometimes all it takes to make an Orlando thrill ride truly wonderful is a bit of magic. Experience the magic of Hogwarts School of Witchcraft and Wizardry with Harry Potter and friends on this one-of-a-kind thrill ride. Featuring groundbreaking technology and mind-boggling engineering, the ride brings guests right into the wizarding world. You'll feel a rush unlike any other when you join Harry Potter and friends on an adventure filled with magical creatures, spellbinding interactions, and sudden surprises.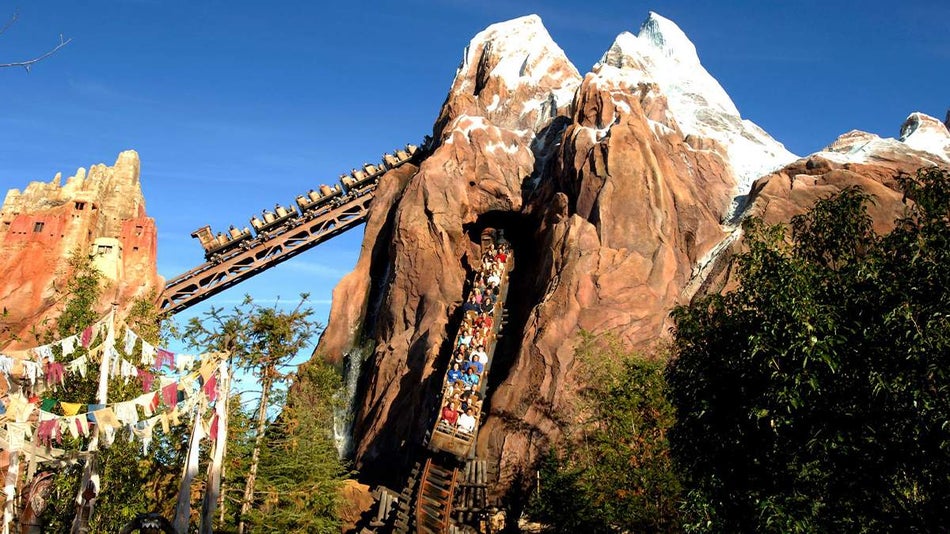 6. Expedition Everest: Legend of the Forbidden Mountain — Disney's Animal Kingdom
There's no bigger rush than coming face-to-face with the Abominable Snowman while speeding through the Himalayan Mountains on an out-of-control train. With an 80-foot drop and soaring speeds, you'll jet around the Himalayan Mountains both forwards and backward in Disney's Animal Kingdom. Are you ready to meet the legend of the Yeti while screaming at the top of your lungs?
7. The Jurassic Park River Adventure — Universal's Islands of Adventure
Immerse yourself in the Jurassic Park universe with a tour of the dinosaurs on the island — that goes horribly wrong. Passengers find themselves stuck in the Raptor Containment Area and the only way to escape the incoming T-Rex is by plunging down an 85-foot waterfall drop. Get ready to scream, get soaked, and experience the adventure of a lifetime.
8. The Incredible Hulk Coaster — Universal's Islands of Adventure
Wondering what Bruce Banner feels like when he transforms into the Incredible Hulk? This 67 mph coaster with insane zero-gravity rolls, drops, and turns will help you experience exactly that. If you're a rollercoaster fanatic, you need to ride the Incredible Hulk Coaster. The ride recently underwent a massive remodel with the intent of making the Orlando thrill ride exceptionally exhilarating!
9. Revenge of the Mummy — Universal Studios Florida
Out of all the Orlando thrill rides on this list, Revenge of the Mummy is my absolute favorite. It's not the fastest roller coaster nor does it have the biggest drop, but the state-of-the-art technology combined with the speed of the ride creates an unmatched adrenaline rush. Thrill seekers have often said that the ride seemed to get faster and more intense every time they rode it. Perhaps the curse of the Mummy has something to do with this?
10. Rock 'n' Roller Coaster Starring Aerosmith — Disney's Hollywood Studios
Scream along with Steven Tyler and the rest of Aerosmith as they jet off to their Los Angeles concert in a 60 mph stretch limo (also known as an indoor roller coaster) through loops, twists, turns, and plunging drops. Each "limo" plays different Aerosmith songs, meaning no two rides are ever the same.
11. Slingshot — Magical Midway Thrill Park
While on your Orlando thrill rides tour, why not get launched 390 feet into the air from a slingshot? This thrill ride allows guests to feel total weightlessness in the ultimate adrenaline rush.
12. Summit Plummet — Disney's Blizzard Beach
This 120-foot, free-fall body slide includes a terrifying near vertical drop with a pitch-black tunnel at the end of the plunge. This waterslide drops you higher than most roller coasters and other Orlando thrill rides. Who said water rides couldn't be thrilling?
13. Tonga of Taniwha Tubes - Volcano Bay
Take on both tracks of the coiled Taniwha Tubes, Tonga and Raki, at Volcano Bay. Guests can grab their single or double rider inner tubes to race down either slide, which offers slightly different experiences. Along the way, playful Tiki statues will attempt to surprise you with jets of water.
14. The Amazing Adventures of Spider-Man
Join Marvel's Spider-Man on this high-flying virtual reality ride as he battles against the villains of the Sinister Syndicate. It's up to Spidey to save the Statue of the Liberty as he takes you soaring above city streets and scaling skyscrapers. Enjoy high-definition 3-D graphics and watch out for the 400-foot freefall.
Visit Magical Orlando, Florida
Now you know which rides are guaranteed to raise your pulse and make you scream! So, get ready to brave the biggest, baddest Orlando thrill rides. I dare you!