There's no better escape from reality than a Walt Disney World resort vacation. The sparkling lights of Cinderella's Castle and the heartwarming melody of It's a Small World instantly transport you to a perfect world where dreams really do come true. 
Sensational storytelling, nostalgia, and a pinch of Mickey magic come together to create some of the most well-known attractions on Earth. Follow along as we dive into Walt Disney World's most iconic rides.
From famous dark rides such as the Haunted Mansion to side-splitting laughs with your Jungle Cruise boat ride, every Disney attraction has earned its place in history.
Whether you are a fan of the classics or are curious about the latest additions to Disney World's ride roster, we've done our due diligence to bring you the ultimate guide to the most iconic Disney rides. 
Follow along for the most iconic list of Disneyworld rides ever!
Magic Kingdom
Fairytales, swashbuckling pirates, and endless Disney nostalgia come to life in the Magic Kingdom. Visitors, young and old, flock to Main Street USA and the rugged red rocks of Frontierland for oodles of excitement visiting the best Disney theme park attractions. You'll find plenty of timeless Disney favorites in the land of imagination and fantasy. Plus, some of the best rides at Disney World. 
Haunted Mansion
Dancing apparitions, singing specters, and ghostly graveyards, oh my! The Haunted Mansion has remained a beloved Disney attraction and one of the most iconic Disney rides since its opening in 1971. This dazzling dark ride is more silly than spooky, perfect for pint-size visitors. So climb into your creepy Doom Buggy and prepare yourself for a labyrinth of haunted chambers.
Observe Madame Leota's chilling séance and the spectacular Grand Ballroom, but beware as these phantom pranksters have a peculiar habit of following you home… 
Jungle Cruise
Hankering for an Amazon adventure with some LOL-worthy narration? While, unfortunately, the Rock won't be skippering this vessel, Disney World's Jungle Cruise is still well worth a ride. Chart a course for comedy and exotic river hijinks when you partake in this epic journey.
Sail past ferocious hippos, hungry lions, and more as you are entertained by the wit and wisdom of your skipper. Travel from the Nile to South America on this 10-minute, 10,000-mile voyage.
Peter Pan's Flight
Take a whimsical flight to Neverland on the most popular ride at Magic Kingdom! This high-flying adventure has delighted crowds since its opening in 1955. The classic Fantasyland ride takes you over London aboard a pirate galleon. Modeled after the Peter Pan movie, the ride has been updated with a fascinating walk-through queue into the children's bedroom. Peter Pan s Flight is a magical experience worth the wait!
It's a Small World
Another one of the most popular rides at Magic Kingdom is undoubtedly It's a Small World. Featuring one of the world's most well-known tunes, It's a Small World is a beloved Disney masterpiece. Created for the 1964-1965 New York World's Fair, this ride was personally overseen by Walt himself.
After two seasons at the fair, the ride debuted on Opening Day at the Walt Disney World Resort. Whimsy and child-like wonder are married in perfect harmony on this joyful cruise.
Sing and clap along as you cruise through all seven continents—delight in the vivid costumes, cultures, and sounds from Sweden to Spain. Darling dancing audio-animatronics remind every rider that it truly is a small world after all. 

Seven Dwarfs Mine Train
Climb summits and race through the diamond mines from Snow White and the Seven Dwarfs on a swaying family coaster ride. If you were wondering what is Disney's most popular ride right now, it's one of the newest additions called the Dwarfs Mine Train Adventure! This steel roller coaster packs the thrills, but with the long lines, you'll need to pick your time wisely with your Genie+!
Pirates of the Caribbean 
Yo, ho ho, and a bottle of rum! Reignite your passion for Jack Sparrow and perhaps even spot some buried treasure on this seaworthy voyage. It's the last attraction overseen by Walt and could possibly be the most famous ride in Disney World.
Step aboard your weathered vessel as you strike out for Dead Man's Cave. Listen to the forlorn singing of shipwrecked sailors and watch in awe as these rapscallion pirates pillage and plunder these seaside towns. 
We all know that movies inspired some of the best Disney World attractions. But did you know the Pirates of the Caribbean ride inspired the movie, then the movie inspired the ride!
In other words, the ride was built first, then the movie franchise was created after the popular attraction. Furthermore, once the movies became so beloved, the ride was revamped to include the famous movie characters Jack Sparrow, Barbosa, and Blackbeard. Aye, Aye!
Space Mountain
Stomach lurching twists and turns all under the cover of ink-black darkness. Travel to the farthest depths of the galaxy when you snag a thrilling seat on Space Mountain. A crowning centerpiece of Tomorrowland, Space Mountain was Disney World's first true thrill ride and paved the way for many roller coasters to come. Of course, it's the most popular ride in Disney World and the most well-known. 
Curious cadets of all ages will enjoy zooming past shooting stars, celestial satellites, and wayward comets. Feel the pull of gravity and scream yourself silly as you blast off into space on this three-minute joyride.
Big Thunder Mountain
Ready to stake your claim on the Wild West? Head on over to Frontierland for a rip-roaring adventure on Big Thunder Mountain. This speeding train is one of the most popular Disney rides.
It's also a perfect introductory roller coaster that will take you through cursed caverns, abandoned mine shafts, and mysterious ghost towns. Try to dodge the dynamite, keep your eyes peeled for gold, and be sure to avoid falling boulders!
Don't forget to capture your Big Thunder Mountain scream with a souvenir photo after your experience. 
Disney Hollywood Studios
Lights, camera, action! Prime yourself for a plethora of rides based on your favorite flicks when you conquer Disney Hollywood Studios. From immersive experiences in galaxies far, far away to spine-tingling drops into the 5th dimension, this star-studded park is a must-see.
Star Wars Rise of the Resistance
Calling all-Star Warriors! Suit up for the battle of your life when you come head to head with the First Order on this one-of-a-kind theme park attraction. Star Wars Rise of the Resistance is a masterpiece attraction executed on an epic scale. Feel the power of the Jedi Knights course through your veins as you join the Resistance on a secret mission.
This 17-minute ride contains multiple ride systems that come together to put you in the middle of the white-hot action. Explore the Black Spire Outpost, aid Rey, and escape the clutches of Kylo Ren in this unforgettable intergalactic experience.
The Twilight Zone Tower of Terror
Inspired storylines, insane production value, and the iconically creepy TV series unite for one thrilling ride. The Twilight Zone Tower of Terror is a blood-pumping freefall that could be the most popular Disney ride in the park. It's based on the popular TV series which aired from 1959 to 1964. Riders will enter a spooky Hotel lobby seemingly frozen in time. 
Enter the rickety elevator-style lift and dare to drop into another dimension. With many speedy drops, darkness, and spooky elements, this freefalling ride may be too intense for some younger visitors. 
Slinky Dog Dash 
Slinky Dog Dash, in Disney's Toy Story Land, is one of the newer featured attractions, which opened in 2018. The ride is themed around the Toy Story movie, with the idea that Andy built a roller coaster using his "Dash & Dodge Mega Coaster Kit," with Slinky Dog as his test rider. The ride ends with a performance by Wheezy the Penguin, an audio-animatronic character who serenades guests at the big finale brake run.
Animal Kingdom
Join the Circle of Life and embrace your wild side in Animal Kingdom. Catch glimpses of majestic lions, elephants, giraffes, and gorillas. Or, set your sights for even more exotic territory when you tackle Everest or the enchanted land of Avatar. 
Kilimanjaro Safari
Explore the African savannah on this jaw-dropping tour of the Harambe Wildlife Reserve. Revel in the natural beauty and bounty of the dark continent as you behold hippos, lions, baboons, zebras, hyenas, and more from your open-air vehicle. Witness up to 34 species as you traverse the reserve's plains, forests, and rocky wetlands.
Listen up as your expert guide divulges fascinating animal facts and aids you in securing the most perfect wildlife snaps. Every Kilimanjaro Safari is unique, so you'll never know what you'll encounter on this 18-minute escapade. 
Avatar Flight of Passage
Hold tight to your winged mountain Banshee as you take to the sky! Find yourself whisked away to the verdant land of Pandora when you board Avatar Flight of Passage. Soak in dazzling otherworldly landscapes on this 3D flight, which utilizes the same flying theater ride system as Soarin'.
Travel like a true Na'vi hunter as you harness the power of the wind and bond with your Banshee. 
Expedition Everest - Legend of the Forbidden Mountain
Orlando may be known for balmy temperatures, but Animal Kingdom keeps it icy cold on Expedition Everest. Travel to the top of the world on this exhilarating roller coaster attraction.
Speed through frozen Himalayan peaks, avoid the angry Yeti and wander into a mystical Tibetan village.
This cursed mountain train trip contains steep ascents, high speeds, and plunges into total darkness.
Epcot
Epcot may be known for its outstanding variety of epicurean delights and its world showcase, but this future-focused park is so much more than food! True Disneyphiles flock to Epcot for space-themed rides and attractions.
Take a break from the ennui of Earth when you set a mission for the cosmos or rock out to 70s tunes with the Guardians of the Galaxy.
Mission: Space
Suit up for a simulated NASA-style mission to Mars on this groundbreaking ride. Achieve your astronaut fantasies when you train for two integral missions on the X-2 Deep Space Shuttle at the International Space Training Center. Assume your role carefully, as you will need to initiate a mission-critical sequence.
Experience the spins, tilts, and speeds of a G-force aircraft on the Orange Mission. Or opt for a more mild experience with the Green Mission. Sling past the moon, stare in awe at Earth and try to avoid those massive meteorites on this unique ride system. 
Test Track
Got a need for speed? Design the vehicle of your dreams when you head on over to the Test Track. This high-octane attraction puts you in the driver's seat as you create your own virtual concept car. Located at the glossy Chevrolet Design Center, this full-throttle ride has you buckling up for a speedy 6-passenger "SIM Car" spin on the test track.
Tackle all manner of crazy terrain and obstacles as you maneuver your car through straightaways, switchbacks, and more. Achieve soaring speeds of up to 65 mph, and then post-race, check the scoreboard to see if you came out on top!
Spaceship Earth
A signature EPCOT attraction, Spaceship Earth is equal parts history lesson and epic entertainment. First, let the dulcet narration of Oscar winner Judi Dench talk you through mankind's crowning achievements, from cave paintings to the computer age. Then, observe the modern inventions of media, the moon landing, futuristic space travel, and more.
Every moment of time is brought to life through elaborate sets, advanced audio animatronics figures, and an inspirational musical score. In fact, Emmy Winner Bruce Broughton conducted a 63-piece orchestra and a 24-voice choir specifically for this project. 
Guardians of the Galaxy: Cosmic Rewind
This fresh new addition to EPCOT's World Discovery has already climbed to iconic status. Guardians of the Galaxy: Cosmic Rewind is Disney's first-ever reverse launch coaster and one of the largest fully enclosed coasters in the world. The new rides at Disney World keep getting better.
Join Gamora, Groot, Rocket, and Star-Lord on this rollicking intergalactic escape.
Tour the vibrant Galaxarium, jam out to classic rock, and cruise through the cosmos. Well worth a spot on your Genie+ queue, this thrilling dark ride features 360-degree rotation. 
Blizzard Beach
Why should theme parks snag all the status? Walt Disney World water parks are some of the best Disney World top rides in the world, and nothing beats a hot summer day spent at Blizzard Beach. While we love every single slide and lazy river, nothing beats the Blizzard's incredible plummet.
Summit Plummet
Muster up that courage and brace yourself for the most fearsome freefall of your life. The Summit Plummet is the tallest, fastest freefall body slide around. This iconic Blizzard Beach ride contains an almost vertical drop of 12 stories through a darkened tunnel. Conclude your hardcore 360-foot-long descent with a refreshing spray of white water. 
Fun Fact: If you're wondering which Disney World park has the most rides, it's the Magic Kingdom with 23 rides. EPCOT, Hollywood Studios and Animal Kingdom have nine rides each.
While you might not be able to buy happiness, you can go to Walt Disney World. This epicenter of adventure and enchantment has been delighting visitors since 1971.
Whether you have your heart set on meeting Woody and Buzz Lightyear or have been scoping out the action in Star Wars: Galaxy's Edge, this Orlando theme park offers up oodles of attractions.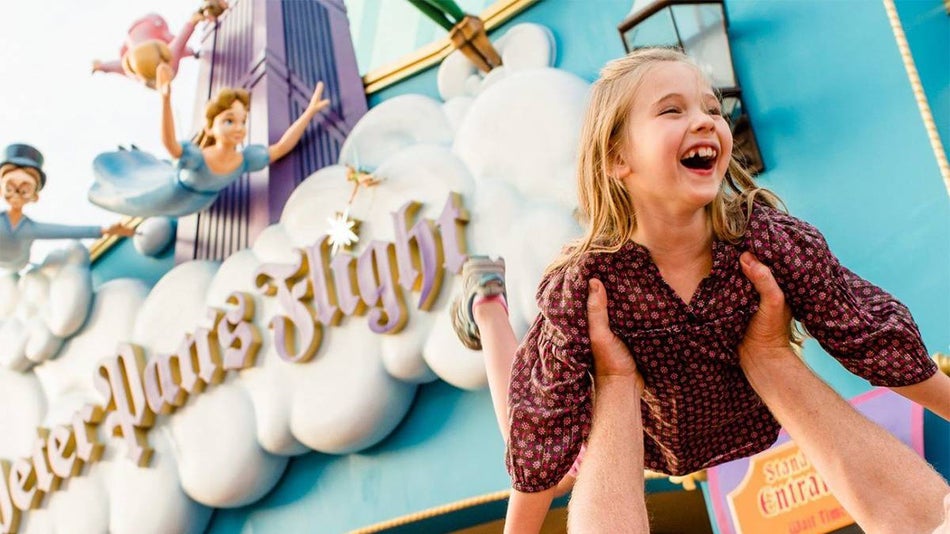 From the breathtaking scenery of an African Safari to the high-octane thrills of the Guardians, there's never been a better time to take advantage of Disney World Florida rides.
So, what are you waiting for? Grab your discount Disney World tickets from Tipster and start planning your visit to the Most Magical Place on Earth today!

Tell Us, Which of The Most Iconic Disney World Rides Are Your Favorite?
We'd love to hear which classic Disney World rides are your favorites. Leave us a comment below!