Disney World attracts visitors from all over America thanks to its family-friendly appeal. For over 40 years, the park has been popular due to its promise of meeting Mickey Mouse, riding Space Mountain and walking through Cinderella's Castle. Over the years, Disney World has added new attractions and enhanced old ones to ensure each day is magical perfection.
Space Mountain
There's a reason I mentioned this ride above: it's the first ride that comes to mind when I think Disney. Before I had ever been to Magic Kingdom, this was the one ride I was familiar with. As the centerpiece of Tomorrowland, it is a holdover from Walt Disney's initial vision for this area of the park. Space Mountain was the first true thrill ride at Disney World, and lead the way for future Imagineering efforts. No matter your age, the surprise twists and turns are sure to make you scream. There's a reason there's always a line and a top FastPass+ pick.
Pirates of the Caribbean
As the last attraction overseen by Walt Disney, this is one of the most iconic rides at Disney World Theme Park for both its legacy and enduring mark on pop culture. Can you think of any other Disney attraction that inspired a movie, as opposed to the other way around? Despite small additions to Pirates of the Caribbean, inspired by the movie franchise (think Captain Jack Sparrow – yo, ho!), the look and feel of the indoor ride has remained the same. It's pretty cool to float through a pirate invasion of a Spanish fort and know Walt envisioned it all.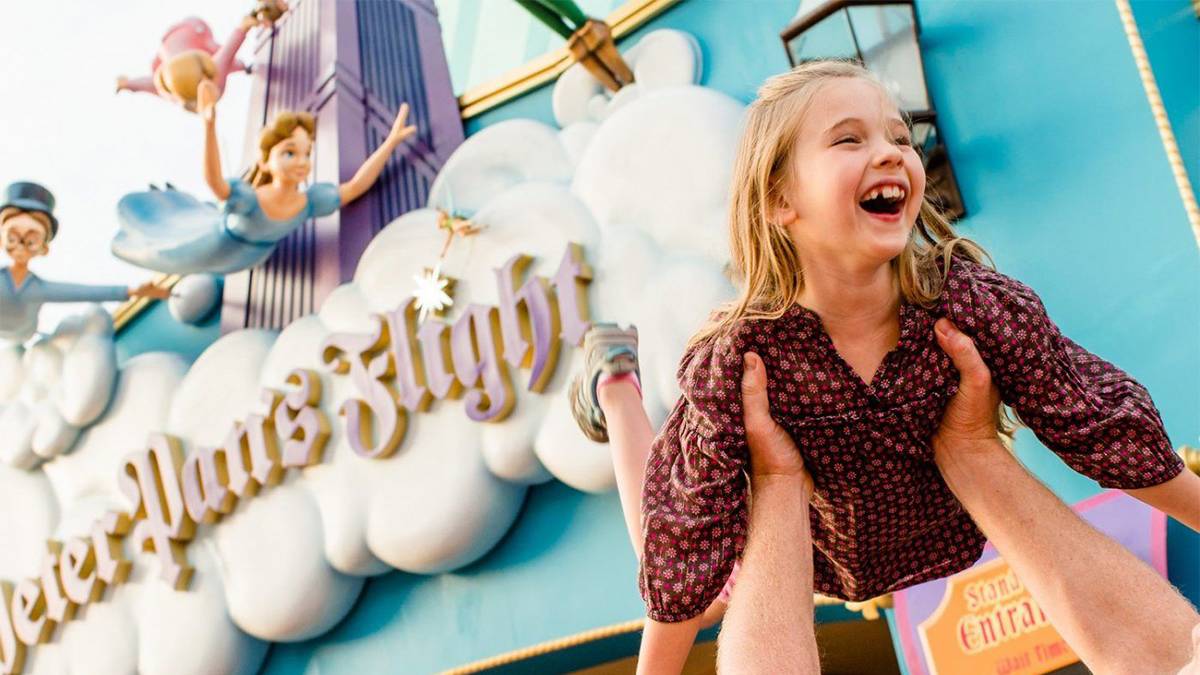 Peter Pan's Flight
Peter Pan is an indelible character, alive in the minds of even the youngest park goer. Peter Pan's Flight is totally throwback yet still incredibly popular. As you fly along with Peter Pan, you journey through London visiting the Darling Children's Nursery, meeting Wendy, Michael and John. Then, the scene changes to night. Afterwards, you'll sail past glittering sites like Big Ben and Tower Bridge before descending to Neverland where the famous Captain Hook is found. It's hard not to smile as you relive beloved moments from the animated film. Its classic premise makes it a true iconic Disney ride.
It's a Small World
While not everyone's favorite, It's a Small World certainly has a place among the most iconic rides at Disney World. Originally commissioned for the 1964 World Fair, the ride was first introduced at Disneyland, then Disney World, and is now at Disney parks worldwide. As you travel on the "happiest cruise that ever sailed," you're greet by the children of the world, from regions both near and far, as they sing "It's a Small World (After All)." All seven continents are covered in the vibrant, glitter-filled festival of peace. At 10 minutes the ride is a lot longer than most, ensuring the song will no doubt be stuck in your head for hours to come.
The Haunted Mansion
There's just something about this spooky yet silly attraction. Walk through the decrepit graveyard and pass a musical crypt. Then, you'll be being greeted by cast members urging you to enter the center of the room. There are no exits, and soon the room begins to move, transporting you to the depths of the Haunted Mansion where 999 happy haunts await your arrival. Fairly atypical for Disney World, this attraction uses special effects to make area like the Grand Ballroom a true marvel to behold.
Spaceship Earth
Located at Epcot, Spaceship Earth is a Disney classic for several reasons. Before Epcot became widely known for World Showcase, it was dedicated to technology. In fact, Epcot stands for "Experimental Prototype Community of Tomorrow." It's location inside the giant golf ball-like sphere, which has become a trademark of the park, further cements its iconic status. As you travel through the decades of human communication, from the Stone Age to the computer age, you get a sense of the original Walt Disney design for this theme park. Although slightly dated, recent enhancements make the experience more engaging. Plus, you can't beat the view at the end of the ride.
The Twilight Zone Tower of Terror
This attraction is relatively new compared to the rest of the rides on this list. However, The Tower of Terror stands tall among the rest. Its Twilight Zone theme automatically transports guests to an iconic pop culture time period. Add in a seamlessly told story and adrenaline-revving drop falls, and you have one of the most creative examples of Disney Imagineering. Packing the most thrill of any Disney ride, Tower of Terror is a favorite for many park-goers earning a spot on this iconic rides at Disney World list.
Discover Why Disney World is a Timeless Theme Park
Experience these iconic rides at Disney World on your next Orlando vacation. Reserve Orlando has discount Disney World tickets available that make your vacation more affordable than ever. Be sure to check out all of our Disney World tips and tricks on the Orlando Travel Guide, too, so you can make the most of your Disney World vacation.