No matter if you're looking for a slight thrill or a daring adventure, you'll find it in Myrtle Beach. Check out the best thrill rides in Myrtle Beach the next time you visit.
For some visitors, enjoying the ocean waves and playing in the sand is a thrill in itself. However, for those who love to get their adrenaline pumping, the beach just doesn't cut it. If you're searching for an experience that will get your heart racing, visit one of the many thrill rides in Myrtle Beach during your vacation.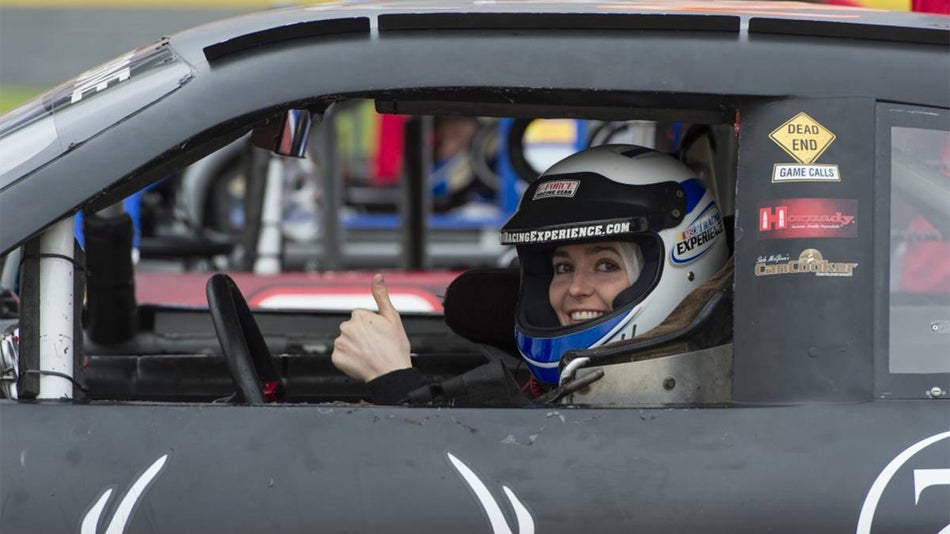 NASCAR Racing Experience
When it comes to thrill rides in Myrtle Beach, the NASCAR Racing Experience is one you do not want to miss. Even if you're not an avid fan of the sport, this high-speed, heart pumping experience is unlike any other. Race through three jaw-dropping laps on a NASCAR race track in a car previously driven by icons such as Jeff Gordon and Dale Earnhardt, Jr.
If you've ever dreamed of zooming around a NASCAR track, now is your chance!
The SkyScraper
Experiencing the SkyScraper is not for the faint of heart! This exhilarating ride whips you 170-feet in the air at a crazy 60 miles per hour. Due to the nature of the ride, it generates the same force as a jet plane pulling 4Gs. You have to have nerves of steel to ride the SkyScraper.
Those looking for intense thrill rides in Myrtle Beach will love soaring high on The SkyScraper.
The Sling Shot
I know exactly what you're thinking. "Isn't this the same type of ride featured in all of those hilarious YouTube videos?" The answer is, yes. If you've seen the videos, you know exactly what I'm talking about — so prepare yourself for an extreme ride on the Sling Shot.
The Sling Shot launches riders 300 feet in the air at up to 100 miles per hour. The most shocking part of this ride is the smoothness of the launch. While you'll certainly feel propelled in the air, you won't be jostled around. If you can handle the Sling Shot, one of the craziest thrill rides in Myrtle Beach, more power to you!
The Air Strike
Imagine sitting back-to-back in a free spinning vehicle with your friend. Now imagine that the same free spinning vehicle is being catapulted into the air at insane speeds, causing your vehicle to spin uncontrollably. The thrill ride you just imagined is none other than The Air Strike in Myrtle Beach. The Air Strike can reach 3.6Gs and 62 miles per hour, all while your vehicle completes randomized 360° spins. When looking for an extraordinary thrill in Myrtle Beach, ride the Air Strike — if you dare.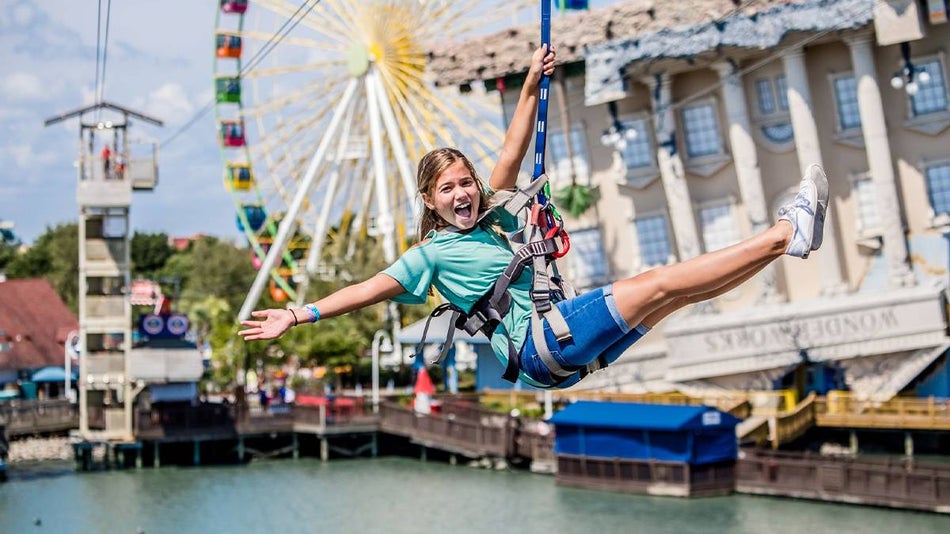 Soar and Explore Zipline and Ropes Course
Would you rather enjoy a thrill ride that sends you gliding at extreme speeds over open water? If so, Soar and Explore Zipline and Ropes Course is the Myrtle Beach adventure you've been searching for.
You'll find yourself soaring 50 feet above the water on a 1,000-foot-long exhilarating zipline ride with extraordinary views of Broadway at the Beach. When you're done ziplining, you have to try the 40-foot, tropical-themed ropes course featuring 33 challenge elements and more than 3,000 ropes and cables. While you might not be spinning uncontrollably at an amusement park, completing a challenging ropes course is quite the thrill!
Myrtle Waves Water Park
With 30 water slides and attractions, Myrtle Waves Water Park is home to several thrill rides in Myrtle Beach. Since there is a ride for everyone at this water park, thrill seekers should head straight to extreme slides such as:
Rockin' Ray
Riptide Rockets
Thunderbolt Speed Slides
Super Chute
Of course, if not all members of your party prefer extreme thrills like you do, Myrtle Waves Water Park has a lazy river and several splash areas for the little ones.
Family Kingdom Amusement Park
For classic thrill rides in Myrtle Beach, head over to Family Kingdom Amusement Park. From roller coasters to bumper cars, this amusement park is packed with rides for everyone. Whether you want to plummet down a log flume or soar on a roller coaster, you find the perfect thrill ride at this iconic amusement park.
Myrtle Beach Skywheel
While the Myrtle Beach SkyWheel doesn't revolve at daring speeds or drop you from incredible heights, the true thrill is the sightseeing available from the top of the Ferris Wheel. This massive Ferris Wheel reaches a peak of 187-feet, providing guests with unparalleled ocean and boardwalk views. It's simply breathtaking!
Reserve Your Ticket for the Top Thrill Rides in Myrtle Beach
Have you decided which thrill rides in Myrtle Beach you're going to try? Be sure to purchase your ticket from Tripster Myrtle Beach to avoid the lines!