Known for its breathtaking architecture and sculptures, deep dish pizza, and cultural marvels, Chicago showcases something for visitors of all ages.
From Millennium Park and the SkyDeck to the Magnificent Mile and Adler Planetarium, visitors can enjoy an abundance of attractions and things to do in the city. If you only have a few days to experience Chicago, no problem. Read below to discover some of the best things to do when you have 3 days in Chicago, and consider purchasing a Chicago Multi-Attraction Explorer Pass to save even more.
Day 1: Michigan Ave, The Bean, Shedd Aquarium, & SkyDeck Chicago
Spend Day 1 in Chicago shopping on the Magnificent Mile, taking the iconic picture by The Bean in Millennium Park, heading to the Shedd Aquarium, and capping off the day at SkyDeck Chicago.
Magnificent Mile
The Magnificent Mile boasts incredible shopping, dining, accommodations, and entertainment choices that fit any budget. Whether you're searching for affordable fashion or designer boutiques, you can find it all strolling down North Michigan Avenue. This scenic district enables visitors to see attractions such as the Chicago Sports Museum, the Historic Water Tower, art galleries, theaters, bars, gourmet food, and beyond! At the end of the day, stroll along the Chicago River and grab a bite at any of the dozens of eateries nearby. Also, you can find more than 70 hotels on or near the district.
Millennium Park
This gorgeous urban park features the Cloud Gate sculpture ("the Bean"), so if you want that iconic Chicago picture, you know where to go. Other sightseeing spots include Pritzker Pavilion, the beautiful Lurie Garden, and glorious works of art like the Crown Fountain. Moreover, the park hosts numerous events throughout the year, so be on the lookout for concerts, free events like yoga practice, and food festivals.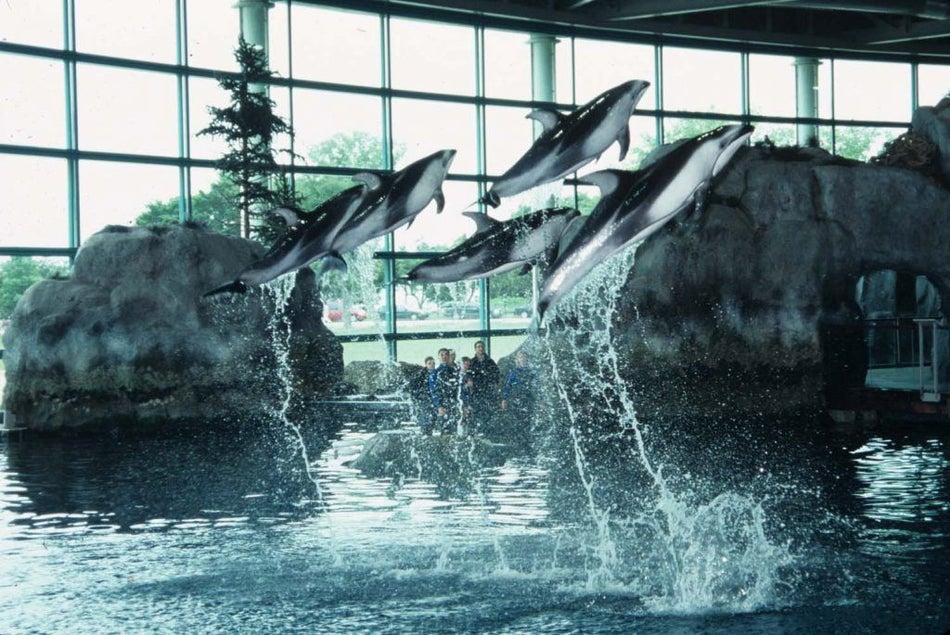 Shedd Aquarium
Enclosed within the city's Museum Campus, Shedd Aquarium is home to 32,000 interesting, diverse sea life and considered one of the best aquariums in the United States. Guests can interact with animals at no additional cost such as feeling stingrays at "Stingray Touch". Also included with admission are fascinating exhibits such as "Amazon Rising", "Wild Reef", "Polar Play Zone", "Caribbean Reef", and "Waters of the World". Furthermore, guests can opt to meet animals like penguins, beluga whales, or sea otters for an additional fee through the Extraordinary Experiences option. See one of the best attractions when you only have 3 days in Chicago.
SkyDeck Chicago
Situated on the 103rd floor of the Willis Tower, visitors can experience unparalleled views at 1,353 feet up in the air! See Chicago from a unique perspective up in the SkyDeck, open 365 days a year. This thrilling attraction presents top-rated exhibits, theater presentation, and more! Moreover, guests can step out on The Ledge's glass boxes, which extend approximately 4.3 feet from the deck. Overall, guests can see four states, 50 miles, and 360-degree views.

Day 2: Planetarium, Chicago Theatre, Field Museum, & 360 CHICAGO
On Day 2, get a little nerdier! Head to the nation's first planetarium, see the Chicago Theatre's gorgeous interiors, learn about natural wonders at the Field Museum, and finish the day off at 360 CHICAGO.
Adler Planetarium
All science buffs need to check out the Adler Planetarium, the nation's first planetarium! Located on South Lakeshore Drive, the museum has plenty to offer intrigued visitors. The planetarium includes nine special exhibits, several theaters, the historic Atwood Sphere experience, and numerous enjoyable experiences for the whole family. We recommend checking out their live shows, which cover topics like the Big Bang, the moon's influence on human creativity, and how the cosmos will appear in the future. When you get hungry, grab a bite at Café Galileo for sandwiches, salads, soups, and beyond.
The Field Museum
Head to the Field Museum to view a wide breadth and selection of objects and artifacts, as well as fascinating exhibitions. Connect with scientific discoveries and pieces of natural history with exhibits such as SUE, the most complete T-Rex skeleton, the famous Tsavo Lions, gorgeous gemstones and minerals, Ancient Egyptian artifacts, and much more! Note that the museum is open every day except for Christmas Day from 9 am to 5 pm. With over 100 years of curating experience, you don't want to miss out on the Field Museum when you have 3 days in Chicago.
Chicago Theatre Tour
Tour the stunning Chicago Theatre, which has hosted everyone from Frank Sinatra and Dean Martin to Madonna and Jim Gaffigan. Built in 1921, this iconic theater is one of the most well-regarded historic theaters in the nation. Perfect for culture and history aficionados, this venue tour enables visitors to walk across the historic stage, see walls with celebrity autographs, and inspect the theater's beautiful French Baroque interiors.
360 CHICAGO
360 CHICAGO enables guests to gaze at the city from 1,000 feet up in the air. Located on the 94th floor of the John Hancock Center, visitors can see stunning perspectives of Chicago and Lake Michigan. Take the 40-second ride in one of the country's fastest elevators to the observation deck for the best views! Open daily from 9 am to 11 pm, experience one of the city's best attractions when spending 3 days in Chicago. You can also see four neighboring states in the distance, as well as ride TILT, a one-of-a-kind tilting ride with awe-inspiring views.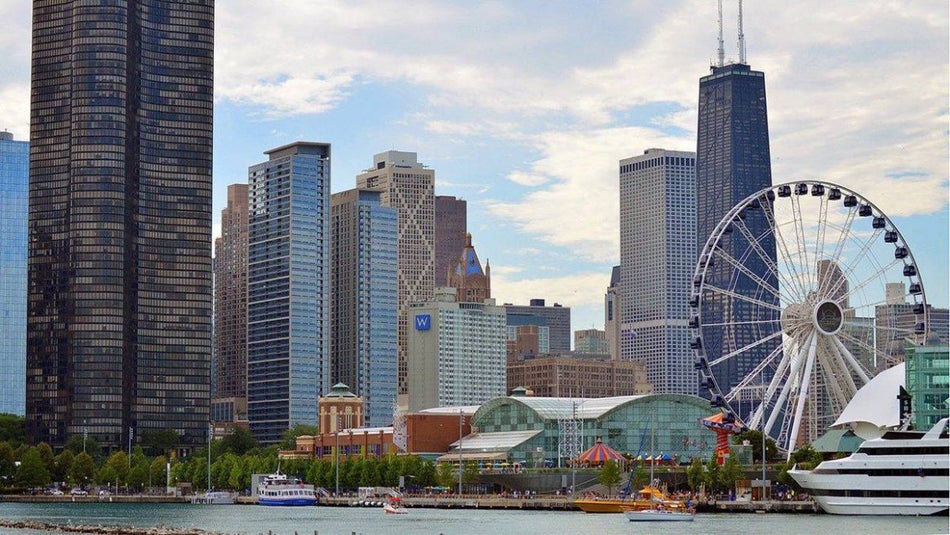 Day 3: Navy Pier, Architecture Tours, Grant Park, & Art Institute
Interested in beautiful urban and green spaces, structural wonders, and famous artwork? Day 3 in Chicago will leave you in love with the city and its culture.
Navy Pier
Don't skip out on the Navy Pier! With so many attractions such as the Chicago Shakespeare Theater, the iconic Centennial Wheel, theme park rides, and the Chicago Children's Museum, guests of all ages will love this entertainment center. You can also capture views of the river as well, the city skyline, play a round of mini golf, catch a movie in the Navy Pier IMAX at the AMC, and much more. Look out for concerts, free events, and seasonal events as well!
Architecture Tours
Whether you prefer to travel on foot, by boat, bike, or bus, Chicago presents many options for taking in the city's unique, historic architecture. For instance, Chicago Detours' Best Architecture Walking Tour Since Sliced Bread takes guests around the city for a 1.5 hour tour of design, cultural, and structural highlights. See spots such as Aqua Tower, Chicago's underground, Maggie Daley Park, and the Michigan Avenue Bridge. Another top-rated sightseeing tour is the Shoreline Sightseeing Boat Tour! Navigate leisurely around Lake Michigan or see the city's iconic architecture, complete with narrated guides, glorious views, and snacks and drinks available for purchase. Each tour is 40 to 75 minutes long depending on the experience you choose.
Grant Park
Referred to as "Chicago's Front Yard", Grant Park showcases 312.98 acres within the city's central business district in the Loop Community area. This public park features Millennium Park, Buckingham Fountain, Maggie Daley Park, the Museum Campus, and the Art Institute of Chicago. Eat your lunch by the Clarence Buckingham Memorial Fountain, built in 1927, to enjoy lovely views and passersby. Further, guests can enjoy magnificent gardens, tennis courts, baseball diamonds, and more. Also home to huge food and music festivals like The Taste of Chicago, The Grant Park Music Festival, and Lollapalooza, there is always something going on throughout the year.
The Art Institute of Chicago
One of the nation's most respected museums, the Art Institute of Chicago boasts incredible pieces by artists such as Henri Matisse, Georgia O'Keefe, Grant Wood, and Pablo Picasso. This world-class art museum reflects a myriad of mediums, genres, and time periods and is a must-see for any art lover. View celebrated collections of art, architecture, design, photography, decorative arts, and beyond. Home to over 300,00o pieces from across the world, guests can see iconic works as well as lesser-known gems. Note that you can purchase a Reserve Direct Fast Pass Ticket in advance to skip the admissions line. The museum is open from 10:30 am to 5 pm and Thursdays until 8 pm.
Consider Chicago for Your Next Family Vacation
With so many things to do in Chicago, you're bound to have a good time with family and friends. Gain the best discounts, vacation packages, and travel ideas with Tripster Chicago!