Rain happens, and often at the worst times. Unless you're a direct descendant of Mother Nature and can control the weather forecast, it could rain during your Chicago vacation. However, don't let the rain get in the way of your fun.
As a prominent city, Chicago boasts a myriad of indoor museums, attractions, and entertainment— all of which are thrilling things to do in Chicago on a rainy day.
1. See a Show
Take advantage of Chicago's world-class entertainment when it's too rainy to go outside. Chicago is home to renowned performing arts venues featuring everything from upcoming Broadway musicals to comedic stand-up and improv.
For a performance you'll never forget, purchase tickets to see the Blue Man Group. These bald, blue, and musical… things… put on an adventurous show with percussion, technology, special effects, comedy, and so much more. It's almost indescribable! If traveling to Chicago, IL with kids, this is the perfect way to spend a rainy day.
Other performing arts and live music venues in Chicago include:
Also, Medieval Times Dinner and Tournament is another phenomenal show to see with the whole family. With jousting, a feast fit for a king, and epic performances, there's no better way to spend a rainy day in Chicago.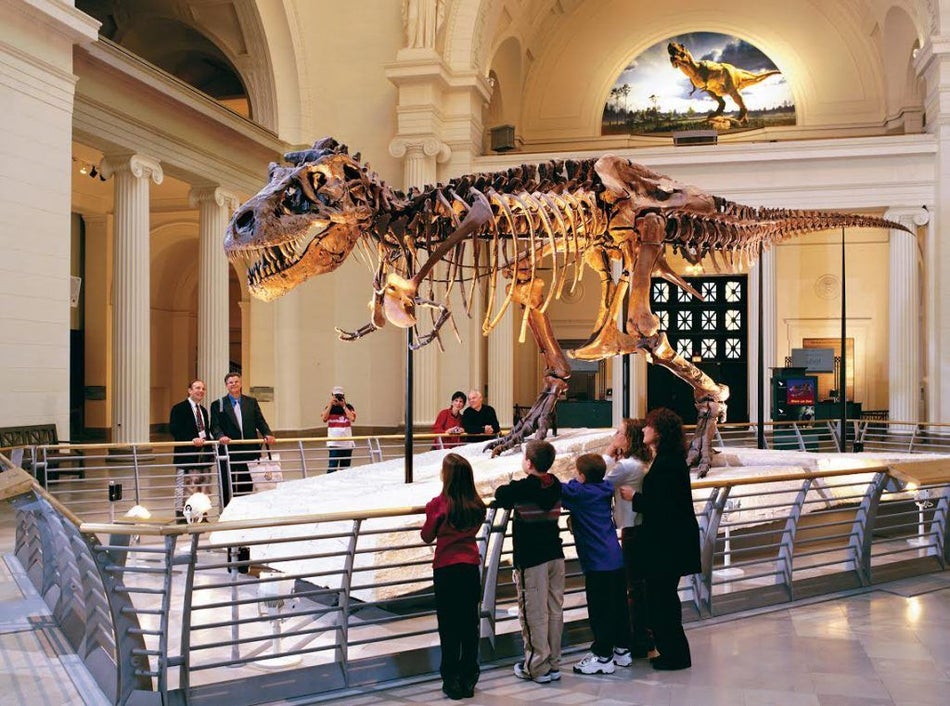 2. Explore a Museum
Rich with history, innovation, and culture, Chicago is bursting at the seams with museums. From fine art to science, the Windy City has a museum for practically everything. When searching for things to do in Chicago on a rainy day, add these museums to your itinerary.
In addition, Chicago offers free museum days throughout the year. Your rainy day can be affordable and exciting at the same time!
3. See the Chicago Skyline
Two of the most popular Chicago attractions are also excellent choices to visit on a rainy day. Both 360 Chicago and Skydeck Chicago allow you to see the Chicago cityscape and skyline from the tallest buildings in the city.
Plus, each of these attractions has an extra-thrilling experience. At 360 Chicago, hold your breath and try TILT! You'll lean 30-degrees outside of the building over the street, separated only by a glass window. Over at Skydeck Chicago, step out onto the Ledge. This 4.3-foot glass-enclosed box lets you step (safely) outside of the building!
Keep in mind rainy days in Chicago tend to be gloomy. This means your views from both of these skyline attractions may be cloudy and slightly obstructed.
4. Visit Attractions Just for Kids
Visiting Chicago with children? There are plenty of things to do in Chicago on a rainy day just for kids.
First, head over to LEGOLAND Discovery Center Chicago to set their creativity in motion. This kid-friendly attraction has rides, build stations, workshops, and interactive exhibits all designed with curious children in mind. There's nothing better than building with LEGOs on a rainy day, right?
Over at Navy Pier, you'll find the Chicago Children's Museum. This engaging museum has exhibits for all ages, from engineering stations for the older kids to a dinosaur fossil dig for the little ones. With a focus on hands-on learning, this rainy day attraction offers non-stop fun.
5. Shop Until You Drop
One of the best things to do in Chicago on a rainy day is shopping. With an abundance of stores, boutiques, souvenir shops, and so much more, I guarantee you'll find something you love in Chicago.
The shops at 900 N. Michigan are a favorite among tourists. This six-story building houses a multitude of shops including Bloomingdale's, Kate Spade New York, Bonobos, and J. Crew. The building also offers a Four Seasons Spa, multiple restaurants and cafes, and fitness establishments. You can spend an entire rainy day just exploring this building!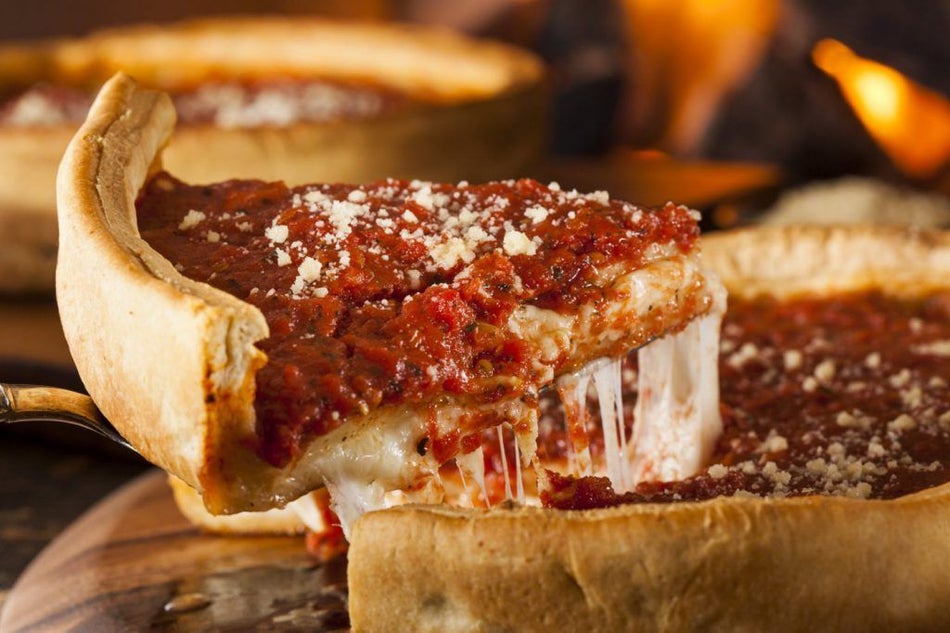 6. Get a Taste of Chicago
When you're at home and it's pouring outside, there's nothing better than pizza for dinner, right? Well, you're in one of the top pizza destinations in the world—go explore it!
Chicago deep dish pizza is life changing. Although I may be a New York pizza girl at heart, I will always devour a deep dish pizza when in Chicago. Spend the day hopping from pizzeria to pizzeria. Or, if you don't mind walking in the rain, go on a food tour! Bring your umbrella and rainboots and get ready to try some of the best food you've ever had in your life.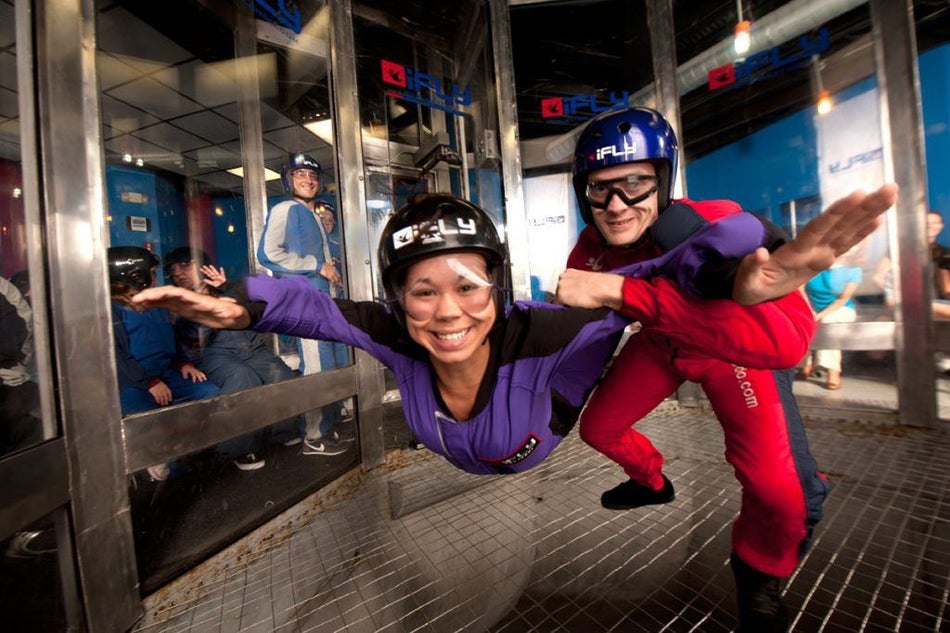 7. Rainy Day Thrills
I promised you thrilling rainy day activities, did I not? Rounding out the list of most thrilling things to do in Chicago on a rainy day is iFly Indoor Skydiving. With multiple locations around Chicago, you can experience the rush of skydiving, all while it pours outside.
This indoor skydiving experience will have your adrenaline pumping from start to finish. Your "jump" includes training, your flight gear, and free falling in the state-of-the-art wind tunnel.
No one said a rainy day couldn't be exhilarating!
Endless Things to Do in Chicago on a Rainy Day
Don't let a little bit of rain put a damper on your Chicago vacation. Just add these thrilling activities to your itinerary and you're good to go!
Has it rained during your trip to Chicago? Where did you go to escape the rain?