Feast on steaming sourdough bread from Boudin, wander through Fisherman's Wharf or hop on a historic cable car. 
The Golden City by the Bay is just ripe for discovery and features boatloads of unbeatable activities, adventures, and more.
Whether you are fiending to hit up historic hot spots, such as Alcatraz and Angel Island, or venture under the sea at the Aquarium by the Bay, there are endless ways to spend a San Francisco vacation.
Go City® Pass San Francisco is your secret weapon in making the most of your time in the Golden Gate City.
See, do, and eat everything on your 'can't miss' San Francisco list with the Go City® San Francisco Pass.
San Francisco Hotels
Stunning architecture, scintillating history, and an enviable culinary and wine scene make San Fran a thriving travel mecca. Squeeze every fog-soaked moment out of your Golden getaway by planning to spend at least a night or three in the city.
From quaint hotels in Union Square to award-winning luxury boutique hotels downtown, we offer a plethora of options for San Francisco Hotels.
Book with complete confidence, knowing you are always guaranteed our lowest rates. 
San Francisco All-Inclusive Pass
Calling all choosy travelers! Do you love exploring a new city a mile a minute? Step into the driver's seat, and embrace that San Francisco bucket list with the All-Inclusive Pass.
Maximize your savings and your flexibility when you purchase either a one or two-day All-Inclusive Pass.
So how does it work? Whatever the number of passes you select, you will be allowed to visit unlimited attractions on the subsequent number of days.
Other Important San Francisco All-Inclusive Pass Facts
Your pass offers you discounts of up to 55% off retail rates.

Passes are activated when you visit your first attraction.

Choose from over 25 exclusive San Francisco attractions. 

Stay flexible - pick attractions as you go!

No travel snafus here, just use the Go City

®

App for seamless attraction entry.
San Francisco Multi-Attraction Explorer Pass
More a go-with-the-flow type of traveler? Traverse the Golden Gate City at your own speed, and maximize your savings with a Multi-Attraction Explorer Pass.
Choose from Explorer 3, 4, or 5 choice passes and cover only the top-tier landmarks, attractions, and entertainment you're dying to see.
Conquer the 'Rock', play mad scientist at the Exploratorium, or burn out those quads on a Golden Gate Bridge bike tour.
Other Important San Francisco Multi-Attraction Explorer Pass Facts
Your pass offers you discounts of up to 50% off retail rates.

Pick a 3, 4, or 5 choice pass and enjoy 60 days to use it

Choose from over 22 exclusive San Francisco attractions

Live life in the moment, choose attractions as you go!

Bye-bye paper tickets! Use the Go City® App for seamless attraction entry
The App
Conquering San Francisco's rolling hills - not so easy! Activating your San Francisco All-Inclusive Pass via the Go City® App, as easy as can be.
Using your smartphone or mobile device simply:
Download the App to your mobile device (Apple | Google Play)

Use your order confirmation number to add your pass to your phone.

Double-check if any of your desired attractions need a reservation and book.

Show your pass at each attraction for easy entry.
Top Tier Attractions
Hop On Hop Off Big Bus 1-Day Classic Tour
The beauty of the bay, the architectural genius of the Golden Gate Bridge, and the groovy charm of Haight Ashbury will be at your fingertips on the Hop On Hop Off Big Bus 1-Day Classic Tour.
Get acquainted with the 'Fog City,' as you board your open-top bus and cruise by such impressive landmarks as North Beach, Fisherman's Wharf, the Ferry Building, Union Square, and more. 
Related Post: Top Attractions in San Francisco
Let the storied history of San Francisco wash over you as you listen to pre-recorded narration detailing the fascinating facts and tales regarding the city's most stately buildings. 
As your one-hour tour commences, feast your eyes on the diverse and colorful neighborhoods of the Golden City. 
Adapt the Big Bus Tour to your own unique travel predilections by hopping off as you please to further investigate points of interest, such as Golden Gate Park and the Alamo Square Painted Ladies.
Pro Tip: Still not sick of sightseeing? Your Hop On Hop Off Big Bus ride includes a free Chinatown walking tour, so be sure to take advantage!
Aquarium of the Bay
Who lives in a pineapple under the Bay? While everyone's favorite sea sponge might not call Aquarium of the Bay home, an impressive 24,000 marine animals do.
Budding conservationists and marine lovers alike will flip tail over fin for a visit to the Aquarium of the Bay. 
Related Post: 13 of the Most Entertaining Things to Do in San Francisco with Teenagers
Overflowing with hands-on exhibits, displays, and the cutest river otters you ever did see, a day here is chock full of educational fun.
Spend a moment (or two) being mesmerized by the Moon Jellies floating peacefully in a 725-gallon cylinder tank, or test your bravery in the Sharks of Alcatraz Tunnel, by coming face to fin with the largest predator in the Bay.
More watery and wonderful Aquarium highlights include:
Discover the Bay - learn all about San Francisco Bay's unique ecosystem and view seven different animal habitats, including that of the bright orange Garibaldi (the California State Marine Fish).

Under the Bay - walk in wonder through 300 ft of acrylic tunnels housing schools of anchovies, skates, sharks, and bay rays.

Touch the Bay - ever been tempted to touch a sea anemone or a ray? Carefully get up close and personal with these Bay residents at the touch pools.

Sea Lion Center - sea lions are synonymous with San Fran! Discover all there is to know about these barking beasts at this informative center in the marina.
California Academy of Sciences
A butterfly studded rainforest, NASA-level space presentations, and an 87 foot long Blue Whale skeleton come together to create a universe of curiosity, passion, and discovery.
Welcome to the California Academy of Sciences, a comprehensive 2.5 acre center of science, entertainment, and education. 
Related Post: 5 of the Best Museums in San Francisco
Housing an all-digital planetarium, a natural history museum, an aquarium, and a four-story rainforest, the California Academy of Sciences is a museum like no other!
Prepare to be transported out of Golden Gate Park and halfway around the universe when you experience the:
Steinhart Aquarium - One of the most diverse aquariums on earth This vibrant space is home to over 900 unique species. Check out the charming colony of endangered African penguins, or take a gander at the ghostly albino alligator, Claude.

Morrison Planetarium - Powered by cutting-edge science, this only all-digital planetarium in the world showcases a state-of-the-art projector that gives visitors the most accurate and interactive digital universe ever created. Keep your eyes glued to the 75-foot dome and travel to the farthest reaches of the known universe.

Kimball Natural History Museum - a towering T Rex, a 30 ft Foucault pendulum, and a dazzling array of gems and minerals make Kimball a must-stop for any natural history lover. Don't sleep on their newest exhibit, Sharks which brings a new appreciation to these most maligned apex predators.

Rainforests of the World - journey deep into the Amazon as you step inside a lush four-story rainforest brimming with exotic reptiles, amphibians, golden silk orb-weaver spiders, and a slithering tree boa. Look up, and be sure not to miss the 250 free-flying birds overhead or the magical Butterfly Emergence Chamber.

Exploratorium
Dare to dream about the world around you at the Exploratorium, located on historic Pier 15. At this museum, science is something to be explored, touched, and tinkered with. Best described as a 'living laboratory,' the Exploratorium was created so visitors could learn about natural phenomena.
Related Post: Current Events and Festivals in San Francisco
Observe the beautifully ethereal underwater creatures in 'Life on the Rocks', or experiment with generating your own waves over water with 'Confused Sea.' Biology nuts will relish the opportunity to turn their inquisitive eye inward as they study a 3-D animation of cell movement. 
With over 650 indoor and outdoor installations and exhibits to uncover, it's no wonder the Exploratorium has taken home numerous awards, including 'Best Interactive Museum' and Traveler's Choice.
Fun Fact: Did you know there are no docents at Exploratorium? Instead, they have 'Explainers' who are specially trained to both teach and learn.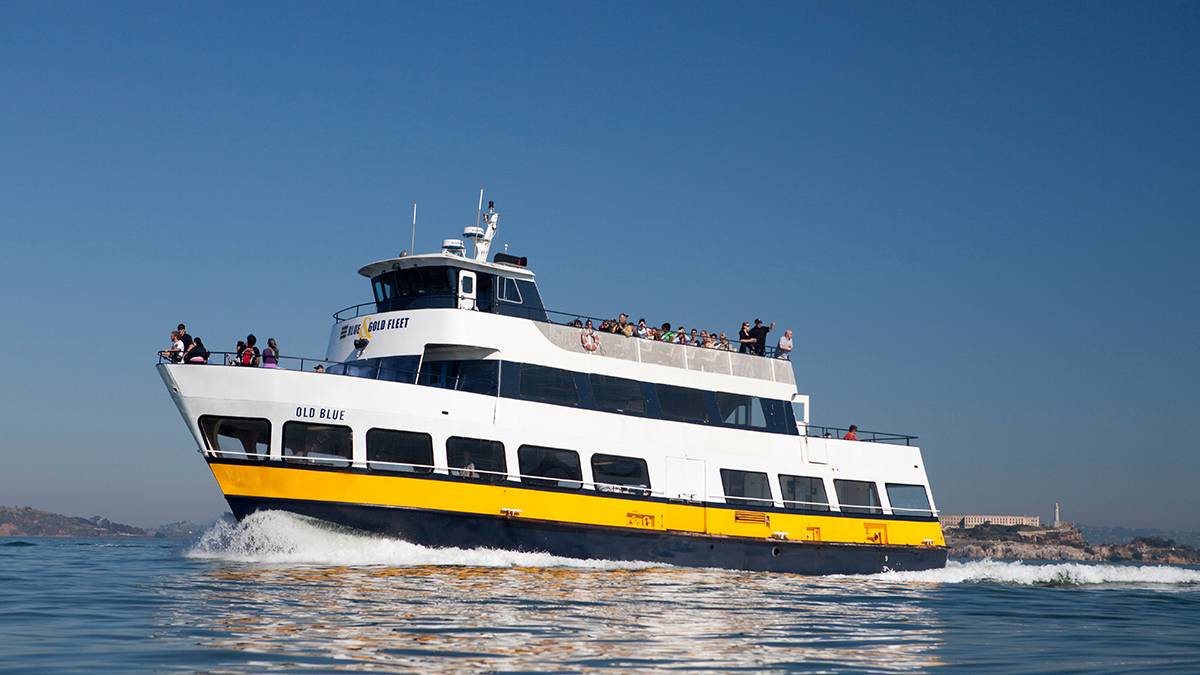 Escape from the Rock
Think you have what it takes to plan a cunning escape from Alcatraz? Visit one of San Francisco's most infamous landmarks, on the Escape from the Rock Cruise. 
Grisly prison legend and history clash together on this epic 90-minute tour that gives you an inside look at life on the Rock. Alcatraz was in use as a maximum-security prison until 1963, and during its time serving as a penitentiary, garnered a fearsome reputation.
Related Post: What Should You Do with 3 Days in San Francisco?
Your fully narrated tour will captivate you with daring stories of prison riots and escapes by such famed killers as Al Capone, Billy Cook the Killer, and Clyde Johnson. Feel the icy spray of the Pacific Ocean on your skin as you imagine the frigid temperatures convict escapees endured during their watery retreat.
Snake under the majestic Golden Gate Bridge and past Angel Island State Park before arriving on the feared Rock and disembarking to get an up-close look at this haunting island and penal institution. 
Fun Fact: In the entire history of Alcatraz, there were only 14 recorded escape attempts!
Six Flags® Discovery Kingdom
Nothing gets your blood pumping more on a chilly San Francisco day than an afternoon of high-speed thrills and exhilaration at Six Flags Discovery Kingdom.
Wander through 135 acres of rides, attractions, and wildlife at this beloved Northern Californian theme park.
Related Post: A Weekend in San Francisco: How to Plan the Perfect Trip
Little ones will go Looney Tunes for the medley of leisurely kid's rides, including Road Runner Express and Pepe Le Pew's Rafts of Romance. While adrenaline junkies will flip for the vertical free falls and unexpected drops of the Batman coaster.
Take a walk on the wild side when you pursue the incredible animal attractions that call Discovery Kingdom home. Marvel at the majestic cougars, or prepare to get splashed at Drench!, the aquatic spectacular featuring the fabulous streamlined and smart bottlenose dolphins.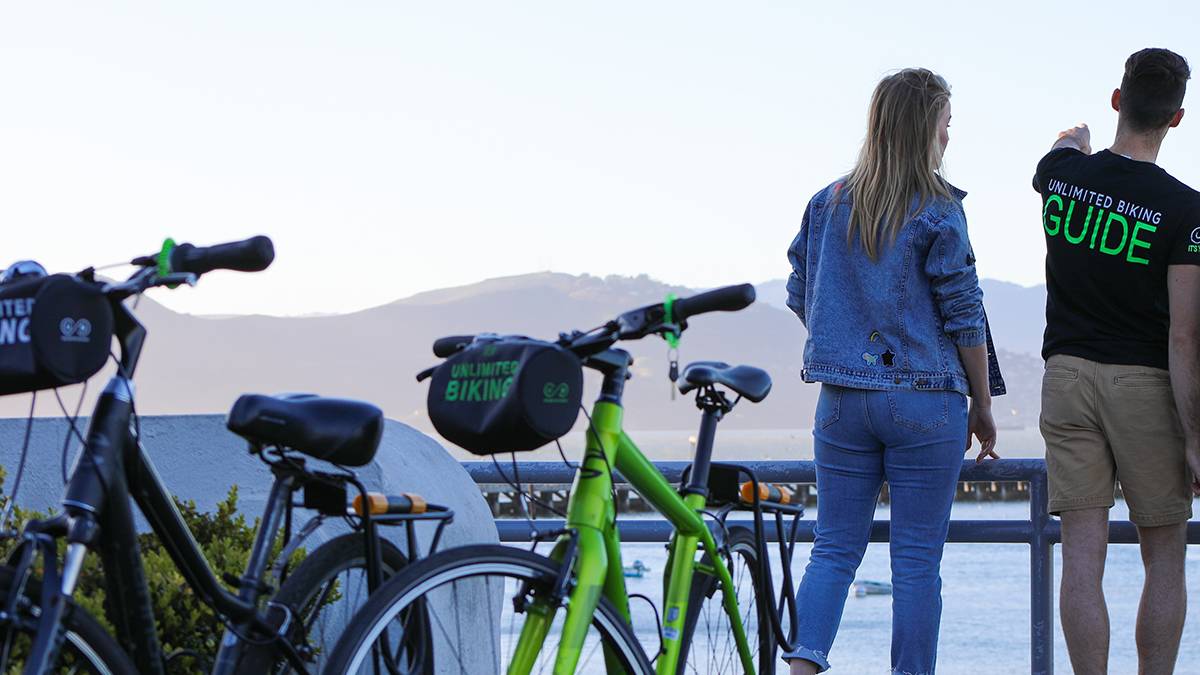 Golden Gate Bridge Bike Tour by Unlimited Biking
Get ready to work those quads on your Golden Gate Bridge Tour by Unlimited Biking. Relish the incredible San Francisco sights (if not the hilly terrain) on your 3-hour scenic tour.
Keep your camera handy as you pedal over the iconic Golden Gate Bridge, historic Fort Mason, and stunning Crissy Fields. Bask in the sunny charm of quaint Sausalito, and don't forget to check out their boardwalk and breathtaking views.
Traversing rolling hills and picturesque waterfront by bike tour, you'll experience the Golden City from a completely unique perspective. 
Your all-inclusive outdoor adventure features:
An intimate tour group of no more than 15 attendees

A state-of-the-art Cannondale bike rental

A helmet and bike bag/basket

An illustrated map
Pro Tip: Are your calf muscles already quaking? If so, for an additional fee, you can upgrade to an E-bike.
LEGOLAND® Discovery Center
Experience even more awesomeness at the incredible indoor Lego playground by the Bay. Future builders of America will have loads of brick heavy fun as they create, play, and imagine in this Lego-inspired universe.
With over ten interactive play areas, tiny tykes will have trouble deciding what to do first! 
Test your flexibility, agility, and ninja skills at the interactive Ninjago Training Camp. In addition, you can sit back and relax in the 4-D theater and take in a special effects-laden Lego flick like Lego City: Report For Duty.
Other amazing Legoland Discovery Center Highlights include:
Miniland - witness the Bay come to life with this 1.5 million lego brick recreation of San Francisco's most famous landmarks

Pirate Adventure Island - Yo, ho, ho! Test your pirate swag on this swashbuckling ride that will have you walking the plank, capturing the flag, and activating air cannons

Imagination Express - wizards unite! Wave your wand on this colorful ride and collect points

Lego Racer Build & Test - hey speed racer, try your hand at building the fastest car and then race to see who makes it across the finish line first.

Meet and greets with your favorite Lego characters, like Kai, Bertie and the entire impressive gang
Fisherman's Wharf Walking Tour by Experience First
Breathtaking waterfront views, rich Ghirardelli chocolate, and the famous basking sea lions on Pier 39. Is there anything more San Fran than a walking tour of Fisherman's Wharf?
Pull on your comfortable shoes and prepare to play tourist for a day as you won't want to miss a moment of this one-hour attraction-packed walking tour.
Related Post: Which Pier 39 Attractions are Worth Your Time? 
Feel the sights, sounds, and tastes of the Bay city come alive as your expert guide paints a vivid picture of the city's incredible transformation from a small sleepy village to a massive metropolis. 
You'll even learn how watershed events such as the Gold Rush and the great earthquake of 1906 shaped San Francisco's fate.
Making your way through Fisherman's Wharf, be sure to pause and revel in the fog-lined views. Next sample some Golden Gate delicacies such as Crab Dungeness and clam chowder served out of sourdough bread bowls.*
Round out your Wharf journey with a walk through the historic Barbary Coast Trail, the Embarcadero Promenade. Also, take a visit to Pier 39, where native California sea lions congregate in all their glory. 
*food not included in the tour
Angel Island with Roundtrip Ferry
A hidden gem of the Bay, no San Francisco sojourn is complete without a visit to Angel Island. Often called the 'Ellis Island of the west,' Angel Island is an attraction that boasts not only great historical significance but awe-inspiring natural beauty.
This 740-acre park was once a U.S. Immigration Station that was the first stop for millions of immigrants entering the country from 1910 through 1940. 
Related Post: How to Plan Your Perfect San Francisco Honeymoon
Once you arrive on the pristine island, be sure to check out the military garrisons and compounds. These played an integral role in events dating back to the Civil War. In addition, partake in a guided tour of the Angel Island Detention Barracks.
Nature-lovers should have their gear and their camera ready. The state park features a number of beautiful beaches, picnic areas, and hiking trails. 
The island's specific location provides a unique vantage point to capture swoon-worthy views of the San Francisco skyline. This includes the Marin County Headlands, and Mount Tamalpais.
Pro Tip: Up the adventure ante by participating in (for additional cost) mountain bike rental, segway, or kayak tours.
Looking to refuel? Purchase one of the Angel Island Cafe's top-rated barbeque pork sandwiches, made with a secret sauce for an impromptu island picnic.
Ready to Visit San Francisco While on a Budget?
Stately architecture, world-class museums, and unparalleled outdoor beauty. Rudyard Kipling wasn't wrong when he stated, "San Francisco has only one drawback – tis' hard to leave."
From biking across the Golden Gate Bridge to sampling delicious dim sum in Chinatown to diving under the sea with your favorite finned residents of the Bay, there is no shortage of incredible activities in the Golden City.
Whether you are seeking to hit up historical sights like there's no tomorrow or leisurely cruise around Fisherman's Wharf and Sausalito, the Go City® Pass San Francisco will be your trusted companion.
Ready to go 'all in' on your Golden Gate City adventure? Purchase your All-Inclusive Pass or Multi-Attraction Explorer Pass today!