This city by the bay offers a little bit of everything, from touristy things to do at Fisherman's Wharf to outside discoveries at Muir Woods.
Let's start with the good news: you're planning on spending a weekend in San Francisco! Great choice. Now, the not-so-great news: you only have two days to soak up as much of the city as possible. Never fear—with our guide on how to spend a weekend in San Francisco you'll make the most of your time in the city, guaranteed!
Before You Go
Best Time to Visit
San Francisco offers a rather mild climate year-round. As such, there's never a bad time to visit. That said, the best times to visit are fall, September-November, and spring, April-June. Do keep in mind, the rainy season typically occurs December-February. These winter months do have some allure, though, as hotel prices drop during this season.
Where to Stay
There are a lot of great places to stay in San Francisco, from luxurious hotels like the Palace to wharf-front abodes such as the Argonaut Hotel. Where you stay really has a lot to do with your itinerary plans. Accessibility is key. Likewise, it's smart to keep transportation options in mind. Being close to bus stops and trolley stops will make your weekend in San Francisco easier. (The Financial District is a good option for this reason.)
A rather neat factor about staying in San Francisco is each neighborhood has its own vibe. For example, stay in Nob Hil for romance or the Mission District to enjoy the hipster scene.
What to Pack
It's important to pack for the activities you have planned during your weekend in San Francisco. This city is a casual one but people have style. As such, it's important to be comfortable but don't be afraid to show a bit of flair. That said, it's always smart to pack layers. The weather can be unpredictable at best! And, the breeze off the bay can always bring a chill. Pack comfortable shoes as well. Trust us, you'll be doing a lot of walking!
Day One
Breakfast: Ferry Building or Mama's on Washington
Two great options for breakfast during your weekend in San Francisco include the Ferry Building and Mama's on Washington Square. The first option is a gourmet culinary marketplace offering a bevy of cafes and markets to choose from. In addition, there is a Farmer's Market on Tuesday, Thursday, and Saturday featuring not only fresh, organic goods but artisan street food too.
If you'd rather have a more traditional breakfast experience, you can't go wrong with Mama's. This cozy café serves legendary french toast as well as delicious benedicts and omelets. This place does attract a crowd, however, so arrive early and be prepared for a wait.
Coit Tower
After a hearty breakfast, ascend the Filbert Steps to the top of Coit Tower. With a location at the top of Telegraph Hill, it takes some perseverance to reach the top of this city landmark, but it's worth the effort. Once there, purchase a $7 ticket to the top floor for panoramic views of the city. Alternatively, you could Uber to the top of Coit Tower and then take the Filbert Steps down. This route is much easier, and you'll still get to enjoy all of the garden-framed views.
Alcatraz Island
During your weekend in San Francisco, visiting Alcatraz Island is a must. Luckily, America's most infamous prison is easily accessible. Simply hop on a cruise to the island from Fisherman's Wharf. Keep in mind, though, Alcatraz Cruises is the only operator to stop at the island. Other companies like the Blue & Gold Fleet operate tours take you around Alcatraz Island and under the Golden Gate Bridge, but you won't be able to actually tour the island.
On the island, you'll get an up-close encounter of this legendary prison notorious criminals like Al Capone called home. You'll learn interesting facts about the prison, like prison guards and their families actually lived on the island (including children!). In addition, you'll gain insight into the notorious prison escapes by inmates as well as the ins-and-outs of life on Alcatraz Island.
You can take a guided tour or choose to listen to an informative narrated tour via headset.
Lunch: Boudin's Bakery
After you escape The Rock, it's time to chow down at a classic San Francisco eatery—Boudin's Bakery. The classic flagship location at Fisherman's Wharf the perfect place to dine on sourdough bread and chowder—two San Franciscan staples.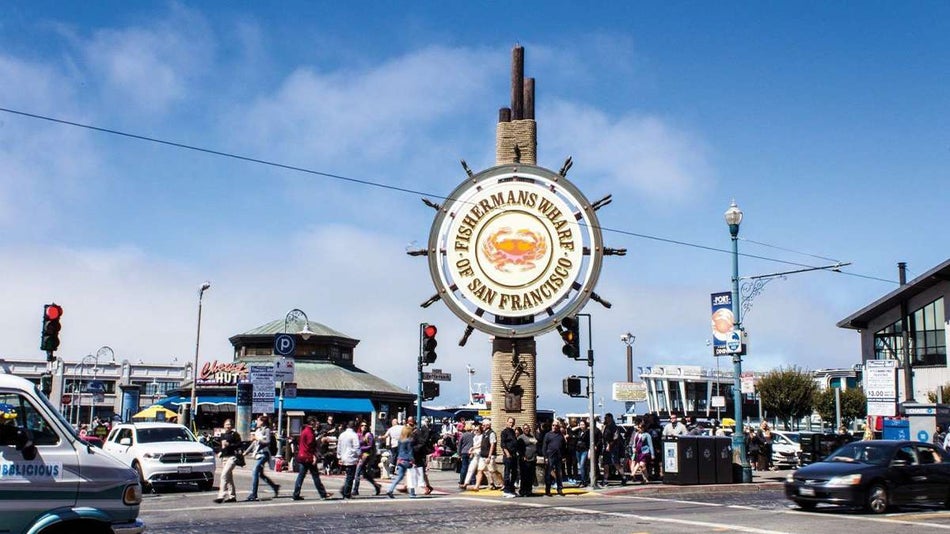 Fisherman's Wharf
Once you've had lunch, check out the rest of Fishermans' Wharf, the heart of the city's tourist district. This area sprawls for blocks, each section just as kitschy as the next. Along this waterfront area, you'll find street performers, numerous souvenir shops, pricey restaurants and plenty of family-friendly amusements. Likewise, this neighborhood has charming views of the Golden Gate Bridge.
Highlights include:
Ghirardelli Square
National Liberty Ship Memorial
Ripley's Believe It or Not!
San Francisco Maritime National Historical Park
Another must-see at Fisherman's Wharf is Pier 39. Famous for its sea lion population, which mysteriously made their home here in January 1990, Pier 39's K-DOCK is the place to go to view sea lions. To get even more of a sea lion fix, spend some time at the Sea Lion Center.
Operated by Aquarium of the Bay, its location overlooks K-DOCK. With daily presentations, fun artifacts and one-on-one interactions with naturalists, it's a nice addition to your visit if you're a sea lion lover (like me!).
Crissy Field
Up next during your weekend in San Francisco is a visit to Crissy Field. With breathtaking views of the Golden Gate Bridge, this former U.S. Army airfield is an ideal place to soak up the scenery only San Francisco can offer. Likewise, there is a beautiful beach, restaurants, and plenty of space to breathe in the fresh, natural allure of San Francisco. Go for a hike around the park, or simply sit in awe of its panoramic views of the bay. Either way, you won't regret a visit to Crissy Field.
Golden Gate Bridge
If you have any extra time during your weekend in San Francisco, plan on cycling the Golden Gate Bridge. It's a unique experience highlighted by exceptional views of the bay. In addition, we recommend visiting Baker Beach, Battery Spencer and Fort Point for the best views of this iconic bridge.
Ride Cable Car (to Chinatown)
No weekend in San Francisco is complete without a ride on a Cable Car. Hop aboard for a ride to your dinner destination—Chinatown!
Dinner: Chinatown
San Francisco's Chinatown has a way of sneaking up on you: One minute, you're walking a typical city block, the next you see undeniable signs of Asian culture and you feel transported to another city, another town.
From paper lanterns strewn across streets to art laced across buildings, it's easy to get lost in the scene. All in all, it really is a country within a city. It's also a hotspot for anyone that loves Chinese food (raises hand), so having dinner here is a requirement of any weekend in San Francisco.
Recommendations include:
Day Two
After a busy first day, we hope you got a good night's sleep as day two is jam-packed with activity too!
Breakfast: Eats
It's no secret food in San Francisco can be expensive. That's one of the reasons a breakfast option like Eats is so great. Not only is it delicious but it's easy on your budget, too. This cozy, unassuming café serves scrumptious menu items like Waffle Berries & Crème, Salmon & Avocado Benedict, and Hobbs Bacon & Egg Sandwich.
There can be a wait at Eats. However, the restaurant makes it easy to join the waitlist. SImpy use the Yelp app and you'll get an estimated time to arrive.
Muir Woods
Now, it's time to visit Muir Woods. Muir Woods is a wonderland of outdoor beauty, with towering redwoods enveloping the seemingly never-ending landscape. The park's namesake, John Muir, an avid outdoorsman, called this area "……the best tree-lovers monument that could possibly be found in all the forests of the world." All things considered, you only have to spend a couple of hours here to quickly see why. The 1,000- year old giant trees, towering upward of 250-feet high, are truly magical and even more breathtaking.
Keep in mind, you'll need to plan your transportation to Muir Woods in advance. You can Uber to Muir Woods but service at the Woods is non-existent. As such, getting an Uber back is nearly impossible. Alternatively, you can take the ferry to Sausalito from the Embarcadero Building. Once in Sausalito, take Marin Transit's 66F Muir Woods Shuttle from Sausalito Ferry Terminal. Please note, this service runs seasonally May-October only.
Another option is to book a Muir Woods tour or to rent a car for the day. If you choose the rental car option, note that Muir Woods implemented a parking spot reservation system in January 2018. This was to avoid the parking congestion and confusion many visitors experience. To reserve a parking spot, which is $8/day visit GoMuirWoods.com.
Lunch: Tony's Pizza Napoletana
After walking the enchanted forests of Muir Woods, it's time for a delicious pizza lunch in Little Itlay. And, no place does pizza like Tony's Pizza Napoletana. This bustling Italian eatery is the absolute best place to eat pizza in San Francisco. And for good reason. Thirteen-time World Pizza Champion Tony Gemignani, the owner, serves all pizza specialties from Neopolitan to Sicilian to Classic American.
We recommend the coal-fired New Yorker and Napoletana Margherita.
Ride Cable Car (to Lombard Street)
Let's face it: after lunch at Tony's, you're stuffed! As a result, hop aboard a cable car to visit your next destination—Lombard Street.
Lombard Street
Hop off your cable car excursion on Lombard Street. Famous for being one of the world's windiest streets, this is one attraction where it's okay to stare (maybe even gawk) as you watch bicyclists and motorists make their way through the twists and turns of this zig-zagging street.
Painted Ladies
Up next during your weekend in San Francisco is a visit to the Painted Ladies. This historical row of fabulously painted Victorian houses is well-known for appearances on TV shows (hello Full House!), movies and postcards (as it's also aptly known as Postcard Row). The architecture of the homes juxtaposed against the skyscrapers of the city creates quite the image, which can be perfectly captured from Alamo Square.
San Francisco's Museum of Modern Art
If you have time, try to squeeze in a visit to SFMOMA. With a focus on modern art, it's one of the best museums on the West Coast. Highlights include Habitat Horticulture's Living Wall, Henri Matisse's Femme au chapeau, Frida Kahlo's Frieda, and Jackson Pollock's Guardians of the Secret.
Dinner: Nob Hill Cafe
We don't know about you but all that exploring makes us hungry! As a result, a satisfying dinner at Nob Hill Café on the itinerary. This charming and intimate restaurant serves authentic Italian that is a local favorite. (Yes, you had Italian for lunch but pizza is a completely separate food group if you ask us.)
At Nob Hill Café, dine on Spaghetti alla Carbonara, Lasagne al Forno or Vitello Picatta (veal cutlets). Be sure to save room for dessert, though, as their Tiramisu and Ganache are to die for! Oh, and did we mention the gelato?
A Weekend in San Francisco: Recap
Wow! That was a busy two days in San Francisco. There's so much to see and do in this city! However, if you ever feel rushed, simply narrow down our itinerary for a weekend in San Francisco to fit your travel pace.