The weather outside may still be quite frightful, but inside on your couch, it's quite delightful. Pop some popcorn and get cozy because it's movie award season.
Movie and TV buffs all around the country know March is Oscar season, and there's never been a better time to discover the magic of a movie locations tour. So follow along as we spill all the details on the best movie studio tours!
From New York City to Los Angeles, there are countless ways to jump beyond the silver screen and discover the filming locations of your favorite flicks. 
Stretch your legs on a walking tour where you knock back a Cosmo just like the cast of Sex and the City. Or recreate famous movie moments when you flee from terrifying Jurrasic beasts on a Kualoa Ranch tour. 
However you choose to conquer your craving for cinema, we have all the information you need on the U.S' best movie site tours:
Los Angeles and Hollywood Movie Studio Tours
Warner Bros. Studio Tour Hollywood
Lights, camera, action! The silver siren known as Hollywood is calling, and you'd better answer. Get even closer to the entertainment you love when you visit the iconic set and filming locations of movies such as Harry Potter, Batman, and more on the Warner Bros. Studio Tour Hollywood.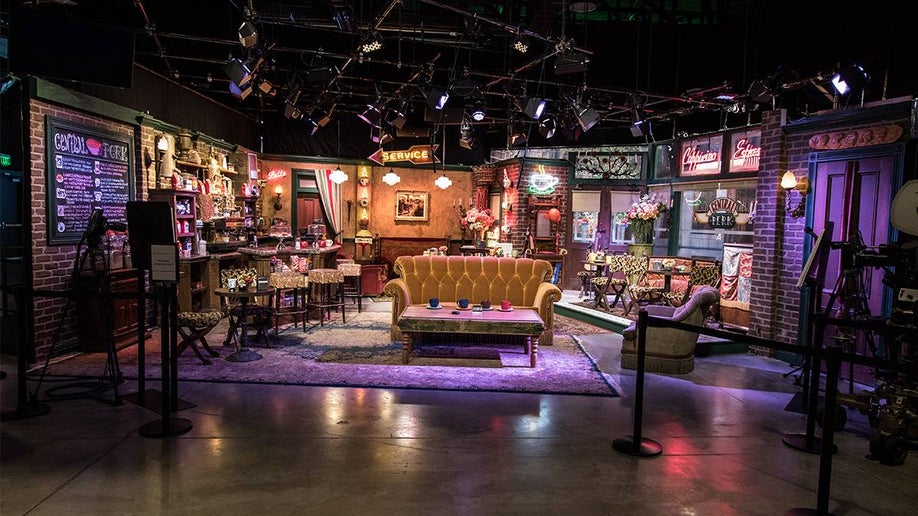 Allow yourself to be whisked away to a universe of make-believe right in Burbank as you learn about everything from classic Hollywood Costumes to green-screen technology used to create special effects. Megahit movies filmed here include everyone's favorite friendly Spiderman (2002) and the original Ghostbusters!
Take a load off when you hang with the 'Friends' gang at Central  Park, or hightail it to the new 90s exhibits to uncover pop culture costumes from hits like The Matrix, Selena, and Family Matters.
Your three-hour tour will cover much of the Warner Bros Studio 110 acre working backlot and includes one hour of guided narration with an expert tour guide. 
New York City Movie and TV Show Tours
NYC TV & Movie Tours
The city that never sleeps has long held an exalted place in movie pop culture history. Take your New York City film and movie appreciation to new levels when you hop aboard the exhilarating NYC TV & Movie Tour.
Prepare to unleash your mega fandom when you stop by over 40 renowned movie locations. Your guided sightseeing film tour will take place from the comfort of a luxury coach bus equipped with special onboard restrooms.
Enjoy two and a half to three hours of sensational screen-themed stops, including the famous Hook & Ladder 8 from the Ghostbusters franchise, the Friends apartment building, and the site of the original Soup Man from Seinfeld.
Lovers of romance will be sure to recognize the ubiquitous Washington Square Park, which has been featured in everything from Glee, to When Harry Met Sally. Have your camera handy as you'll need to snap selfie after selfie in front of McGee's pub, Ozcorp, and more. 
Central Park TV & Movie Sites Walking Tour
Breathe in the beauty of one of New York City's most recognizable locales when you reserve your spot on the Central Park TV & Movie Sites Walking Tour.
This infamous park has served as the setting for many of our most beloved films and TV shows. In fact, Central Park is considered the most filmed location globally!
Reminiscence over the undeniable romance of the boathouse scene in 'When Harry Met Sally,' focus on the spot where Kevin feeds pigeons in Home Alone 2, or delight over the majesty of the Bethesda Terrace as seen in The Avengers.
Your two-hour walking tour will be led by a real NYC actor and will contain stops at over 30 film and television locations.
The Super Tour of NYC
Calling all masters of the Marvel Universe! Don that cape and get ready to live out your very own superhero fantasies when you suit up for the Super Tour of NYC.
Fans of Batman to the Avengers, to Jessica Jones, will be in comic book heaven as they savor two hours of movie and television locations.
Kick back in your comfortable bus as you catch glimpses of the Statue of Liberty, featured in X-men and Superman, as well as the New York Stock Exchange, where Batman battled it out with Bane. Of course, followers of the Netflix MCU will instantly recognize spots from Iron Fist, Daredevil, and more.
Keep that phone charged as you'll be dying to document every second of superhero scenery. 
Gossip Girl Sites Tour
Gossip Girl here, and we've just heard the most delicious rumor. Word has it that a gang of well-dressed TV buffs has descended upon the Upper East Side. Party like the rich and famous cast of your favorite 2000s TV show when you sign up for a Gossip Girl Sites Tour.
Spend three hours hanging out at the same hallowed haunts as Blair, Serena, Nate, and the entire gorgeous Gossip Girl Crew. Sprint across Grand Central Terminal like Serena, pose for a cheeky photo op on the Met Steps a la Blair's Minions, or pay a visit to Chuck Bass's lair, aka the Empire Hotel.
Led by a knowledgeable local actress, your fully guided tour will allow you to peel back the curtain of the mysterious Upper East Side. Pay homage to the show's socialite pedigree with stops at the Vera Wang boutique, Constance Billard, Henri Bendel, and St. Judes. 
Sex and the City Hotspots Tour
And just like that, you too can walk in the footsteps of Manhattan's most revered female foursome. Spend an afternoon palling around with Carrie, Miranda, Samantha, and Charlotte when you reserve a Sex and the City Hotspots Tour.
Pull out your Manolo Blahniks and chow down on a Magnolia Bakery cupcake, as this locations tour is a true love letter to all things Sex and the City.
Your three-and-a-half-hour bus tour highlights over 40 locations from the hit show, including Carrie's charming front stoop, the spot where Charlotte purchases her 'Rabbit' and the bar owned by Steve and Aidan.
Gossip and shop till you drop when you indulge in retail therapy at Carrie & Co and the meatpacking district. Listen up as your fabulous guide will be spilling plenty of intriguing facts and poignant moments regarding the show's history.
*Please note that due to the salacious and sexy nature of this tour, children under 12 years old will not be permitted to join. 
Sopranos Sites Tour
Think you have what it takes to be a real mafioso? Then, put your mobster knowledge to the test when you reunite with everyone's favorite lasagna-eating gangster Tony Soprano.
Prime yourself for four hours of filming locations on the Sopranos Sites Tour. Led by genuine NYC actors who were themselves featured on the shows as extras or stand-ins, this is a one-of-a-kind can't miss mobster experience.
Catch up with Tony, Chris, and Carmela when you enjoy over 40 stops at sites such as the Bada Bing, Barone Sanitation, and Pizzaland.
Soak in the scenic views from your luxury bus as you'll also be privy to plenty of sensational New York City sights, including the Lincoln Tunnel and the Manhattan skyline.
True Soprano sycophants will lose their heads over the opportunity to sit in the restaurant booth where Tony sits in the final scene of the series. 
Atlanta Set Tours
The Walking Dead VIP Tour
Outrunning a Zombie apocalypse has never been more fun! Set your sights on Atlanta when you experience the undead wonder of a Walking Dead VIP Tour.
This seven-hour private tour promises to spill all the tea on the show's scenes, episodes, casts, and more. Board your premier bus and savor sights and locations such as the CDC, Rick's house, the Walking Dead Museum, and actor Norman Reedus's restaurant.
Roll past the very spot featured in the famed Walking Dead poster, where Rick strolls through downtown Atlanta on his horse, or Senoia, aka the Woodbury Center where the Governor ruthlessly ran the survivor's settlement in Season 3.
Lastly, grab some searing snaps of the landmark 'Away With You' wall in the arena where the combatants were forced to fight both each other and the surrounding zombies.
Oahu Movie Tours
Kualoa Ranch - Hollywood Movie Sites Tour
The breathtaking natural beauty of Oahu, coupled with the enchantment of your favorite blockbuster movies, makes the Kualoa Ranch - Hollywood Movie Sites Tour a match made in heaven.
Gasp in awe at the staggering scenery of renowned films like:
Jurassic Park

Pearl Harbor 

Hawaii Five-O
on this one-hour film tour.
Commence your journey at the picturesque 4,000 acres Kualoa Cattle Ranch on Oahu's Northern Coast. Rack your brain to see if you can recognize this outstanding landscape that has been highlighted in films such as:
50 First Dates

Tears of the Sun

Pearl Harbor

Lost
Next, your vintage bus will scurry along to showcase the locale of dynamic dinosaur chases in Jurassic Park. Then provide photo opportunities with Godzilla's giant footprint.
Your expert guide will pepper the tour with invaluable commentary as you make your way to Kaneohe Bay, Mokoli'i Island, and the mountains of the Ko'olau Range.
San Francisco Movie Tours
San Francisco Movie Sets & Locations Tour
Revel in the cinematic mystery and magic of the Golden Gate City when you embark on a three-hour tour of San Francisco's most recognizable movie landmarks. San Francisco has long fascinated filmmakers from the Golden Gate Bridge to the Tanner Family Residence. Put yourself in the skillful hands of your actor-turned-tour guide as you buckle up for an immersive and entertaining San Francisco Movie Sets & Locations Tour.
While hundreds of movies may have been filmed in San Fran, this tour will focus on classic flicks such as:
Vertigo

Dirty Harry

Mrs. Doubtfire
and more.
Giggle in glee as you drive past Anne Hathaway's school from the Princess Diaries. Imagine the epic adrenaline of the chase scene in Bullitt. Then peek at Robin William's home in Mrs. Doubtfire.
Fully dive into the movie madness as your guide plays movie clips to match the film sites outside your window.
Enjoy over 50 clips on this thoroughly classic movie tour. Interested in more Golden City silver screen adventures? Click here to learn more about various other tours offered. 

Nothing beats the excitement and glamor of going behind the scenes of the most famous movies and TV shows.
See the spot where Spiderman scaled skyscrapers in New York City. Or feel your jaw drop as you witness Kaneohe Bay which served as the setting for Pirates of the Caribbean 4. 
Film tours all over the United States provide unique opportunities to learn even more about treasured filming locations. 
Ready for your close-up? Don't wait. Book your very own Movie Tour today!
Tell us, what's your must-see movie or TV filming location?
Leave us a comment below!