September 5, 2022 @ 4:30 pm

-

September 1, 2023 @ 7:00 pm

CDT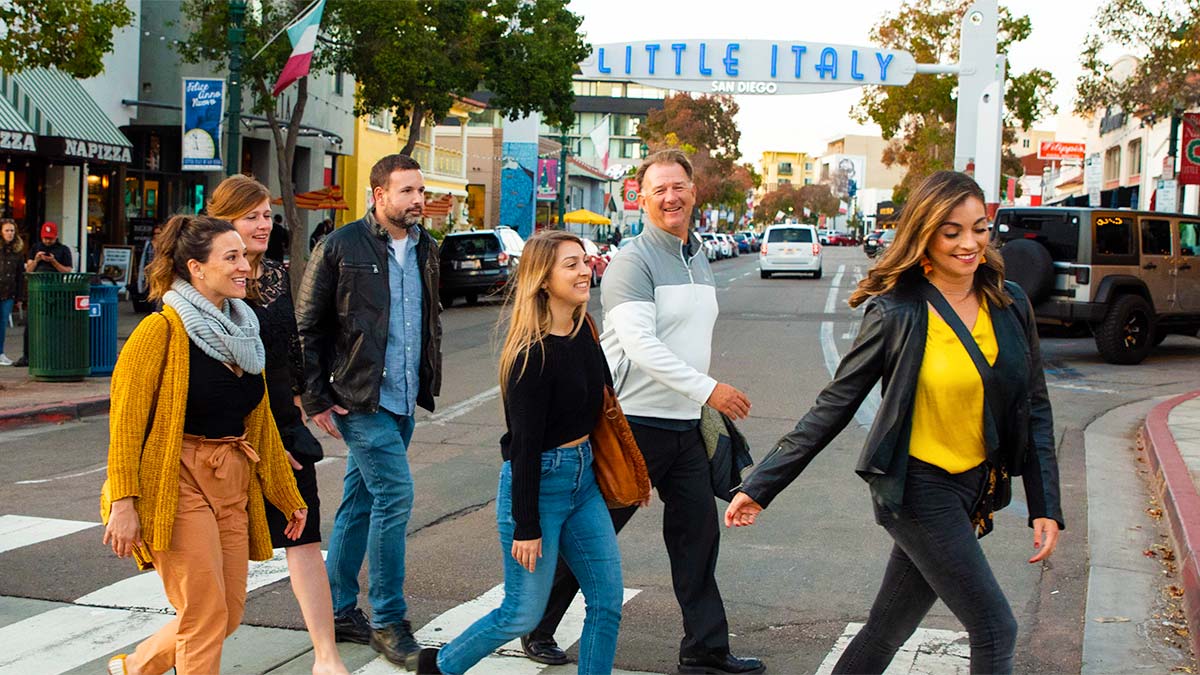 Savor the real taste of Italian cuisines while diving into the culture and customs that define the Italian Quarter of San Diego with Pizza, Pasta, and Piazzas: Little Italy Food Tour. From linguine served with a house-made sauce to white and red Italian wine, the options are endless. Feeling hungry yet?
Date and Time
Pizza, Pasta, and Piazzas – Little Italy Food Tour recurs every Tuesday, Wednesday, and Thursday from 4:30 PM to 7:00 PM.
Pizza, Pasta, and Piazzas: Little Italy Food Tour Tickets
Adults (Ages 13+): $75
How Long is the Food Tour?
The food tour is approximately 2.5 hours.
Where is the Meeting Place?
The meeting takes place at the fountain at La Piazza Della Famiglia, 523 W/Date St. San Diego, CA.
What are the Participating Restaurants?
The tour features four restaurants that best highlight the area, including:
Sorrento Ristorante and Pizzeria
This lively Italian restaurant is known for its iconic pasta and pizzas. In addition, you'll experience their famous Parpadelle Bolognese and calamari, which go with any drinks.
Queenstown Public House
Delight in quirky décor the second you enter this restaurant. You'll relish their grass-fed burgers and an array of local beers and sangrias.
Landini's Pizzeria
A local choice for those who want a quick bite, this pizzeria serves a wide selection of favorites, including their New York-style pizza.
Pappalecco
Who doesn't love gelato? This Italian bistro offers traditional Italian coffee, gelato, and paninis. 
What if I Have Food Allergies and Dietary Restrictions?
Please let the personnel know during your purchase if anyone in your group has any food allergies or requirements to accommodate your needs.
Are Bathrooms Available During the Food Tour?
Bathroom breaks will be available at the beginning and end of the tour.
Can I shop during the tour?
Shopping is not recommended as it is important to stay on schedule. However, the tour guides will help and give you all the details needed for you to return to your desired establishments.
What should I wear?
The food tour covers one and a half miles. Wear comfortable shoes and clothing.
Other San Diego Attractions
Check out what San Diego can offer with these other attractions and hotels:
 Nearby Hotels
 Experience Pizza, Pasta, and Piazzas: Little Italy Food Tour
Fill your San Diego vacation with flavorful and traditional Italian cuisines with Pizza, Pasta, and Piazzas – Little Italy Food Tour. Get a vivid insight into the neighborhood's culture and history through top chef dishes and fine cocktails. Whether you're a foodie or just a hungry traveler, this food tour will have you saying squisito!
Related Events