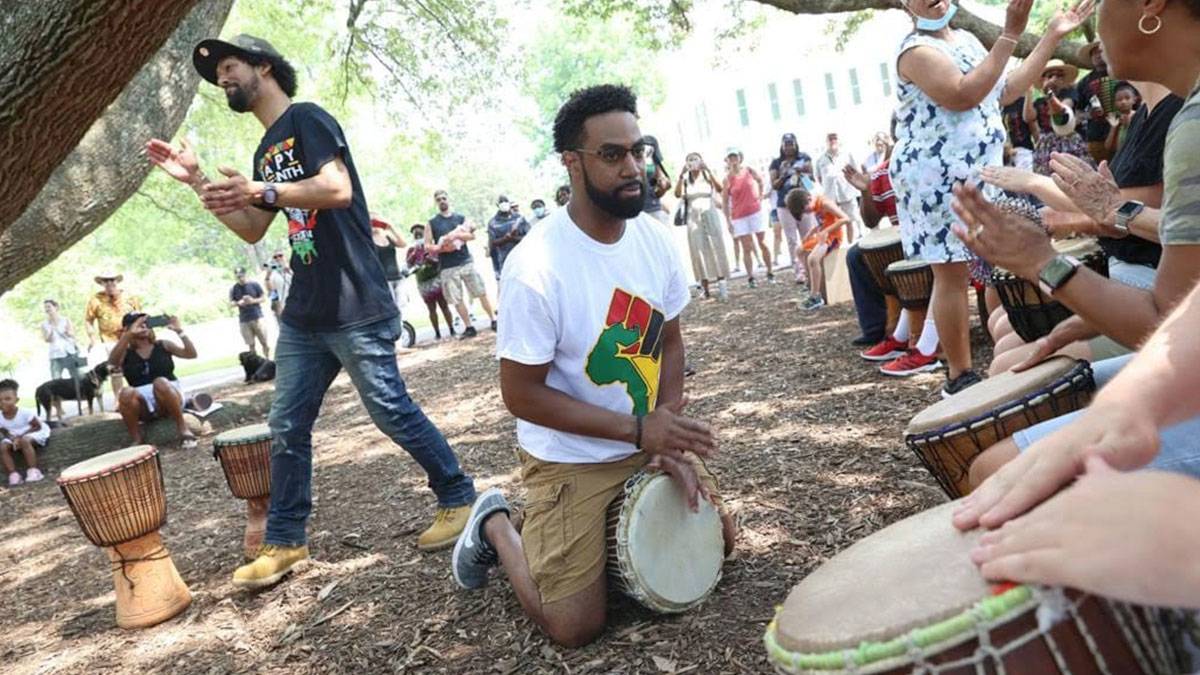 Black lives matter, and a celebration of Juneteenth, one of the most important dates in American history, is one way to show your support. Listen to historical experts share their insights about the annual holiday that commemorates the end of slavery in the United States. 
Date
June 19, 2022
Location
Colonial Williamsburg, 101 Visitor Center Drive, Williamsburg, VA 23185
Tickets
Colonial Williamsburg's Juneteenth celebration welcomes all visitors.
There are three types of Colonial Williamsburg tickets to choose from:
Single Day Ticket – A single-day admission that you can use on June 19 (or any day!) 
Multi-Day Ticket – valid for three (3) consecutive days, from the date of first use
America's Historic Triangle Ticket – Seven (7) consecutive days' admission for Colonial Williamsburg, Historic Jamestowne, Jamestown Settlement, American Revolution Museum at Yorktown, and Yorktown Battlefield
About Juneteenth
Colonial Williamsburg welcomes guests to share in the celebration of Juneteenth, also known as "Juneteenth Freedom Day" or "Juneteenth Independence Day," which celebrates the end of slavery and the emancipation of the formerly enslaved people.
Commemorate this special day in American history by learning more about the Black community's journey to emancipation. Gather outside the grounds of Colonial Williamsburg with other guests as you listen to historical experts provide more in-depth information about the timeline that led up to Juneteenth.
COVID Information
Guests are not required to wear masks indoors or outdoors while touring Colonial Williamsburg. However, maintaining a physical distance of at least 6 feet from other guests and Colonial Williamsburg employees is still required.
Colonial Williamsburg also encourages guests to purchase tickets online and take advantage of the Touchless Ticketing option to minimize physical contact between guests and employees during admission.
Package Your Colonial Williamsburg Experience
Williamsburg has so much to offer for guests who want to delve into American colonial history.
Stay for a few days in Williamsburg and save up to 15 percent with our Colonial Williamsburg Bundle:
Colonial Williamsburg Vacation Package
While in Williamsburg, consider visiting top attractions:
Experience Juneteenth
Share your thoughts and knowledge about Juneteenth with the community at Colonial Williamsburg.
Reflect on freedoms denied in previous centuries and appreciate the Actor Interpreters who will be representing people — free and enslaved, who lived through Juneteenth Independence Day.
Related Events