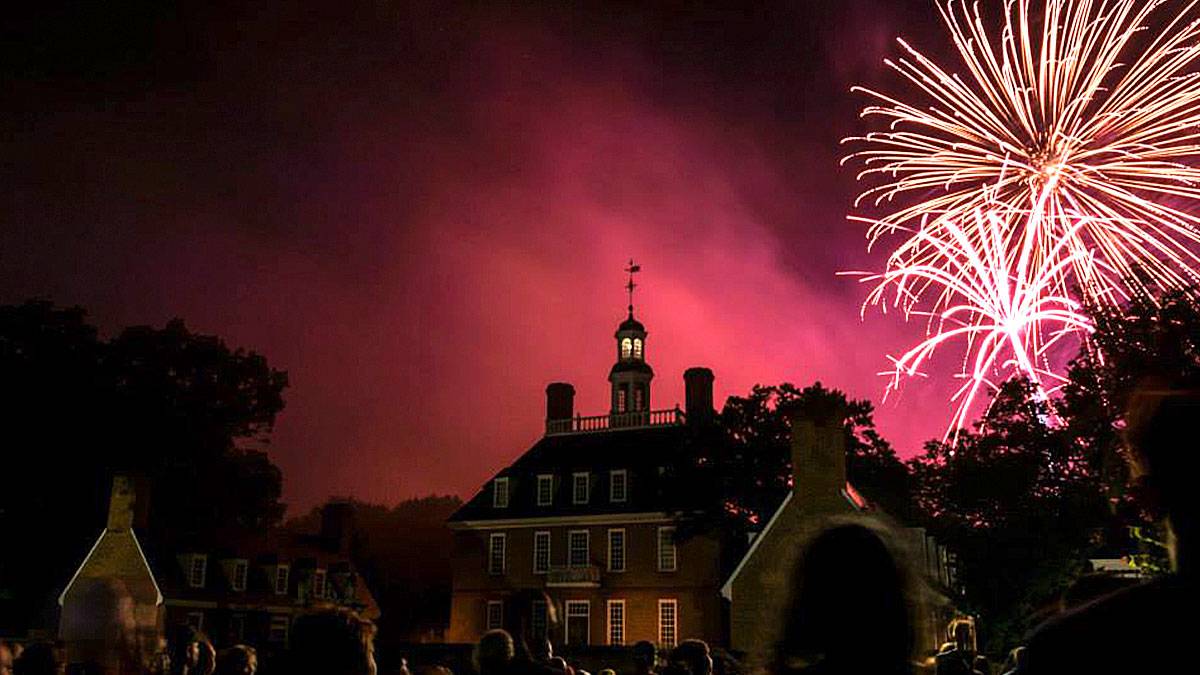 Colonial Williamsburg goes all out for the 4th of July celebration, from mesmerizing fireworks to patriotic festivities. Commemorate the nation's birth at this historic attraction!
This street of Duke of Gloucester plays a pivotal role in America's Independence, so it's no surprise they feature endless family-friendly activities, lavish pyrotechnic displays, and grand performances.
Spend your holiday at this remarkable attraction to experience and learn about our nation's history.
Dates and Details
Salute to the States
July 4th, 2022: 10:30 AM to 10:55 AM
Witness the musket volley salutes presented by the Virginia Military Garrison to the thirteen states.
Concert of Celebration
July 4th,2022: 10:15 to 10:40 AM
Head to Play House Stage and listen to the music of colonial times.
Reading the Declaration of Independence
July 4th, 2022: 9:30 AM to 9:50 AM
Witness Thomas Jefferson reads the declaration and celebrates the day with reflection and pageantry.
July 4th on the Lawn
July 4th, 2022:  5:00 PM to 10:00 PM
Bring blankets and stake out at the front of the Art Museum for the best fireworks viewing experience. Then, sing along to the performance of Good Shot Judy while waiting for the lights display.
Tickets
July 4th Celebration is included with your Colonial Williamsburg park admission.
Covid-19 Information
Guests only need to wear masks on shuttles.
Package your Colonial Williamsburg Tickets
Looking for the most anticipated tourist spots in Williamsburg? Then, bundle your tickets with other fun attractions and hotels:
Experience July 4th Celebration at Colonial Williamsburg
Honor the country and show your patriotism at Colonial Williamsburg. First, discover more about the nation's past through live performances and activities. Then, be amazed at the grand fireworks displays to cap off the night.
Also, you can make a vacation out of it to incredible Williamsburg with our Colonial Williamsburg Vacation Package.
Related Events