October 10, 2020

-

October 10, 2022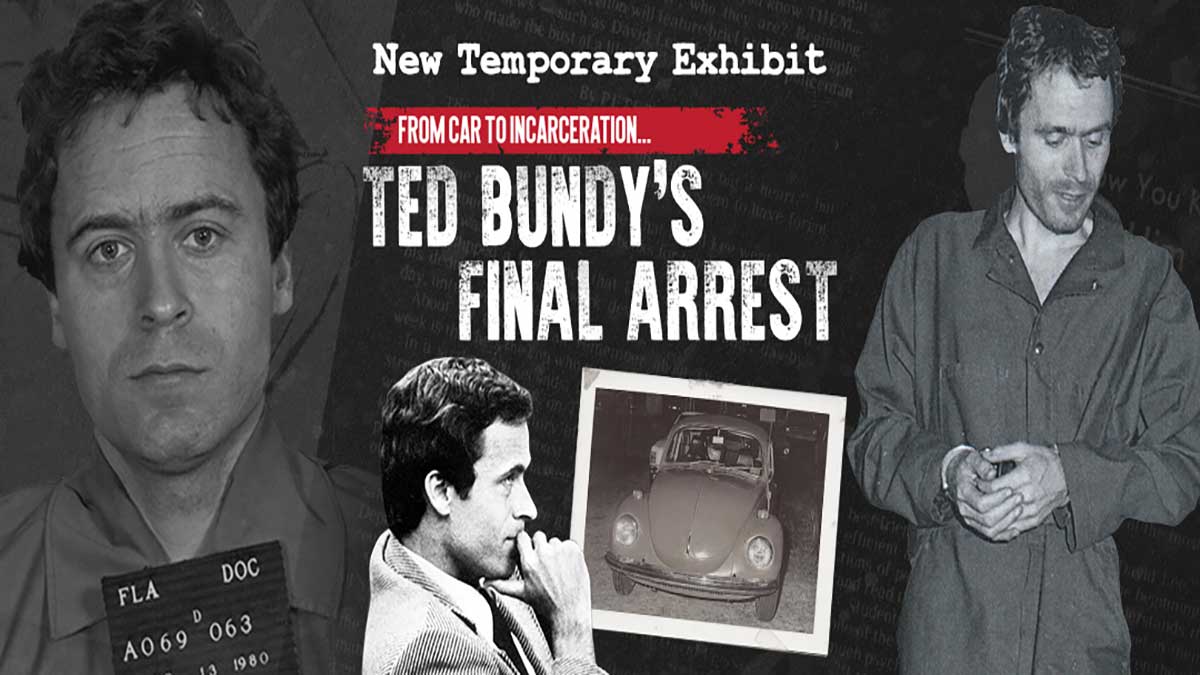 The final murder, arrest, conviction, and death of Ted Bundy, whose actual number of victims remain unknown, are on display at the Alcatraz East Crime Museum for a limited time. Don't miss From Car to Incarceration: Ted Bundy's Final Arrest
Date and Time
October 10, 2020 - October 10, 2022
Sunday - Thursday 10:00 AM to 09:00 PM
Friday & Saturday 10:00 AM to 10:00 PM
Location
Alcatraz East Crime Museum, 2757 Parkway, Pigeon Forge, TN 37863
Tickets
General admission to Alcatraz East Museum includes access to the From Car to Incarceration: Ted Bundy's Final Arrest temporary exhibit and other ongoing exhibits.
Get tickets to Alcatraz East Museum from Tripster and save $2.00 for every ticket you purchase. 
About From Car to Incarceration: Ted Bundy's Final Arrest
No words can justly express how heinous the crimes of Ted Bundy were. Today, Bundy's crimes are still discussed in books and films, yet many still can't wrap their heads around the numerous offenses of the most notorious serial killer in the country.
This temporary exhibit does not seek to romanticize Bundy's murder. Instead, From Car to Incarceration: Ted Bundy's Final Arrest aims to remind us that a serial killer can look just like anyone else in your community.
Learn more about Ted Bundy's murders, arrests, convictions, and death. Then, take some time to absorb the telling signs of possible danger and watch Bundy's last interview, where he warned about the adverse effects of porn addiction on behavior and perception. 
COVID Information
Guests at the Alcatraz East Crime Museum are currently not required to wear masks but are advised that no cash transactions will be accepted.
Don't forget to bring debit or credit cards if you wish to make cashless payments for souvenirs, snacks, or additional tickets on-site.
Complete Your Alcatraz East Crime Museum Experience
There is no shortage of things to do in Pigeon Forge! While you're on vacation, why not pay a visit to Dollywood, which features over 50 thrilling rides? Or maybe you prefer Anakeesta, an outdoor adventure theme park that combines nature, thrill, and wonder for a one-of-a-kind journey. See our recommended Pigeon Forge attractions below:
WonderWorks & Titanic Museum Ticket Combo
Smoky Mountains Pink Jeep Tour Package
Lumberjack Feud Vacation Package
Experience From Car to Incarceration: Ted Bundy's Final Arrest
See a few of Bundy's actual belongings in-person, including the dental cast used to convict him in the Miami trial, a few of his prison letters, and the Pensacola police uniform that he used to impersonate authority figures. 
Related Events