April 21, 2023 @ 8:00 am

-

June 11, 2023 @ 5:00 pm

EDT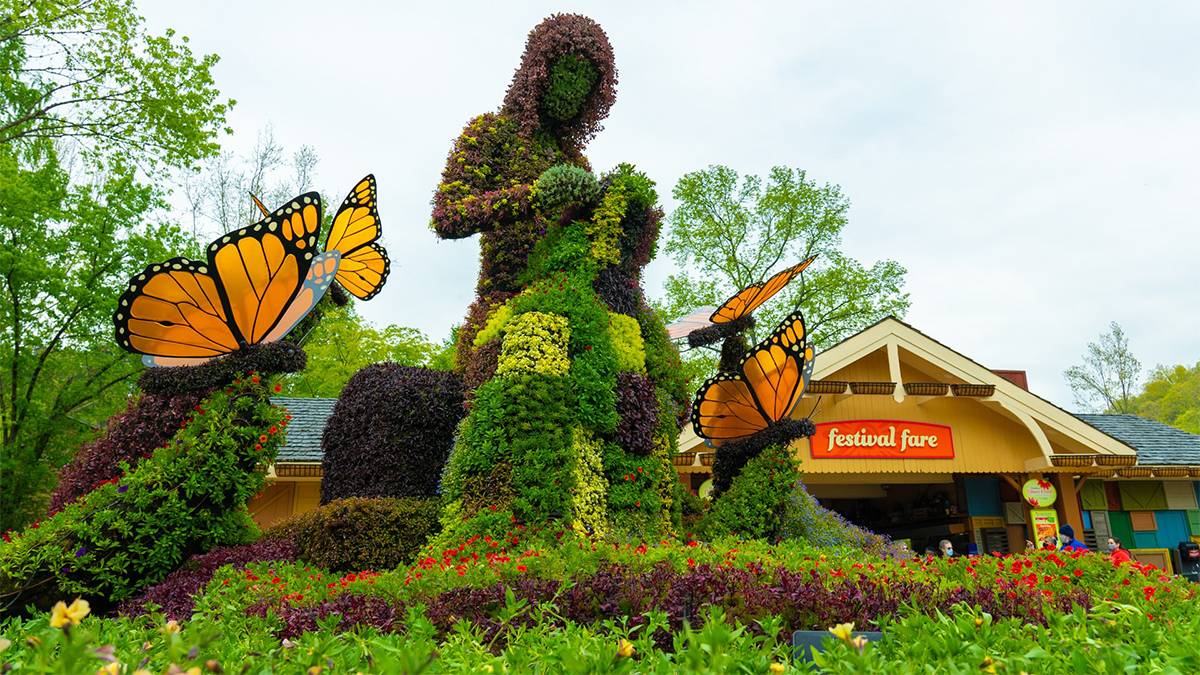 Come bask in the colors and flavors of spring at the Dollywood Flower and Food Festival. It's a must-see event for anyone looking to escape into nature and soak in the blooms!
Indulge in garden-fresh dining offerings prepared by award-winning chefs and a trusted culinary team, be wowed at larger-than-life blooming sculptures towering over 15 feet tall, and delight in uplifting musical performances across the venues.
Related Post: Ultimate Guide to Dollywood®: Coupons, Discounts, and Deals
Now, before treating your senses to this annual tradition, make sure to get the inside scoop on all the fun and activities to be had here. Follow along as we share all the information about Dollywood Flower and Food Festival.
Dollywood Flower & Food Festival Tickets
All Dollywood Food and Flower Festival, events are included with your general admission. Gold and Diamond Season Passholders are free to enter and will receive exclusive offers as well.
Nearby Hotels and Lodgings
Preserve your time and budget by staying in a hotel steps away from Dollywood. Book with Tripster to score these ultra-relaxing rooms for a steal:
Dollywood Vacation Package
Pigeon Forge is bursting at the seams with entertainment for all ages. Bundle your Dollywood tickets with these other area attractions for the ultimate vacation:
Dollywood Flowers and Food Festival Highlights
Garden-Fresh Bites
Relish unique and garden-fresh cuisines offered at Flower and Food Festival Dollywood. Munch local and international dishes, including Spicy Korean BBQ Meatballs, Street Corn Salad, Bacon Jammin Fries,­­ and Smoked Mac Cheese.
Save some room for spring-themed sweets and sip refreshing Raspberry Tea or Cranberry Watermelon Cooler after munching on all the festival foods.
Flower and Food Festival 2023 Tasting Pass Package
Travel Dates: April 21, 2023, through June 11, 2023
Booking Dates: Until June 10, 2023
The Dollywood Dining Pass 2023 lets visitors experience up to five food tastings at select locations. Guests can redeem all five (5) tastings at one place or a combination of authorized festival sites.
Enormous Blooming Sculptures
Spend a day among the larger than life flower and plant installations. On top of gigantic sculptures, there will be a majestic floral carpet and photo ops as you walk through Wildwood Grove.
Related Post: What You Should Know Before Visiting Gatlinburg for the First Time
Keep your eyes open for the "Coat of Many Colors" centerpiece, a massive floral arrangement that's a tribute to Dolly Parton's mom. Plus, spot a floral peacock, a beekeeper, and a mallard duck display, or snap a picture of the iconic Dollywood Butterfly Logo.
Lively Music
What's a spring festival without upbeat music? Listen to the authentic sounds of the Great Smoky Mountain as live performers from Pigeon Forge and beyond fill the air with lively tunes. The Flower Food Festival presented by Covenant Health features the Hall Sisters and more artists.
Dollywood Umbrella Sky
Can't wait to strike a pose under the Butterfly umbrella sky? Neither can we! Unlike last year's event, which fell on April 22, the festival features more colorful umbrellas, so keep that camera ready.
Other Attractions and Events in Dollywood
I Will Always Love You Celebration
I Will Always Love You is celebrating its 50th anniversary, and you're invited to come. The event honors the iconic song and the stories behind it with an array of festive activities from songwriting to live performances.
Related Post: Insider's Guide to Dollywood®
Get ready to meet known and rising singers and songwriters as you stroll through the park. Of course, there will be special park decorations like Dollywood butterfly trinkets and limited-time merchandise during the momentous occasion. Visit Dollywood April to be a part of something special.
Smoky Mountain Summer Celebration
Welcome sun-kissed days with a Smoky Mountain Summer Celebration. Enjoy the brighter days and sparkling nights splashing and playing at the water attractions, browsing crafts that burst with summer color, and watching family-favorite presentations.
When the sun goes down, it's time to watch the nightly fireworks display and drone exhibitions.
Harvest Festival
Adore the incredible sight of the changing seasons at Dollywood's Harvest Festival. The beauty of the Smoky Mountains comes alive during fall, so take the chance to witness its vivid colors or taste the fresh harvest.
Then, discover an enchanting hideout where a glowing owl and its family perch among the illuminated pumpkin.
Rides
Drop Line®
Lifting riders over 20 stories above Dollywood's Timber Canyon and plunging them to the ground, Drop Line is a heart-pounding ride that you'll have to squeeze into your Dollywood visit. The ride provides a thrilling rush and treats you to a bird's eye view of the Smoky Mountains.
Lightning Rod ®
Lightning Rod is intimidating with its 165-foot drop, 3,800-foot track, and a top speed of 73 mph. With its record-breaking features, there is no question why it has been consistently selected as one of the top 10 best roller coasters in the nation.
Wildwood Grove
Wildwood Grove summons the adventurer in you. Take a journey to the deep forest and uncover mysterious things as you pass through an enchanting village.
Food and Flower Festival Dollywood Details
"Does Dollywood close for the festival?" you may ask. The answer is Dollywood Flower Festival follows the park's daily hours of operation. Be sure to check their website for the schedule as closing times vary.
Experience Dollywood Flower and Food Festival
The bigger and better Dollywood's Flower Food Festival returns! Take in the spectacular visuals and flavors of this annual celebration with the entire family.
Start the fun by admiring Mosaicultures blossoming around the theme park. Then, strike a pose under the colorful Umbrella Sky, savor fresh eats, and listen to toe-tapping musicians.
Related Post: Guide to Spring Break in Pigeon Forge: Where to Go & Things to Do
Over one million bright flowers and endless entertainment surround you, so get your tickets now and experience all the springtime surprises at The Food Festival presented by Covenant Health.
While at it, you can turn your trip into a full vacation and lose yourself in the beauty of the Smokies with a Dollywood vacation package.
Related Events