June 17, 2023 @ 8:00 am

-

August 23, 2023 @ 5:00 pm

EDT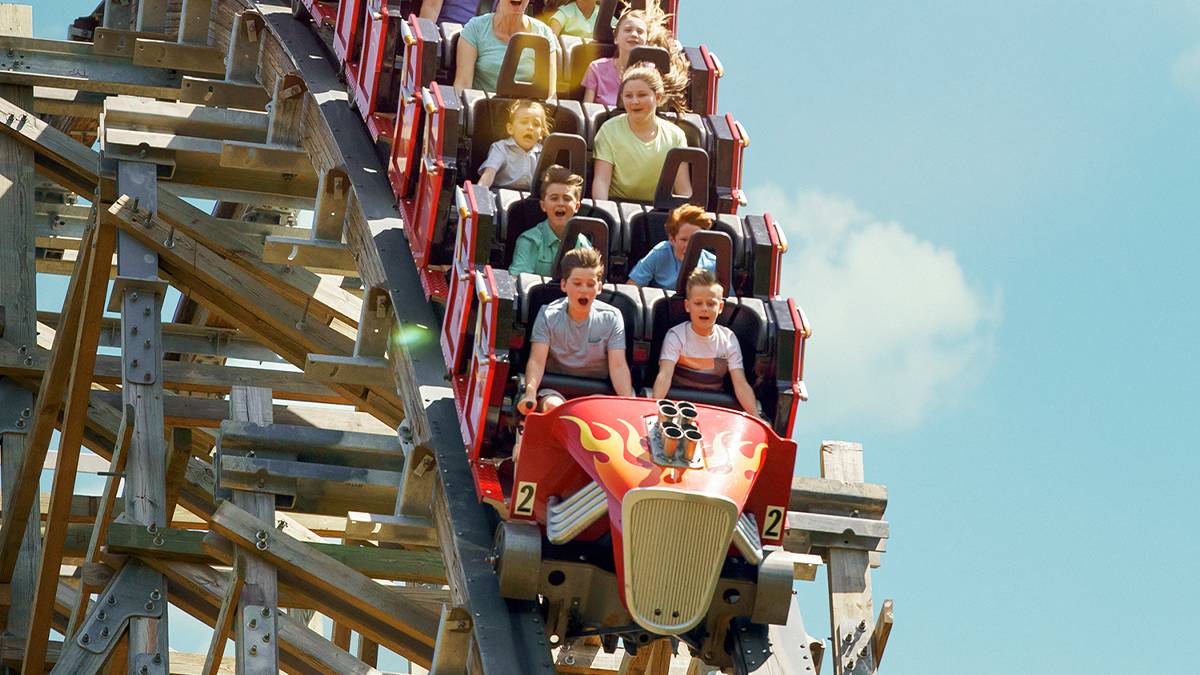 Soak up the Smokies sun and make some memories with the entire family that will last a lifetime at Smoky Mountain Summer Celebration at Dollywood!
With extended park hours and special summer entertainment, Smoky Mountain Summer Celebration gives you more time to enjoy favorite attractions and warm-weather activities. Bask in the Smokies' natural splendors, savor new flavors, scream with excitement aboard thrilling rides, and much more. Who's ready to head out and get ready for an unforgettable experience at Dollywood?
Follow along as we share the sizzling festivities at Smoky Mountain Summer Celebration!
Dollywood Summer Festival Tickets
All Smoky Mountain Summer celebration events are included with your Dollywood tickets
Smoky Mountain Summer Celebration Dates
The Smoky Mountain Summer Celebration runs from June 17, 2023, through August 23, 2023. The Dollywood summer hours schedule during the event is from 10 AM to 9:30 PM.
Nearby Hotels and Lodging
Rest your tired bones after having the best time at Dollywood Summer Celebration. Choose from a great selection of Pigeon Forge hotels that suit any needs and budget. Book with Tripster so you'll rest easy knowing you got our best deals online.
Dollywood Vacation Packages
Pigeon Forge has no shortage of activities and sights to visit and try. Want to save even more money while discovering the city once the Summer Celebration Dollywood is over? Then bundle your tickets with these other area attractions and experiences:
Smoky Mountain Summer Celebration Highlights
Gazillion Bubble Show: Aurora
Back by popular demand, the awaited Gazillion Bubble Show Aurora returns to Dollywood this sunshine season for the Smoky Mountain Summer Celebration.
Witness as gazillions of bubbles cover the DP's Celebrity theater in a family-friendly show that's filled with amazing feats and laser lighting effects. This show also features a fantasy segment paying homage to Dolly and her legacy.
Colorful Attractions
Summer days at Dollywood mean treating your eyes to magnificent colors! Every summer the park features colorful exhibits installed to engage your senses.
Relax and take pictures on a row of bright yellow rocking chairs and more Dollywood photos, be amazed by the technicolor trees, and behold rainbow-tinted pool noodles hanging above your head. Don't forget to see and capture the picture-perfect floating kites!
Seasonal Flavors
Taste the best of the Smokies during your visit. Check out the dining places and food vendors that serve delicious snacks and refreshments. You can load up on popcorn, funnel cakes, kettle corn, ice cream, and many more when you drop by the following restaurants:
Aunt Granny's Restaurant
Blue Ribbon Cones
Country Cookers - Kettle Korn
Crossroads Funnel Cakes
Dippin' Dots®
Dogs N Taters
Front Porch Café©
Grandstand Café©
Granny Ogle's Ham 'n' Beans
Grist Mill & Cinnamon Bread
Hickory House BBQ
Iron Horse Pizza
Lumber Jack's Pizza
Market Square BIG SKILLET ®
Market Square Potatoes
Midway Market
Miss Lillian's BBQ Corner
Miss Lillian's Smokehouse
Mr. Jerry's Sit-N-Sip Refreshments
PaPaw's Roadside Market
Pork Rinds
Red's Drive-in
Showstreet Frozen Lemonade
Showstreet Ice Cream
Showstreet Snacks
SkyView Snacks
Splinter's Funnel Cakes
Spotlight Bakery
Sweet Shoppe Candy Kitchen
Sweets and Treats
The Dog House
Till & Harvest Food Hall
Valley Theater Concessions
Live Entertainment
It isn't summer in Dollywood without live performances. The park comes alive with energetic concert series headlined by local artists. Get ready to groove and sing along to the hottest music and popular dance songs. We'll update you with more information about the performers.
Sweet Summer Nights Drone & Fireworks Show
Stay late and watch the night sky light up with colors and hundreds of bright drones during the Sweet Summer Nights Drone Show & Fireworks Display. This attraction tells a unique Dollywood story through 3D effects, a symphony of light keeps, special animations, and more. Expect larger drones and new illuminated scenes as well.
Afterwards, be mesmerized by colorful pyrotechnics displays. There's no better way to cap off the night than catching this spectacle.
About Dollywood Theme Park
Dollywood's Smoky Mountain Summer Celebration is a one-of-a-kind experience that is sure to amaze guests of all ages! Once you've enjoyed all the festivities offered here, top off the experience by exploring the award-winning theme park.
The entire family will have a blast at one of the best Tennessee theme parks as it has something for everyone, from mild to wild. There's plenty to do for the little ones, too. So come on out and enjoy a day of truly unforgettable family fun.
It's sure to be a visit you'll never forget!
Big Bear Mountain
The wait is over! You can now have the best time at Dollywood's largest attraction – Big Bear Mountain. Join Ned Oakley and other explorers in search of the elusive Big Bear. This gigantic roller coaster reaches 66 feet at the highest track elevation with a speed of 48 miles per hour. It's the largest ride at Dollywood at 3,990 feet, so don't miss out.
Barnstormer
Feel the same breathtaking thrills that fearless stunt pilots have experienced as they flew over the massive fields. The Barnstormer impresses people with two pendulum arms with every swing reaching a speed of 45 mph and 230 degrees of rotation. This ride even extends an astonishing 81 feet in its peak and has a 48 inches height requirement!
Daredevil Falls
Daredevils who are looking for some thrilling adventures should not pass on Daredevil Falls. If you're brave enough to face a waterfall with a 60-foot drop at a speed of 50 mph, then head to Craftsman's Valley.
Drop Line®
Enjoy a bird's eye view of the Great Smoky Mountains aboard the Drop Line. This attraction lifts riders who can meet the 55 inches 20 stories above Timber Canyon, so get ready for a rush of excitement.
Lightning Rod ®
Head to Dollywood's Jukebox Junction if you're up for some real daredevil experience. Lightning Rod launches passengers to 45 mph, racing down the 165-foot drop. With its record-busting features, there's no surprise why it has been named one of the top 10 best roller coasters by USA Today readers.
Great Tree Swing
Feel like a kid again as you fly high aboard The Great Tree Swing. This ride is an upgraded version of your backyard swing, so soar to new heights and feel the wind on your face as you glide through the air.
Just make your way to Wildwood Grove to experience the nostalgic fun. Don't forget to come with your big kiddos who can meet the 36 inches height requirement.
Whistle Punk Chaser®
Expect some thrilling twists and turns while at Dollywood. Whistle Punk Chaser is a junior coaster ride that gives the adrenaline and treats you to the magnificent aerial views of the Smokies.
Dollywood's Splash Country Water Park
There's nothing better than splashing and playing with your kiddos at Dollywood's Splash Country this summer.
This water park is the ultimate place to cool down and relax. You can slide, take a plunge, and have the best time ever enjoying the inflatable slides, bridges, towers, and more attractions.
There's something for all ages at this oasis. Thrill-seekers can race and satisfy their competitive side on TailSpin Racer or face the Raging River Rapids. Families can get drenched at Little Creek Falls or catch a wave in Mountain Waves.
Aside from plenty of massive pools and slides for you and your kids to play with, this water park lets you soak in the Smokies' incredible sights as it is scenically set behind the mountain's view.
Smoky Mountain Summer Celebration Venue
Located at 2700 Dollywood Parks Boulevard Pigeon Forge, TN 37863.
Experience Dollywood Smoky Mountain Summer Celebration
Summer is finally here! With the extra daylight and warm temperature, there's a sense of thrill and fun in the air. Add a bit more excitement to your sunshine season with a trip to Dollywood for the Smoky Mountain Summer Celebration!
Immerse yourself in the beauty of the Smokies, cool down from the heat by splashing and playing in the water slides, or marvel at the gazillion bubble show Aurora. This fair is filled with more exciting activities and shows to fill your lazy days from live concerts and fireworks displays as well.
To enjoy all of the Smoky Mountain Summer Celebration at Dollywood activities be sure to get your Dollywood tickets today. Also, you can make a vacation out of it with a Dollywood vacation package.