September 12, 2022 @ 11:00 am

-

September 11, 2023 @ 1:00 pm

CDT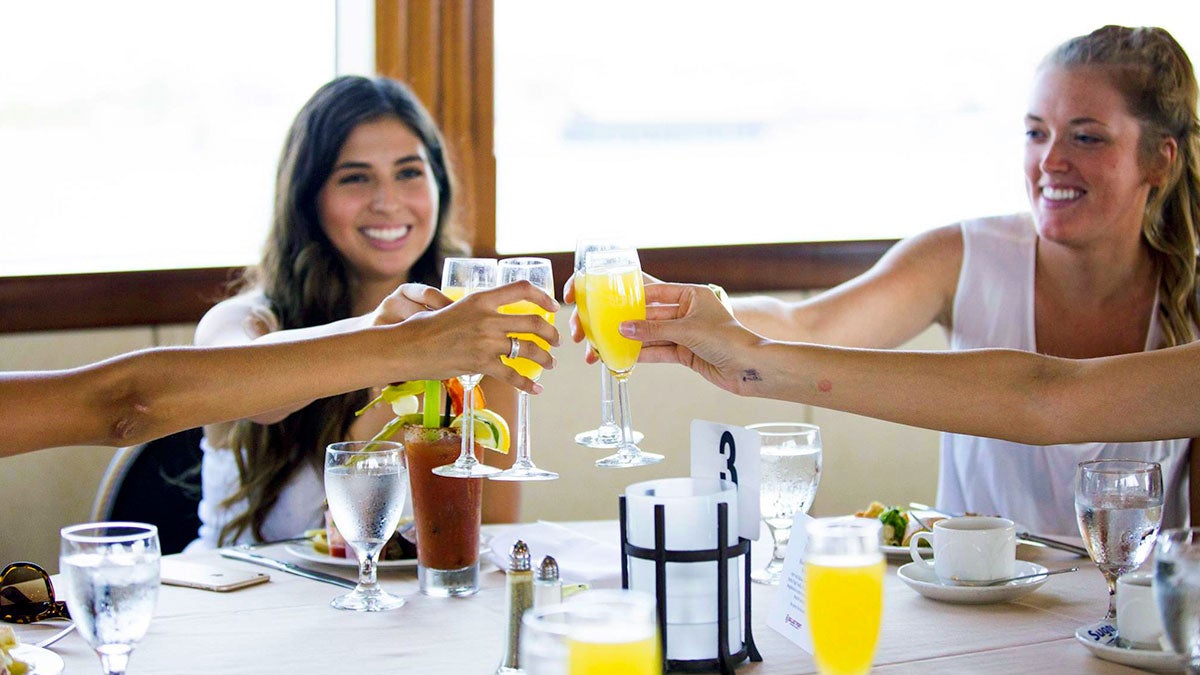 Soft waves and crisp breeze set the atmosphere for a Flagship Champagne Brunch Cruise, an ultimate San Diego brunch favorite. This two-hour cruise elevates your everyday brunch experience with gourmet food, free-flowing bubbly, and mimosas. Catch this good-morning getaway and moan over the delicious eats while basking in the marvelous views of the city's waterfront.
Flagship Champagne Brunch Cruise Date and Time
The Champagne Brunch Cruise recurs Saturdays and Sundays from 11 AM to 1 PM. The boarding is at 10:30 AM.
Champagne Brunch Cruise Ticket Prices
Child (4 to 12): $47.70
Adult: $79.50
FAQs
When is the boarding time?
The ships board 15-30 minutes before departure.
How long is the cruise?
The cruise lasts about two hours.
Where is the meeting place?
The vessels are at 990 North Harbor Dr, San Diego, CA.
What's included in the brunch menu?
Brunch Buffet with complimentary tea, champagne, tea, and coffee.
Made to Order Omelet Station
Includes fresh eggs, vegan tofu, and egg-whites
American Breakfast Station
Scrambled eggs with herbs
Applewood smoked bacon, breakfast sausage & sliced ham
Oven-roasted fries sautéed with bell peppers and onion
Bistro Breakfast Station 
Freshly baked bread, pastries, and muffins
French toast and Belgian waffles with fresh berries, whipped cream, and fruit preserves, drizzled with maple syrup
Farm Fresh Salad Station
Classic caesar with garlic croutons and shaved parmesan
Mixed baby greens with original vinaigrette
Pesto pasta salad
Bowtie pasta mixed with bell pepper, pesto, and red onion
Chef's choice lunch special
Changing Weekly
California Seafood Station
Brunch caviar with sliced egg, creme fraiche, and toast points
Salmon en croute
Baja-style ceviche with corn tortilla chips
Nova lox with cream cheese, bagels, capers, and red onion
Housemade sushi and nigiri
Chef Attended Carving Station
Fresh rolls and creamery butter
Roasted pork loin with herbs and pan reduction
Honey-Herb roasted turkey breast with cranberry chutney
Bakery Fresh Desserts
Bars, cookies, brownies, chef's choice, and fruits
Specialty Drinks
Bubbly Fuzzy Navel
Grapefruit Sunrise
The Bloody Mary
Hibiscus Tea
Paloma
Bloody Beer
Is the cruise appropriate for children?
Yes. However, children under four are not allowed to board the Patriot Jet Boat for safety reasons.
Will I get seasick?
There's a chance for you to get seasick if you are prone to motion sickness. Please take any medication before the cruise.
What if the weather is bad?
Tours are not necessarily canceled due to rain. However, the captain can cancel the tour if weather conditions are extreme.
What should I wear?
There's no official dress code. Dress comfortably, and don't forget to wear sunscreen.
Other San Diego Attractions
Soak in the stunning San Diego spots and intriguing history with these other fun tours:
 Nearby Hotels
Take a break from your ordinary brunch with Champagne Brunch Cruise. This San Diego attraction will indulge you in complimentary mimosas and champagne, breakfast options, brunch-buffet, and live entertainment. You'll also witness 25 miles of stunning waterfront views, making the experience extra special.
Related Events