March 11, 2022 @ 8:00 am

-

March 19, 2022 @ 5:00 pm

EST

Free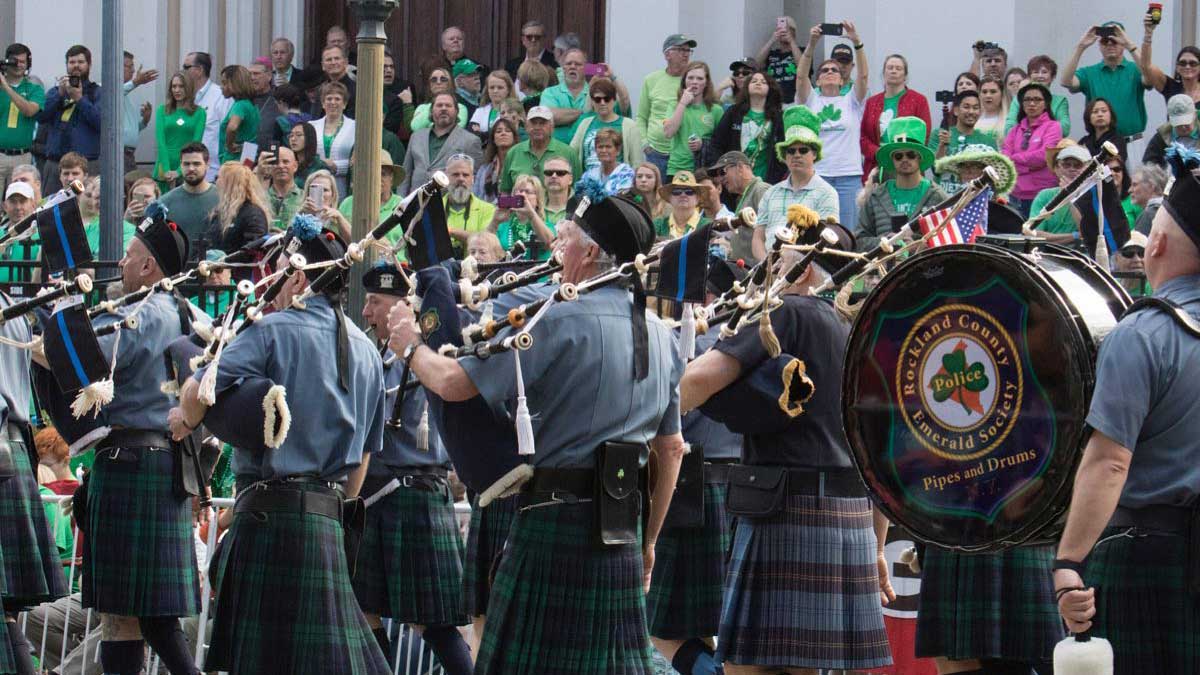 Shamrocks and southern charm may seem like an unlikely combination, but those lucky enough to visit the 'Hostess City of the South' on March 17th know Savannah goes all out for St Patrick's Day.
This charming city of cobblestoned streets and horse-drawn carriages boasts the United States' 2nd largest St Patrick's Day celebration. Its abundant Irish population and Eire enthusiasm draw over half a million visitors each year. 
What to Do in Savannah for St. Patrick's Day
Although festivities may be slightly altered this year, there are still plenty of parades, celebrations, and verdant-hued activities to partake in Savannah on St. Patrick's Day. 
Savannah Saint Patrick's Day Parade
After a two-year hiatus due to the COVID-19 pandemic, the Savannah Saint Patrick's Day Parade is back!
Mayor Van Johnson and the parade committee have come together to recommend changes to the beloved St Patrick's Day celebration, including an end to the multi-day festival/outdoor concerts on River Street, beer and food vendors, and a slightly different route.
While there is no official ruling yet, the St Patrick's Day Festival and Parade's fate should be forthcoming. In the meantime, jolly lasses and lads looking to sport their vibrant green and catch a glimpse of the floats, costumes, and authentic Celtic music and steps should mark their calendars for Thursday, March 17, 2022, at 10:15 am.
The parade route will kick off at the intersection of Abercorn and Gwinnett and end three to four hours later at the reviewing stand on Bull and Liberty.
Greening of the Fountain
Feeling green? Match your mood to your surroundings when you stop by Savannah's most stately icon of romance and beauty.
Every St. Patrick's Day, the city splashes out its Irish appreciation by dyeing the water of the famous Forsyth Park Fountain green. So scout out a park bench in the early afternoon as you'll want a first-row seat to the verdant viewing on March 11th, at 4 pm.
Located in the North end of the park, this gushing edifice of Southern Gothicism is well worth a visit to soak in its surrounding flora and majestic 164-year-old charm. 
City Market and River Street
Bustling bistros, refined galleries, and historic speakeasies come together to make City Market the place to party.
In past years, both City Market and River Street have packed their premises full of patrons and live music.
Hip hooligans looking to get down this St. Patrick's Day should check in soon as the area's surrounding businesses are expected to participate in the frivolities once again. 
Celtic Cross Mass
Looking to wander into a place of worship before carrying on your merry green way?
Those seeking to pay their respects and homage to the trials and tribulations of Irish immigrants' past need only stop by the grand Cathedral Basilica of St. John the Baptist.
On Sunday, March 13th, 2022, at 11:30 am, the deeply devout can attend a Celtic Cross Mass designed to honor the Hibernian immigrants that settled the US and, specifically, Savannah.
Irish Pubs
O'Connell's Irish Pub
Those yearning for a proper pint need only to head to O'Connell's Irish Pub to assuage their craving for the dark stuff. True Guinness lovers know a perfect pour is a thing of beauty, and O'Connell's has mastered the craft.
Sidle up to the bar for a beer and a chat before strolling down to River Street for more Emerald Isle action. 
McDonough's Restaurant & Lounge
Lots of whiskey libations, the best karaoke in Savannah, and that warm Eire pub feel make McDonough's Restaurant & Lounge a must-stop on any Savannah St. Patrick's Day tour. Considered one of the unofficial 'headquarters' for St.
Paddy's day fun in the city, this local watering hole's convenient proximity to the parade makes it a perfect place to stop in for a shot of Jameson or a tasty to-go drink.
Hangry banshees can eat their fill of Irish egg rolls stuffed with Corned beef, sauerkraut, and Swiss cheese or Shepherd's pie before carrying on with their carousing. 
Where to Stay in Savannah on St. Patrick's Day
The Gastonian
Lush gardens, cooked to order gourmet breakfast, and luxuriously appointed rooms sporting clawfoot tubs, four-poster beds, and chandeliers make the Gastonian an elegant choice for any discerning traveler.
Rest up like the royalty you are in either of their two Regency-Italianate-style mansions built in 1868. Then head out to partake in the green-hued festivities.
Located just a block away from the famed Forsyth Fountain, guests here will have a prime view of its verdant spray. 
The Kehoe House
Revel in the Renaissance Revival beauty of this 130-year-old mansion as you prime yourself for the parade merriment nearby.
The Kehoe House is a Savannah institution, and its breathtaking brick facade is widely considered one of the city's most historic sites.
Cozy up in your Victorian decorated room and warm up by the fireplace. Or grab some fresh air on your private veranda. Then, post-Guinness-fueled rabble-rousing, wind down with a nightcap and complimentary homemade cookie.
Eliza Thompson House
Rest your head in the heart of residential Savannah, and just mere blocks from the Forsyth fountain when you stay at the Eliza Thompson House. A refined B&B experience with a healthy helping of Southern hospitality, this quaint inn provides a variety of rooms in both the main and carriage house.
Guests can linger out in the courtyard for their nightly complimentary wine and hors d'oeuvres. Or seek out the serenity of the garden fountain and koi pond.
It is located just steps away from Savannah's most historic attractions and shamrock-filled shenanigans. A stay here is worth more than a pot of gold!
Savannah may be known for her well-manicured parks, ghostly history, and hospitable charm. But come March, this Antebellum area is transformed into a city of Craic.
From the bubbling emerald Forysth Fountain to costumes and Celtic marching bands at the Saint Patrick's Day Parade, there are countless ways to get in on Gaelic gaiety in Savannah.
However you choose to honor St. Patrick this March, we sláinte to your day of luck, libations, and merriment!
Tell us, what's your favorite way to spend St. Patrick's Day in Savannah?
Leave us a comment below!