February 1, 2023 @ 9:00 am

-

February 28, 2023 @ 6:00 pm

CST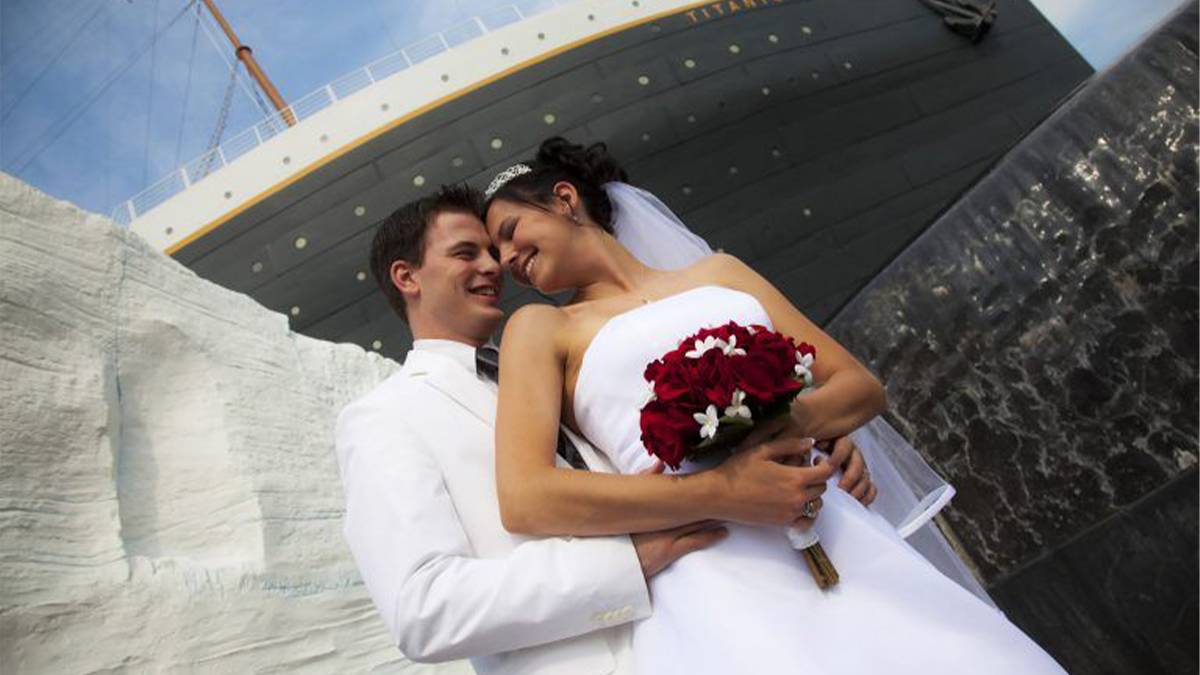 Bored of your usual late-night date experience? Looking for Branson valentine packages? Celebrate a romantic Valentine's Day at the Titanic Sweetheart Month, where you can recreate Rose and Jack's most romantic scene at the Grand Staircase!
Branson may not be Paris, but the city can also deliver a romantic reprieve that will steal your breath away. This Valentine's Day, take a trip to the Live Music Capital of the World and celebrate Sweetheart Month at Titanic. While aboard the ship, you'll see over 300 real artifacts, touch 28-degree water and a growing iceberg, and take a tour throughout the cabins.
Follow along to discover all the deets that will make you and your sweetheart's heart flutter.
Titanic Sweetheart Month Tickets
Unfortunately, the tickets for this year's event and the Branson Valentine packages have not been released. We will update this page with more details.
Nearby Hotels and Lodging
With all the romantic and relaxing attractions Branson MO offers, it would be smart to extend your stay for a day in Branson. After all, you don't need to worry about busting your budget as Tripster offers romantic hotels in Branson MO for a steal.
See the best places to stay in Branson MO for couples:
Titanic Museum Discount Tickets
Valentine's Day or not, the Titanic Museum offers a variety of activities that deserve to be on your vacation itinerary. Visit the iconic attraction year-round without breaking your wallet with this discount ticket from Tripster:
Branson Valentine Packages
From the extraordinary scenery of Ozarks mountains, Table Rock Lake, and Big Cedar to theme park attractions like Silver Dollar City, Branson MO delivers a blissful getaway. Craft your perfect Branson valentine packages with these spectacular area attractions to upgrade your date experience:
Titanic Museum Attractions
Walking and taking pictures at the Grand Staircase isn't the only thing to do in the Titanic Museum. The Branson romantic getaway is brimming with fun activities that will keep you and your sweetheart busy and entertained. Some of the tour's highlights include the following:
Growing Iceberg
No visit to this museum is complete without immersing your hand in 28-degree water and touching an Iceberg. Have a playful competition with your partner and challenge each other to touch the icy water for a long time!
Artifacts
As you stroll through the museum, you'll find historical artifacts connected to the Titanic's ill-fated journey. The ship houses detailed reproductions and actual relics that will give you more insights into the infamous disaster.
Tribute to Titanic Jewish Passengers
Make sure to pay respect to the 69 known Jewish passengers that were on the doomed trip before your voyage ends.
Educational Experience
Visiting with your kiddos? You're in luck as the tour features an array of educational activities for kids. Teach them the value of history, art, and more subjects in the most interesting fashion by exposing them to Titanic's story, brochure, and newspaper. Your little ones will surely leave the ship full of knowledge about buoyancy and topography.
Interactive Areas
Become a Titanic crew for a day and learn how to send a distress signal through a Morse code and shovel coal.
Things to Remember
No photos or videos are permitted during the Titanic Museum tour. There will be an audio tour option, so ask the crew if you want to avail.
Other Attractions in Branson
Stop searching "things to do in Branson MO for couples" on the internet. Take your romantic escape to another level with these amusements once you've wrapped up your Titanic voyage:
Silver Dollar City
Who can't resist the allure of this international-award-winning park? This 1880s-style attraction features thrilling rides, including the Time Traveler and The PowderKeg. The perfect spot for couples who live for the thrill!
Showboat Branson Belle
One of the romantic things to do in Branson MO is hopping aboard a luxurious cruise. The best experience for people who prefer a more relaxing getaway!
Savor gourmet meals and splurge on a bottle of champagne while basking in the city's panoramic scenes at Showboat Branson Belle. Perhaps, spend the night in a spacious boat, whispering sweet nothings to your lover  under the stars.
Dolly Parton's Stampede Dinner Action
Sprinkle some equestrian action into your Branson Missouri vacation by dining at this restaurant. This sets the bar for all dining experiences!
Reza – Edge of Illusion
Interactive magic and groundbreaking production might be the things missing in your romantic getaways Branson MO. Watch as Reza achieves the impossible at this show. Just don't blink; you'll never know what you'll miss!
Titanic Sweetheart Month Date and Details
The exact dates and highlights of the Branson MO Valentine Specials will be released soon. Check back later for more information. Please visit the event's website for updates as well.
Experience Sweetheart Month at the Titanic Museum
While eating chocolate covered strawberries at Osage restaurant or chilling at home with your significant other sounds fun as Valentine's Day plan, it's also necessary to amp up your celebration once in a while to spice up your relationship.
One way to do so is by celebrating Sweetheart Month at the Titanic Museum. Lovebirds can't only feel like Jack and Rose aboard the ship, but they can also recreate the film's most dreamy scene at the Grand Staircase. You can plan a romantic dinner here as well!
The entire ship screams romance with its swoon-worthy decorations, setting the romantic atmosphere for this romantic getaway Branson MO.
Related Post: Insider's Guide to the Branson Titanic Museum
Whether you're planning a marriage proposal, wedding, an engagement session, or just a simple date, Branson MO Valentine specials 2023 at the Titanic Museum is an awesome place to commemorate your adoration for one another.
Meanwhile, turn your trip into a true Branson vacation. Explore the culture and attend events at the Branson Convention center or other areas with this package.
Related Events