June 13, 2022 @ 8:00 am

-

November 30, 2022 @ 5:00 pm

EDT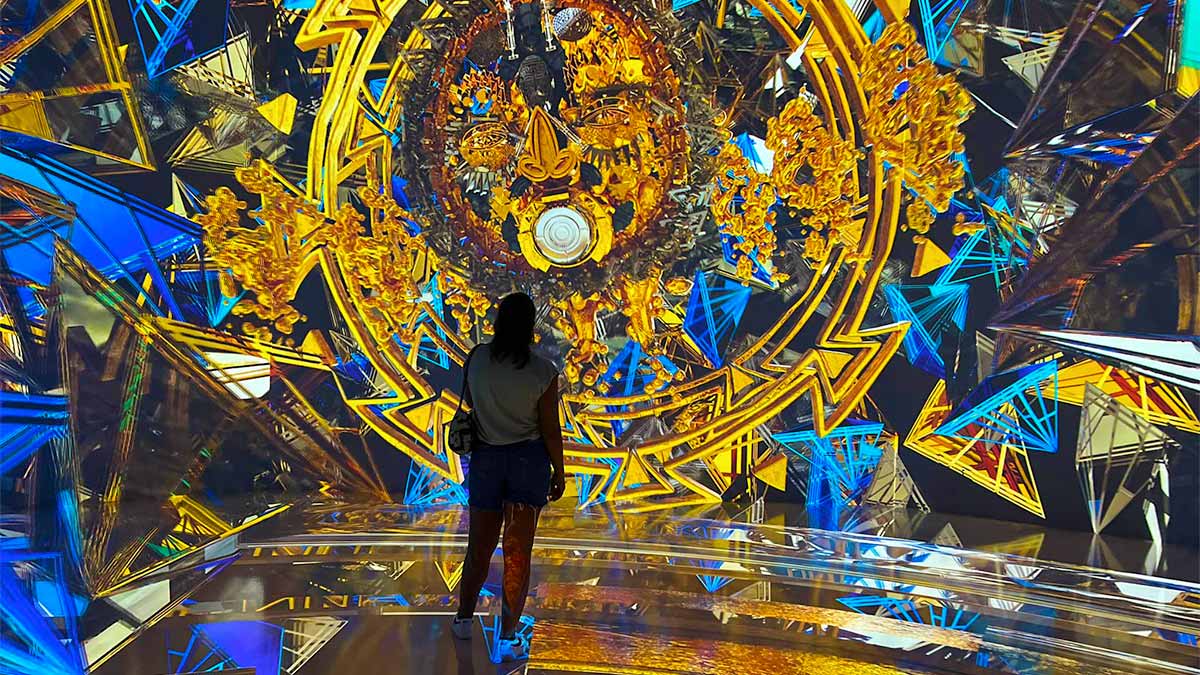 A futuristic and immersive audiovisual exhibition, Afro Frequencies evokes explorations into the subjects of heritage, representation, and power. Recognize and celebrate the social, historical, and cultural facets of Black history at Afro Frequencies at ARTECHOUSE.
This interactive multisensory exhibit analyzes the Black experience through the eyes of Afro-surrealist visual artist Vince Fraser matched by the compelling words of poet Ursula Rucker.
Inspired by Aṣẹ, meaning the "power to make things happen and produce change" this show also draws audiences deep into the African diaspora and Black culture.
Date and Details
Aṣẹ: Afro Frequencies: Exploring the Concept of Afrocentricity runs from June 13 through Fall 2022.
Visions of the Black Experience at Immersion Gallery
The main installation utilizes a special projection and hyperreal sound system to highlight the social justice problems and diasporic triumphs of the Black community. Visitors can learn about African countries' backgrounds, languages, and traditions in a way that's reinterpreted in Fraser's view.
Magic Vodun and 1000 Masks at Gallery 1
This exhibit showcases 1000 masks set on 10 x 20 'LED panels added by customized ceiling lighting equipment.
Afrikanism at Gallery 2
Walk inside an interactive Africa map that shifts and lights up. Afrotude complements the piece, an installation characterized by a beating figure and influenced by the idea of rebirth that evokes fascination about Africa from any visitor.
Egungun at The Back Hallway
This show features a series of 13 African tribal masks that attendees can virtually try on. Each mask displays a unique style and presents a story.
The Media Lab
A presentation featuring a remodeled Binghi signifies the strength of percussion and light.
The XR Bar
Included in this exhibit is IOWI, an interactive art piece that uses the visitor's portrait and ARTECHOUSE motivated by Fraser's previous fashionable collage.
Location
Located at ARTECHOUSE DC 1238 Maryland Ave. SW.
Tickets
Adults (16+): $25 Advance/$26 on site.
Children (4 to 15): $17 Advance/$18 on site.
Students, Military, Seniors, and First Responders: $20 Advance/$21 on site.
Weekday Family Pack (2 adults and 2 children): $75 Advance only.
Free for children under the age of 4.
Covid-19 Information
Guests are not required but are highly recommended to wear face masks during their visits.
ARTECHOUSE Packages and Other Area Attractions
Be inspired and make your Washington, DC trips worthwhile. Bundle your ARTECHOUSE DC with these attractions and hotels:
Experience Afro Frequencies at ARTECHOUSE
Examine themes of Black identity through Vince Fraser's exhibition. Aṣẹ: Afro Frequencies aims to bring Africa's cultural identity and stories to life through interactive, futuristic art pieces.
View the images and learn the untold or forgotten stories about African kings and queens, wear African tribe masks virtually, and journey through Africa through a virtual map. Fraser's proposition that Afrocentricity emerges as its own frequency can be viewed throughout his works.
Enter the London-based Afro-surrealist artist's surreal universe and educate yourself about Black heritage in a new digital context.
Related Events