December 31, 2021 @ 11:00 pm

-

January 1, 2022 @ 2:00 am

PST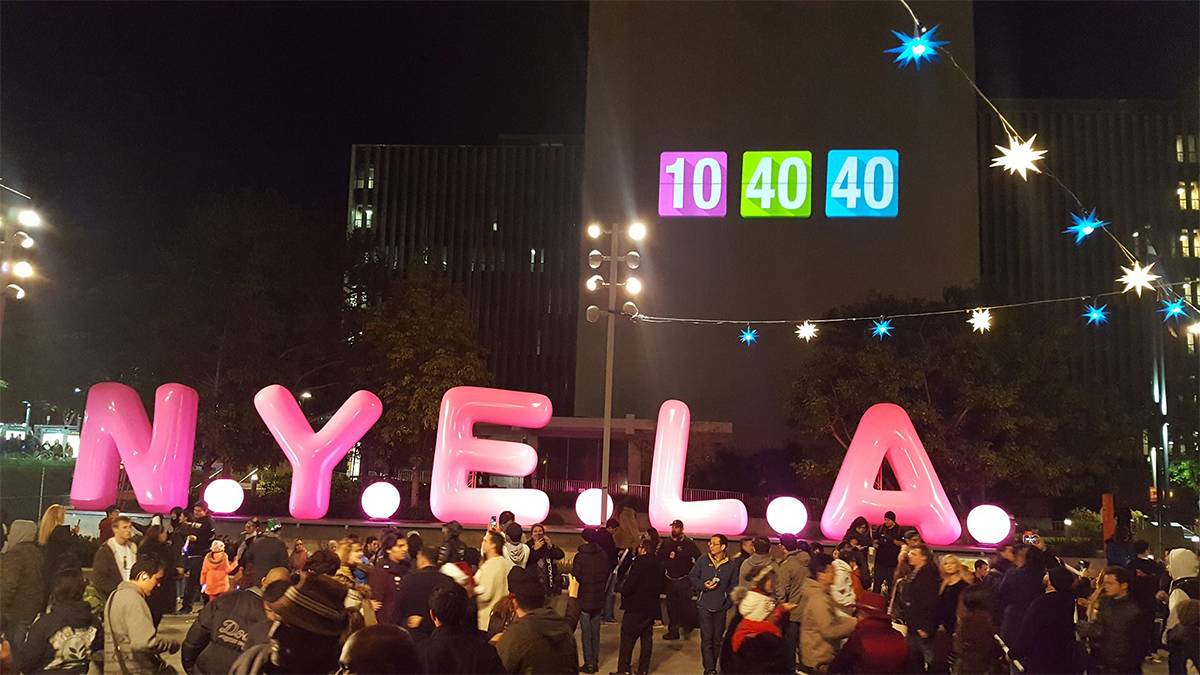 Commonly known as the flagship New Year's Eve celebration of the West Coast, 2021 Grand Park's NYELA is a roaring good time that will have you breaking into song and dance.
It typically takes place in
Grand Park
but went virtual last year due to the pandemic. Details of the December 31, 2021 event are still pending.
Follow for 2021 Grand Park's NYELA Updates
Follow Grand Park on Twitter, Facebook and Instagram for updates about the night's event!
Last Year's Event
When (Grand Park's NYELA 2020)
The party kicks off at 11PM PT / 2AM ET on Thursday, December 31, 2020.
Where (Grand Park's NYELA 2020)
Fuse TV (Check your local listings)
Please note this is not an in-person event. Please enjoy the show from the comfort on your home!
Small Business Partners
Check out our Small Business Partners - we have 5 small business partners providing Party At Home food and drink kits for the show! Read on for more details.
1) Aguas Locas
Aguas Locas is a family run "Pandemic-born" business. It began in the Spring of 2020 when Pablo began making Aguas Frescas for his daughter as an alternative to juice and other sugary drinks. The Los Angeles based beverage company offers handmade Mexican inspired Alcoholic and Non-Alcoholic drinks.
2) Flaco
Flaco is a newly opened taqueria located in East Hollywood. A taco spot with a simple menu. Slow-cooked Carnitas: hours long cooking process, no boiling or roasting and minimal ingredients. Tortillas from Kernel of Truth Organics in Boyle Heights. A equally tasty Vegan Option available.
3) Genever
Genever is a friendly and intimate lounge, located in Los Angeles' Historic Filipinotown. Inspired by world travels and driven by local bounty, they serve fresh libations with an emphasis on local produce and house-made syrups and shrubs. By highlighting gin on the menu, they offer a vast amount, as well as a diverse selection of other alcoholic and non-alcoholic beverages, including beer and wine. Genever is proud to be one of the growing number of women-owned and operated bars in the nation, made up of Roselma, Christine and Patricia, aka Red Capiz Partners (RCP).
4) Jitlada
Jitlada is a Hollywood stable with a story starting in the late 70s. A true American Dream story, Chef Jazz took over the business with her family in 2006 and has shared her life passion of making the best Southern Thai Cuisine in the country. Jitlada is mind-blowingly delicious.
5) People's Republic of South Central
People's Republic of South Central is a locally brewed beer with a cause. 100% of the net proceeds of sales go toward purchasing Chromebooks for students in South Central. They are a black-owned business currently building out a 24,000 square foot craft beverage incubator in South Central Los Angeles. No less than 75% of our employees will be from the immediate local neighborhood. While our doors won't officially open until Fall 2021, 100% of the net proceeds from our limited-edition beer releases go toward purchasing Chromebooks for kids in South Los Angeles that do not have their own computer at home. Our first beer, LEGACY, was released in September and the last remaining cases are still available for sale at Eagle Rock Brewery.
Related Events