Need help planning your dream Disney World vacation? There's a lot to see and do at the most magical place on Earth, and it can be a bit overwhelming trying to figure out what to do.
I've been many times and still haven't done it all. However, I can help you start to plan your itinerary by offering Disney World questions designed to help you find the type of vacation ideal for your family. 
Let's do a quick rundown of activities available at Disney World Theme Park:
Four major theme parks: Magic Kingdom, Disney's Hollywood Studios, Animal Kingdom and Epcot
Two waterparks: Blizzard Beach and Typhoon Lagoon
Five golf courses
Downtown Disney
BoardWalk Entertainment District
Over 20 large resorts
Granted, you most likely won't see all there is to see at Disney on your vacation. Keep these Disney World questions in mind to help you narrow down your selection.
1) When to visit Disney World?
When you run through this list of Disney World questions, you may find your time is limited. For instance, if you have children and don't want to take them out of school, summer may be the only option for travel. However, if you are more flexible with your dates keep dates in mind for special Disney events and festivals. Highlights include Christmas, Halloween, Star Wars Weekends, Flower & Garden Festival, and Food & Wine Festival. When you visit also plays into crowd levels. The early fall, December prior to Christmas vacation, and mid-January through early March are all good times to visit. Summer is busy so plan on packing patience into your suitcase.
2) How many parks do you want to visit?
The most common answer is all of them! I recommend purchasing Disney Park Hopper tickets to get the most out of your days. The Magic Kingdom is by far the best and most endearing park, so visiting there is a must. If this is your first time at Disney you'll want to take your time at each park you do visit. If you park hop, which is recommended to maximize your time, you can hit a park that opens early and divide your day with a park that stays open late.
3) Where will you stay?
This factors into a lot of your vacation planning as location is key, but so is price. Luckily, there is a wide range of lodging choices available in Orlando. If you can, splurge and stay at a Disney World Resort Hotel. Although they can be pricey, they are so worth it! Disney hotels pamper you in every way, and the parks are literally at your doorstep. Many off-site properties are located just a few miles from Disney World's entrance. So, you can have the convenience of being near Disney World yet save a few bucks for other vacation expenses.
4) How long will you stay in Orlando?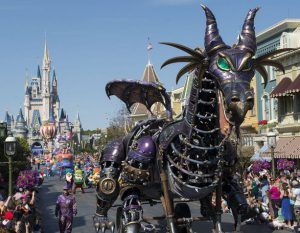 As far as Disney World questions go, this one is extremely important. It certainly factors into both of the above questions, but after learning all there is to do at Disney World Theme Parks you may want to rethink your game plan. For instance, when I first visited Disney World I wanted to see it all! So, I made the most of my park hopper pass and went to three parks in one day! This was way too much, way too fast – especially if you really want to take your time and experience the unique activities and attractions at each park.
If you want to visit all four theme parks, which is ideal, you will want to have at least five full days. Want to add on extras like a round of golf, Disney Waterparks or DisneyQuest? Then plan on seven days. This way you can get the full Disney experience without running around like a mouse chasing after cheese! Plus, seven-day park hopper passes are only marginally more than five-day tickets ($20 more for
 two more days of fun). 
5) What type of Disney tickets should you buy?
You may have noticed I'm partial to Disney park hopper tickets. However, depending on the length of stay you've picked Magic Your Way base Disney tickets or Waterpark Fun and More tickets might appeal to you. Water Park Fun & More tickets give each member of your travel party entry to one theme park a day, each day of your ticket. Want to enjoy more than one theme park per day? Choose the Park Hopper Water Park Fun & More Ticket. With so much to see and do here, you'll love the ability to come and go from Theme Park to Theme Park on the same day. Plus you receive an equal number of separate admissions to any Walt Disney World Waterpark.
Plan, Book & Go
After answering these questions, you're ready to plan, book, and go! Your dream Disney World vacation is ready. Are you?
Be sure to save our infographic detailing all you need to know about planning a Disney World vacation. It includes tips and insight on where to stay, which ticket type to purchase and so much more!