When you need a little more excitement, adventure, or relaxation in your Florida vacation, add any of these day trips from Orlando to your itinerary.
Believe it or not, it's possible to get tired of Orlando's abundant theme parks, water parks, and airboat tours. If you've outgrown Mickey, Minnie, and Harry Potterland or are craving a little urban adventure on your Orlando vacation, fear not... We have the perfect day trip from Orlando!
Travelers can visit safari parks, water gardens, space complexes, and countless charming towns across the sunshine state. There's the quaint hamlet of St. Augustine, with its cobblestone streets, forts, and European vibe. Visitors can also catch a rocket launch from Cape Canaveral, then get behind the scenes at the World's Center of Racing in Daytona.
Outdoor enthusiasts can explore a plethora of wildlife parks, botanical gardens, or maybe a heart-pounding airboat ride cruising through the heady, thrilling back bays of the Florida Everglades. Of course, you can't go wrong visiting the bonanza of world-famous beaches on the Atlantic Ocean or the Gulf of Mexico. However, if you like to get off the beaten path, unwind and feel the luminous wind of the open road, we have the best road trips from Orlando. Road trips are good for the soul!
7 Perfect Central Florida Day Trips from Orlando
No need to feel overwhelmed. Tripster has narrowed down your searches to the best of the best. So check out any of these excellent day trips near Orlando.
Day Trip to Tampa from Orlando
Distance between Orlando and Tampa Florida: 84.2 miles, 1 hour and 21 minutes by car.
Tampa, Florida, is home to many family-friendly attractions, museums, and outdoor adventures. Grab Busch Gardens Tampa tickets if you've still got the theme park bug. On top of boasting some of Florida's biggest and baddest roller coasters, the park is also home to more than 12,000 animals, making it one of the largest zoos in North America.
While exploring Tampa, make time for these popular attractions:
Instead, if you'd rather enjoy Tampa's nearby beaches, we have the best beach day trip from Orlando. Grab your things and head to Ben T. Davis Beach. You could also check out Honeymoon Island State Park or Sand Key Park for a seaside jaunt.
What's more, the famous Bok Tower Gardens, just an hour east of Tampa, hosts an unparalleled bird sanctuary, renowned landscape garden, and 20-room Mediterranean-style mansion, El Retiro at Pinewood. The garden's 205-foot Art Deco and neo-Gothic Singing Tower with carillon bells fascinates millions of tourists annually.
You could also take some day trips from Tampa and around the eclectic city, especially if you're a sports fan. Several pro sports teams call Tampa home, including the Tampa Bay Buccaneers (NFL), Tampa Bay Lightning (NHL), and Florida Panthers (NHL). So get tickets to the game and cheer on Tampa's home teams!
Clearwater, FL
Distance from Orlando: 106 miles, 1 hour and 56 minutes by car.
One of the top must-do day trips from Orlando resides on the stunning Gulf of Mexico. Situated just past Tampa on Florida's West Coast, Clearwater, Florida, is an exciting day trip destination for all ages. With its picture-perfect white-sand beaches, seafood restaurants, and the seemingly endless number of beachfront hotels, this premiere spot is not to be missed.
Clearwater is among the top day trips from Orlando for families, thanks to the Clearwater Marine Aquarium. This aquatic museum educates kids and adults about Winter, the star of the hit movie "Dolphin Tale." The Marine Aquarium rescued Winter and developed a prosthetic tail to help her maneuver through the water. Throughout your aquarium experience, you'll learn about the facility's dedication to rescuing, rehabilitating, and releasing marine animals such as turtles, dolphins, and river otters.
Also, if you take a Clearwater Beach day trip from Orlando with Dolphin Encounter Cruises, you can soak up the sunshine with a half-day tour exploring the coastal sites and year-round dolphins!
Equally important, the area has several entertaining boat tours, and some of the best Air Boat Rides the Alligator State offers. Other Clearwater attractions and activities include:
In addition to Clearwater Beach, visitors can sunbathe or swim at nearby beaches, including Honeymoon Island State Park, Caladesi Island, Sand Key Park, and Belleair Beach.
Florida's Space Coast
Distance from Orlando: 51.4 miles, 50 minutes by car.
One of the most incredible day trips from Orlando is just under an hour away from the city. Visitors can discover the inner workings of this astonishing spaceflight facility and watch a rocket launch right before their eyes.
The Kennedy Space Center Visitor Complex is arguably the most popular attraction on the Space Coast. At the Space Center, guests can interact with numerous hands-on exhibits and learn all about asteroid hunters in one of the many IMAX movies. Families can also purchase add-on experiences such as lunch with an astronaut!
Other exciting destinations along Florida's Space Coast including:
Of course, the Space Coast offers several beaches for families to encounter and maybe a water park or two. Sidney Fischer Park, Pelican Beach Park, and Bonsteel Park are excellent options for those looking to relax, surf, or catch a glimpse of local wildlife.
Crystal River, Florida
Distance from Orlando: 86.5 miles, 1 hour and 39 minutes by car.
Interested in spending the day spotting manatees? Crystal River, Florida, is located on the western side of Florida, known as the "Natural Coast." You'll find ample places to see sea critters and explore the great outdoors.
The Crystal River National Wildlife Refuge provides tours and other events designed to educate visitors about protecting and preserving Florida's threatened manatee population.
Another top spot for viewing manatees and learning about Crystal River's natural environment is Three Sisters Springs. This destination offers trolley tours, snorkeling, paddle boarding, and a ¼-mile boardwalk for manatee viewing!
Other things to do in Crystal River, Florida, include:
Sneak in a quick beach holiday during your Crystal River Day trip by visiting Fort Island Gulf Beach or Alfred McKethan Park nearby.
Daytona Beach, Florida
Distance from Orlando: 55.1 miles, 58 minutes by car.
It's not just one of the prime spring break destinations in the United States. If you're a NASCAR fan, you'll agree that Daytona Beach, Florida, is one of the best day trips from Orlando. Home to the iconic Daytona International Speedway, this beachside town hosts the Daytona 500 NASCAR race each February.
If the International Speedway isn't enough of a draw for you, on the way to Daytona, you can quickly detour to Blue Spring State Park and then onward to New Smyrna Beach, just south of Daytona. This surf hub is best known for its magnificent coastline, coastal Dunes Park, and the nearby Canaveral National Seashore with crystal blue waters.
The downtown Canal Street Historic District, lined with palm trees, art galleries, and quaint boutiques, is also a popular travel destination.
Needless to say, that's not all there is to do here. While escaping Orlando's heat, check out these entertaining experiences in Daytona Beach:
Also, Daytona Beach boasts 23 miles of coastal paradise for you to enjoy. So, whether you kick back, work on your tan, or hang ten on the Atlantic waves, there's always plenty to do at the beach!
St. Augustine, Florida
Distance from Orlando: 107 miles, 1 hour and 44 minutes by car.
Did you know St. Augustine, Florida, is the oldest city in America? Since its founding in 1565 by Spanish explorers, this Florida town is overflowing with intriguing chronicles.
If you're a history buff and delight in ghost tours and old-time museums, you'll find this 450-year-old metropolis a spot-on beach refuge.
If you take a St. Augustine day trip from Orlando, prepare to embark on numerous trolley tours to historical sites, lush wineries, and romantic dining getaways.
With notable landmark attractions, like the Oldest Wooden Schoolhouse, Fort Matanzas, and the St. Augustine Lighthouse, you'll find endless excursions to fill your day.
Other incredible sites of this harbor town include:
Similarly, with other family day trips from Orlando, St. Augustine is home to picture-perfect waterfront escapes. Some of the top beaches in the area include Crescent Beach, North Beach, and Vilano Beach.
Day Trips from Gainesville, FL
Distance from Orlando: 111 miles, 1 hour and 43 minutes by car.
Gainesville, Florida, is best known for housing the University of Florida and the iconic Gators collegiate sports teams. However, the area is also home to many outdoor activities and museums designed to spark the curiosity and interest of worldwide travelers. Day trips from Gainesville are under two hours and worth the scenic drive through the gorgeous wetlands.
The Kanapaha Botanical Garden is a popular attraction among families visiting the area. The botanical gardens boast 24 collections of plants and wildlife along a 1.5-mile paved path. Included in the anthologies are the state's largest public display of bamboo and the most extraordinary herb garden in the entire Southeast.
While exploring Gainesville for the day, consider stopping by:
Since Gainesville, Florida, is located in the greater Central Florida area, it's not the top choice for a beach day. However, the city is bursting with numerous state and outdoor parks.
From hiking trails to wildlife spotting, these Gainesville parks are the perfect addition to your day trips from Orlando:
Most importantly, on the drive north to Gainesville, antiquarians and collectors will revel in Mount Dora, a Central Florida city known for its antique shops and annual festivals.
For instance, the downtown Modernism Museum displays rare, contemporary furniture, while the Museum of Speed hosts an extensive collection of classic cars, plus a replica 1940s gas station. Finally, stop for lunch near Lake Eustis with its numerous waterside cafes.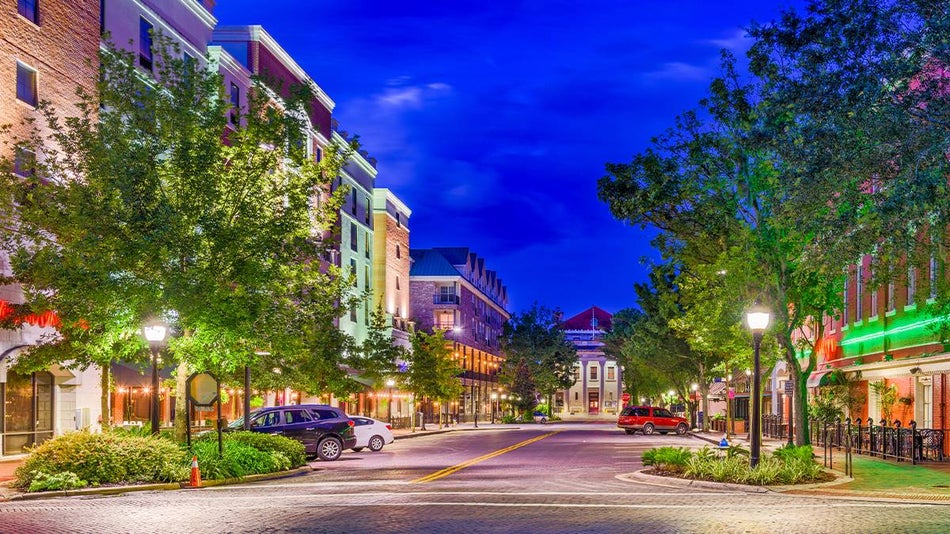 Meanwhile, if you're feeling adventurous, you can keep driving south on an extended day trip to Miami from Orlando. This 234.8-mile trek via Florida's Turnpike takes travelers about three hours and 35 minutes to drive.
You can stop at the infamous West Palm Beach or Fort Lauderdale for even more sandy beaches, art, and culture along the way. Miami is a magical city filled with trendy galleries, chic boutiques, and decadent restaurants.
Which Day Trips Central Florida Will You Go On?
Whether you want to learn more about the solar system on the Space Coast or bask in the sunny rays, sipping fruity concoctions with your toes in the sand—it's all just a short drive from Orlando. And, no matter which of the Orlando day trips you choose, we're sure you'll enjoy fun Florida day tripstours in Orlando to enrich your time and catch a sunbeam in the beautiful everglade state.
Orlando Vacation Lodging & Hotels
Of course, Tripster specializes in day trips in FL but did you know we're also aficionados in tours, activity tickets, hotel rooms, and vacation packages, as well as excursions in Orlando? Make sure to check with us first before booking your Orlando lodging. We have Hotels Near Disney World and dozens of Orlando Hotels and Resorts throughout the city, perfect to fit your needs.
Which Day Trip Orlando was your Favorite?
Have you taken any day trips from central Florida or maybe a day trip to Florida? Leave us a comment below about your trips from Orlando!