Unknown to many, romantic St Augustine, is a welcome oasis of sun, sea, and captivating history. Lovers from all over congregate here to take part in some of the most romantic things to do in St. Augustine for couples.
From a charming horse-drawn carriage ride to live music serenades at the city's most romantic restaurant, date ideas in St. Augustine are anything but ordinary. Follow along to discover the best fun things to do in St Augustine for couples.
With more than 40 miles of white sugar sand beaches, iconic historical landmarks, and a burgeoning food scene, America's 'Ancient City' provides the perfect backdrop for a St. Augustine honeymoon or engagement.
From staggeringly beautiful sunset cruises to getting a firsthand look at the famed Fountain of Youth, there are untold attractions, activities, and sights to witness in the Nation's Oldest City.
History buffs, beach bums, or amateur gourmands will find endless romantic things to do in Saint Augustine for an unforgettable couples getaway.

Saint Augustine Hotels
Founded by the Spanish in 1565, Saint Augustine is the nation's oldest permanently occupied European settlement.
Boasting charming cobblestone streets, pristine beaches, and elegant Spanish-style architecture it is no wonder that this coastal city has been entertaining couples from all over the world for over 450 years!
Embrace the unparalleled history and raw natural beauty of the 'Old City' when you reserve one of the romantic, top-tier Saint Augustine Hotels for you and your lover.
Whether you choose to hang out in the historic district or just steps away from the beach, book your reservation with confidence, knowing you are guaranteed our lowest rates.
Most Romantic Restaurants
A metropolis steeped in its Spanish colonial past, the overhanging Magnolia trees, and the slight whiff of ocean air make this Floridian metropolis a go-to for romance. Up the ante for your St. Augustine date night when you dine at one of the city's most swoon-worthy eateries:
Collage
Named one of Open Table's most romantic restaurants, Collage's intimate setting and eclectic menu are a welcome palate cleanser. Dive into international and exotic flavor profiles with such dishes as tenderloin bruschetta, escargot, and open fire-new world paella.
Forgotten Tonic
Situated on the adorably scenic and historic Aviles Street, this cozy eatery is our go-to for handmade craft cocktails and American comfort food with a twist.
Sip on a seasonal cocktail before feasting on fried green tomatoes, baked brie, and shrimp and grits etouffee.
Raintree Restaurant
Linger over plates of fettuccine alfredo and a signature seafood Thermador at this beautiful Colonial Victorian-style home on San Marco. Don't forget to end your evening on a sweet note with one of their infamous Raintree desserts, like the warm chocolate dome cake.
Ice Plant
Fresh farm-to-table cuisine, plus a side of history? Yes, please! Supper in an original factory building that dates back to 1927, when you sip on cocktails crafted with fresh juices, local seafood, burgers, and more at the Ice Plant.
Kick off your interlude with local specialties such as smoked fish dip or house-made pimento cheese, before devouring mushroom risotto or skillet fried chicken and hoe cakes.
Romantic Places in St Augustine
Instagram husbands, wives, and partners relax! We're working double duty as Cupid to bring you the top St. Augustine romantic locales. Commemorate your couples vacation in style when you snap happily away at any of the following scenic spots:
Fountain of Youth
While we can't promise you'll live forever after imbibing this fountain's supposed 'healing' waters, we can guarantee some epic Instagram content from this famous archeological park.
Magnolia Ave
Overhanging majestic old oak trees create a natural 'tunnel of love' so romantic and photogenic that National Geographic has cited it as one of the most photographed streets in America.
Saint Augustine Lighthouse
Originally erected by the Spanish to intercept enemy vessels, this almost 150-year-old edifice dishes out dramatic 360-degree views and photo ops from its scenic lookout.

Love Tree 
Calling all botany babes! Coastal Florida is home to a number of stunning flora species. But none has so captured the imaginations of couples more than the 'love tree.' Throughout St. Augustine, you can find a number of these enchanting photo ops in which two separate species of trees have grown in and or through each other.
From Cordova Street to East of St. George, purse up for a peck underneath the brush. Legend has it that lovers who lock lips beneath their branches will share an everlasting romance.
St. Johns County Ocean Pier
What would a Florida vacation be without some beach pics? Snap up photos of you and your beach boo with this picturesque pier in the background.

Best Sunsets
Date ideas in St Augustine don't always have to break the bank. After a day of sightseeing, boat tours, and more, there's no better way to cuddle up with your cutie than to sneak in a spectacular (and free) Saint Augustine sunset.
Pack a picnic dinner, grab a bottle of wine and settle in for some of nature's best work at any of the following locales:
Vilano Beach Fishing Pier
Alpine Grove Park
Saint Augustine Beach
Romantic Things To Do in St Augustine Florida
Conquistadors, stunning architecture, and airboat cruises oh my! The well of things to do in Saint Augustine simply never runs dry. Whether you are debating between date night ideas in St Augustine or wondering how to conjure up celebrity couple-worthy St Augustine anniversary ideas, our guide delivers:
Historic & City Tours
Saint Augustine Tour Combo Package
Are you and your turtle dove looking to get your bearings in America's oldest city? Hit the ground running with a jam-packed historical tour that combines four of Saint Augustine's most popular guided experiences.
The Saint Augustine Tour Combo Package includes the Old Town Trolley Tour, access to the Old Jail, the Oldest Store Experience, and the Saint Augustine History Museum.
Hop on and off the quaint Tolley car as you please, and enjoy over 20 well-loved stops such as:
The Fountain of Youth
Flagler College
Lightner Museum
Plaza de la Constitucion
Cathedral Basilica
And more!
Post-Trolley tour, prepare for some time in the clink when you enter the Old Jail, one of the few surviving 19th-century jails that housed prisoners for over 60 years.
Next, pay a visit to the unique artifacts and treasures, such as the Spanish Sunken Treasure Room and the Timucan Indian Village, that call the Saint Augustine History Museum home.
Finally, time travel back to 1908 when you step inside the Oldest Store Museum. This immersive and interactive experience features over 10,000 products and actors portraying characters you would have met in the store over 100 years ago.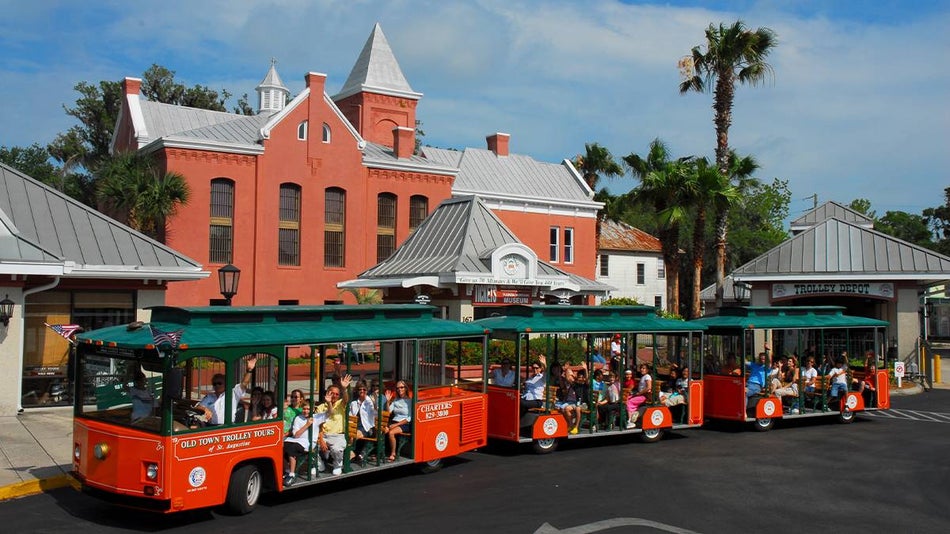 Saint Augustine Evening Architectural Photo Tour
Paging all snap happy shutterbugs! Capture your courtship on camera, when you book your Saint Augustine Evening Architectural Photo Tour.
The visually striking architecture, colonial settlements, and brick-lined streets of the Ancient City make for an ideal playground in which to learn the art of photography.
Your professional photographer guide will provide invaluable knowledge, tips, and tricks on how to best capture the city's amazing sights (and your sweetie). Listen up as they spill the beans on how to best utilize your phone or camera settings.
Moody evening light makes for a magical setting that brings out the intricate details of the 1800's Flagler Hotel and the breathtakingly Baroque 1889 Memorial Presbyterian Church. Take your insider tips with you, as you'll be using them long after your 2-hour tour concludes.
90-Minute "Conquistador of Saint Augustine" Guided Historical Walking Tour
Conquerors, Conquistadors, and Castillos oh my! Wrangle up your history-loving honey for this 90-minute walking tour that will embed you in Saint Augustine's rich past.
Stroll hand in hand with your bae and stretch those legs on the "Conquistador of Saint Augustine" Guided Historical Walking Tour.
Revel in over 300 years of Saint Augustine history come to life as your licensed guide educates you on the city's complicated relationship with Spain, England, and more.
Have your camera handy and ready to document such notable historic sites and places of interest as:
Castillo de San Marcos National Monument - the oldest surviving masonry fortress in the United States, the Castillo is a rousing testament to human determination and endurance.
Huguenot Cemetery - the first Protestant cemetery located outside the city's gates.
Bridge of Lions - these fierce felines are icons in Saint Augustine.
St. George Street - once referred to as the Royal Road.
Lightner Museum - this Spanish Renaissance Revival-style building is listed on the National Register of historic places and was once a hotel.
Flagler College - formerly the Hotel Ponce de Leon this stately university is overflowing with opulent architectural grandeur and history.

Water & Outdoor Activities
Sea Serpent Airboat Adventure
Revel in the 'real Florida' when you reserve an exhilarating ride with Sea Serpent Airboat Adventure.
Outdoorsy couples will relish the chance to explore the marshy-protected backwaters of Six Mile Creek from the comfort of a flat-bottomed modern airboat. Hang tight, as you cruise through the shallow waters seeking sights of indigenous wildlife such as gators, turtles, snakes, manatees, and a variety of birds.
The natural beauty of 'Old Florida' will capture both your attention and your heart, as your local guide explains fascinating facts, historic lore, and legends regarding the area.
Keep your peepers peeled to witness the final resting site of Capt Blye" in Palmo Cove, and perhaps even some buried treasure. Love birds seeking even more outdoor adventure can also rent kayaks, hydro bikes, paddleboards, and pontoons on-site.
Wine Tasting Cruise in Saint Augustine
A glass of vino in hand and the ocean breeze in your hair, what could be more perfect? Impress your favorite wine worshipper with a dash of vitamin Sea when you board your romantic Wine Tasting Cruise in Saint Augustine.
A thoroughly romantic affair (fueled by a healthy helping of red), this 1.5-hour wine and sightseeing cruise is a fun-filled way to tour Saint Augustine's picturesque coastline.
Sailing the seas aboard your pontoon boat, you will sample six delicious varieties of wine while soaking in landmarks such as:
Castillo de San Marcos National Monument
The Bridge of Lions
National Shrine of Our Lady of La Leche at Mission Nombre de Dios
Flagler College
Sip that sangria, and learn about what makes these grapes so special while scanning the horizon for sights of dolphins, spoonbills, and more.

Matanzas River Kayaking and Wildlife Watching
Keen to take your courtship to a new kick-ass level? Level up your communication and coordination skills, when you and your partner take to the river for a thrilling kayaking quest.
Mantanzas River Kayaking and Wildlife Watching provides a dynamic and eco-friendly tour that will teach you and your honey bear to connect to Mother Nature on a deeper, more hands-on level.
Your 2-hour tour will feature dolphin, manatee, and bird watching all while kayaking through the sparkling waters of Saint Augustine Beach. Snake your way through the Matanzas River, Moses Creek, and Genung's Fish Camp, a locally renowned landmark since 1948.
Food & Wine Tours
Corks and Forks Tour
Sweep your favorite culinary connoisseur off their feet when you surprise them with tickets to the Corks and Forks Tour.
A Saint Augustine gastronomical delight like no other, this 3-hour food and wine walking tour lets you and your sugar plum sample the very best farm-fresh ingredients, tasty local treats, and glorious boutique wines on tap in the Ancient City.
Voted the "Best Crawl" in Saint Augustine by Travel and Leisure Magazine, this detailed tour will let you in on the hidden gems and local haunts that only true foodies know!
Savor five delectable tastings paired with complimentary wine at distinct venues recognized for their international flavors and cuisine.
Private Carriage Ride with Wine
Get treated to the fairy tale romance you deserve when your very own Prince or Princess Charming spoils you with a Private Carriage Ride with Wine.
Appreciate the romance of a bygone era. Meanwhile, snuggle up to your significant other when you reserve a private horse-drawn carriage ride for two.
An ideal way to pop the question, or commemorate an anniversary or honeymoon. During this intimate affair you can sit, back, relax and make lasting memories in the Nations' Oldest City.
Cheers with a glass of local wine. Meanwhile, snack on a savory cheese plate* as you gaze into Saint Augustine's beautiful cityscape and historic streets. Remember this Disney-like daydream forever as souvenir wine glasses are included.
**The cheese plate is an additional add-on purchase.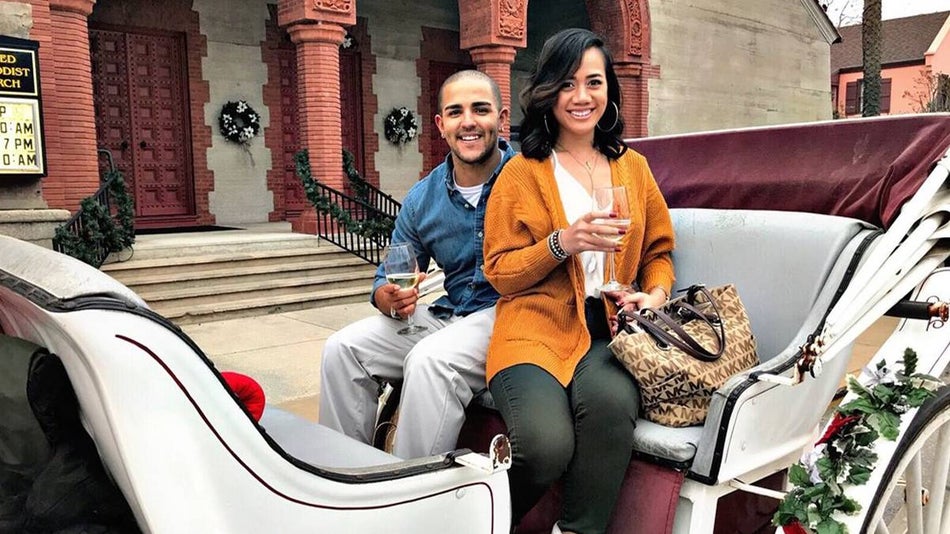 Sunday Champagne, Brunch & Roadster Tour
Commence your Sunday Funday with a little bubbly and a whole lot of love with the Sunday Champagne, Brunch & Roadster Tour.
Play Cupid's little helper when you and your turtle dove kick back in a charming vintage roadster to cover Saint Augustine's finest chauffeured culinary experience.
Pop that champagne, as you hear all about Saint Augustine's fascinating history, iconic sights, and exotic culinary highlights.
Your three-hour tour includes stops at 4-5 tasting venues. Meanwhile, you'll savor the yummiest bunch eats, such as eggs benedict and mimosas with freshly squeezed OJ.
Wine, Dine & Roadster Tour
Hello all hungry foodies! Feed the flames of your amour when you and your pumpkin jump aboard the Wine, Dine & Roadster Tour.
Dine-in unbelievable style when you drive around Saint Augustine in your eccentric roadster vehicle.
An amazing way to witness the architectural beauty and iconic landmarks of Saint Augustine. Also, your fully inclusive food and wine tour feature the most scrumptious bites and bottles.
This three-hour tour highlights the most unique gastronomical delights available in this Northeastern Florida oasis. In addition, it will enthrall you with five expert food and wine pairings.
Saint Augustine's Not Just A Chocolate Tour
Sweets for your sweet! Love might make the world go round, but chocolate certainly makes the trip worthwhile.
Indulge your favorite chocoholic with a cacao-filled day of fun with a romantic Saint Augustine's Not Just A Chocolate Tour.
A mouthwatering mix of luscious sweet treats and local history make this a truly addicting affair.
This intimate and uber-personalized tour will take you behind the scenes. During the tour, you'll learn about Saint Augustine's turbulent cultural and historical narrative.
Meanwhile, visit the following areas of interest:
The Government House Museum
Plaza de la Constitucion
Flagler College
St. George Street
Cathedral Basilica of Saint Augustine
St. Photios Greek Orthodox National Shrine
Munch away on chocolate, pralines, cookies, truffles, popsicles, and more. Meanwhile, your gregarious local guide shines a light on the intriguing stories, fun facts, and tales that make this seaside town so special.
Fallen hard for a particular snack? Never fear, as your guide will provide you with a goody bag of extra samples. In addition, you'll receive treats to enjoy on your return home.
The Perfect Pairing: Wine, Cocktail, and Food Tour
Sensual sips, mouth-watering eats, and a lot of sightseeing make for one epic afternoon with The Perfect Pairing: Wine, Cocktail, and Food Tour.
You and your boo's secret weapon for discovering every last Saint Augustine hotspot. This comprehensive tour will spill all the tea (or wine) on where you should feast next.
Cozy up in many of the Old City's most lauded spots. Then, grab a savory snack or sneaky cocktail before strapping on those walking shoes.
Meander the brick-laid streets of Saint Augustine and get that camera ready to memorialize memories at:
Castillo de San Marcos National Monument
Huguenot Cemetery
St. George Street
St. Photios Greek Orthodox National Shrine
Plaza de la Constitucion
Cathedral Basilica of Saint Augustine
Government House Museum
Put away that wallet as all of your food, cocktails, and wine are included on this 3.5-hour epic epicurean tour.
Feast like royalty as you enjoy vibrant cocktails, charcuterie samples, and delicious food, all combined with world-class scenery and history.
Visit San Sebastian Winery
Wine is the language of love, so brush up on your vernacular with a boozy day of sipping Petite Sirah and Pinot Grigio at the San Sebastian Winery. This award-winning winery has been delivering top-notch vino for almost 60 years.
Well known for its sparking and dessert wines, San Sebastian also produces tempting Chardonnay and Cabernet varieties. Swing by for a leisurely self-guided complimentary tour and tasting, where you'll learn all about the art of winemaking. From fermenting to bottling, you'll uncover San Sebastian's secrets to the perfect vino.
End your day on a high note, when you snag a table at the Cellar Upstairs Bar and Restaurant, and enjoy an afternoon of eclectic live music and light appetizers.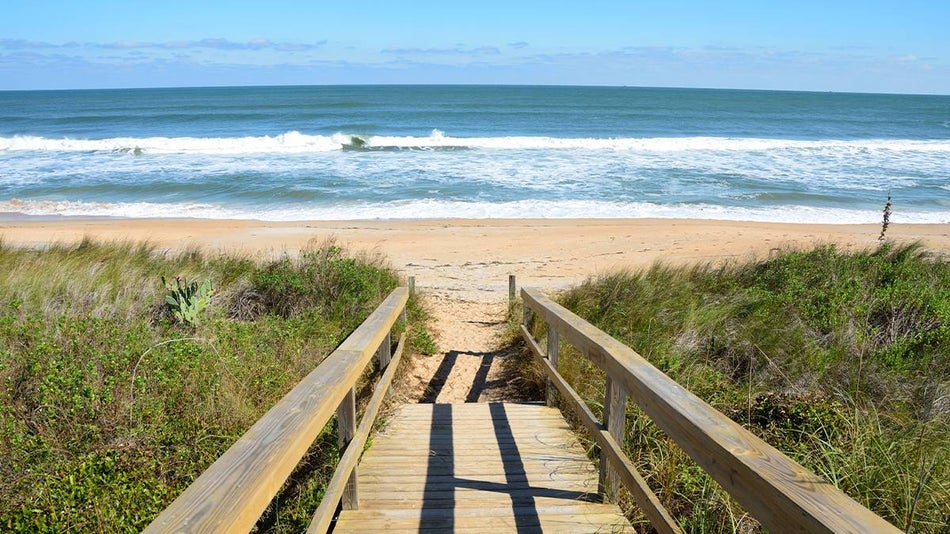 Florida's iconic city by the sea, Saint Augustine, is overflowing with enchantment, southern charm, and colonial history.
Couples of all ages and interests flock to this 'Old City' to break out of the mundane, and treat themselves to a little slice of tropical Eden.
Whether you choose to spend your romantic rendezvous kayaking through the mighty Matanzas River, or wining and dining the night away at the city's secret spots, Saint Augustine boasts an unbeatable atmosphere in which to celebrate your love.
What St. Augustine Things to Do for Couples Did We Miss?
What are some of your favorite St. Augustine romantic things to do?
Share in the comments below!