When you're ready to pack up and head oceanside, consider going to any of these affordable family beach vacations.
At first glance, you might think affordable family beach vacations don't exist. Between the transportation, hotels, activities, food, and souvenirs, the total cost adds up fast.
Well, think again!
1. Myrtle Beach, South Carolina
Myrtle Beach, SC is the quintessential family vacation destination. With 60+ miles of sandy beaches to explore, you're bound to also find oceanfront accommodations that fit your budget.
On top of beachfront fun, visitors can also enjoy a plethora of attractions like Ripley's Aquarium or take in a renowned show such as ONE the Show at the Alabama Theatre. Plus, the seafood in Myrtle Beach is outstanding!
Since Myrtle Beach is among the most popular affordable family beach vacations, do your best to book your activities, transportation, and accommodations in advance. Not only will you guarantee your reservations, but you'll also take advantage of significant discounts.
2. St. Augustine, Florida
Known as the Nation's Oldest City, St. Augustine, Florida combines beachside fun with abundant history and flavorful cuisine. Best of all, families have a variety of beaches to choose from in the area. On the north side of the city, you'll find Vilano Beach. To the south, Crescent Beach. Of course, if you'd rather stay close to all the city has to offer, the popular St. Augustine Beach is always a fantastic option.
While there, make sure to take time out of your beach vacation to explore the city's history. Teeming with Spanish influence, St. Augustine boasts a variety of museums, historic walking tours, and iconic landmarks to discover.
If you're interested in the city's ever-expanding culinary scene, make reservations for a food tour or pub crawl, too!
3. Outer Banks, North Carolina
When thinking about affordable family beach vacations, Outer Banks, North Carolina, should come to mind. Formally known as the barrier islands just off of the North Carolina coast, the Outer Banks offers beachgoers and tourists so much to do and see!
A few of the area's top beaches include Kitty Hawk, Southern Shores, and Nags Head. When searching for accommodations in this area, do your best to be flexible with your travel dates, locations, and required amenities. This will help you identify which hotels, resorts, or beach homes are within your budget.
On top of lounging around at the beach, some of the best things to do in the area include:
Jet Skiing
Visiting Cape Hatteras
Exploring the North Carolina Maritime Museum
Fishing at Jennette's Pier
Similar to Myrtle Beach, reservations for activities, restaurants, and hotels fill up quickly during peak seasons. If you plan to visit Outer Banks for your family beach vacation, book ASAP!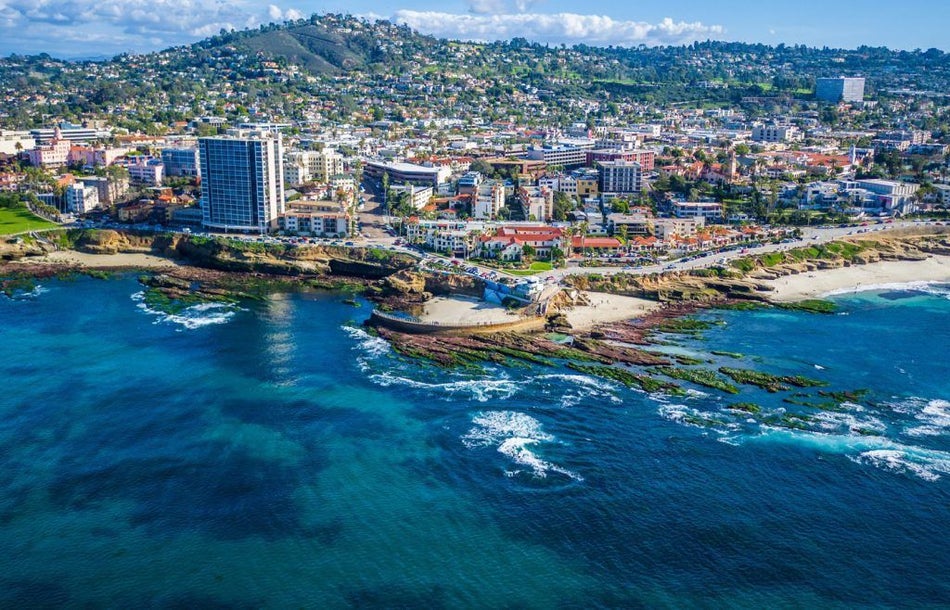 4. San Diego, California
Once you see pictures of San Diego's top beaches, I won't need to write another word. You'll be convinced! From La Jolla to Coronado, your family has a myriad of beaches to choose from, each with its own picturesque views.
After you've soaked up the sun and tried your hand at surfing, visit San Diego's most popular attractions such as:
To make the most of your vacation and stick within your affordable travel budget, consider purchasing a San Diego vacation package. You can combine your tickets to area attractions with a beachfront hotel for added savings!
5. St. Petersburg, Florida
As part of the greater Tampa Bay area, St. Petersburg, Florida puts family right on the beach and close to all the fun. The area's gorgeous weather and ample beach activities is a huge draw for those searching for affordable family beach vacations.
On top of the iconic St. Pete Beach, some of St. Petersburg's top beaches include Clearwater Beach, Honeymoon Island State Park, and Sand Key. While at these beaches, visitors love to go boating, fishing, and of course, soak up the Florida sunshine.
Since St. Petersburg is so close to all of Tampa's activities and fun, many families choose to grab Busch Gardens Tickets or ZooTampa at Lowry Park. Other nearby destinations include the Dali Museum and Mahaffey Theater.
6. Ogunquit, Maine
Maine is often associated with chilly temperatures and an abundance of snow. While that's true for the state's winter season, the summer is delightful! Families flock to Ogunquit, Maine every summer for the breezy Atlantic Ocean beaches and mouth-watering seafood. Hello, lobster rolls!
Ogunquit Beach, Footbridge Beach, and Moody Beach are all near one another, on Maine's east coast. Surrounded by cozy beach motels, seafood shacks, and natural parks, there's nothing quite like a Maine beach vacation.
When you need a break from the beach, bring the kids to Funtown Splashtown or simply take a stroll through the New England town.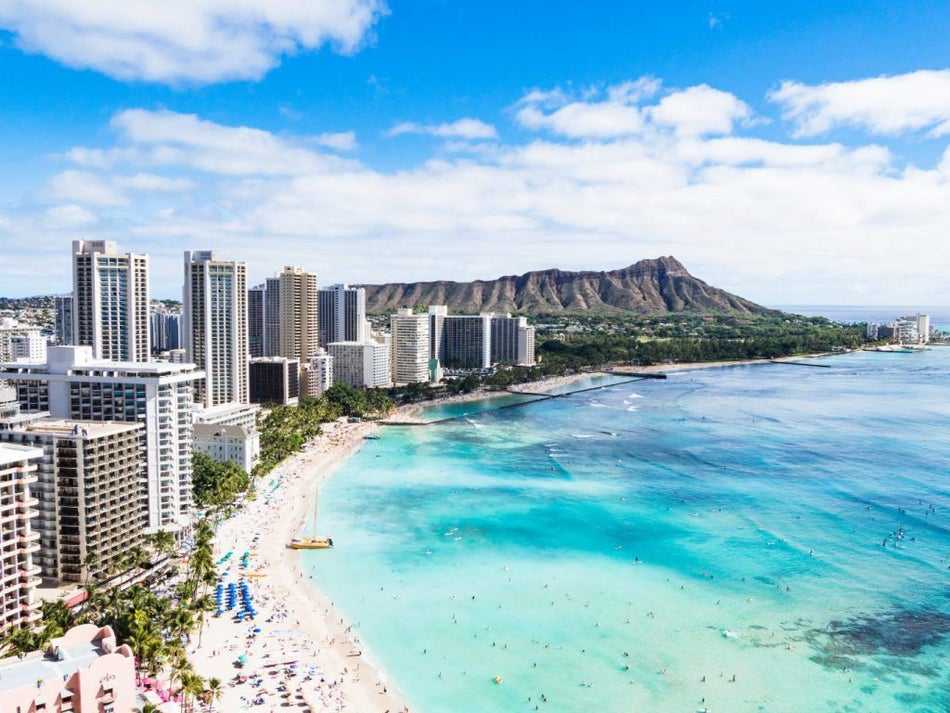 7. Honolulu, Oahu
Wait a second. This was supposed to be a list of affordable family beach vacations, right? How could Oahu be on here?
With its phenomenal year-round weather, you can take advantage of off-season pricing on flights, hotels, and activities in Oahu! Plus, going to the beach is absolutely free once you're on the island.
Best of all, there are so many other free and affordable things to do on Oahu. From hiking to snorkeling, to exploring the island, it's quite easy to enjoy a budget Hawaii vacation if you do a little bit of planning.
Just remember to use reef-safe sunscreen while enjoying all of Oahu's magnificent beaches!
8. South Padre Island, Texas
Situated on a barrier island, South Padre Island, Texas is a family beach vacation paradise. With pristine beaches, ample sunshine, and plenty of things to do, you won't hear "I'm bored" once while your family is here.
On top of soaking up the hot Texas sun on the glistening beaches, a few of the top things to do on South Padre Island include:
Exploring Port Isabel Lighthouse
Shopping at the Lighthouse Square Mercado
Fishing at the Pirates Landing Fishing Pier
Since tourists flock to the island during the spring and summer seasons, consider visiting in the fall or winter. You won't have to worry about cold temperatures and you can enjoy seriously discounted hotel and transportation rates!
9. Virginia Beach, Virginia
Another classic family beach vacation destination, Virginia Beach is a hot spot for traveling families. Nestled along the coast where the Chesapeake Bay meets the Atlantic Ocean, Virginia Beach is the perfect place for families with kids of all ages.
Explore the 3-mile long boardwalk with shops, activities, and restaurants galore. Then, go lounge on the spacious beach! And, if you plan your vacation just right, you can reserve a beachfront hotel for the ultimate vacation convenience.
While the main attraction is the beach, families also love going to the Virginia Aquarium & Marine Science Center, exploring First Landing State Park, and seeing the Cape Henry Lighthouse.
10. Cannon Beach, Oregon
Rounding out the list of top affordable family beach vacations is Cannon Beach, Oregon. This tiny coastal area of Oregon is known for the sprawling sandy shore and Haystack Rock, where you'll get a glimpse of some adorable puffins.
Although not a tropical paradise beach getaway, Cannon Beach holds its own with a lighthouse, intriguing coves, tide pools, and of course, the beach. Cannon Beach is ideal for families who love to explore the great outdoors and don't mind getting a little dirty while having fun! Take time to discover what's in the tide pools and climb inside the sea caves at Hug Point.
Other attractions in the area include Ecola State Park, Cannon Beach History Center and Museum, and the Coaster Theatre Playhouse.
Affordable Family Beach Vacations: Plan Yours Today
No matter which coast you end up on, there's an affordable beach destination waiting for your family. Remember to book as early as possible to guarantee your reservations and find the lowest travel prices!