Believe it or not, Orlando is home to far more than theme parks. In fact, visitors fascinated with space, science, history, and art will find the abundance of Orlando museums to be up their alley.
Whether you're looking for a family-friendly museum with interactive exhibits or world-renowned works of art, you'll find it in Central Florida.
During your next visit to the Sunshine state, make it a point to visit the top nine Orlando museums.
1. Kennedy Space Center
While you may say "To Infinity and Beyond!" at Toy Story Land in Disney's Hollywood Studios, you'll see space and astronauts in action at Kennedy Space Center. Arguably one of the most famous and frequented Orlando museums, the center is NASA's launch headquarters and is home to engaging exhibits.
Plus, where else in Orlando will you have the chance to meet and speak with a veteran astronaut? And, if you're brave enough, go for a test ride in one of the 60+ spaceflight simulators. Kids love the films playing in the 3D IMAX Theater and touring the rocket garden, too.
2. Morse Museum
Housing the most comprehensive collection of work by Louis Comfort Tiffany (1848-1933), the Morse Museum is an inside look into the artist and designer's life. The museum features exhibits showcasing Tiffany's jewelry, paintings, furniture, art, and more from his estate.
In addition, guests have the opportunity to find rare American art from the 19th and early 20th-centuries, including pottery, paintings, and decorations. It is advised that guests plan to spend at least 90 minutes exploring all the museum has to offer.
3. WonderWorks Orlando
Searching for Orlando museums that'll capture the attention of kids and adults alike? WonderWorks Orlando is your solution. While the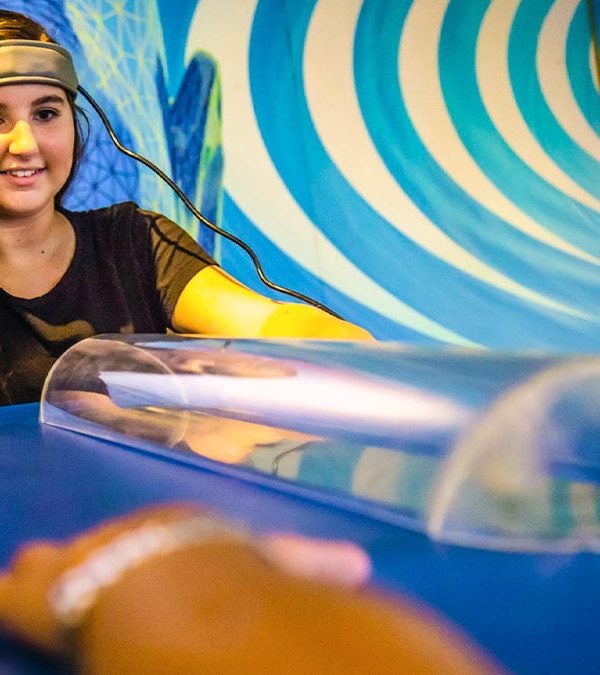 museum is geared towards kids, it's impossible for parents not to get in on the fun and surprises around every corner!
WonderWorks is known as an "amusement park for the mind." The museum features more than 100 interactive exhibits along with exciting activities and attractions including a three-story indoor ropes course. And, if you're into extreme thrills, check out the 4D Extreme Motion ride!
4. Titanic - The Artifact Exhibition
Paying tribute to the ship, crew, and passengers aboard the Titanic on the fateful night in 1912, this museum features recreations of the ship's iconic spaces. Tour the Grand Staircase, experience the First-Class Parlor Suite, and walk along the Promenade Deck in this realistic representation of the vessel.
While at Titanic - The Artifact Exhibition, guests have the opportunity to see a real iceberg or take on the role of an actual passenger throughout the tour. The ship's tour guides are trained historian dressed in time-appropriate outfits who help interpret the events, artifacts, and experiences for guests.
5. Orlando Science Center
The Orlando Science Center caters to scientists of all ages, from curious kids to still curious adults. Featuring four floors filled with hands-on exhibits and science activities, visitors are engaged and learning from the moment they walk in the door.
Top exhibits include Fusion: A STEAM Gallery, DinoDigs, NatureWorks, and KidsTown. You'll meet live animals, discover how our planet works, blast off into space, learn about physics, and so much more all over the course of a single day.
6. SKELETONS: Museum of Osteology
Boasting more than 40 exhibits and 500 real animal skeletons, SKELETONS: Museum of Osteology is a great choice for visitors interested in animals and biology. See everything from a towering giraffe to a tiny penguin all in one museum.
This unique attraction is unlike any of the other Orlando museums. If you or your children are a little spooked by seeing animal skeletons, you may want to opt for another museum. However, those interested in the animal kingdom will find the museum absolutely fascinating!
7. Explorations V Children's Museum
Designed specifically for curious and playful kids, the Explorations V Children's Museum offers hands-on activities throughout the entire facility. Three full floors of kid-powered exhibits spark your child's imagination on topics ranging from music to science, art to history, and beyond.
The museum's exhibits allow kids to become part of the action! Kids can report the news while learning about television anchors or complete brain-teasers about math and science. Plus, they'll ignite all five senses throughout their visit with hands-on fun. The edutainment is never-ending at Explorations V.
8. Ripley's Believe It or Not!
Of the Orlando museums on our list, Ripley's Believe It or Not! is by far the most… interesting, to say the least. This museum is bursting with curiosities and artifacts from around the world, along with mind-bending illusions, and hands-on activities.
The museum is open year-round and includes 600 exhibits and artifacts throughout 16 themed galleries. From shrunken heads to a spinning vortex, you never know what you'll encounter next while touring Ripley's Believe It or Not!
Book Your Orlando Museums Tickets Today
Skip the never-ending museum ticket lines and head straight to the fun by purchasing your tickets online today. Plus, you may be able to take advantage of ticket discounts for top Orlando museums not available elsewhere!