Located on the south shore of Oahu, with impressive Diamond Head rising above its sandy shores, Waikiki Beach is about two miles long and has several distinct sections for visitors to explore.  Whether you are looking to surf, snorkel, swim, paddle board, boogie board or just soak up some sun, it's very easy to do all of the above at beautiful Waikiki Beach.  Ready to learn more about Oahu's most visited beach?  Read on.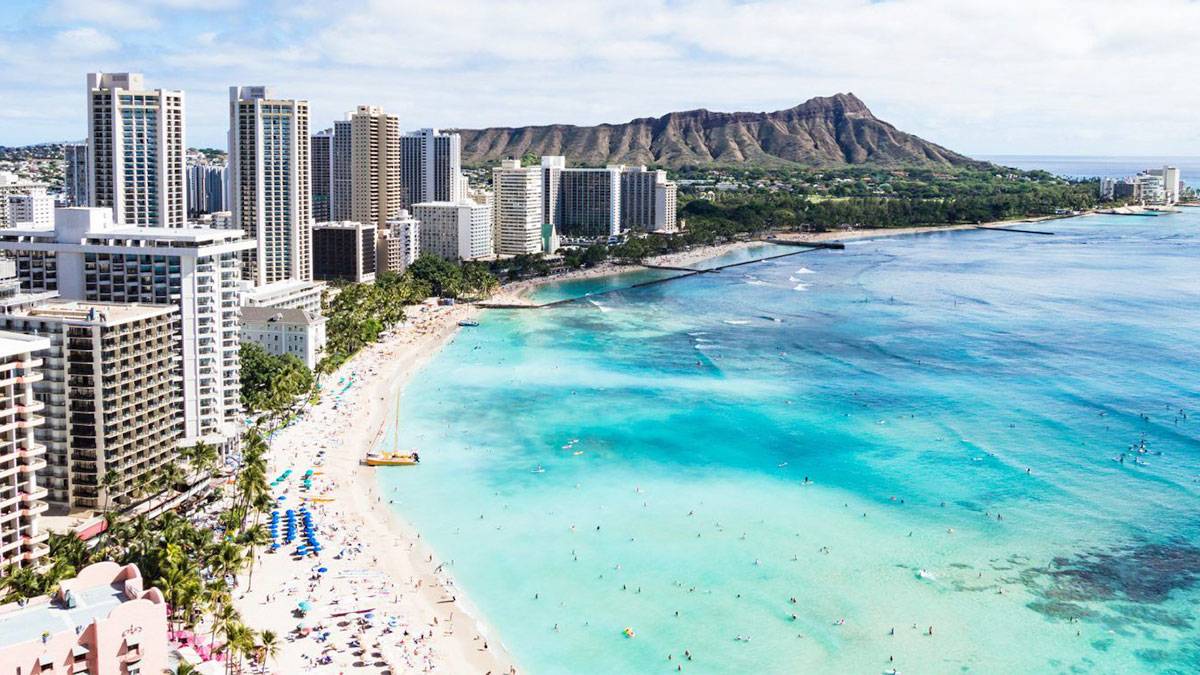 Kahanamoku Beach:   The most western section of Waikiki is Kahanamoku Beach, named after famed surfer Duke Kahanamoku.  This area is the widest stretch of Waikiki Beach and is popular because it offers a calm swimming area with a protected seawall.   Waikiki Beach is most identifiable here, with iconic views of Diamond Head highlighting the oceanfront setting. 
Fort DeRussey Beach Park:  Family-friendly and less crowded than other sections of Waikiki, Fort DeRussey Beach Park has a beautiful grassy park setting with palm trees, shade, and picnic tables.  Want to play at the beach? There are surf board racks, beach volley ball nets, and tennis courts open for guest use.
Gray's Beach: One of the oldest sections of Waikiki Beach is now more of a lookout point than a beach as most of the shoreline has eroded away.  It's still worth noting, though, as much of Waikiki's fame arose from this very spot.
Royal Hawaiian Beach (Royal Manoa Beach): This section of Waikiki Beach is activity central.  While it might not be the best stretch of sand to put down a towel and sun bathe, it is the place to be for excursions and water sports.  You can catch a catamaran chartered ride or paddle out on a Hawaiian outrigger canoe, or even take on surfing Waikiki Beach waves.  The choice is yours at this stretch of Waikiki Beach.

Kuhio Beach:  You'll find Kuhio Beach near the Kapahulu Groin, which is also known as The Wall.  Stretching 40 yards into the ocean, the two back-to-back concrete walls creates as shallow and calm swimming lagoon ideal for families with children.  A sandy sea floor also ensures the highest level of safety for those young and old.

Kapiolani Beach (Queen's Surf Beach):  Found on the foot hills of Diamond Head, Kapiolani is a relaxing section of Waikiki Beach where you can sun bathe and swim without the crowds of Kuhio Beach.  A portion of the Waikiki Wall borders Kapiolani and is used as a walking pier to see watersports action as well as witness the impressive Waikiki skyline.  You can easily pick up a game of volleyball in Kapiolani or catch an outdoor movie during one of their "Sunset on the Beach" movie screenings.
San Souci Beach (Kaimana Beach):  The last stretch of Waikiki Beach is San Souci.  A favorite spot for locals, San Souci is a haven for swimmers, kayakers and surfers due to the natural ocean channel located on the left hand side of the reef and beach.  Speaking of reefs, the nice flat bar reef encompassing much of the area is teeming with marine life which makes it Waikiki Beach's best spot to snorkel.